►
◄
latest
habitat tv
blog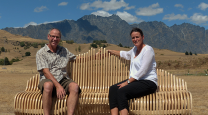 Stylists' colour loves
When the new Resene The Range fashion fandeck 20 was launched recently we asked some of the stylists we work with to pick their favourite colours. These stylists are working with colour all of the time, and we're always inspired to see how they use colours in new and interesting ways.
Meet five of our stylists and their favourite colours this week, and five next week.
Published: 11 Oct 2018
Do you have a home full of wonderful Resene paint and colour? Send us some snaps by emailing [email protected].
Gem Adams
I'm a fan of neutrals from way back, but beige doesn't have to be boring. I am loving Resene Colins Wicket, Resene Napa, Resene Grey? Olive and Resene Swiss Caramel – an understated palette that's muted and muddied, but refined and smooth. I am enjoying building texture that complements these tones, using elements like wood, linen slub, paper shades, cork tiles and terracotta.
Find out more about Gem and her store at www.blackbirdgoods.co.nz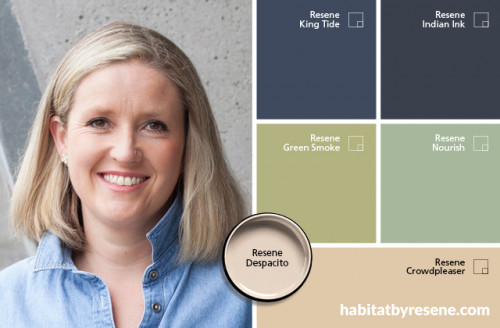 Emily Somerville-Ryan
At the moment, I'm in love with the moody strength of inky blues like Resene Indian Ink and Resene King Tide as they create the perfect contrasting backdrop for greenery and natural woods. Together with splashes of soft pinks like Resene Crowdpleaser or Resene Despacito, and smoky greens like Resene Green Smoke and Resene Nourish, they produce a sense of depth and richness.
Contact Emily on [email protected]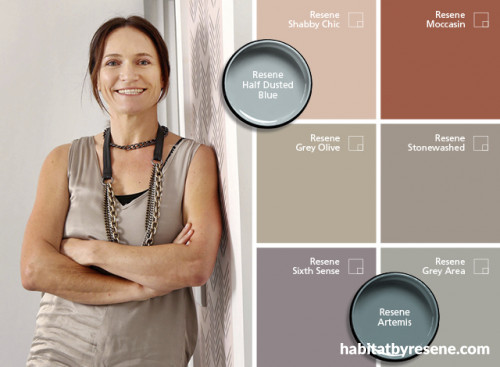 Greer Clayton
I've drawn some inspiration from a recent trip to California where I was particularly impressed with the use of bold colour? on the bungalows and Victorian houses in San Francisco and Sacramento. I also found that the house interiors used stronger colours throughout, making them more intimate and moody. My favourite exterior combo from the new fandeck would include Resene Grey Area, Resene Shabby Chic and Resene Moccasin.
My favourite interior combo would include Resene Grey Olive, Resene Sixth Sense and Resene Artemis. I also like Resene Stonewashed with Resene Grey? Olive and Resene Half Dusted Blue.
See more about Greer at www.greerclayton.com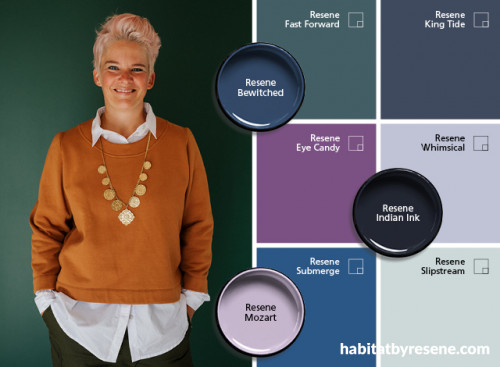 Kate Alexander
My current favourite colours for laid-back yet sophisticated spaces are the pairing of crisp white with almost-purple greys – the new colours Resene Whimsical and Resene Slipstream are perfect for this look. Deep, dark blue-greens continue to entice me and I can't wait to try Resene Bewitched, Resene Fast Forward or Resene? King Tide to define a space. For an unlikely combination, but one I love having fun with, try pink and blue – Resene Submerge with Resene? Mozart or Resene Eye Candy with Resene Indian Ink.
See more about Kate at Places and Graces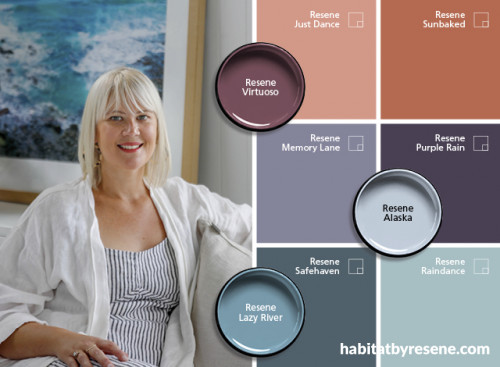 Amber Armitage
I am still a lover of the blush tones, especially the mix of Resene Just Dance with the more terracotta tones of Resene? Sunbaked and a hint of Resene Virtuoso. Secondly, I'm crushing on lilacs with grey undertones, so think the mix of Resene Purple Rain, Resene Memory Lane and Resene Alaska is a winner. Hazy green combos are also catching my eye – Resene Safehaven, Resene Raindance and Resene Lazy River.
See more about Amber at www.amberarmitage.com
the look
If you're stuck on what
colour to use or need colour
advice, try out the Resene
Ask a Colour Expert service.