►
◄
latest
habitat tv
blog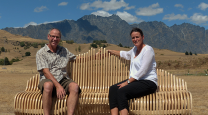 Take the texture of your walls up a notch
If you've been looking at your space lately and yearning for something to take it to the next level beyond a dazzling paint colour or bold art piece, there are more than a few avenues to take. One of our favourite trends at the moment is dialing up the texture.
The methods for increasing the texture in your space can come in many forms: introducing a knobbly rug beneath your couch, tossing a chunky knit throw over an armchair, adding tasseled cushions to your bed or a layered lampshade in the living room. But looking at ways of adding texture to your walls opens up a whole new world of interior inspiration, and it will bring a unique charm to your home's personality.
By looking to the exciting products in the Resene Special Effects range and the Resene Wallpaper Collection, it's easier to create beautifully tactile and textured walls than you may think. Plus, it's also a clever way to disguise lightly damaged walls. Win-win!
Here are five ways to take advantage of this trend and turn up the texture on your walls at home.
Wonderful to the touch
One of the simplest no-nonsense ways is to go the wallpaper route, looking to the beautifully textured designs from the Resene Wallpaper Collection. From wood grains to metallics, stripes, grasscloth and silk, these tactile designs bring an instant lift to walls - and look and feel fabulous as well.
Another popular range from the Resene Wallpaper Collection is the Anaglypta-style Paintables range, which comes in a wide variety of embossed patterns. From Victorian tin tile styles to 60s mod and brick looks, whatever your style, you'll find a design to suit. All it takes is a lick of paint in your favourite Resene hue to create a dynamic wall covering that's steeped in on trend texture.
Published: 01 Apr 2020
Do you have a home full of wonderful Resene paint and colour? Send us some snaps by emailing [email protected].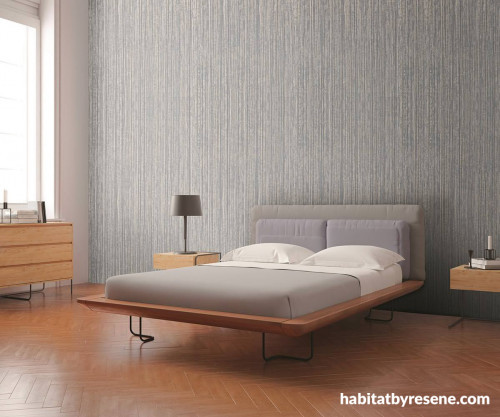 Resene Wallpaper Collection 64615 features a subtle striped texture and heaps of style. Try it in as a feature in a bedroom with adjacent walls and architraves in Resene Black Haze, flooring in Resene Mocha, a headboard in Resene Atmosphere, a lampshade in Resene Gravel and bedding in Resene Quarter Gravel.
Go graphic
Another way wallpaper can amp up the visual texture in your space is by looking at the more graphic and bold designs from the Resene Wallpaper Collection. Go for an abundant floral print, bursting with colour and pattern. Or bring life to your walls by mixing up different wallpaper designs into your own pattern like in this patchwork wall tutorial.
Some patterns even feature tactile texture as well so that you get the best of both worlds. Get a taste of the latest wallpaper releases online atwww.resene.com/wallpaper.View the full range and all the latest designs at your local Resene ColorShop.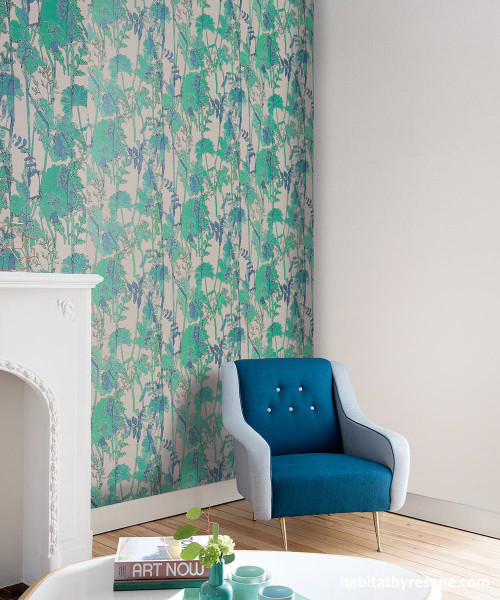 Resene Wallpaper Collection K0S503 makes a stylish statement in a living room. Try it with surrounding walls in Resene Eighth Napa, skirting boards and a fireplace in Resene Half Merino, timber flooring in Resene Colorwood Rock Salt, an armchair in Resene Matisse and a few decorative vases or other small accessories in Resene Half Spindle and Resene Gulf Stream.
Wash it out
Resene FXPaint Effects Medium is a go-to for stylists when it comes to adding texture and depth to walls, as well as the beautiful ombre and lime washing effects we've all come to know and love.
This is a good way to introduce yourself to the world of paint effects - if you're unhappy with the result, simply paint over it. Fortunately, Resene FXPaint Effects Medium is gloriously easy to use. The product is a tintable acrylic that, when mixed with a Resene testpot of paint, creates the broken paint finishes used in limewashing, rag rolling and ombre looks.
There are more than a few ways you can play with Resene FXPaints Effect Medium: choose a few colours and use it to create an ombre-rainbow effect from top to bottom; using the product with a lighter and darker neutral, apply using a lime washing method fora French Provençal look; or try rag-rolling with a bunched rag or clothwiththis tutorial.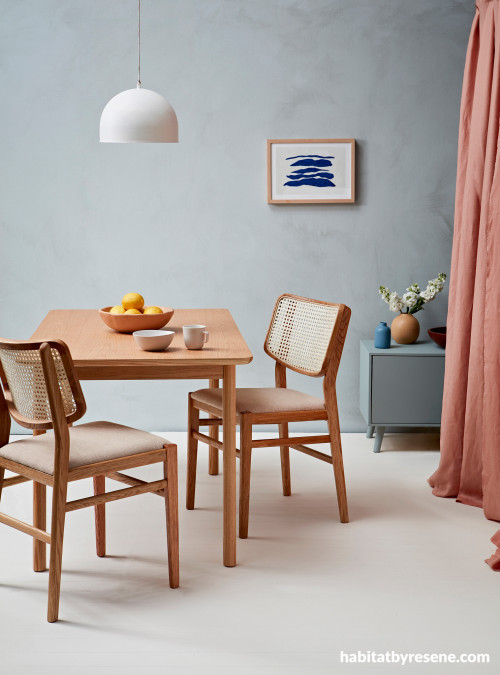 Two basecoats of Resene Duck Egg Blue have been brought to life in this dining room thanks to a topcoat in ReseneFX Paint Effectsmixedwith ReseneRolling Stone. Floor and pendant lamp in ReseneHalf Orchid White, sideboard in ReseneHalf Inside Back, bowl (on table) in ReseneKalgoorie Sands, vases in Resene Wedgewood and ReseneKalgoorie Sands, bowl (on sideboard) in Resene Moccaccino. Table from Citta, chairs from Me & My Trend, artwork from Father Rabbit.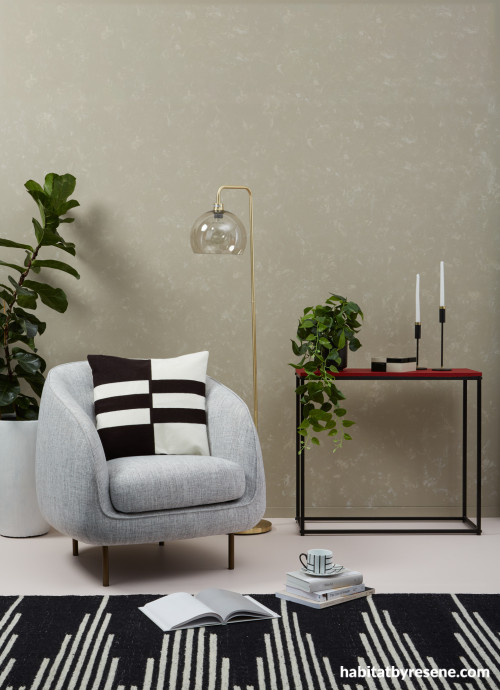 In this reading nook, the walls were first painted in Resene Napa before building up a number of light, thin layers of Resene Eighth Stonewashed by sponging the colour on with a clean rag. Floor in Resene Ethereal, console tabletop in Resene Dynamite, large plant pot in Resene Alabaster and small plant pot in Resene Noir. Chair and rug from Freedom Furniture, lamp from Kmart, cushion cover, mug, box and candlesticks from H&M Home.
Dig in to sand
Resene Resitex and Resene Sandtex can be used to create a sandy, plaster-like texture on your walls, ceiling or floor in varying degrees, depending on the look you're wanting to achieve.
Try using these as a base to elevate other paint effects over top – be it ombre, random strokes or sponging – to take it that much step further in achieving your ideal textured walls. Another idea is to layer up your wall with long sweeping strokes (think Tuscan-style wall plastering) and paint over them using Resene dusky pinks or grey-blues such as Resene Dust Storm or Resene Bounty for a statement feature wall.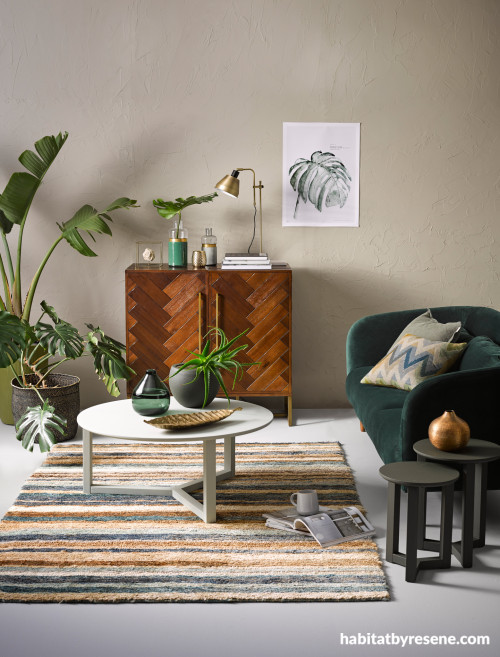 Resene Resitex Plastercote was used beneath two topcoats of Resene Double Ash to give this lounge a Mediterranean vibe. Floor in Resene Silver Chalice, coffee table in Resene Helix, nesting side tables in Resene Karaka, tall brass ring vase (with monstera leaf) in Resene Permanent green, short brass ring vase in Resene Helix, and plant pot (on table) in Resene Karaka. Console from Freedom Furniture, sofa from Me & My Trend, rug and cushions from Furtex, large basket from Indie Home Collective.
Wood you do it?
It's a trend that shows no signs of stopping: woodpanelled walls featuring gorgeous grainy textures. Stains, whitewash and greywash finishes from the Resene Colorwood range are ideal for enhancing the beauty of wood grains indoors and provide colour alternatives other than those natural browns.
Bring nature inside with plywood walls stained in Resene Colorwood Earthsong or go monochromatic with a feature wall in Resene Colorwood Pitch Black timber stain, with additional walls in Resene Colorwood Whitewash. You don't have to go full timber, either. Adding one plywood wall in a stain with the remaining walls finished in a favourite Resene paint colour will only heighten the texture.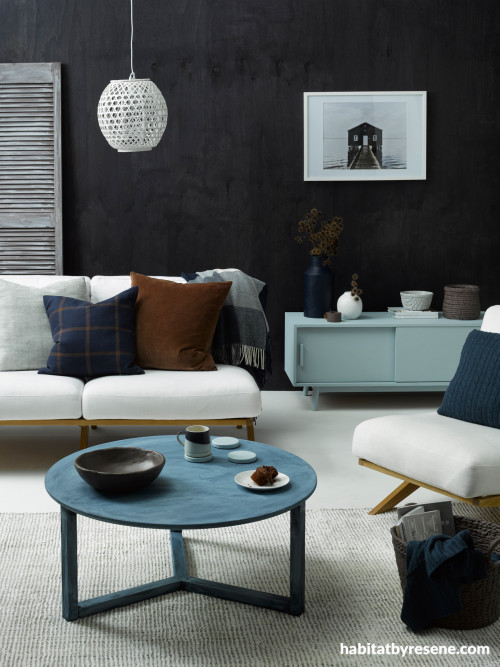 This wintery looking lounge is grounded with a plywood wall stained in Resene Colorwood Woody Bay, a deep blue tone. Floor and pendant lamp in Resene Sea Fog, sideboard in Resene Casper, painted accessories on sideboard (from left to right) in Resene Indian Ink, Resene Felix, Resene Sea Fog and Resene Felix, coffee table painted in Resene Wishing Well then wiped with Resene Sea Fog to create a whitewashed effect, bowl on coffee table in Resene Felix and screen in Resene Felix and wiped with a clean rag dipped in Resene Sea Fog.
styling Gem Adams, Laura Lynn Johnston, Claudia Kozub, Vanessa Nouwens
images Bryce Carleton,Wendy Fenwick, Melanie Jenkins