►
◄
latest
habitat tv
blog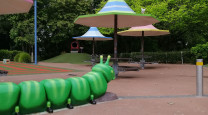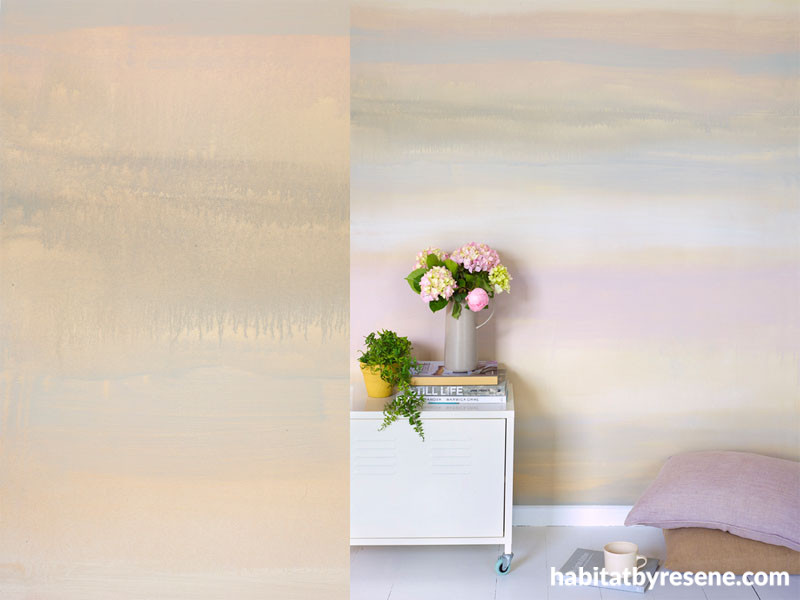 Create a watercolour wall
06 Mar 2017
This sunset-inspired watercolour wall is surprisingly easy to do. Its randomness is part of the charm, so don't worry if yours doesn't come out looking exactly like this.
You will need:
Resene testpots of your chosen colours. We used Resene Castaway, Resene Gunsmoke, Resene Martini, Resene Silver Chalice and Resene Double Alabaster.
Resene Paint Effects Medium
Resene Hot Weather Additive
A paint brush for each of the colours
A large, thick brush (a wallpaper brush would be good)
Resene paint pots or plastic trays for mixing
Masking tape to protect the skirting and any other trims
Dropcloth to protect the floor
Step 1: Paint the wall with a basecoat using one of your mid-toned colours; we used Resene Castaway. Protect any trims and skirting with masking tape.
Step 2: Mix the other colours with Resene Paint Effects Medium to dilute them, and with Resene Hot Weather Additive to slow the drying.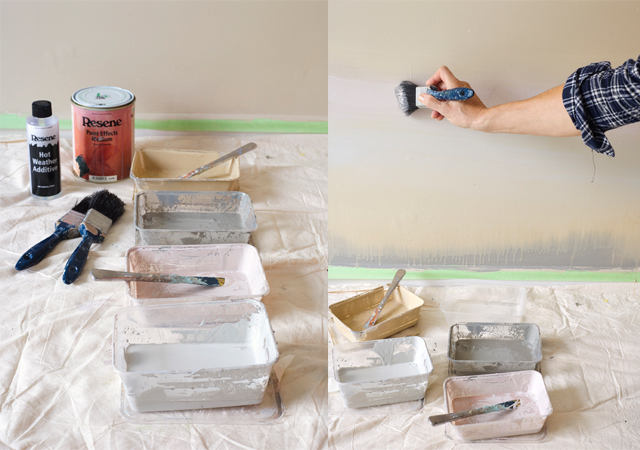 Step 3: Starting from the bottom, brush on stripes of the different colours, one at a time. Make them uneven widths for a more organic, softer look.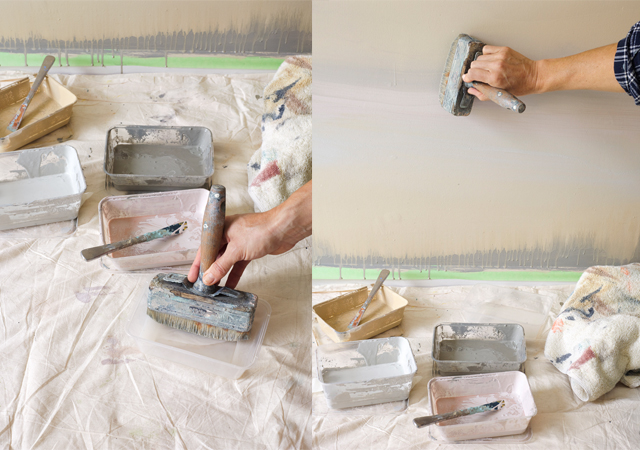 Step 4: After each colour is applied, dip the large thick brush in water, and brush over the stripe to blend it with the adjacent one. Allow some of the stripes to drip down the wall. Doing one stripe at a time gives you more control over the dripping and blending.
Paint effects and styling: Greer Clayton
Pictures: Melanie Jenkins
Props: Cushions from James Dunlop Textiles. Floor and skirting in Resene Double Alabaster, textured pot in Resene Celebrate.
Published: 06 Mar 2017