►
◄
latest
habitat tv
blog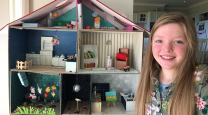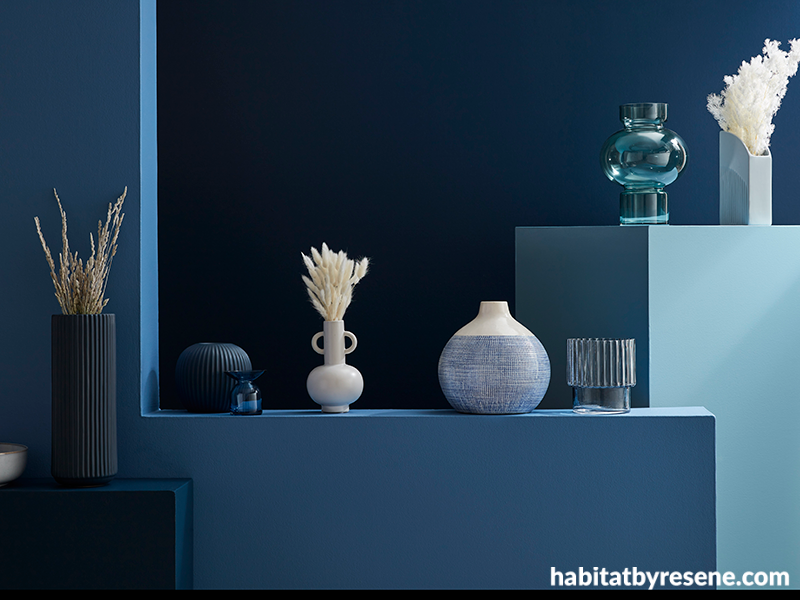 How to embrace a tonal colour palette in your home
05 May 2022
After a change in your home for winter? Tonal interiors are your answer to creating a harmonious look in any room. Think of it as your secret weapon to creating cohesion and relaxation. A tonal theme is where one colour is used in varying strengths, and it's a near-foolproof way of developing a scheme. Pick up a colour chart from Resene – the Resene Multi-finish palettes are ideal - and let your imagination run wild.
When you start, think about layering different tones of similar shades. The overall effect is a gradual colour saturation that gives depth and interest to any room without it becoming an overwhelming collage of competing colours. Here is some colour inspiration from the team at Haven magazine.
Picking your colours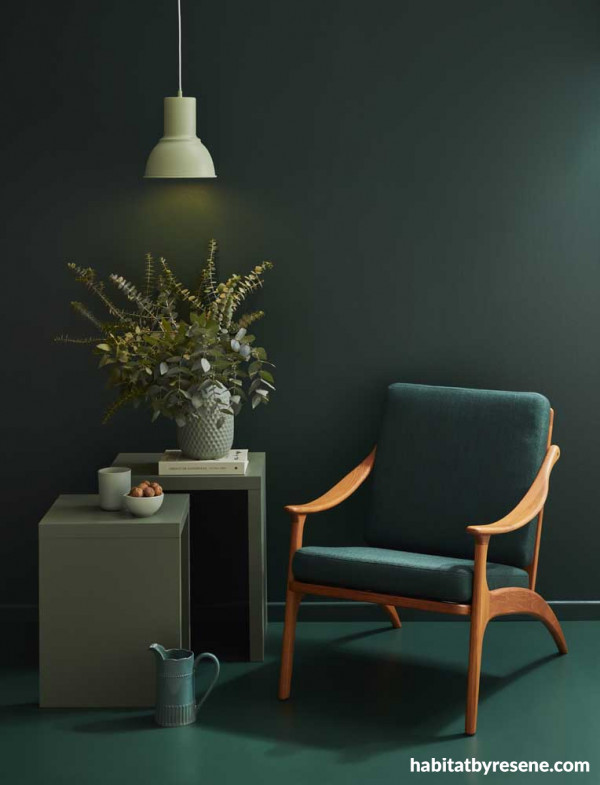 Retreat into moody green and create an aura of quiet contemplation. Green shades are especially ideal for a retro-themed study or reading nook. Walls and nesting tables are in rich and velvety Resene Rivergum and the light is painted in Resene Norway. Armchair from Good Form, Tewinga vessel from Freedom, Living & Co jar and nesting tables from The Warehouse, bowl from Freedom, kitchen pitcher from Briscoes. Image by Michael Moore, project by Elizabeth Rima (Haven magazine).
When picking your colours for a tonal palette, think about the mood you want to create. Here are some tonal groups to try:
Top tip: To get a clear idea of which tones will sit comfortably with each other in your space, check out the Resene Multi-finish palette cards. Grouped into colour themes, they're a great tool to build a tonal scheme in any shade you like.
Layer up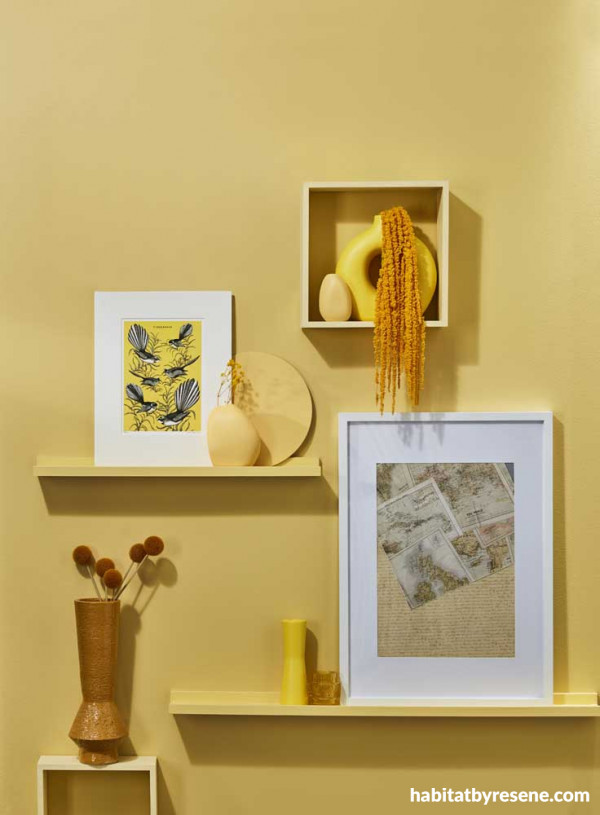 Keep your home bright and buttery with Resene Chenin on the walls and let the sun shine even on grey winter days. Shelves and candleholder in Resene Banana Split, vase and placemat in Resene Bardot. Shelving and cut-out vase from Kmart, small and large vase from Thread Design, fantail print from Sue Syme, placemat from Kaisercraft, prints from Spotlight, box frames from Kmart, mustard vase from Briscoes, candleholder from Farmers. Image by Michael Moore, project by Elizabeth Rima (Haven magazine).
Using tonal shades within the same colour family or multiple strengths of a single hue is easy to live with. Our eyes love consistency. To avoid a space looking too flat, however, embrace layering. When assembling your space after painting and choosing your central colour, start with larger items of furniture. For example, your sofa, bookshelf and coffee table in a lounge. Then add in your bigger decorative items and smaller items, ensuring the colours all link back to your palette in varying shades. Artworks should tie in your chosen tonal palette.
For an elegant and restful look, you could keep any furniture, fabrics and accessories in the same colour theme but play with texture. The curtains might be sheer or linen, the rug furry, the accessories might have lustre and the monochromatic artworks an interesting pattern. Go wild with texture!
Tonal with a twist
Go coastal with an ocean dive of blues. Look for colours with similar undertones (cool or warm) when choosing your room colours. Back wall in Resene Shadowy Blue, left wall in Resene Panorama, right in Resene Blue Moon. Ribbed vase (right) in Resene Powder Blue and ribbed vase (left) in Resene Indian Ink. Serving bowl, glass vase, curve vase and votive from Farmers, tall ribbed vase and round ribbed vase from Nood, white vase from Thread Design. Image by Michael Moore, project by Elizabeth Rima (Haven magazine).
You can create an interesting twist on a tonal scheme by using what are called 'related' colours. This is easier to understand when you're talking about bolder colours (for example, red is close to rust, and rust to terracotta). But it can work well with neutral colours. So, instead of slavishly using all variants of one colour, you might take a step sideways into one that's close by but slightly different. For example, Resene Rice Cake and Resene Thorndon Cream.
The next level would be to add a feature wall, or accessories in a very deep neutral that's an extension of the main scheme. If you have a mostly off-white scheme, you might add charcoal and black (try Resene Black or Resene Bokara Grey). They are not a colour as such, but add a touch of drama. Likewise, if your scheme is made up of soft greige, a deep brown-edged grey will add interest (try Resene Gunsmoke).
Top tip: Keep the ratio of this colour to about 10% of the overall look of a room, and try to continue it through the house in varying forms and uses for a cohesive look.
Find the latest Haven magazine issue here: havenmagazine.co.nz/
Published: 05 May 2022