►
◄
latest
habitat tv
blog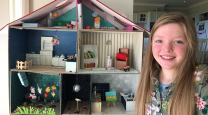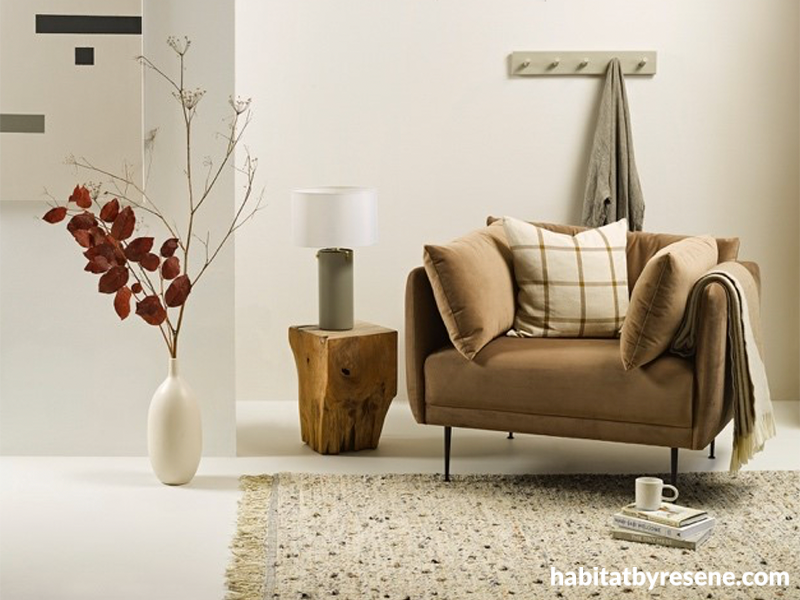 How to keep your paint finish looking fresh
28 Apr 2022
If you've recently painted any exterior or interior walls of your home, there's no doubt you'll want to keep them looking spic and span. After the time and effort that went into choosing colours, preparing surfaces and painting, you want to make sure to take care of your Resene paint finish so it looks its best for as long as possible.
If you've taken the time to do your surface preparation right, your paint finish should last for years, but there are some simple steps you can take now and then to ensure the longest lasting finish. We share how below.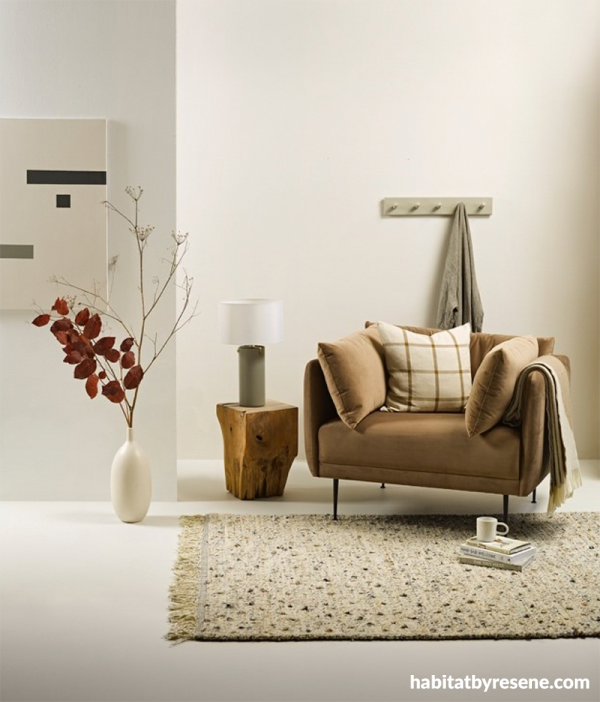 Once you've finished your painting don't bump against it or clean it for at least four weeks to give it time to fully cure. This living space is fresh and clean with the back wall in Resene Merino, while the front wall is Resene Alabaster and the floor is Resene White Pointer. The DIY artwork is Resene Quarter Tea, Resene Double Ash and Resene Half Truffle. The tall vase is Resene Parchment, the lamp is Resene Tapa, the jug base is Resene Putty and the wall hooks are Resene Double Ash. Dried Gaultheria Spray from Flux Boutique, side table from Indie Home Collective, armchair from Contempa, grid cushion and gown from Citta, throw from Sunday Home Store, rug from Contempa, mug from Sunday Home Store. Project by Gem Adams, image by Melanie Jenkins.
Cleaning interior walls: Be gentle
When it comes to cleaning painted surfaces, particularly inside, the key phrase to keep in mind is "go gently", particularly for matt or low sheen finishes. For regular day-to-day cleaning, avoid scrubbing your interior walls and give them a gentle wipe with a damp cloth or sponge. If you have specific stains that need removing (or perhaps a delightful but unplanned artwork from a younger member of the family) start with a product designed specifically for interior paint cleaning - Resene Interior Paintwork Cleaner.
Apply a small amount of cleaner to a lint-free cloth – don't saturate it as that can cause drip marks – or spray the cleaning solution on to the target area. Clean by gently wiping the area around the stain or mark you're trying to remove and working towards it.
Be aware that walls, like windows, can accumulate a faint layer of dust or grime. A seemingly minor job of cleaning a small spot can lead to a major cleaning job! If unwillingly caught in this predicament, a feather duster can sometimes minimise the boundary between the cleaned and uncleaned areas.
Cleaning exterior walls: Avoid water blasting
Step away from the water blaster! Salt, moss, and road pollution are some of the pollutants that can settle on your exterior paintwork. An annual wash of your home exterior is a good way to keep on top of the grime and protect your paint.
But don't be tempted to blast dirt off painted surfaces with a water blaster as you could damage the paint and, if you have wooden weatherboards, the surface of your exterior cladding. Instead use a cleaning solution designed for exterior painted surfaces and apply with a soft broom. Resene Paint Prep and Housewash will give you a quick freshen up, while Resene Deep Clean is a slower acting cleaner ideal for decks, paths and driveways.
Combat fading paint
Both painted interior and exterior surfaces can fade if constantly exposed to sunny rays. The changes might be gradual but can be noticeable where a sun exposed area is immediately next to one that is protected.
Resene paints are designed to resist fading, but to further protect areas of direct sun, use a final topcoat of Resene Clearcoat UVS protective glaze. It's particularly useful on bright or bold shades on exterior surfaces. Think of it like sunscreen for your paint finish.
If you're planning to use darker colours outside, remember to consider a Resene CoolColour which helps to reduce heat build-up compared to a standard version of the colour.
Top tip: Lime staining can sometimes be mistaken for paint fade as lime leaches from the underlying surface, particularly plaster, to leave a pale deposit on the topcoat. Paint plaster surfaces with Resene Limelock to cure and seal it before topcoating to prevent lime leaching.
Published: 28 Apr 2022