►
◄
latest
habitat tv
blog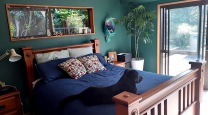 On trend: Laundry love
The laundry is not the sexiest room in the house, often overlooked in favour of kitchens and bathrooms when it comes to spaces that are both functional and impressive. But why not give your laundry a little love? A well-planned room that is pleasant to be in is a quick way to make doing a tiresome chore much more enjoyable.
How you make over your laundry will really come down to one crucial thing – space. Some homes will have a big family-sized laundry with plenty of storage, or a corner of the garage, others will have a tiny cupboard and not much more. Not to worry, a few key features should make your laundry more workable, as shown by the rooms featured in a recent issue of Homestyle magazine supported by Fisher & Paykel.
Function first
A good laundry is there to serve a purpose first. While that doesn't mean it should look like a sore thumb either, it means elements like bench space and storage take priority. Having a flat service for sorting and stacking laundry is key, as well as storage for detergents and other cleaning products.
For smaller laundries opt for lighter, neutral colours, such as Resene Cut Glass or Resene Secrets, but think about ways to add accents of other colours that will make you happy as you're loading the machine. Or look at layering different shades of a similar neutral colour, which will make the space feel bigger.
If your laundry is reduced to a cupboard, think about painting the interior a bold colour, such as Resene Bismark that contrasts with the cupboard door exterior and the room it's in for a cool negative space effect.
Other top laundry design tips:
Add storage space wherever you can - under cabinets, shelves and hooks on walls and doors, add sliding units in spaces between appliances and benches if you can.
Make sure the room is lit well, with a mix of natural and artificial light if you can.
If you're tight for space consider stacking your washer and dryer.
Always try to vent your dryer outside, so you don't end up with a damp house. Or opt for a condensing dryer.
If you can, add hideaway storage for large items such as brooms, mops and ironing boards. Wall-mounted ironing boards, and drying racks are super-useful and you're not constantly tripping over them. If you can't do that, try hanging ones that fit on the back of the door.
A large pull-out drawer cabinet is the best way to hide away a basket of dirty washing.
A wall-cavity sliding door can also be a great space saver.
Top tip: Ask for Resene Kitchen & Bathroom paint for your laundry. It combines anti-bacterial silver protection and MoulDefender mould inhibitor, perfect for minimising unwanted nasties in kitchens, bathrooms and laundries.
Adapted from a story in the June/July issue of Homestyle magazine
Published: 04 Oct 2018
Do you have a home full of wonderful Resene paint and colour? Send us some snaps by emailing [email protected].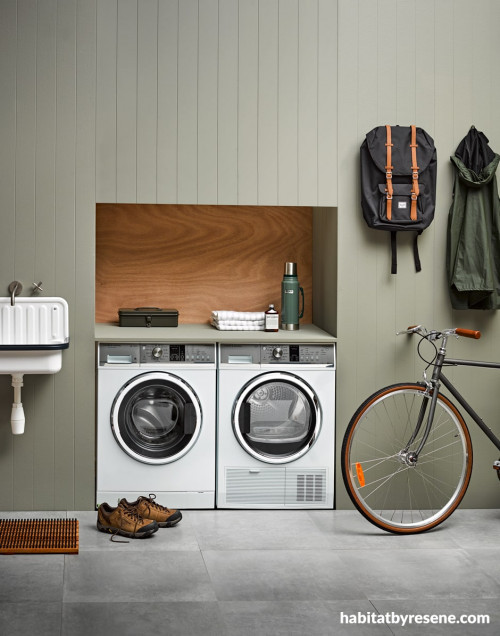 A tiled floor and tongue-and-groove panelled walls give this spacious laundry a robust feel, accentuated by the use of Resene Cobblestone on the walls and benchtop. The woodgrain splashback space gives an on-trend natural finish. Protect timber in an area like this with Resene AquaClear waterborne urethane. The appliances are a Fisher & Paykel 8.5kg FabricSmart Front Loader washing machine, and Fisher & Paykel 8kg Condenser Heat Pump dryer.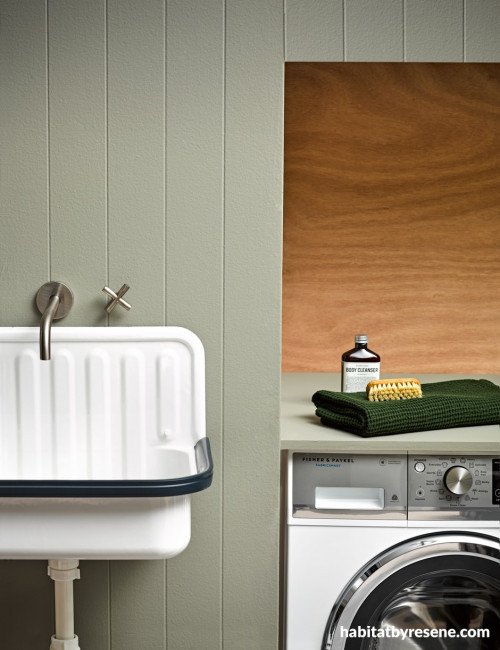 The inset space above the appliances is the perfect place to hide away dirty laundry. The wood-grain panel works beautifully with the Resene Cobblestone walls for a change from the standard functional white laundry. A funky industrial-style sink adds to the look. The dryer is a Fisher & Paykel 8kg Condenser Heat Pump dryer.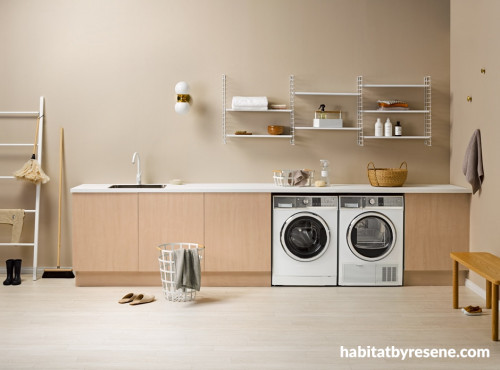 This is the family laundry dream – plenty of floor space and plenty of bench space. The walls here are painted in the warm neutral Resene Half Joss which contrasts nicely with the benchtop in Resene Alabaster as well as the white appliances, shelving and accessories. The appliances are Fisher & Paykel 8.5kg FabricSmart Front Loader washing machine, and a Fisher & Paykel 8kg Condenser Heat Pump dryer.
The neutral warmth of Resene Half Joss on the walls here, mixed with the Resene Alabaster makes the space appear functional and practical but not coldly clinical.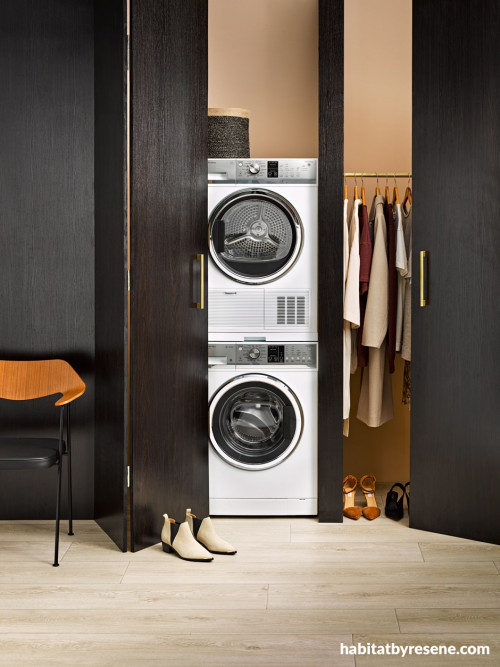 For a little more luxe, even with less space, stack your appliances in a cupboard. Here the interior walls in Resene Cashmere give the appearance of added depth to the space thanks to the bold contrast with the sleek, dark cabinetry. The appliances are Fisher & Paykel 8.5kg FabricSmart Front Loader washing machine, and a Fisher & Paykel 8kg Condenser Heat Pump dryer.
the look
If you're stuck on what
colour to use or need colour
advice, try out the Resene
Ask a Colour Expert service.