►
◄
latest
habitat tv
blog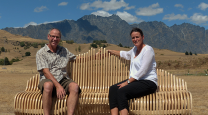 On trend: moody blues
Midnight and navy blues that look like they came straight out of Mariana Trench are making some serious waves in the design world. Today's on-trend tones range from deep darks like Resene Twilight Zone and Resene Indian Ink, to sapphire tones such as Resene Bewitched and Resene Wishing Well, coastal chromas like Resene Safehaven and Resene King Tide and even more vibrant versions such as Resene Wet N Wild and Resene Submerge.
Dive right into this hot trend by bringing one of these five moody blue looks into your own home.
1. Submerge your walls
Published: 20 Jun 2019
Do you have a home full of wonderful Resene paint and colour? Send us some snaps by emailing [email protected].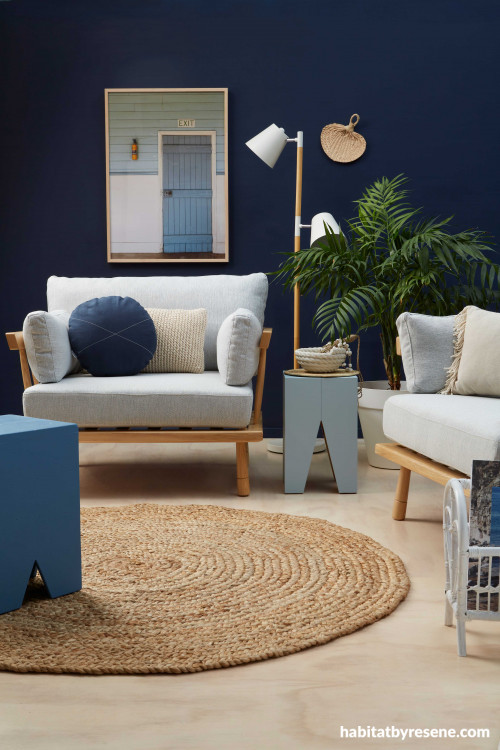 While midnight blues are often used to create looks with luxury and drama, when mixed with the right tones and textures, walls that have been fully submerged in truly dark blues can be made to feel casual too. A room that would be right at home in a bach, the walls of this contemporary coastal lounge are painted Resene Indian Ink and balanced with beachy textures like timber, linen, palms, rattan and sisal. The ply flooring looks light and natural in Resene Colorwood Whitewash waterborne wood stain, the peg stools are in Resene Eskimo (left) and Resene Wedgewood (right) and the magazine rack is in Resene Half Sea Fog.

If you'd like to bring more variety into the space, mix things up by pairing Resene Indian Ink walls with accents in a spicy red such as Resene Jalapeno, a terracotta like Resene Moccasin, or a bold yellow such as Resene I Dare You.
2. Try it as a wallpaper mural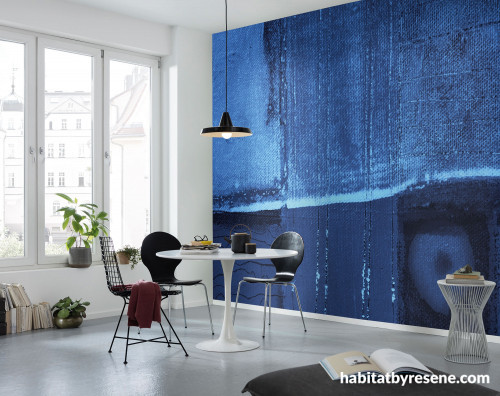 A rich blue feature wall mural, such as Resene Wallpaper Collection PRH-0245, can be a gorgeous addition to a space with lofty ceilings. A little bit raw and edgy, a little bit painterly, the design looks best paired with minimalist furnishings and given plenty of visual space to breathe.
Try it with surrounding walls, trim and a ceiling in a cloudy greyed white such as Resene Half Merino, chairs and a pendant lamp in Resene Noir and Resene Suits, plant pots in Resene Quarter Baltic Sea and balance it out with a few small accessories in Resene Scoria. For bonus points, try adding a dresser or sideboard in a bright jewel tone like Resene Submerge on a wall adjacent to the mural.

3. Build a tone-on-tone palette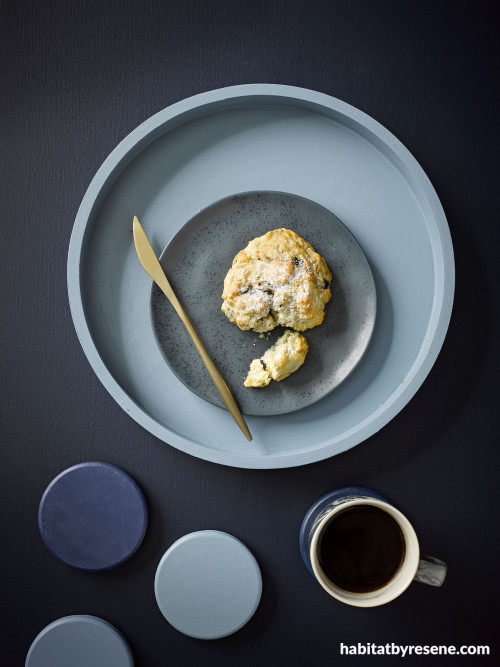 A tonal colour palette that's anchored by midnight or navy blue can create a space that's both classic and elegant. Layering in plenty of lighter weathered or denim variations will add strength and depth to the look while breaking things up visually.
Steal the palette from this table top setting in Resene Twilight Zone, Resene Excalibur, Resene King Tide and Resene Time After Time and create a full room look around it. If you're feeling brave, bring Resene Twilight Zone onto the walls, use Resene Excalibur on a major piece of furniture, such as headboard in a bedroom or a dining room table, then layer in Resene King Tide, Resene Time After Time and Resene Indian Ink on accessories, chairs, light fixtures, trims, floors – you name it. Tone on tone contrast is king in a look like this, so aim for plenty of variety and visual texture.

If Resene Twilight Zone feels too intense a choice for the walls, just remix the palette. Start with Resene Excalibur instead, use Resene Twilight Zone for the key piece of furniture, then add in layers of the other shades until the space feels balanced.
4. Try it with orange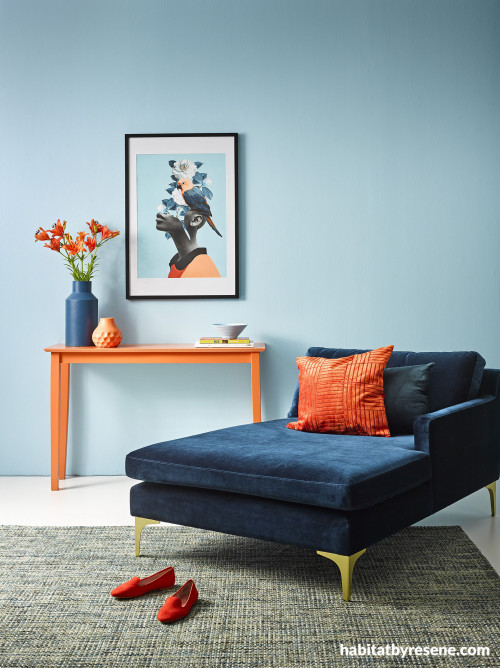 This complementary colour scheme, with a deep petrol blue at its base, looks warm and fresh, but it's the "three c's" that really make this space shine: clean lines, classic silhouettes and plenty of contrast.
Mid-range Resene Bluetooth, which has been used on the walls, strikes the ideal balance between the richness of the sapphire furnishings and the vibrancy of the cushion and the Resene Jailbreak console. The tall vase in Resene Wishing Well plays beautifully off both the velvet chaise lounge and the artwork while the short vase in Resene Japonica and the ribbed bowl in Resene Slipstream – softer versions of the table and wall colours – help bridge the gap between the contrasting colours. The crisp white Resene Alabaster floors give the eyes a natural place to rest.
If Resene Jailbreak is a little too high-octane for your liking, go for a more muted orange like Resene Clockwork Orange or Resene Twisted Sister instead.

5. Use it to ground a bedroom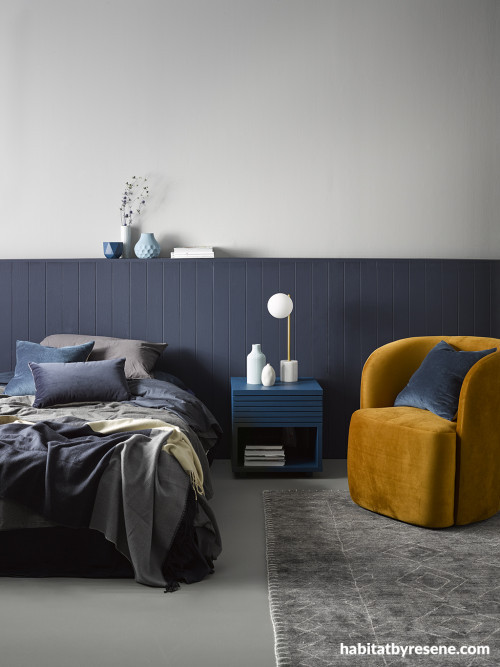 This bedroom, with its Resene White Island upper walls and dark lower panelling in deep and dusty Resene Coast has the best of both worlds – a smouldering, on-trend navy that gives off a cocooning effect with enough levity above to keep it from feeling too heavy.
The nightstand, painted Resene Wishing Well, and the velvet ochre chair give the space plenty of character and really pop against the Resene Coast tongue-and-groove panelling while the floors in Resene Half Chicago provide both contrast and a touch of warmth. The vases (from left to right) in Resene Wishing Well, Resene Remember Me, Resene Bluetooth break up the space between the upper and lower wall sections to unify the room.
To complete the look, paint a large-scale piece of furniture, such as a bookshelf or chest of drawers, in Resene Bi Hoki for a true statement piece.

styling Kate Alexander, Vanessa Nouwens, Claudia Kozub?
images Bryce Carleton, Melanie Jenkins