►
◄
latest
habitat tv
blog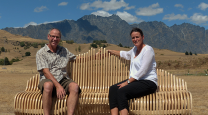 On trend: Shaping up
Do you have a large expanse of white wall? Or a square box room with few architectural features? Good news! They make the perfect blank canvas for styling with painted shapes.
And we're talking any shapes that tickle your fancy whether it's bold geometric lines and angles, or softer more relaxed curves and circles.
Adding shapes to your walls – or your floor and even your ceiling – is a relatively simple way to stamp your personality on your home, add a splash of colour to otherwise neutral palettes, make plain rooms more dramatic and often create the illusion of more space.
Some good general tips are to keep busy geometric designs to only one wall of a room, and to use the same or complementary shades throughout the space. That way the wall will be integrated into the whole room, rather than being jarring or overwhelming.
Think about incorporating your shape design into the room the same way you would a piece of art.
Of course, a fun exception to that might be in a kids' playroom where a collection of bright, bold and even clashing colours might be just the thing for creating a fun, creative space.
Top tip: Resene testpots are often the perfect amount of paint to paint a shape on a wall. A cost-effective way to make a change at your place. Shop for them here or visit your local Resene ColorShop or reseller.
Where to start?
Geometric shapes, with strong angles and straight lines are easiest, just arm yourself with masking tape. Assymetrical shapes are often more pleasing to the eye, especially on a large scale, and often give you the illusion of more space.
For round, or more fluid natural shapes create a stencil first that you can tape to the wall and paint around. Or find a central point and use a string and chalk to draw an arc. Spend a little bit of time practising with a good cutting-in brush for the perfect finish!
See how: Watch this video to see how to draw a circular shape on a wall.
Shapes to try:
Polka dots can be a fun way to decorate a child's bedroom, or even a funky bathroom. Rather than cover a whole wall, try creating patterns out of small groups of different size dots. Metallics such as Resene Space Station, Resene Alloy or Resene Axis lend a more sophisticated vibe to polka dots for more grown-up spaces. To get perfect circles cut a stencil from thin card or use a round sponge applicator.
For a more retro circle design, try interlinked outlined circles of different sizes.
Go for a 3D effect in a bedroom or sitting room with triangles of all shapes and angles butting up together in different shades of white to dark grey.
Contrasting lines in a bold geometric pattern is a very modern, stylish way to make a wall more interesting. Go asymmetrical rather than repeating the same shape to add drama and interest for the eye.
Diagonals or stripes in graduated shades of the same colour, or using complementary colours, can add extra dimensions to a small or square room. It's also a good way to soften a large, blank stretch of wall. When using different colours across one wall remember lighter shades at the top will open the space up, while using darker shades at the top can decrease the 'looming' sensation of a large wall expanse with a high ceiling.
Published: 27 Sep 2018
Do you have a home full of wonderful Resene paint and colour? Send us some snaps by emailing [email protected].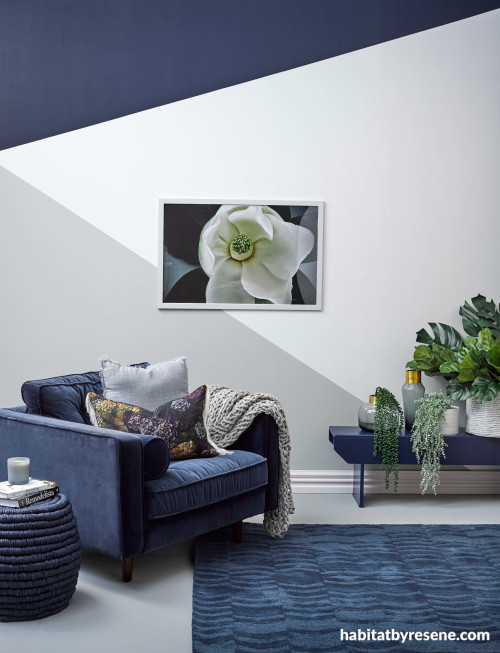 This blue and grey toned space gives instant structure to what may otherwise be a plain, uninteresting space. The wall top triangle is Resene Indian Ink, the middle triangle is Resene Athens Grey and the bottom triangle is Resene Atmosphere. The room is pulled together with Resene Stack on the floor, Resene Indian Ink on the rope side table, Resene Blue Night on the bench and Resene Eighth Tapa on the picture frame and the small pot.
Accessories: Candle Resort Luxe Soy in Helsinki, Vintage Linen Fringed Cushion in Smoke, String of Pearls Plant, Silver Dollar Vine Plant, from Shut The Front Door. Copenhagen Chair Cozy, Kisii Floor Rug 160x230cm, Meritt Vase Wide, Conway Vase Tall Grey, Akori Throw 130x150cm Natural, Flora Fiddle Leaf Stem, Rogue Bird of Paradise, Rogue Monsteria Leaf from Freedom Furniture; Iris Magnolia print from Wallflower. Hydrangea Tassel cushion from Thread Design.
pictures
Melanie Jenkins; Styling by Emily Somerville-Ryan
Here the triangle design cleverly adds depth, dimension and a shot of citrus in bright Resene Hypnotic to an otherwise very neutral layered look. This is also a great way for framing a separate space in a small or open-plan room. Here the darker triangles, the bowl and the stool are in Resene Quarter Stack. The background wall, chairs and small vase are in Resene Quarter Surrender. The table is Resene Half Carefree, the floor is Resene Half Duck Egg Blue and the large vase is Resene Sublime.
Accessories: Contrast Pendant light and Talo Mug in Fog from Citta. Linens & More Tibetan Lamb Fur Cushions in Natural and Grey from Shut the Front Door. Knotty Throw from Alex & Corban, Wooden fruit from Kikki K. Wooden shapes from Country Road.
pictures
Wendy Fenwick; Styling by Emily Somerville-Ryan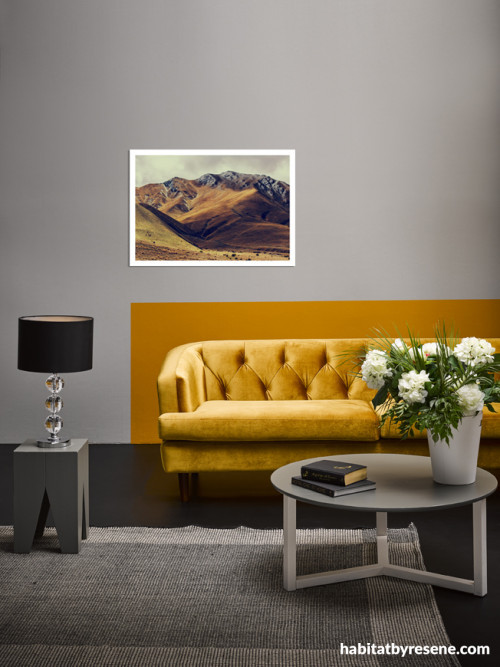 A bold rectangle shape in the deep gold of Resene Hot Toddy perfectly echoes and frames a statement couch, making the space glamorous and inviting. It's easy to create and works particularly well against the tonal grey and charcoal layers of the rest of the room and furnishings. The back wall is Resene Nero, the peg stool and tabletop are Resene Half Gravel, and the table legs are Resene Double Merino.
Accessories: Baxter Velour Mustard Couch from Me and My Trend, Lamp, hat, books stylist's own.
pictures
Melanie Jenkins; Styling by Megan Harrison-Turner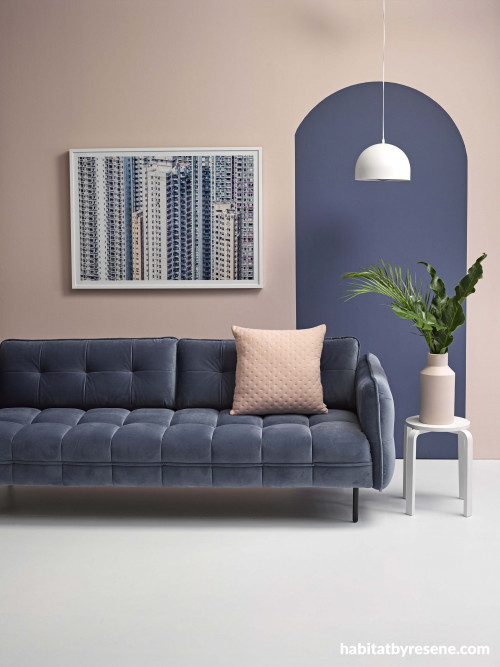 Here a stylish arch shape painted in Resene Avalanche immediately adds a '70s Spanish hacienda feel to an otherwise plain room. The touch of blue not only completely changes the vibe of this space but nicely warms up the millennial pink wall in Resene Soothe and the cool, clean white floor in Resene Alabaster. The small side table is also Resene Alabaster as is the pendant light shade, perfectly framed by the arch. The vase is Resene Soothe.
Accessories: Dax Sofa in Dusty Blue from Me And My Trend, High Rise Framed Print, from Shut the Front Door, Kaya pink cushion from Country Road, Kerrigan mug in Still Water and Rose from Freedom Furniture.
pictures
Melanie Jenkins; Styling Vanessa Nouwens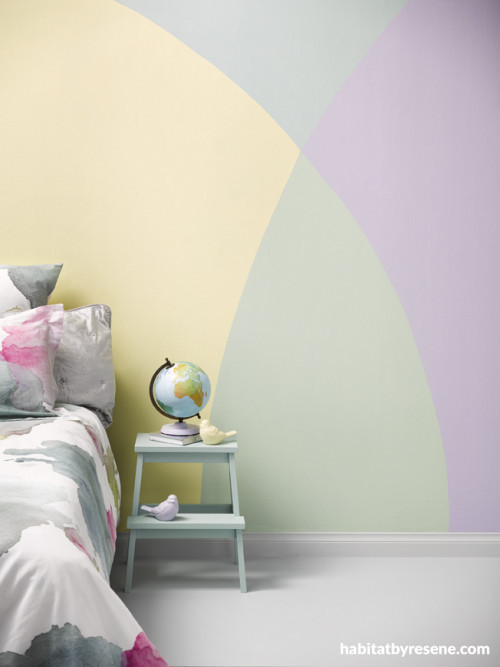 Intersecting circles of on trend dusky pastels are just the ticket for a cool kids' room, adding pattern and colour without being busy. And the use of complementary pastel shades means you can go multi-coloured without the result being loud or overwhelming. Older kids should be able to help out creating, stencilling and painting this design as well. Start with the subtle base colour over the whole wall then, here circles are overlayed in (from left) Resene Half Moonbeam, Resene Surf Crest and Resene Poet. The floor is in Resene Loblolly, the ladder is Resene Half Opal, and the birds reflect the circles in birds in Resene Half Moonbeam and Resene Poet.
Accessories: Aquasuvious Duvet Set, Shimmer Velvet Quilt in Grey, and Shimmer Velvet Pillowcase in Grey from Wallace Cotton. Shoes and globe, stylist's own.
pictures
Melanie Jenkins; Styling by Megan Harrison-Turner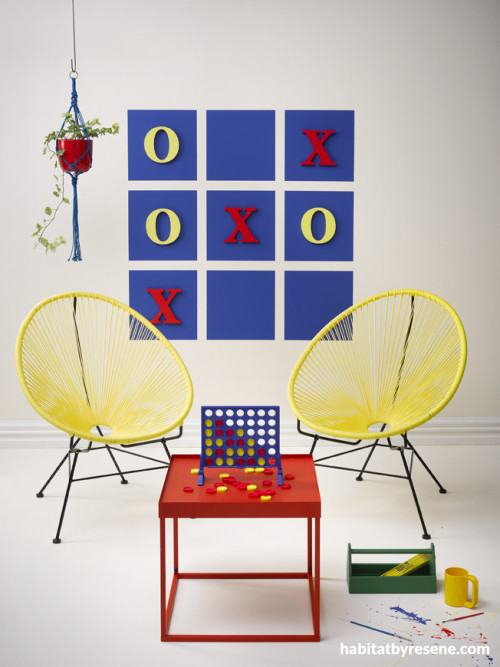 Here's an example of a bright, fun way to use shapes in a kids' playroom or bedroom. This space uses pops of primary colours with Resene Sea World on the wall grid, Resene Havoc on the table and crosses and hanging pot, with Resene Shooting Star on the chairs and noughts. A splash of green adds a finishing touch with Resene Wheel Of Fortune on the wooden trug. The key to this look is a clean neutral background wall and floor, both painted in Resene Pearl Lusta. For a different effect you could paint the square grid in blackboard or magnetic paint, or even paint square cork tiles.
Accessories: Acapulco Lounge Chairs from Mocka. Other props: stylist's own
pictures
Melanie Jenkins; Styling by Kate Alexander