►
◄
latest
habitat tv
blog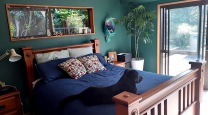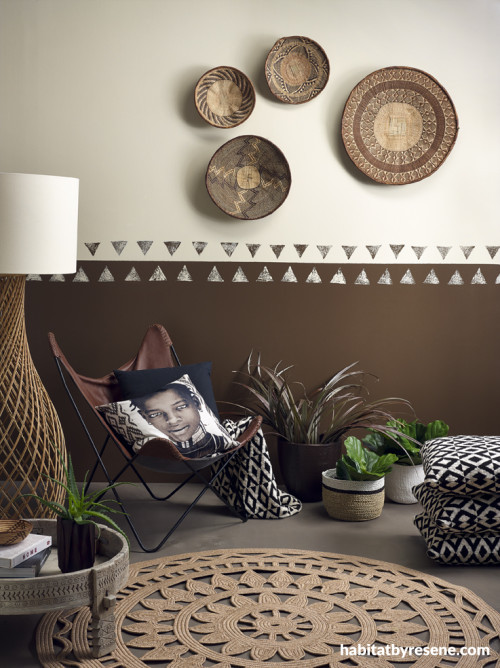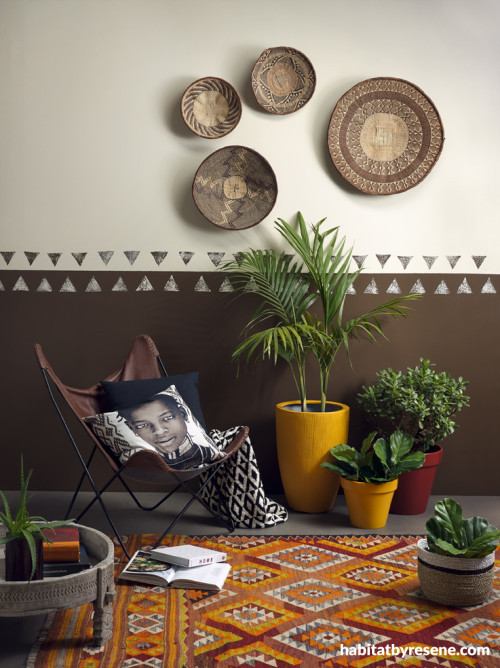 Trending: tribal luxe and bitter browns
There are some interior styles that transcend the seasons, and this is one of them. Call it 'native natural', 'tribal luxe' or 'eclectic ethnic', it's a look that is based on a sensuous Resene palette of bitter burnt browns, savannah golds and rich ivories.
It's a great interior theme for those who want a dark moody feel but find that current trends for dark grey or inky blue are too cool. Or for those who are a bit over the Scandi look and crave a richer, more interesting colour palette.
The beauty of both the Scandi look and this tribal luxe approach is that they are both firmly anchored in natural elements – rustic timbers, shaggy furs and skins, woven accessories like baskets and mats. And they both look great with ethnic prints and over-size black and white artworks.
You can keep the palette simple and monochromatic, or add spirited touches of fiery red and burnt orange for quite a different look – we show you both here.
See how easy it is to transform a room, or to take it from summer to winter by simply adding a couple of colourful accessories and changing out the rug.
It's a forgiving look. In these rooms, the line on the wall separating Resene Bronze (on the bottom) and Resene Triple Wheatfield (top) is hand-painted, using the edge of a speed brush (available from Resene ColorShops). If it was ruler-straight, it just wouldn't look right. Then the reverse colour stencils are simply pressed on using a cut-up kitchen sponge. So easy, and so effective.
Why it works
· There are lots of soft circular shapes, no harsh edges – the wall-hung baskets, the lamp base, the pots and the rug.
· Texture, and more texture, expressed in baskets, open-weave fabrics and strokeable leather.
· Simple ethnic patterns, in black and white for the monochromatic scheme, and in the richly coloured rug in the second version.
· Nothing's too perfect, from the wall stencil to the throw and cushions slung on the chair and floor.
· In the colourful version, counter-balance the hot reds and oranges (the pots are Resene Pirate Gold and Resene Fahrenheit) with more cool greenery and more plants.
pictures Melanie Jenkins, styling by Megan Harrison-Turner.

Published: 11 Apr 2016
Do you have a home full of wonderful Resene paint and colour? Send us some snaps by emailing [email protected].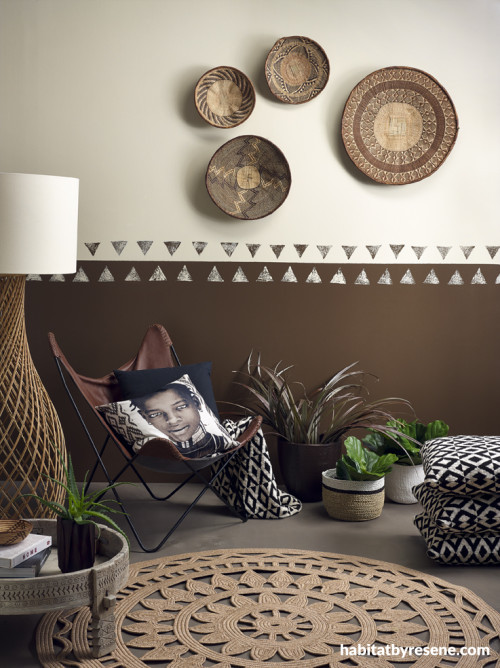 The tribal luxe look with walls Resene Bronze and Resene Triple Wheatfield, a plywood floor in Resene Colorwood Smokey Ash, a coffee table painted with a ragged effect in Resene Double Wheatfield, and a pot in Resene Wood Bark.
The African Wall Baskets, African Beaded Face Cushion, and Leather Butterfly Chair are from Republic Home. All other accessories from Freedom Furniture.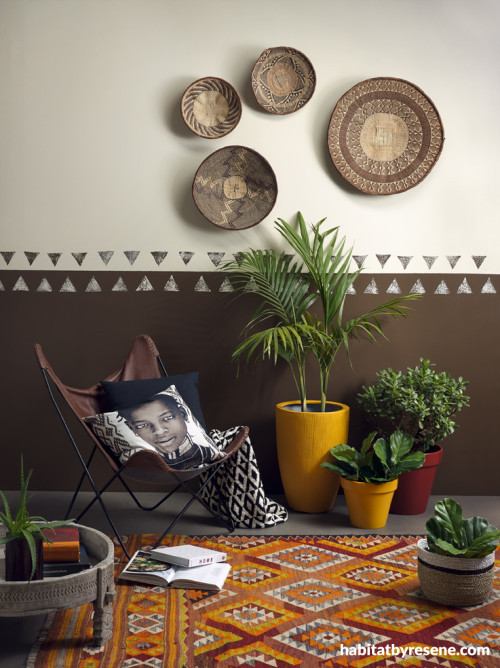 Add some heat to the scheme with pots in Resene Pirate Gold and Resene Fahrenheit and a Musai S.E Afghan rug from Republic Home.
the look
If you're stuck on what
colour to use or need colour
advice, try out the Resene
Ask a Colour Expert service.