►
◄
latest
habitat tv
blog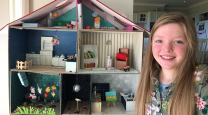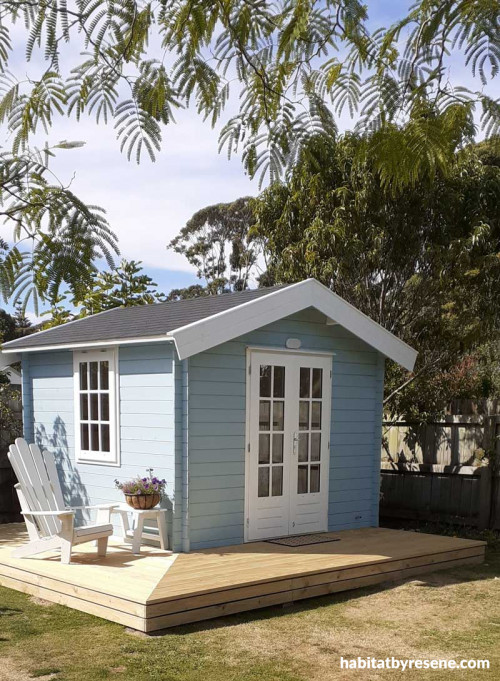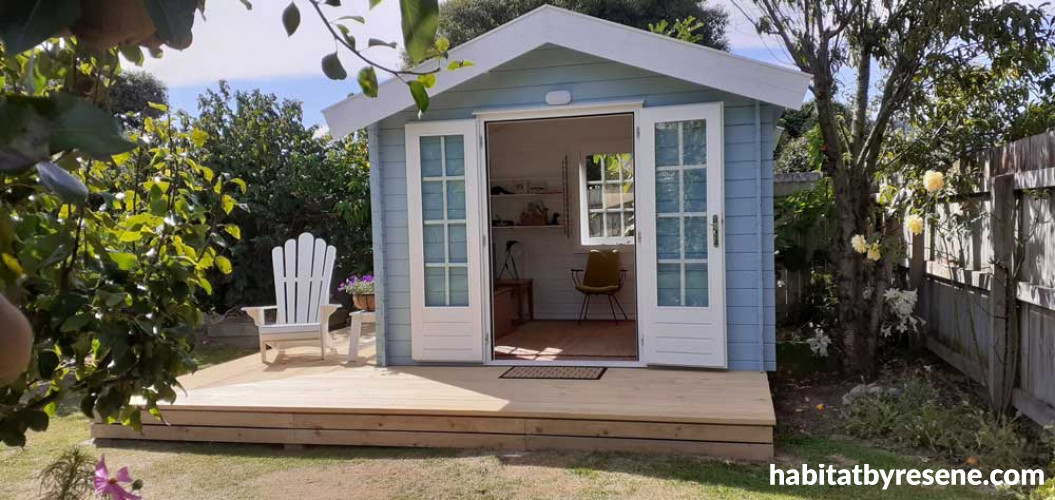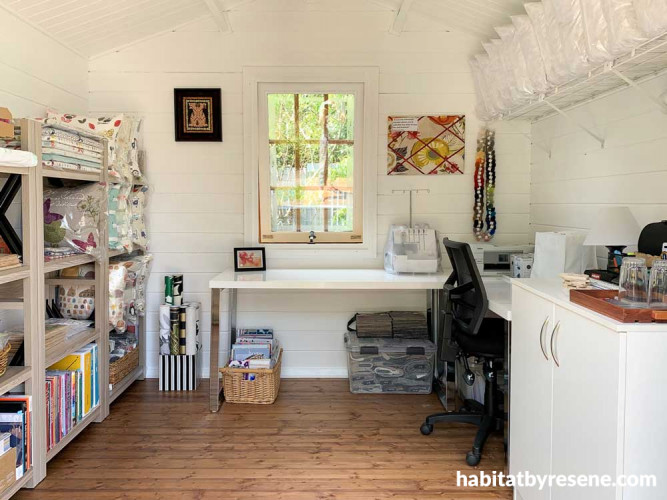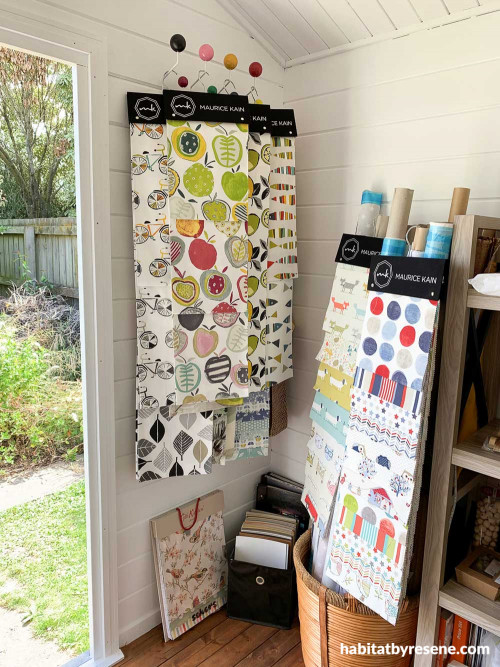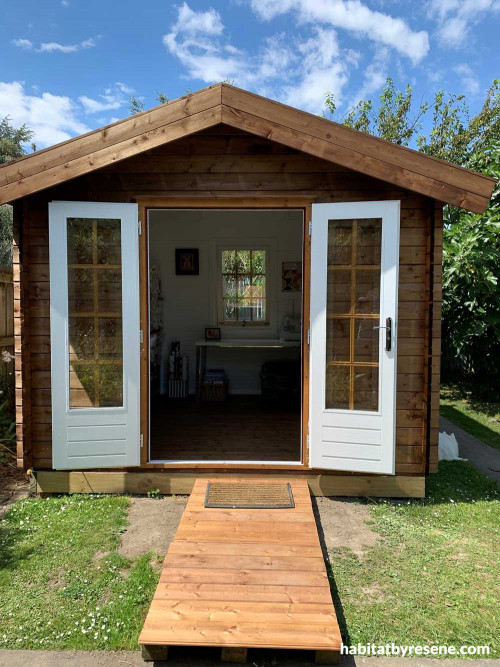 Two colourful SheSheds decorated with Resene
Small cabin solutions with SheShed
Beachy keen
When Lea decided to create a garden studio which could also double as a sleepout for her teenage daughter, she pulled out all the stops with a Hamptons inspired design. She chose a kitset 9 sqm Star Cabin from SheShed made of kiln-dried Nordic spruce with double French doors and an Asphalt shingle roof. The kitset is compliant with most council regulations (please check your local rules) and designed to be built by two novices over a weekend. Lea enlisted the help of a handyman and family members to build the home and paint it in bright blue Resene Botticelli prior to construction.
"We painted the timber inside and out before building. It's the same blue as our house, Resene Botticelli," says Lea.
"We added underfloor wool insulation, electricity, one additional window, skirting and a lovely mustard colour sofa bed and a wi-fi extender."
The finishing touch for their sleepout cabin was timber decking replete with a Cape Cod chair for soaking in the sun and she and her teenage daughter love it. "This is an easy low-cost room extension for anyone needing an extra room."
Lea's Star Cabin SheShed cabin is painted in a Cape Cod style using Resene Botticelli with Resene Alabaster on the soffit, trims and French doors.
Each compact kit is easily delivered nationwide with simple assembly instructions, video tutorials, well-labelled materials and speedy customer support, which Lea adds was "awesome."
For more info on the Star Cabin visit www.sheshedcabins.com/shop/sheds/star-cabin-treated-kitset/
-----
Elizabeth's sewing space
When Elizabeth needed some extra space for her interior design and gift business called Jemina and Jeremy (jemimaandjeremy.co.nz) she turned to SheShed to create a small studio.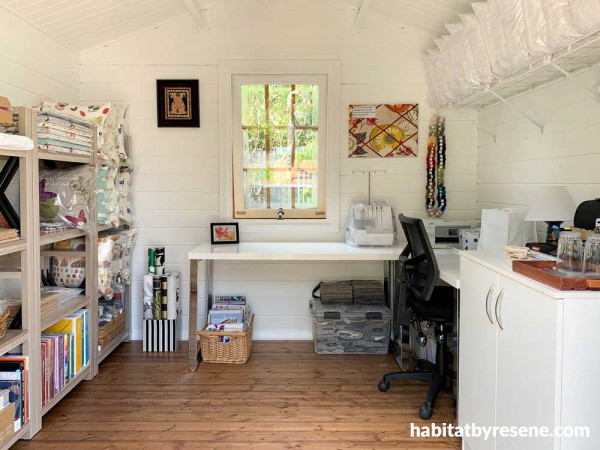 Elizabeth's sewing space is painted in light and bright Resene White to create a calm and neutral working space ideal for sewing with patterned material. Elizabeth used Resene Qristal ClearFloor in her SheShed Star Cabin to protect the floor of the cabin made of kiln-dried spruce.
"We built the She Shed for me to use as my interiors studio. I work as an interior designer specialising in beautiful finishing touches and gifts for children, and I use the studio to create and make products to sell in our small online store."
Elizabeth chose the Star Cabin for her sewing space. Having the SheShed not only gave her extra space in her home but allowed her to create some extra work life balance.
"I have worked as an interior designer for about 7-8 years and have always used a bedroom in our house for the studio, so felt like I never really 'shut the door on the business' at the end of the day, whereas having a separate studio to the house is great. I now 'go out to work' and I feel as though the business is now separate to our day-to-day living."
Liz painted the interior of the shed in crisp, clean Resene White and protected the timber flooring with Resene Qristal ClearFloor and added some other mod cons.
"We've installed blockout roller blinds in the shed, the roller blind for the window is chain controlled, and the roller blinds for the French doors are motorised and are to operate independently of each other."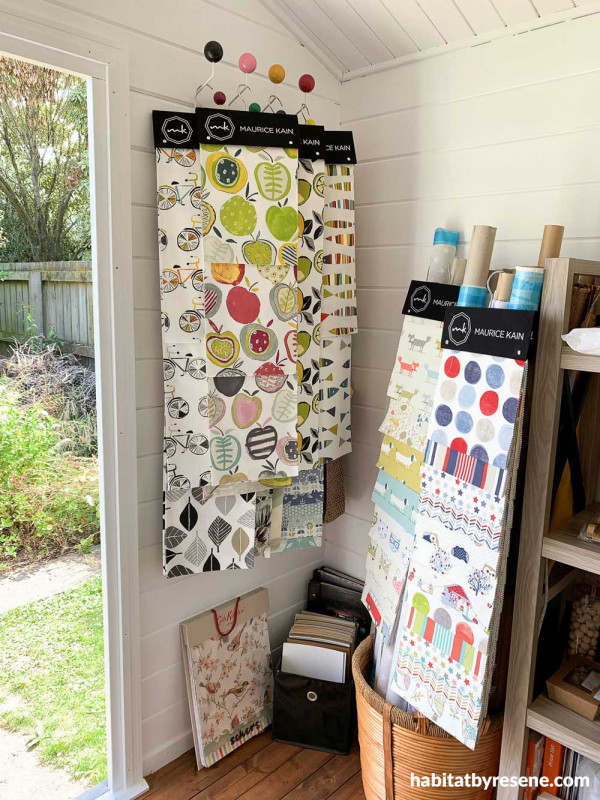 Resene Qristal ClearFloor protects the spruce flooring of Elizabeth's Star Cabin from She Shed. Resene White is the perfect colour for the walls when Elizabeth is choosing fabrics for her designs.
Next on the list is painting the exterior:
"We are going to paint the spruce exterior of the shed in Resene Iron with Resene White around the window frame and French doors."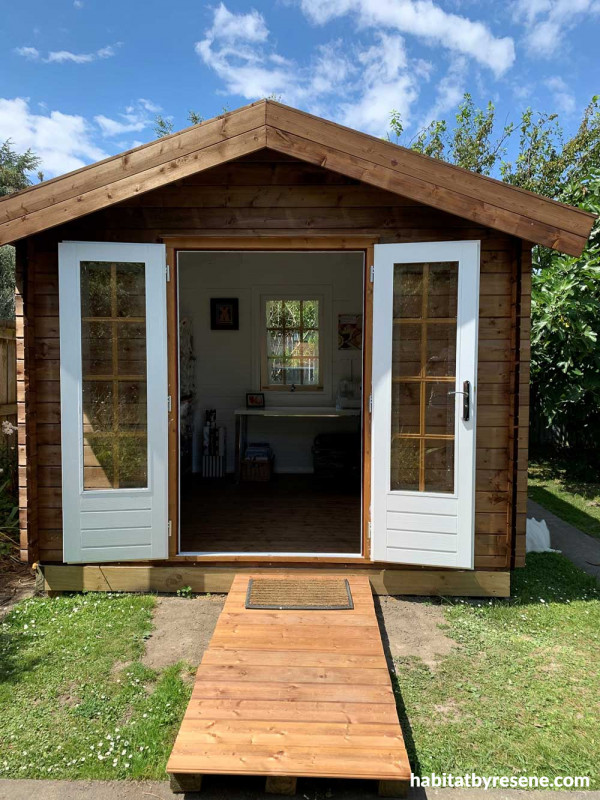 The spruce exterior of Elizabeth's Star Cabin from She Shed is currently unpainted but she plans to paint it in a colour which complements the Resene White French doors. To achieve the same rich brown tones as the spruce timber, try Resene Woodsman Heartwood.
"We have taken the timber trellising off the window and French doors as we wanted to give the studio a more contemporary style and to create continuity with windows in the house."
To see more SheShed designs visit the inspiration gallery https://www.sheshedcabins.com/inspire/
About She Shed
SheShed is a trans-Tasman brand that is operated locally in New Zealand and Australia. The SheShed sheds range from as small as 5 sqm to 29 sqm so there's structures to suit every purpose. The SheShed website is filled with information on everything on how to construct a SheShed to painting suggestions and an overview on New Zealand council regulations.
SheShed operates as two independent companies who share a unified office that is digitally connected. This just means that when you phone or email from either country, your communication is processed by team members from both or either side of the Tasman Sea. Contact SheSheds today www.sheshedcabins.com/about/contact-us/
Published: 30 Mar 2022
Do you have a home full of wonderful Resene paint and colour? Send us some snaps by emailing [email protected].
the look
If you're stuck on what
colour to use or need colour
advice, try out the Resene
Ask a Colour Expert service.