►
◄
latest
habitat tv
blog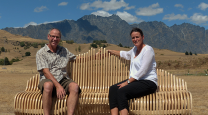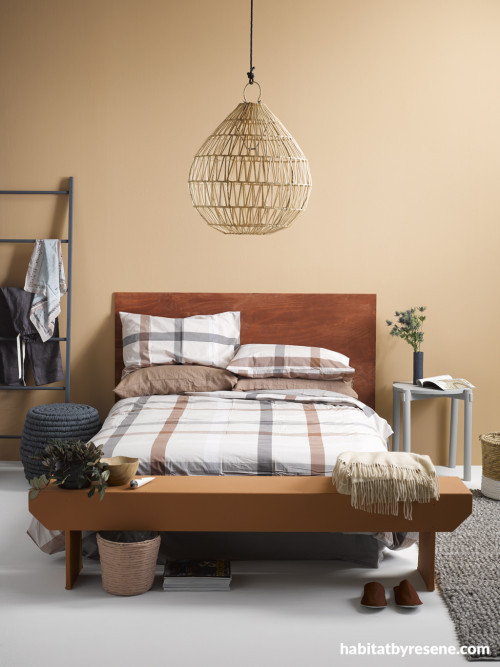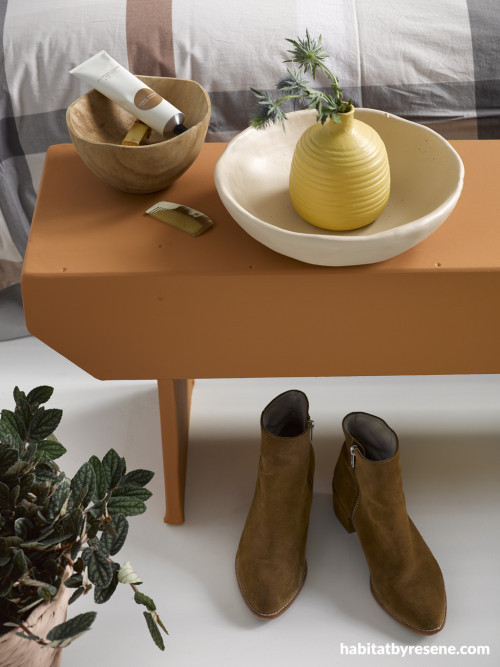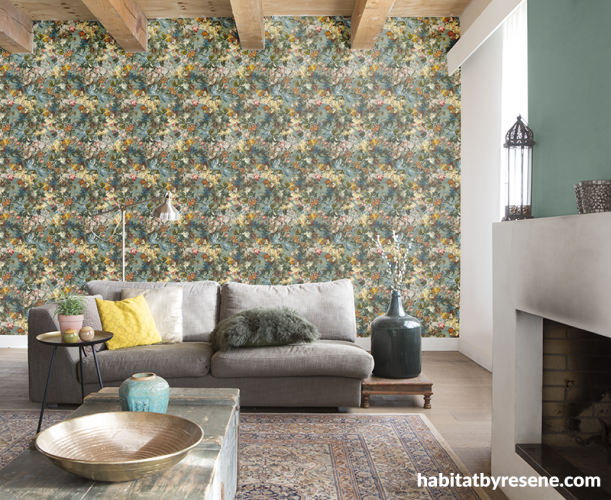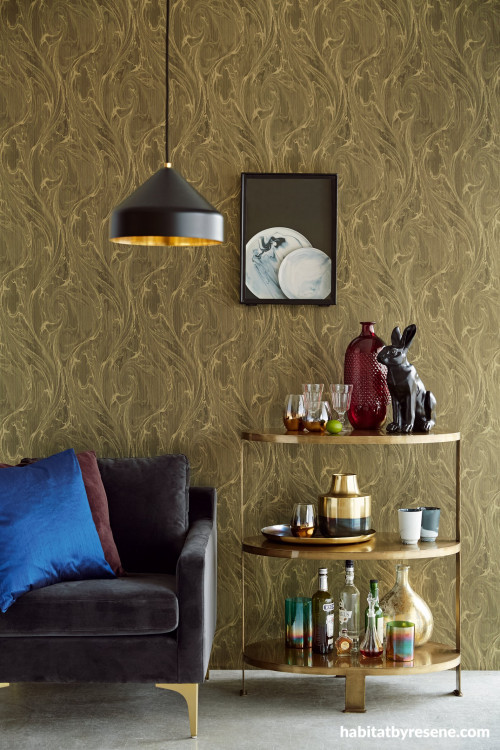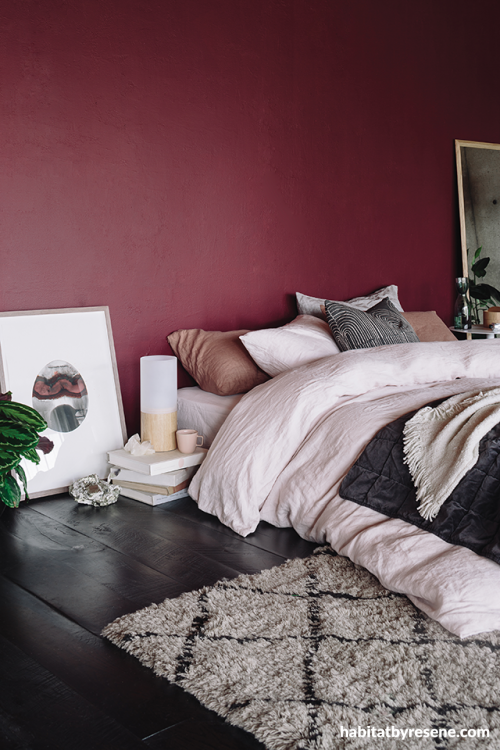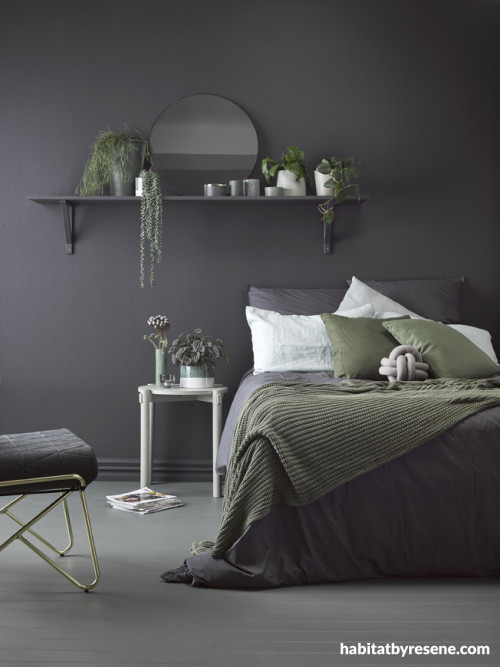 Turn your home from brr to brilliant
Winter is well and truly upon us... and if you're feeling less than cosy in your home, it may be time for a few interior touch-ups. Changing your home from brrr to brilliant doesn't necessarily require a major overhaul. Sometimes all it takes is the right colour to warm things right up. Here are some of our favourites from the Resene range, and a few other tips to help you cosy up your place.
Cosy up to gold and brown
Ochre, gold, terracotta, ginger and cinnamon... browns and gold have really come into their own this year with their rich, nutty and spicy appeal, and have departed from the previous popularity for grey-browns. On-trend colours such as Resene Good As Gold, Resene Calibre and Resene Toffee are delicious and warm, and look great in a tonal scheme. Don't be afraid to use a few of them in the same room. It just adds to the lusciousness. The benefit of these colours is that they also look great with a variety of interior styles. You can take them rustic, a bit luxe, or go all eco warrior.
Switch up the texture
Velvet sofas, knobbly rugs, plumpy cushions, fur throws, textured wallpaper, grainy timbers... the more texture you bring to a room, the cosier it will become. Velvet is very in and while it traditionally looks good in jewel or pure tones, there are some dramatic acid greens and rich browns around, too. Later in the year, for a seasonal change-out, just edit out some of the more obvious textures.
Muddy it up
Muddier tones are very on-trend, and perfect for warming up the home. That doesn't mean you have to go all swampy greens and leathery brown, although the range of cosy khakis out there is pretty appealing. If you want a softer scheme, pastels can be interpreted in more muted or weathered palettes that suit cooler times. Think smoky blue, washed green, sandalwood blush and warm grey. There's a reason the Scandi look hales from a cold climate.
Good news for neutral lovers
And while we're talking about paler palettes, warm colour doesn't always have to mean strong colour. While rich spicy red Resene Pohutukawa remains one of the most popular colours in the Resene range (and is a beautiful way to warm up a room), the Resene Whites & Neutrals collection has a range of creamy whites that will do the trick... while allowing you to be versatile in your choice of furnishings.
Warmed up neutrals such as Resene Spanish White, Resene Pearl Lusta, and Resene Half Tea are long-time favourites, while we're seeing more and more of Resene Bianca and Resene Rice Cake being used. These fleecy whites are extremely flexible.
Published: 27 Jul 2017
Do you have a home full of wonderful Resene paint and colour? Send us some snaps by emailing [email protected].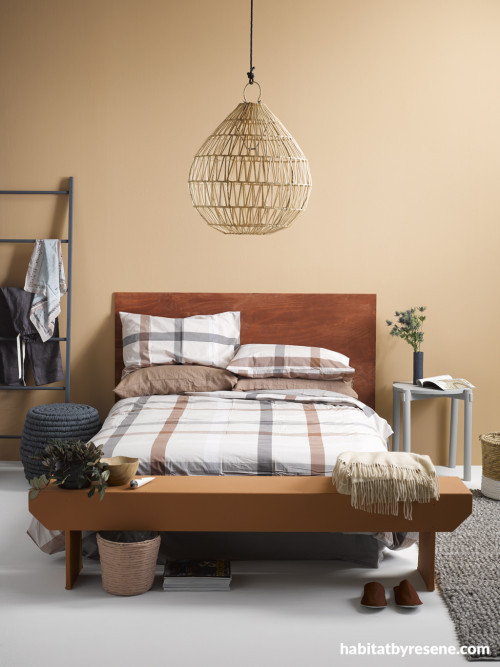 Stylist Gem Adams painted the walls of this bedroom in Resene Calibre, a warm ochre brown, which softly cosies up the room. She's kept to reddy browns in accents throughout, from Resene Toffee on the bench seat to the bedhead stained in Resene Colorwood Meranti. The floor is painted in Resene Wan White, a warm, umber white.
pictures
Melanie Jenkins.
Props from Citta, Tessuti, Penney + Bennett, Indie Home Collective and Blackbird Goods.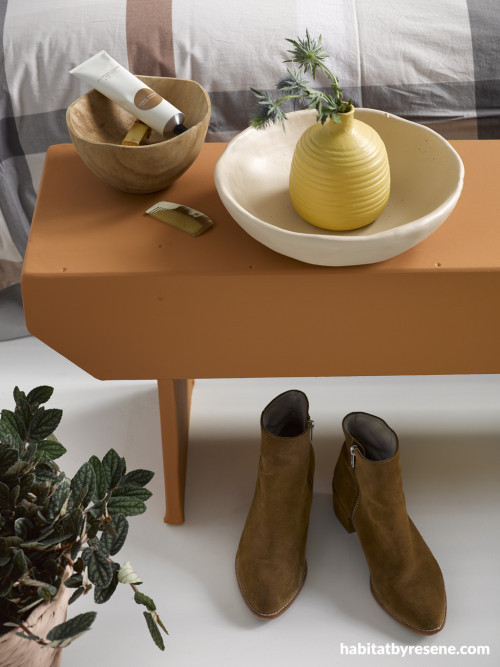 If you're wanting to repaint your walls, you can subtly add warmth to your decor with painted accents – such as this bench seat painted in Resene Toffee. The Resene The Range fashion colours fandeck is filled with on-trend hot hues perfect for this idea. The floor is painted in Resene Wan White.
pictures
Melanie Jenkins. Styling by Gem Adams.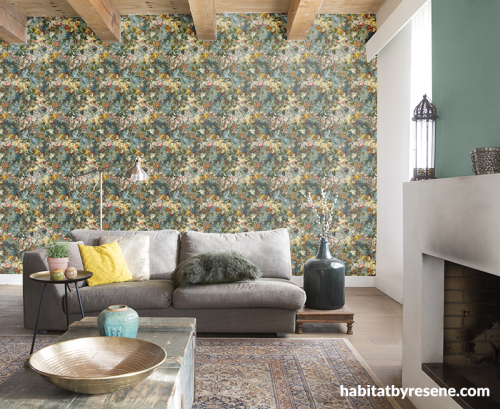 Muddied greens are also a popular trend coming through and cloak the room in a comforting, rather than claustrophobic, way. Get the look with wallpaper available from Resene ColorShops (code 60565) and walls in Resene Inside Back.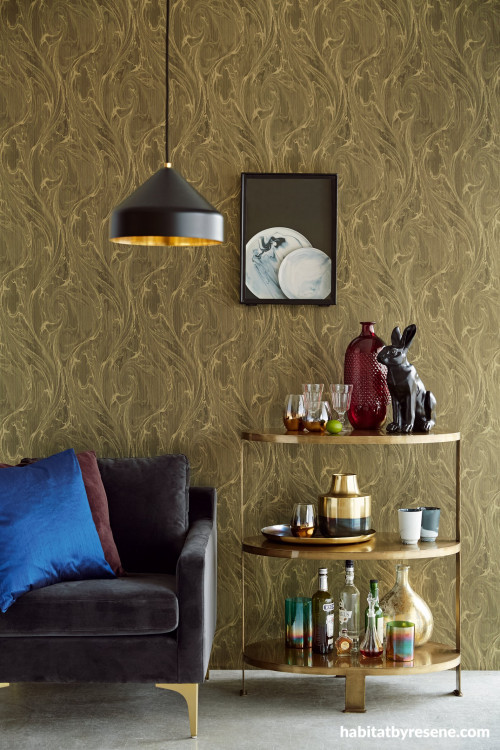 If you like a touch of grandeur, elements of yellow gold are a sure fire way to warm up the home. Add lots of velvet and your favourite tipple, and you're all set. Get the look with wallpaper available from Resene ColorShops (code 378048).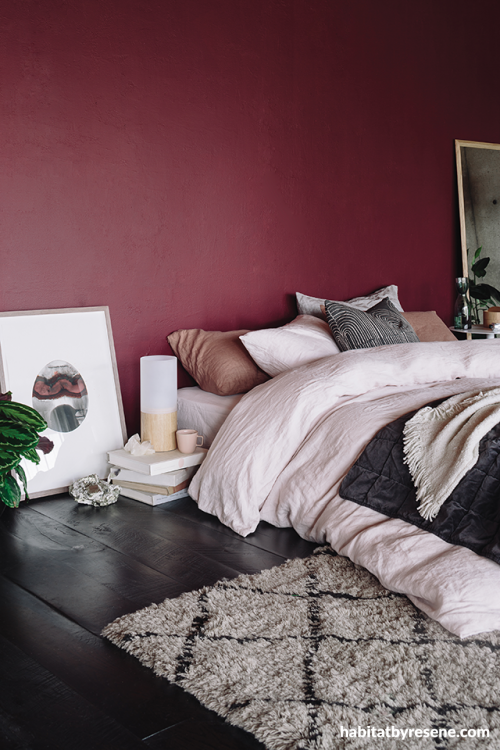 This bedroom, painted in Resene Arthouse, is all kinds of cosy. It features in Citta's latest campaign, inspired by Bolivia's rich landscape.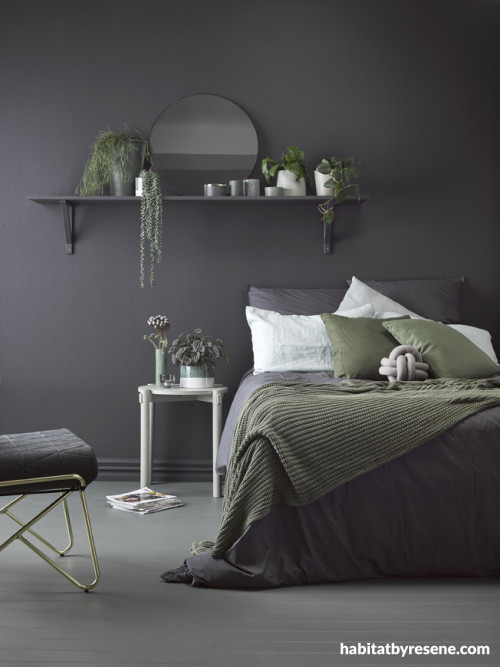 Want to forget about winter altogether? Escape to a bedroom painted in rich velvety greys... take your cue from this cosy haven, with walls painted in Resene Nocturnal and floors painted in Resene Viktor.
pictures
Melanie Jenkins. Styling by Vanessa Nouwens.
the look
If you're stuck on what
colour to use or need colour
advice, try out the Resene
Ask a Colour Expert service.