►
◄
latest
habitat tv
blog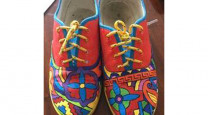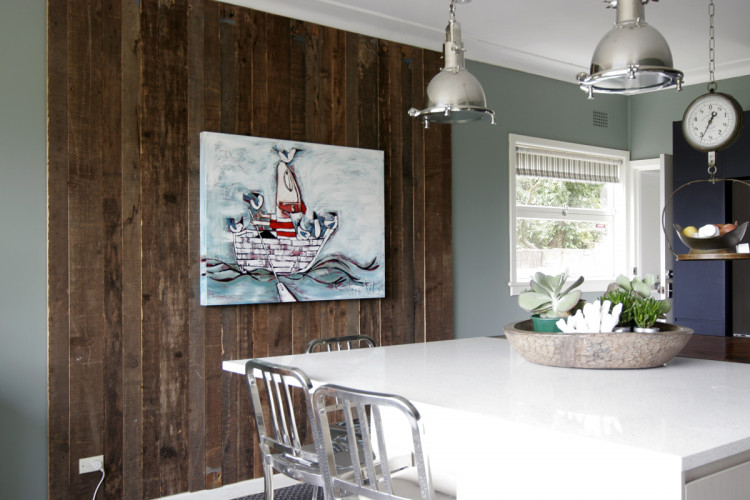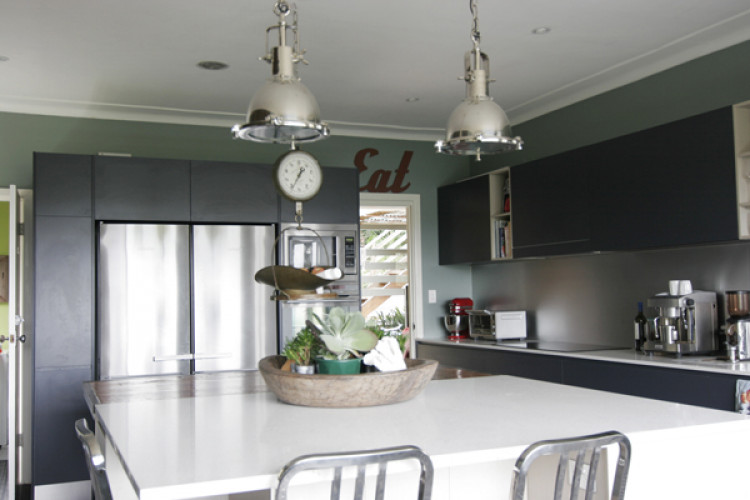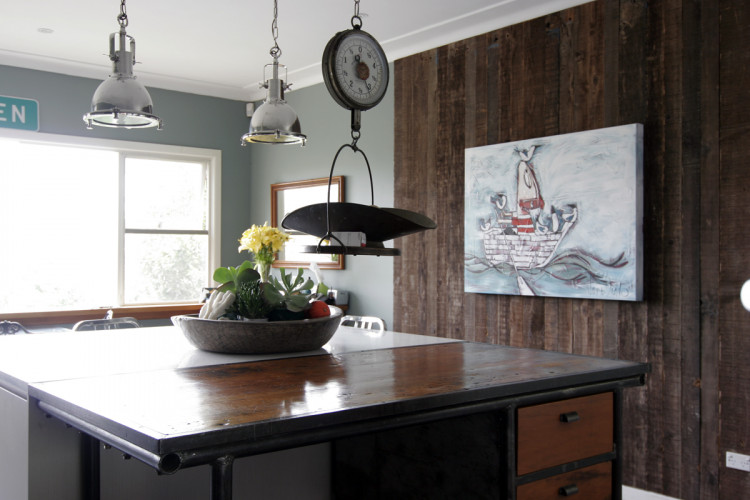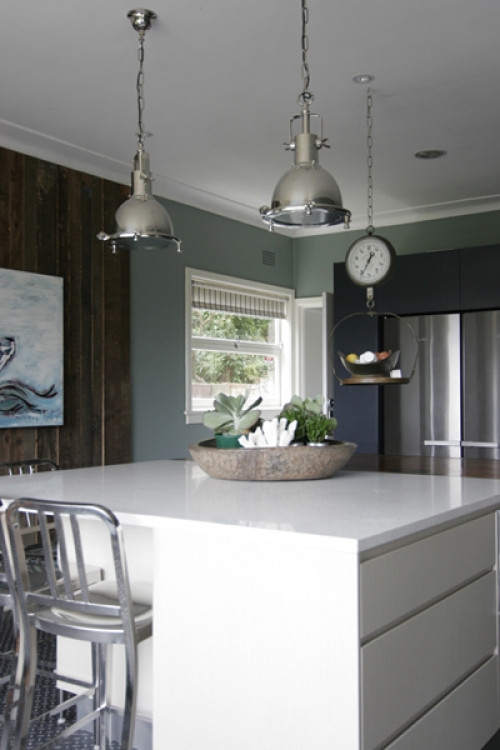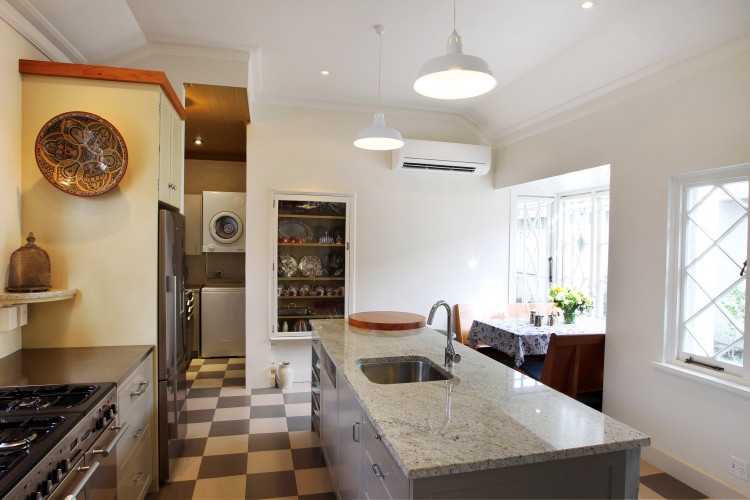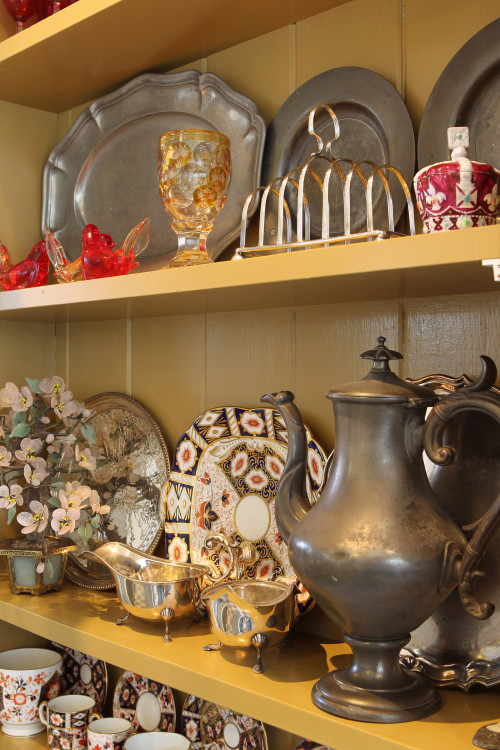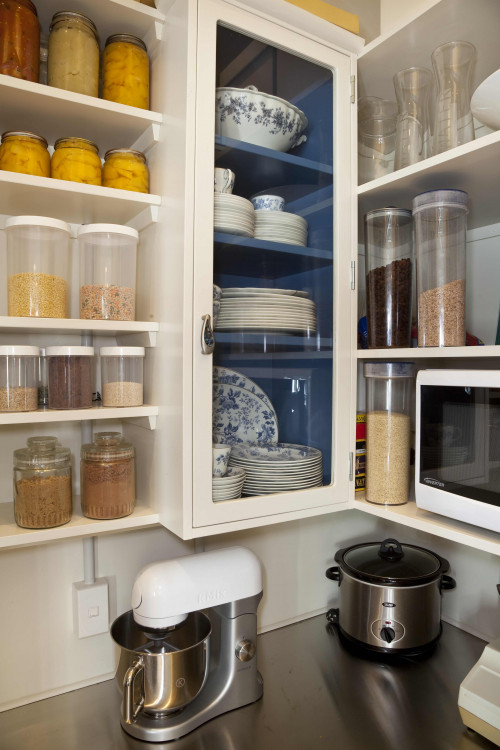 2 ultra delicious vintage-style kitchens
14 Feb 2013
Do you have a home full of wonderful Resene paint and colour? Send us some snaps by emailing [email protected].
Vintage is a virtue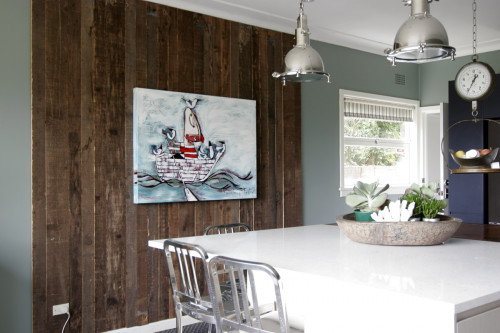 Most kitchen are shiny and new – right? That's how we like them – right? Yes, but that doesn't mean they can't incorporate some pre-loved features, as these two do, in very clever ways.
Don't fight it, work with it
Deciding not to fight the fact that this large kitchen is south-facing and therefore lacks good natural light, designer Donna Allen of The Space Within, in Australia, used a palette of moody blues, including walls in Resene Spacecote Low Sheen tinted to Resene Bluegrass.
A key element was the existing industrial bench that originally was part of a Singer sewing factory. We were keen to retain this as part of the kitchen and it set the industrial tone of the space. This is joined by commercial vinyl flooring in a charcoal treadplate pattern (Polyflor Expona).
That industrial feel is echoed in the aged, recycled oregon planking attached to the wall with battens. It adds warmth and texture to the room and helps to visually bring the size of the room back to a more comfortable scale.
The kitchen has all stainless appliances, including a bank of two fridges side-by-side, industrial lighting and furniture, and a vintage grocery scale hanging from the ceiling. The benchtops are Caesarstone Nougat providing easy care and a spot of lightness in the overall design.
Other elements are Formica Char Blue and Laminex Oyster Linea cabinetry.
Style without snobbery
When it came to renovating the kitchen of her old Arts and Crafts house, Ros didn't want one that looked like it had come straight out of a showroom. And by reusing parts of the old kitchen and hand-painting the cabinets and inside the cupboards with an array of Resene colours, she has achieved just that.
She has used five different handles styles, a preloved table and church pews, old rimu, old dresser tops and a steel leg set into a ring of old concrete. She has added self-made stained glass, metal edging on any open shelving and a rough concrete face to the island bench.
The inside of the glass-fronted cupboards that are scattered throughout the kitchen are painted unexpected and bold colours using Resene Enamacryl for durability – there's Resene Hazard (orange), Resene Blumine (teal) and Resene Kashmir Blue. The cabinetry is also a variety of colours from Resene High Noon to Resene Napa. Even the floor is two-tone, in a traditional chequered pattern using cork tiles coloured with Resene Half Napa and Resene Eighth Parchment.
Ros was helped by kitchen designer Celia Visser, who reconfigured the tricky space and helped to co-ordinate the various tradespeople.
A moody space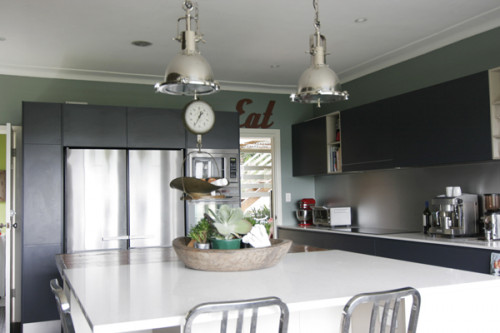 Designer Donna Allen of The Space Within didn't fight the room's lack of direct sun but gave it a shot of brightness with a benchtop in Caeserstone Nougat. The walls are Resene Bluegrass.
From sewing to cooking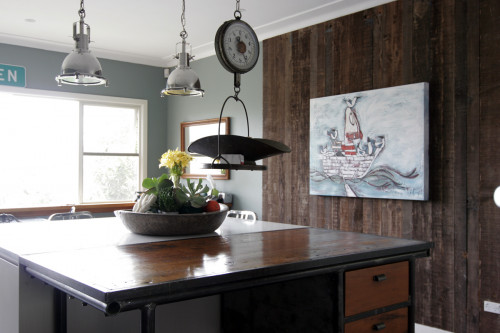 A key element was this existing industrial bench that originally was part of a Singer sewing factory.
An edgy feature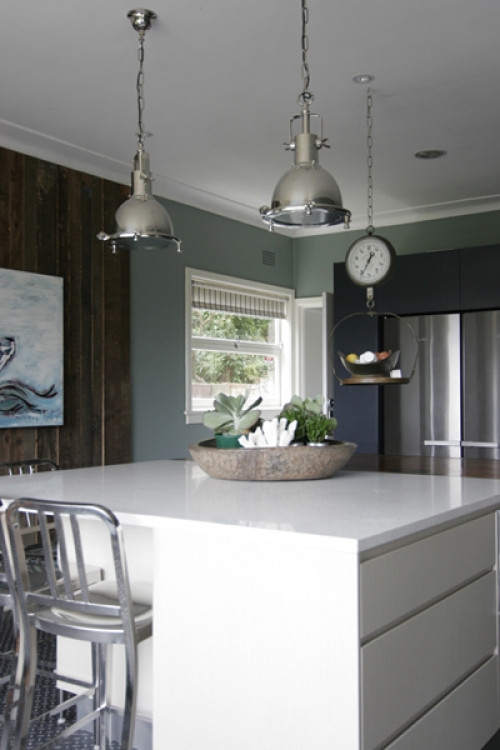 The feature timber wall is aged, recycled oregon planking attached to the wall with battens.
Recycled not once but twice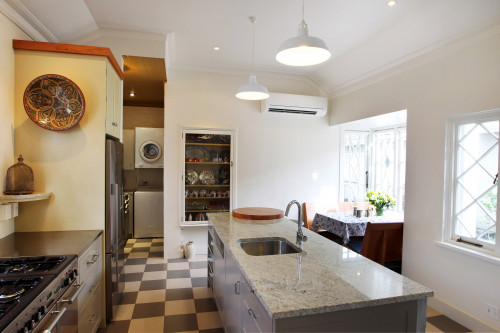 A clever kitchen that uses some of the old cabinets, which were in turn recycled dresser tops. The island cabinets are Resene Double Napa while the walls are Resene Quarter Parchment. The kitchen was designed by Celia Visser Design
pictures
Photography by Frances Oliver
A self-crafted feature
Homeowner Ros made the stained glass panels above the pantry herself, inspired by Frank Llyod Wright's designs and tutoring from local glass artists. The floor is made of cork tiles coloured with Resene Half Napa (dark) and Resene Eighth Parchment.
A golden look for golden pieces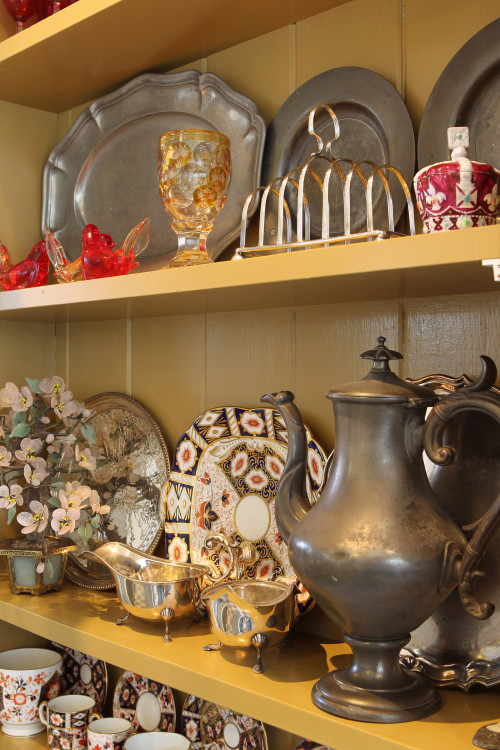 Ros's china cabinet is finished in Resene High Noon.
Unexpected colour looks spectacular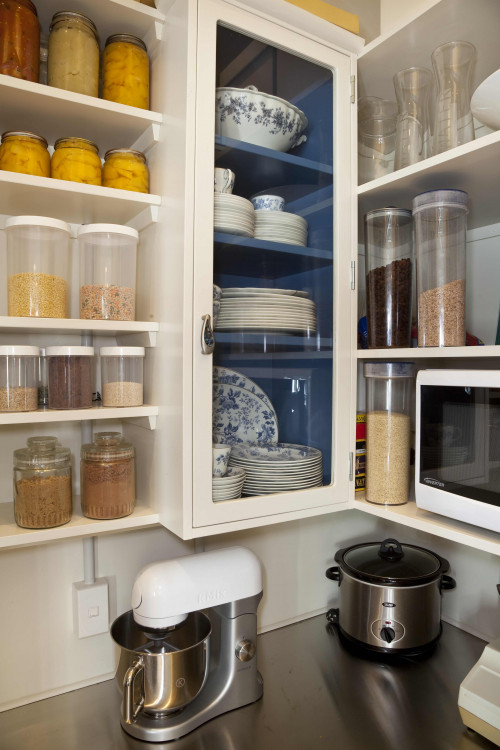 Surprise elements include the interiors of various cupboards painted in bold colours. This one in the pantry is Resene Kashmir Blue.
the look
If you're stuck on what
colour to use or need colour
advice, try out the Resene
Ask a Colour Expert service.