►
◄
latest
habitat tv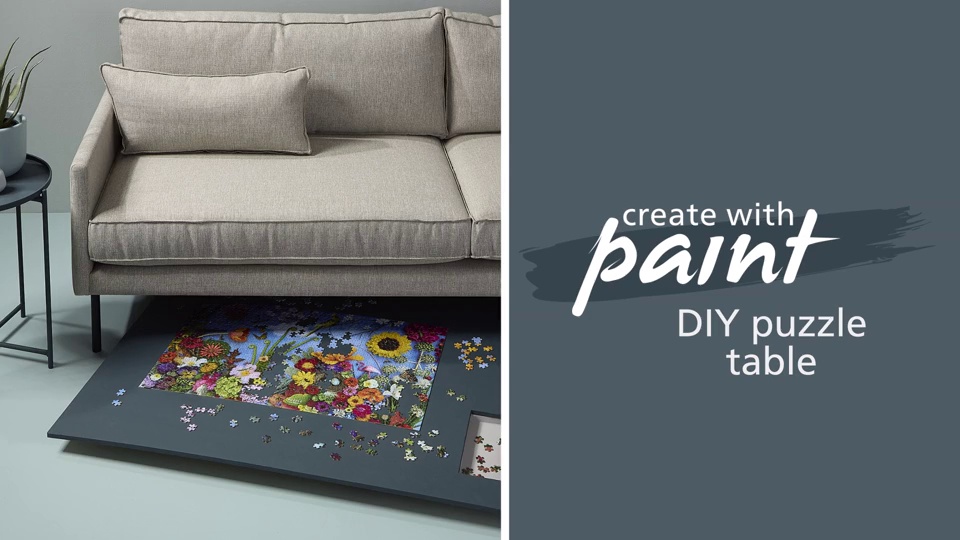 blog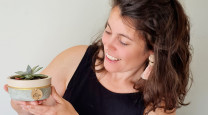 5 important things to take into account before painting your exterior
Though it may not seem like it some days, spring is just around the corner – and there'll be no better time to hit the 'refresh' button. While the change in seasons always offers a natural opportunity to declutter the interior of your home, spring is also a good time to give the exterior of your property a good clean, a fresh lick of paint and a whole new look.
Painting the outside of your house is a big undertaking that can require some foresight in order to get it right. Now is the perfect time to start planning so that you'll be well prepared when the mercury finally starts to rise.
Here are five key considerations you should mull over in advance of warmer weather.
1. Existing conditions
Proper preparation is the most important consideration that will affect how good your home ends up looking – and how long it will stay looking good.
Start by taking a walk around your property and assess the condition of your exterior, checking for any damage. If there are materials or sections that will need replacing, now's the time to book your contractor to get the work scheduled in for spring.
Published: 01 Aug 2019
Do you have a home full of wonderful Resene paint and colour? Send us some snaps by emailing [email protected].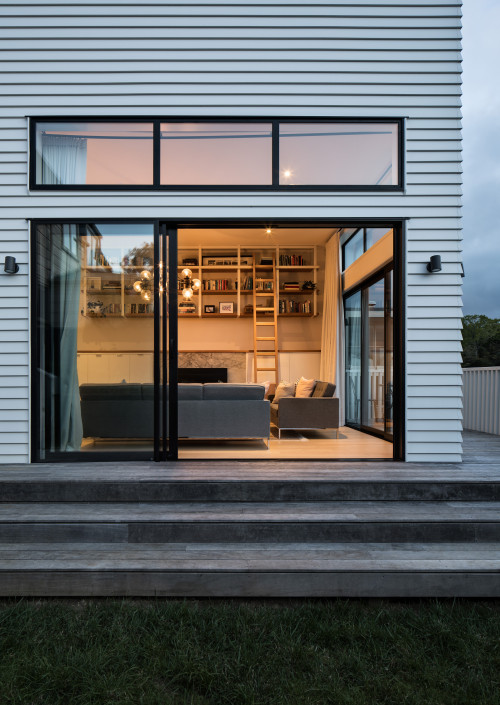 This weatherboard home, in Auckland's suburb of Parnell, was completely transformed after the addition of a rear extension, including new terraces, an outdoor deck and pergola. The weatherboards are painted Resene Merino to contrast with the dark trims and accents.
Most exterior surfaces will have also mould and possibly moss growing on them. Unfortunately, it's not enough to remove moss and mould without first killing it as any residual spores will simply grow back underneath, and through, the new paint. To treat it, simply use a garden sprayer to apply diluted Resene Moss & Mould Killer following the label instructions.
We all wash our cars regularly, but our homes don't enjoy the same treatment. Ensure that the outside of your home gets a proper bath to remove contaminants, such as dirt, salt, mould residue (now it's been killed), as well as poorly adhered paint and chalkiness, from old painted surfaces. The most effective way is to use Resene Paint Prep and Housewash, or, if you are painting a roof, use Resene Roof and Metal Wash. It's best to do this annually to keep your paintwork in good condition for as long as possible.
While it may be tempting to simply get out the waterblaster and fire it up, don't. It's best to skip the waterblasting as it's too harsh for timber. Not only can damage your weatherboards but unwanted moisture can get in underneath and cause wood rot from behind. Wash stained and bare timber with Resene Timber and Deck Wash to clean it up ready for re-staining.
Scrape and sand any flaking paint from any timber and wooden joinery, fill any imperfections, and seal up any gaps.
Top tip: Before you start painting, prep with Resene's Moss & Mould Killer, a concentrated moss and mould treatment that can be used both on the exterior and interior of your home.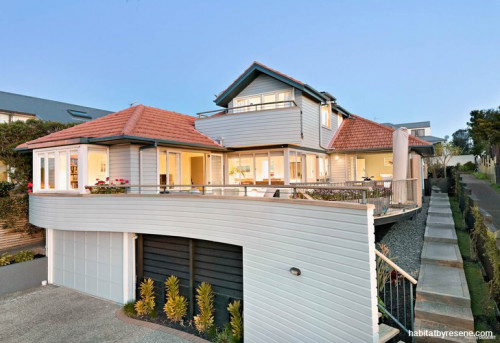 This Auckland property grew from a three-bedroom L-shaped house to a sweeping two-storey four bedroom family home. The cladding was chosen to achieve a seamless, cohesive look. The exterior weatherboards and garage door are painted Resene Powder Blue, while the trims are in Resene Buttery White and darker accents are in Resene New Denim Blue.
2. The right products for the job
The materials on your home will determine what kind of paint, stain or finish you'll need to bring out the best in your exterior.
Painting over bricks, either new or old, can be quite easy with a high-quality paint. After you have sealed the bricks and bound up weak and friable pointing, choose two topcoats of your chosen colour. Resene colour consultant Sarah Gregory suggests Resene Lumbersider, which has a low sheen finish rather than a glossy one. "The higher the gloss level the more imperfections it shows. Stucco and brick can be really, really rough," she says.
Weatherboard homes with block bases are prime candidates for a quick makeover, along with decks and fences, and can either be stained or painted – but paint will last longer.
"When you do a stain, you can see the wood finish on your retaining wall, but you will need to do it every two years to stop it from fading," Sarah explains.
There are a wide range of product choices out there for concrete, composite materials and metal cladding, but there's no 'one size fits all' solution. When in doubt, ask an expert. Start with a visit to your local Resene ColorShop for starters. If you're planning on hiring a professional painter or decorator, we recommend you hire a Resene Eco.Decorator and a member of the Master Painters Association. Or, try the Resene Find-A-Painter service.
Top tip: Resene Lumbersider is based on a tough 100% acrylic resin for durability in all conditions, making it the perfect paint for brick work. Use long-acting Resene Deep Clean on decks, paths and patios to keep your outdoor area free from moss, mould, algae and lichen.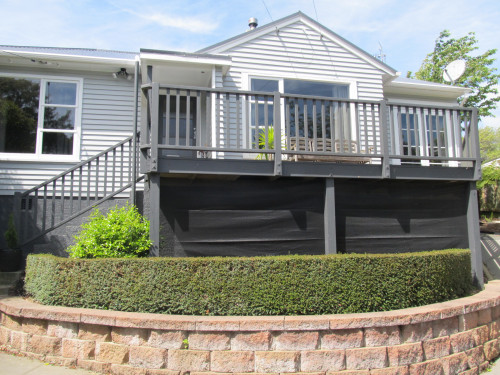 Lisa Farrow engaged a Resene colour consultant to provide options for her exterior. "I knew I wanted grey but was great to have the assistance to help narrow down the options," she said. Originally painted a dull brown with green and white trims, her Wellington home was given a crisp refresh with weatherboards in Resene Silver Chalice, windows in Resene Black White and Resene Nocturnal for the base and railings to match the roof.
3. What's in the forecast?
While weather is one element that can't strictly be controlled, the forecast for the day and week ahead should be taken into consideration before you start. Although common outdoor weather conditions may not appear harsh, they can help or hinder your progress. The key things to think about are U.V, moisture/water, wind and the temperature.
So, what makes the ideal painting day? We recommend that the ideal forecast fall between 15-20 degrees, humidity at 70-80%, with a gentle breeze. The general rule of thumb is that if your washing on the line isn't drying, your paint won't either. If the weather is too warm, start to prep or paint the shady side of your home and work your way round the house as the sun moves.
Top tip: Resene Hot Weather Additive is formulated to improve most application problems caused by rapid drying. Learn more from the experts at your local Resene ColorShop.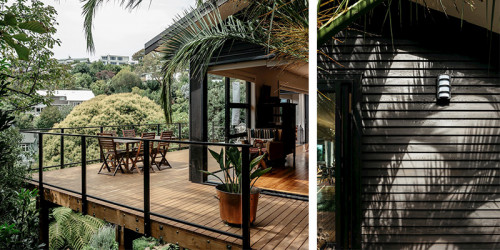 The exterior cedar walls of this Nelson home are stained with Resene Waterborne Woodsman Pitch Black to help it blend in to its natural surroundings. Extra wide overhangs help to keep it sheltered from direct moisture.
4. Rethink your canvas
Giving the exterior of your home a new look doesn't always mean a total transformation. Even a small change can have a huge impact on the overall appearance. If your home is looking a little tired but you aren't ready to commit to a total colour change, why not choose a smaller section of your home that can act as a feature focal point?
As the gateway to your home, a bright colour on a front door can always inject a lot of personality. If your home is a new build, bold hues such as Resene Daredevil or Resene Havoc can make a real statement, whereas soft shades like Resene Slipstream or Resene Ethereal can work perfectly on period villa properties.
Architraves are another excellent canvas for trying out a fun colour, and it's a much more interesting look when trims contrast instead of blending in. Try going light on dark, dark on light, bright on light or bright on dark to make them stand out.
Top tip: Always try out paint colours before making your final colour choices. Pick up a few Resene testpots and paint each colour onto cardboard leaving an unpainted border around the edge. Move them around at different times of the day and night and in different lighting conditions before you commit to a colour palette.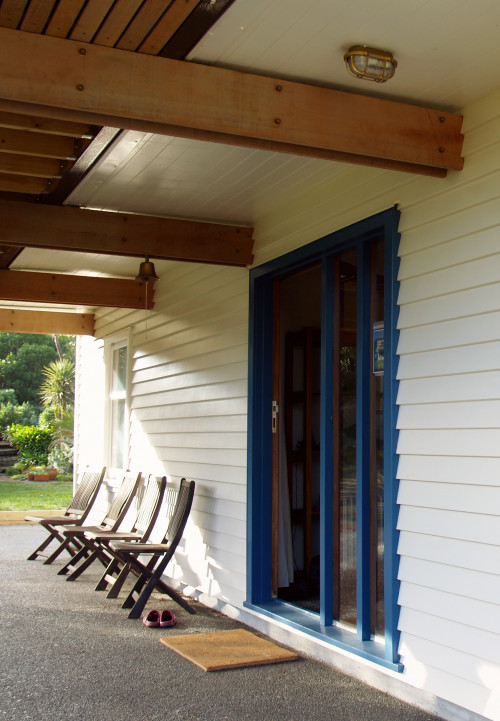 The door frames of this beach property have been painted with Resene Enamacryl in Resene Wanaka, a bold deep blue that disrupts what would otherwise be quite a formal colour scheme so that it better suits its relaxed, casual setting. The weatherboards are painted with Resene Sonyx 101 in warm Resene Sandspit Brown while the timber has been sealed with Resene Aquaclear in a satin finish.
5. The local context
Whether you opt to paint the entire exterior of your home or something small, such as a door or trim, it's also worth noting the general aesthetic of your neighbourhood. Check to see if there are any official regulations in place and whether or not your colour choices will clash with surrounding buildings before you make the final decision on your palette. Most homeowners aim to be similar to their neighbours with something distinctive or unique so their home doesn't look like a carbon copy. If you're more confident with colour you might want to go much bolder. Remember exterior colours look lighter in the bright sun so it may pay to go for a darker or earthier version of your colour to avoid it looking too washed out or glary.
Top tip: Need some personalised suggestions? Visit your local Resene ColorShop with some snapshots of your project. The experts there can assist with picking the right colour choice for your property. Or you can use the free online Ask a Resene Colour Expert service.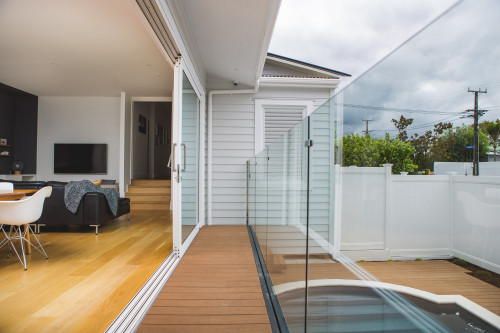 The exterior weatherboards of this Auckland bungalow are painted Resene Athens Grey to transition beautifully between inside and out. The roof is painted Resene Element while the trim and fence are in Resene Half Alabaster.
images Simon Devitt, Kate MacPherson, Lisa Farrow, Allan McIntosh, David Aitken, Greg Miller