►
◄
latest
habitat tv
blog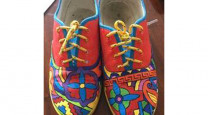 7 fresh ideas for decorating kids' spaces
06 May 2020
Whether you're looking to welcome a new baby with a sweet nursery or to update a toddler or tween's bedroom, there are absolutely tried-and-true ways to go about it. But those looking for a fresh twist on decorating a special space for your children might like to try these clever ideas from our stylists.
Using paint and products from Resene's paint and wallpaper ranges, incorporating spots, geometrics, modern colours and patterns into your children's rooms will put you on the right path to creating spaces that are both playful and unique. The only limit is your imagination, so have fun with your decorating!
Spot the difference

Circular shapes have had a huge resurgence in popularity in kids' bedrooms recently, featured on bed linen, furniture, kids' toys and especially feature walls. For a fresh take, forego comically large circles for small painted polka dots on walls, an upcycled toybox, side table or even DIY artwork that you and your kiddies can make together. This tasteful approach will age better, meaning the fruits of your decorating efforts can be enjoyed for longer.
Yours by no means needs to be as perfect as the pattern on the bedroom wall below, with dots painted in Resene Double Alabaster over walls in Resene Wafer. But, if you'd like to try your hand at replicating it, use a pencil, ruler and level to mark out where the dots will be painted to create the perfect lines both horizontally and vertically. Or, try a completely randomised approach using a variety of your favourite Resene paint colours for a confetti-like look.
Do you have a home full of wonderful Resene paint and colour? Send us some snaps by emailing [email protected].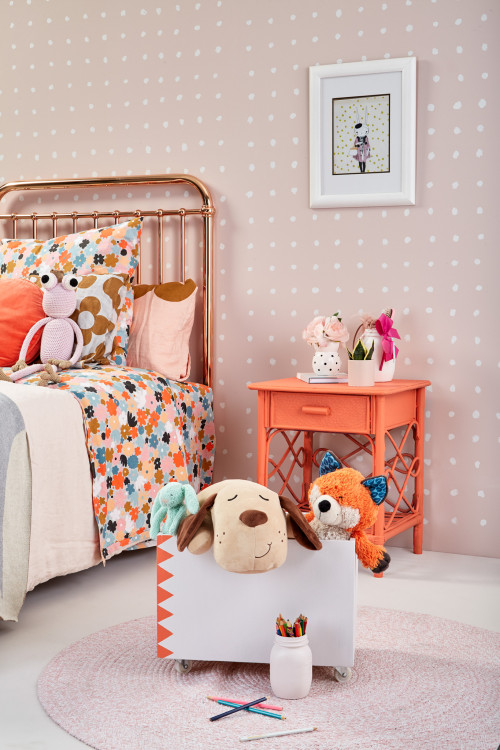 Make a mobile toybox to match your kids' space by painting a wooden crate in Resene hues that coordinate, like this one in Resene Urbane with triangles in Resene Big Bang, then attach castors to the bottom. That way, playtime can easily transfer from room to room – and bring at least the potential for tidiness along with it. Walls in Resene Wafer with hand-painted polka dots in Resene Double Alabaster, floor in Resene Pearl Bush, bedside table in Resene Big Bang, plant pot in Resene Dust Storm and mason jars in Resene Spring Wood and Resene Umber White.
Nurture with nature's hues

'Appropriate' kids' room colours are often assumed to be bright and noisy. However, as trends have shifted the last few years, duskier colours are becoming more and more popular. For a peaceful and modern look – especially if you're decorating a nursery – head towards these duskier hues in earthy colours, particularly greens.
Green is a tranquil, calming colour that symbolises new beginnings. Try a serene blue-tinged shade such as Resene Helix and Resene Artemis paired with floral wreaths, rattan baskets, and creamy whites for a place that's dreamy for both you and bubs.
Using the 'tide-line' approach to colour, especially with a darker hue on the bottom, is both an on trend and practical idea for rooms occupied by a younger child as it can help to mask fingerprints and smudges. To get the look, paint two coats of your lighter colour on the upper section of your wall, feathering the bottom with your roller so as not to get a hard line. Or, if you have paint to spare, take it all the way to the floor. Then, use a level and painter's masking tape at dado height to get a straight and even line. Be sure to press the tape down very firmly when you apply it and choose a high-quality brand, like the ones available at your local Resene ColorShop, to ensure it peels off cleanly after you've applied your paint. Finally, paint two coats of your darker colour on the wall section below your tape, allowing the first to dry completely before applying the second.
Did you know…
Resene SpaceCote Low Sheen can also be used as a chalkboard? When your kids are done drawing, simply wipe it clean with a damp cloth.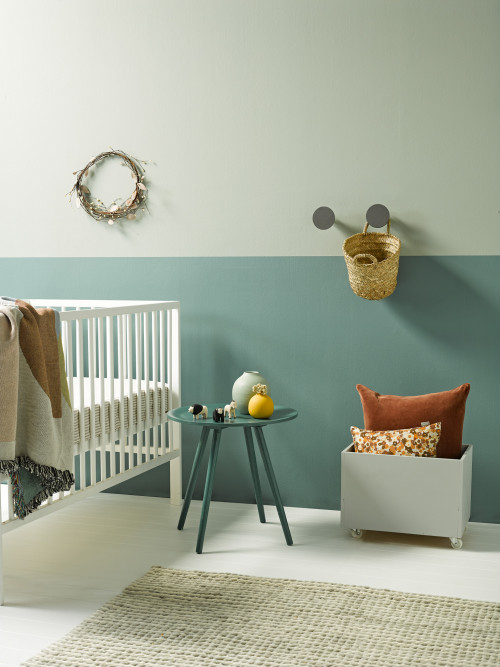 Green-blues are a restful choice for both baby and mum. Upper walls and toybox in Resene Helix, lower walls in Resene Artemis, floor in Resene Poured Milk, side table in Resene Fast Forward, large vase in Resene Peace, small vase in Resene Cleopatra and peg hooks in Resene Quarter Bokara Grey.
Feature a focal point

Don't be afraid to go against the grain when it comes to furniture layout – especially in a nursery. With all sorts of different furnishings and accessories on offer, it's your choice completely where everything should be laid out - you're the one who will be spending most of the time there with baby, after all.
A hanging cot in the middle of a room grounded with a mat underneath and light linen enveloping it is a creative alternative to having a baby's bed in the corner. Teaming it with a warm feature wall in buttery Resene Mellow Yellow balanced with other walls in Resene Nebula and creamy sheer curtains that allow sunshine to filter through will add warmth and character to the space. Or, go for Resene Wallpaper Collection 489910 and 489927, which are solid-coloured designs in similar hues but with a light texture.
Top tip: Having trouble finding curtains to go with your favourite Resene colour? The Resene Curtain Collection may be just what you need to dress your windows and complement your room's décor. Visit www.resene.com/curtains to learn more.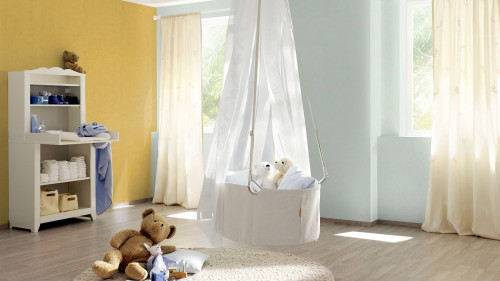 Pastel yellow and blue hues are a beautiful choice for a nursery, and bringing them in through subtly textured wallpaper is a simple way to add additional visual interest to the space without overwhelming the senses. Try Resene Wallpaper Collection 489910 (left) and 489927 (right) with timber flooring stained in Resene Colorwood Light Greywash and furniture and a ceiling in Resene White Pointer to get a similar look.
Bedhead beauty

For kiddos that are heading into the tween-zone, they may be looking for a bedroom that reflects their new stage of life. A simple addition such as a painted bedhead, either directly on the wall or on a cut-out piece of MDF as above, can add that little bit of grown-up quality to the bedroom without having to completely renovate the space.
You'd be surprised how adding something small but significant, painted in a deeper shade to the current colour scheme, can change up the look. Try on trend dusty desert hues like a headboard in Resene Sante Fe in front of walls in Resene Cashmere, or pair silvery sage greens like Resene Spanish Green and Resene Tasman for an equally trendy alternative. Add a few more age-appropriate accessories for a quick and budget-friendly update. As a finishing touch, create some pretty wall décor by making some three-dimensional flowers out of your favourite Resene Wallpaper Collection designs. Learn how with our quick and easy video.
What little girl wouldn't want a sweet room like this, decorated in a tonal range of Resene dusty sunset shades? Wall in Resene Sorbet, floor in Resene Triple Blanc, headboard and vase in Resene Just Dance, bedside table in Resene Soulful with details in Resene Just Dance, lamp in Resene Santa Fe, stool in Resene Moccasin and hook rack in Resene Blanc with hand-painted flowers in Resene Just Dance.
Geometrics aren't just for school
Prove to the kids that symmetry and geometry can be fun and cool, and not just for homework assignments. Instead of going small like the polka dots pattern, take this idea big and create clean triangles and other straight-edged shapes by planning it out first with a ruler and pencil. Then, use high-quality painter's masking tape when painting to keep those lines looking neat.
Go for similar colour shades, except for one standout shade for extra interest. We love dusky blues and muted yellows for this look, keeping it cosy and happy all at the same time.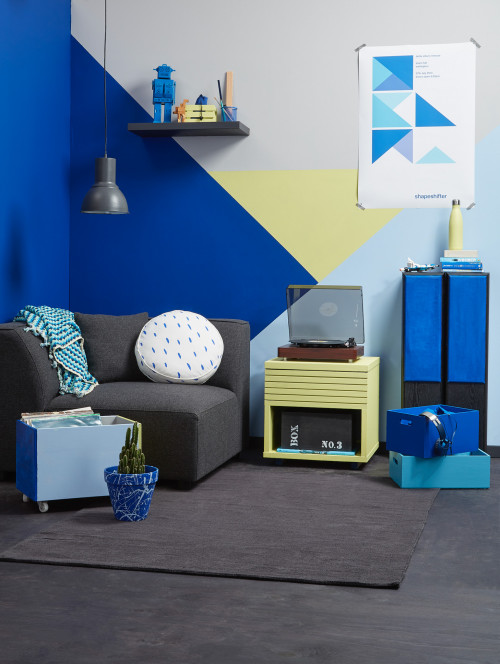 Use a favourite poster to inspire a room theme, like in this cool teen hangout space. Walls in Resene Rakaia with triangles painted in Resene Space Cadet (large), Resene Time Out (medium) and Resene Spring Fever (small), timber floor stained in Resene Colorwood Woody Bay, side table and water bottle in Resene Spring Fever, shelf and pendant lamp in Resene Ebony Clay, speakers in Resene Space Cadet, splattered plant pot in Resene Space Cadet, Resene Time Out and Resene Shakespeare and crates in Resene Time Out, Resene Space Cadet, Resene Shakespeare, Resene Spring Fever, Resene Blackjack and Resene Alabaster.
A new way with blue
Pastel, navy, baby – there are many blue hues that are ideal for kids. A contemporary alternative is dusky, grey-blues paired with sharp reds for a sophisticated yet still child-friendly bedroom scheme.

Thanks to their cocooning nature, blues like Resene Bunting and Resene Hammerhead bring out feelings of cosiness and calm, while reds like Resene Jalapeno bring warmth and energy. It's a brilliant balance, and great for kids aged ten and up for a room that will grow with them right into their teens.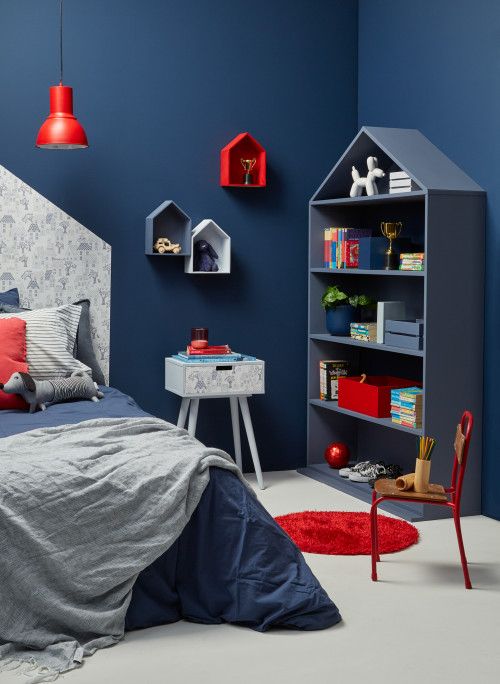 Themes are a fun way to decorate a bedroom, no matter what age the owner of the room is. While themed bedding is a common way to kick off a theme, shapes and colour work a treat too. This house-themed room accomplishes just that through the repetition of paint colours – Resene Bunting, Resene Hammerhead shaped shelving and the house-patterned wallpaper design, Resene Wallpaper Collection LL-05-07-4, which was used to create the 'headboard' and decorate the bedside table drawer front. Walls in Resene Bunting, floor in Resene Sea Fog, bookshelf in Resene Hammerhead, bedside table in Resene Breathless, wall shelves and storage boxes in Resene Hammerhead, Resene Jalapeno and Resene Breathless, plant pot in Resene Bunting and pendant lamp in Resene Jalapeno.
Wonderful wallpaper
From colourful brick wallpaper to a cloudy mural, there's a Resene Wallpaper Collection design to fit every child's personality. Create a zone with the wallpaper by applying it to one wall and painting the rest of the walls in a complementary colour or colours. The feature wall could be where homework happens or the play area. Sometimes you just want a quick solution to a bedroom renovation, and this is one that both you and your kids will love.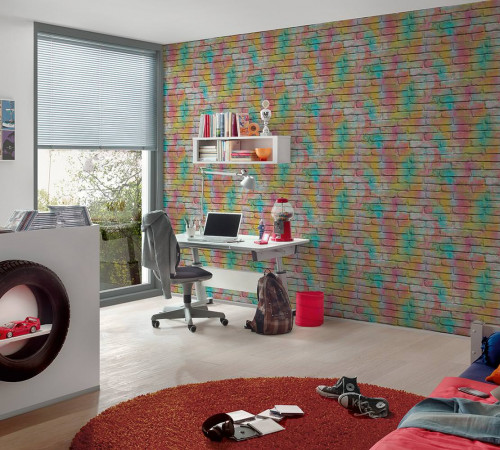 Resene Wallpaper Collection 36100-1 brings an edgy, graffiti-like look as a feature wall in a teen's room. Try it with adjacent walls and ceiling in Resene Merino, a floor in Resene Quarter Drought and a rug and accessories or small furnishings in Resene Mexican Red and Resene Whizz Bang. Or, if you have an artistic teen, let them create a wall mural of their own using an assorted of Resene testpots in hues you both approve of.
styling Gem Adams, Kate Alexander, Annick Larkin, Vanessa Nouwens, Melle Van Sambeek
images Bryce Carleton, Melanie Jenkins