►
◄
latest
habitat tv
blog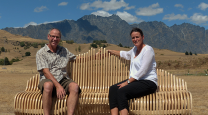 7 surprising uses of exterior colour
Sometimes it seems we've all been struck with a lack of courage, when you drive down residential streets to see home after home painted in varying shades of grey and white.
You may not want to have visitors reaching for their sunglasses when they turn up, but there are clever ways you can add personality to your home without being taken away by the bad-taste police, or overly upsetting the neighbours. A splash of colour here and there goes a long way. Take inspiration from these examples.
A note of caution, though, if you live in fairly recently developed suburb or area or in an area of natural beauty – there may be covenants on what colours you can and can't use on your exterior.
1. Add a flash of eye-catching colour
Architectural homes can often be sombre and studied works of art, all black, broody and moody. They don't have to be, and any bold colour that's introduced doesn't have to be confined to the front door. You might highlight a wall that has a different cladding to the rest of the house to further highlight it as a feature, or the inside of a porch or even under the eaves.
Published: 07 Oct 2019
Do you have a home full of wonderful Resene paint and colour? Send us some snaps by emailing [email protected].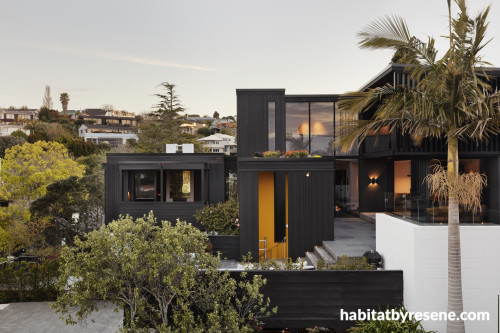 This house, designed by Daniel Marshall Architects, has a hit of sunshiny colour, Resene Happy, added to the inside of an exterior stairwell, allowing it to peek out from the Resene Pitch Black wood stain of the cladding when seen from the side view and give you a cheeky greeting as you round the corner. The project won the Residential Exterior category of the Resene Total Colour 2019. The judges commented that the "Resene Happy yellow lights up this project with its exuberant personality. It's a reminder to all of us how the right colour in the right place makes a project memorable."
2. Perk up your porch
How about a perky porch? If you're blessed with a deeper porch, this is a great place to have some fun with colour and to be a bit adventurous. You could paint the walls a bolder colour, or the floor, especially if it is veranda boards, or even the porch ceiling.
You could even break out the stencils and get arty.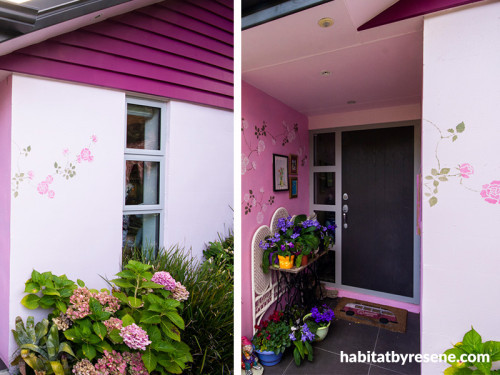 Homeowner Patricia Griffith started her love affair with pink by painting the porch of her house in Resene Ballerina, and finishing it with a rose stencil. Then she took the plunge and plumped for Resene Pale Rose for the exterior: "it's not too obtrusive and certainly better than the grey! I felt the house needed extra punch so added Resene Pompadour on the gables. I was a bit apprehensive about painting my house in pink but I LOVE the result and so do my friends and family."
3. Be bold all over
Character homes are the perfect canvas for creating a personality filled scheme. There are so many individual elements to highlight like the fretwork, window architraves, surrounds and sills, veranda posts and barge boards – and many of these elements can also be split into smaller details.
To stop your colour scheme getting too chaotic, stick to three or four colours and work out a rhythm or pattern for the various colours. You can use a more classic tonal scheme in varying shades of a similar colour, heritage-style tones or a range of colours that just take your fancy.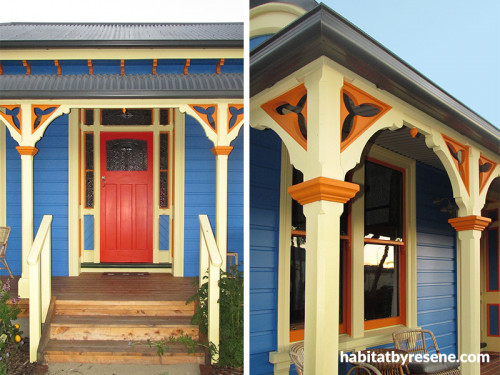 Homeowner Lizzie Cook used a complementary scheme of blue Resene Mariner and orange Resene Gold Drop with buttery yellow Resene Drover for trims. She then topped it off with a front door in cheery Resene Guardsman Red. She made the most of the villa's details by picking out some of the fretwork in Resene Gold Drop.
4. Join the multi-coloured cladding craze
We've been seeing more and more pops of colour being added to exteriors, introducing refreshing creativity and curb appeal among oceans of neutral weatherboard. Sometimes a change in cladding might cry out for a different colour, or maybe it's just a join in the cladding or an interesting shape that warrants a bit of colour break-out.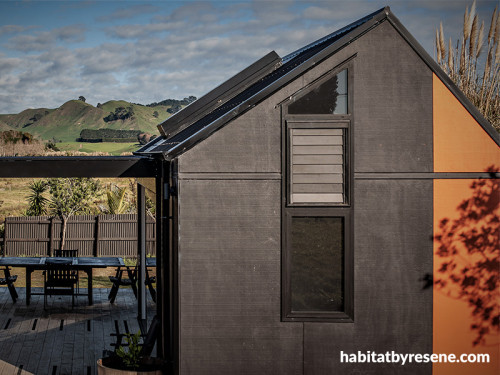 On this exterior by Tohu Architecture, a single panel of cladding painted in Resene Ayers Rock adds interest and strength to this otherwise black facade. The rest of the cladding is painted Resene All Black.
5. Don't get stuck with a dull front door
Front doors have always been an easy spot to add personality and colour to the look of your house but before you reach for a colour that might be just bold, how about one that's bold and beautiful. We've seen lime green, fluoro orange, intense yellow, fire engine red and, yes, hot pink. The best thing about making a brave choice is that, if it backfires and you really don't like it, repainting the door is easy and inexpensive.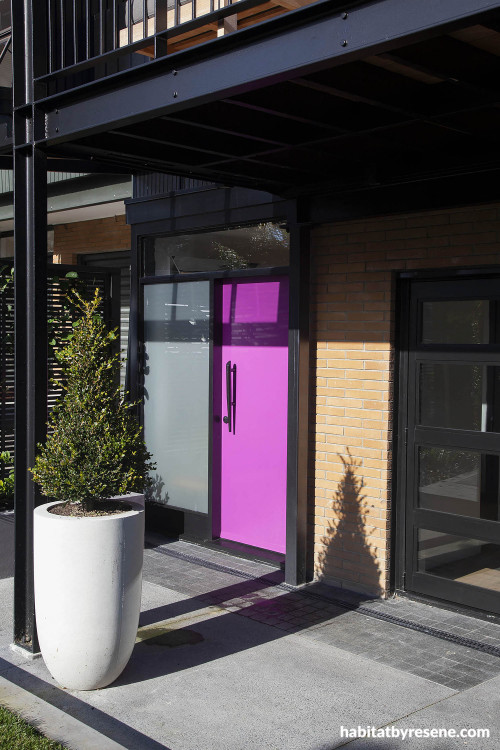 Rain Studio Architects & Designers treated the front door of this smart Herne Bay, Auckland, townhouse to a paint job in Resene Belladonna.
6. Go two tone for a pretty picket fence
Why use just one colour on your front fence when you can use two? If your house has been treated to a scheme of more than one paint colour, it might make sense to extend that kind of treatment on to other elements on the property. Just make sure whatever you are painting deserves it as this approach will certainly make it a feature – pretty picket fences are a no-brainer.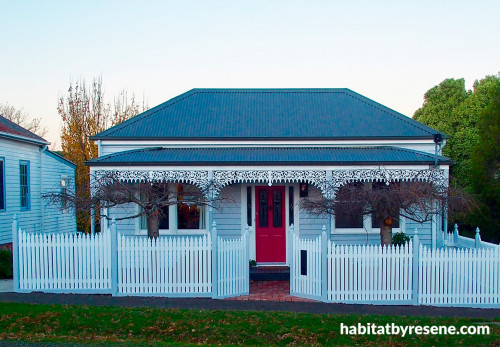 Homeowners Gareth and Kay gave their Victorian villa in Victoria, Australia, a complete refresh with weatherboards and fence posts in Resene Surrender and trims and pickets in Resene Alabaster. We especially love their Resene Disco front door and their decision to paint the fence posts a contrasting colour from the rest of the pickets, though it's their filigree trimmed awning that we're particular envious of.
7. Give your property a full scheme from fence to finish
If you're planning a new colour scheme for the exterior of the house, remember to take into account other elements and surfaces around the property: garden features, fences or walls and the letterbox. By including them in the scheme, you'll beef up you property's street appeal and give your place an entirely cohesive look.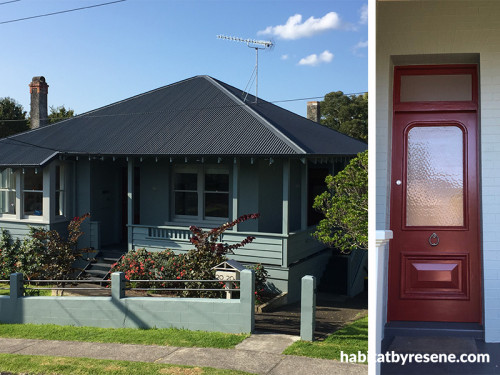 This 1910 villa in Auckland's Devonport looks warm and inviting with weatherboards, balustrades and a plastered wall painted in Resene Innocence. The deck and fence rails are in Resene Grey Friars, the window trims are in Resene Quarter Tapa and the front door has been given a classic heritage-style treatment in Resene Red Planet.