►
◄
latest
habitat tv
blog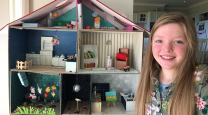 A 1990s home gets a nature-inspired refresh using Resene Merino and bold blues and greens
Kitchen and interior designer Karen Warner is used to coming up with colour schemes for her clients, but she found it harder to create a brief when it came to her own home. Her 1990s home needed a refresh, and she wanted a calm palette, but she also didn't want to be too timid with colour. After much deliberation, she chose a palette which has it all: soft and snugly Resene Merino, bolshy blue Resene Wanaka and serene green Resene Rainee.
"My home environment needs to be calming and relaxing, with pops of colour for interest," says Karen.
"I didn't want bland and boring, nor did I want to live in an over-powering rainbow of pattern and colours, so it's all about a mix of both, I am a 'less is more' kind of person."
Karen used blues and greens throughout her home because she loves the colours of nature. They provide a strong contrast against the lighter green-toned Resene Merino which features on the walls in the kitchen, lounge and hallway.
"The Resene Wanaka ensuite was a brave colour choice, but the contrast with the white looks classy and sophisticated. I'm so pleased I stuck with that decision," says Karen.
"The main bathroom is big enough to carry off the Resene Rainee colour. I picked Rainee because I love green, but it took me a while to find the perfect shade. I chose this colour because it has a bit of a muddy hue, making it feel quite earthy and natural which worked well with my flooring."
The dining room's feature wall is Resene Destiny, chosen for its warm, soft blue/green hue and inspired from the colours in Karen's rug and artwork.
"I love Resene Destiny. It's a perfect mix of green and blue. It's an earthy mix, neither masculine nor feminine and works well with so many other neutral shades," she says.
Given Karen's kitchen design expertise, her own home's kitchen was one of the most challenging areas to decorate. She found it hard to narrow down what she wanted. In the end, she opted for Resene Merino which ties in nicely with the white engineered stone.
"The biggest challenge was probably the kitchen. Deciding on a colour scheme and design for other people's kitchens comes second nature to me, but when it was time to make my own decisions I struggled with all the options available," she says.
Karen's advice for anyone trying to choose their paint colour is to go with your instincts.
"Don't second guess your colour choices or waste time deciding on several safer versions," she says.
"Chances are if you love a colour straight away you will love it in your home. Speaking from experience, the first choice is always what we revert to.
"Don't be side-tracked into thinking you must paint everything white to keep to the 'norm.' The beauty about painted walls is they can easily be changed, updated and refreshed at any time."
See more of Karen's designs at www.perfectorder.co.nz.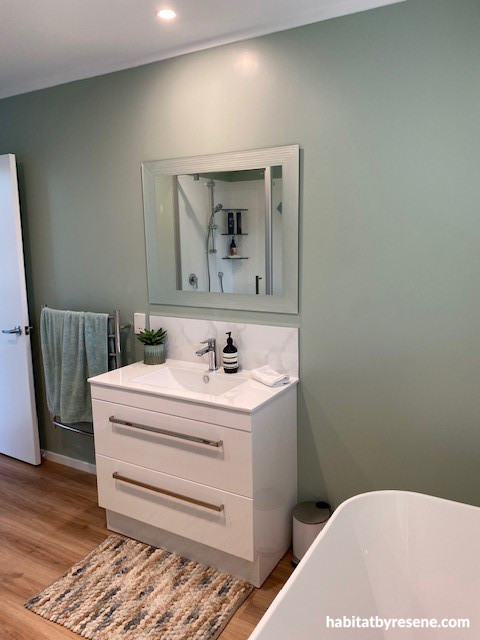 Resene Rainee is an earthy green that ties into the natural look of the flooring. The ceiling and trims are Resene Half Alabaster.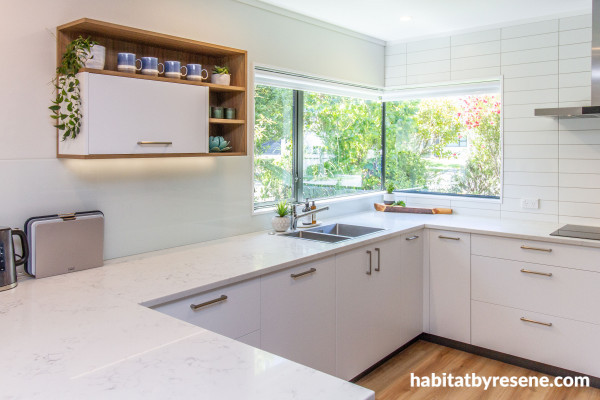 Karen's smart neutral kitchen features a wall colour is Resene Merino with Resene Half Alabaster on the ceiling and trim, which ties in with the white cabinetry and engineered stone counter.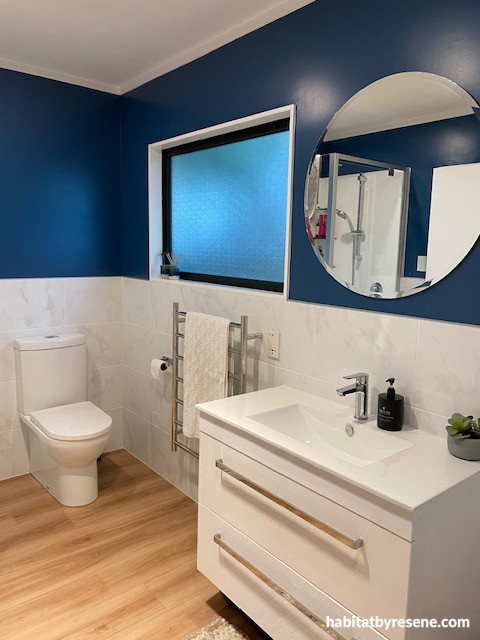 Resene Wanaka in the ensuite bathroom was a bold choice but Karen loves the way the colour pops against the white vanity and the ceiling and trims which are painted in Resene Half Alabaster.

Resene Destiny, on the feature wall of the dining room, is one of Karen's favourite colours. It is a lovely contrast to the doors, ceiling and trims which are Resene Half Alabaster.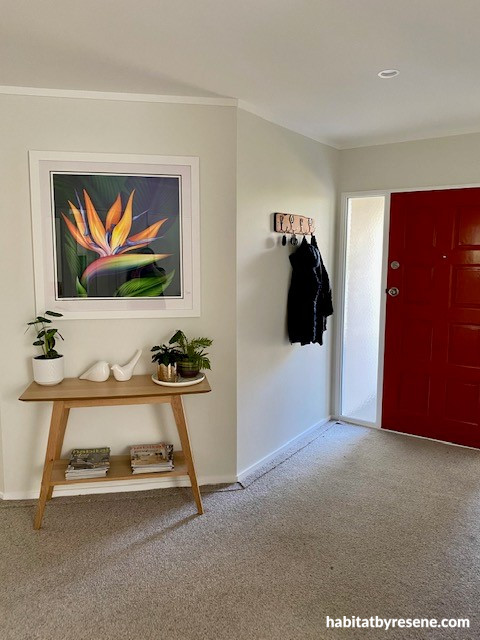 The striking red door in Resene Roadster stands out against the ceiling and trims in Resene Half Alabaster and the walls which is a special blend of full strength Resene Merino and Resene Half Merino.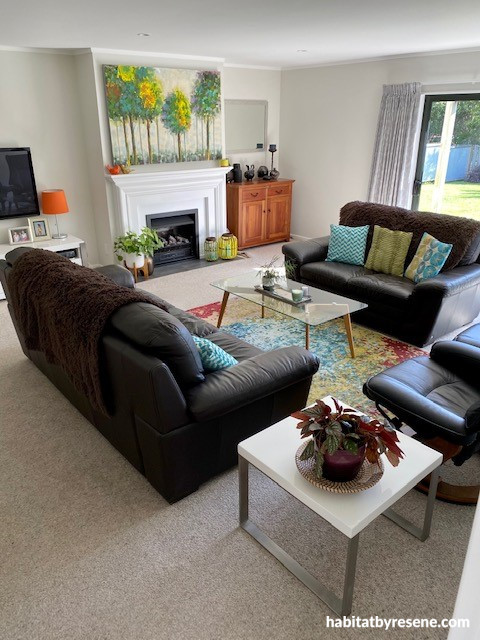 Resene Merino has a green undertone which makes it a great choice for the wall colour of the lounge tying in with the green, blue and red accents in Karen's artwork rug and pillows.
Published: 10 Feb 2021
Do you have a home full of wonderful Resene paint and colour? Send us some snaps by emailing [email protected].
the look
If you're stuck on what
colour to use or need colour
advice, try out the Resene
Ask a Colour Expert service.