►
◄
latest
habitat tv
blog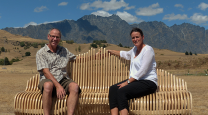 A Canterbury artist chooses punchy pastels and sunny-day blues to give her family's old-school villa a fresh, modern twist.
Old-school character was top of the list when Libby Chambers and her husband Aaron went searching for a new home. They moved into a 120-year-old villa seven years ago just outside of Rākaia and have slowly renovated the bathroom, kitchen, living area and hallway. Aaron, who is a DIY dab hand, even added the home's wraparound veranda, which is painted in Resene Desert Sand. Libby, an artist and part-time teacher, played a leading role in the interior decoration.
"Almost every paintable surface in our home – even the outside – is painted in Resene paints," she says. "And we're not finished yet. It's time for the boys' room to have a refresh. I am thinking Resene Clementine Orange from the Karen Walker Paints collection."
The home – layered with vintage finds and colourful artwork – is bright and optimistic. "I would describe it as a bit eclectic, " Libby says. "We love character homes and decided to run with an old-style villa but give it a modern twist with fun colours, lots of bright artwork, gallery walls, upcycled furniture and second-hand finds."
A bonus, she says, is this kind of look works well with young children as the old furniture can "take a knock or two". The couple has two young boys, Will and Lachie, who have plenty of space to run around on the family's two-hectare lifestyle block.
Libby and Aaron both grew up in rural New Zealand – Libby on a sheep and cropping farm in Rokeby; Aaron on an Alexandra orchard. Libby says her country upbringing has influenced not only the way she's decorated the house but also her art, which features throughout.
"I am influenced greatly by nature, so the art ties in well with the old country home. I'm always looking for a way to bring a fresh twist to well-loved subject matter, like florals and figures. And that's what we've tried to achieve with our home, too."
Aaron, who is a television and audio technician, did most of the renovation work, with Libby helping out where she could. He says the veranda was his biggest challenge, especially for someone who isn't a builder by trade. "It looks amazing," says Libby. "It's like it always belonged to the house and we now have the street appeal that the house lacked when we bought it."
"The framing up under the Colorsteel took a bit of nutting out," Aaron says, modestly. "But the kitchen came a close second."
The family kitchen, painted in Resene Half Smalt Blue with trims in Resene Blanc, is light-filled and cosy, a perfect family space. Once again Aaron's DIY skills came up trumps – he painstakingly resurfaced all the kitchen cabinets, painting them in Resene Blanc to match the trims. The hutch, a Trade Me find, is also painted in Resene Blanc.
The kitchen is also the location of Libby's plate collection, a hobby she started after treasured crockery was destroyed in the Christchurch earthquakes. Now grown to include contributions from friends and family, it's a perfect example of Libby's fondness for vintage knickknacks and other treasures. She is also a masterful upcycler, painting wooden furniture in no end of bold and beautiful Resene shades.
The colour-loving artist has added bright pops throughout the house. Sunshine-yellow Resene Bright Spark is used on frames in the entranceway table, shelving in the bathroom and a pot stand. The cerulean blue Resene Allports was used on a lampstand and on chairs.
"Colour has always been very important to me," she says. "Bright colours lift my mood and energise me."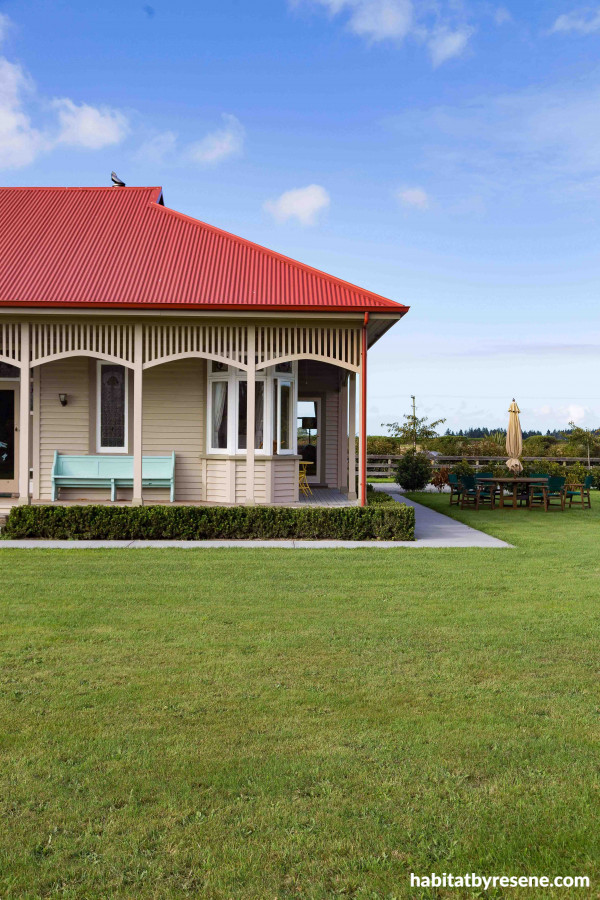 The house's exterior is painted in Resene Desert Sand. Aaron added the wraparound veranda, an ambitious DIY project that caused him a few headaches, he says. But he is a man of great detail; the result is polished and professional-looking. Libby chose the pretty-and-punchy pastel, Resene Mint Tulip, for the bench seat.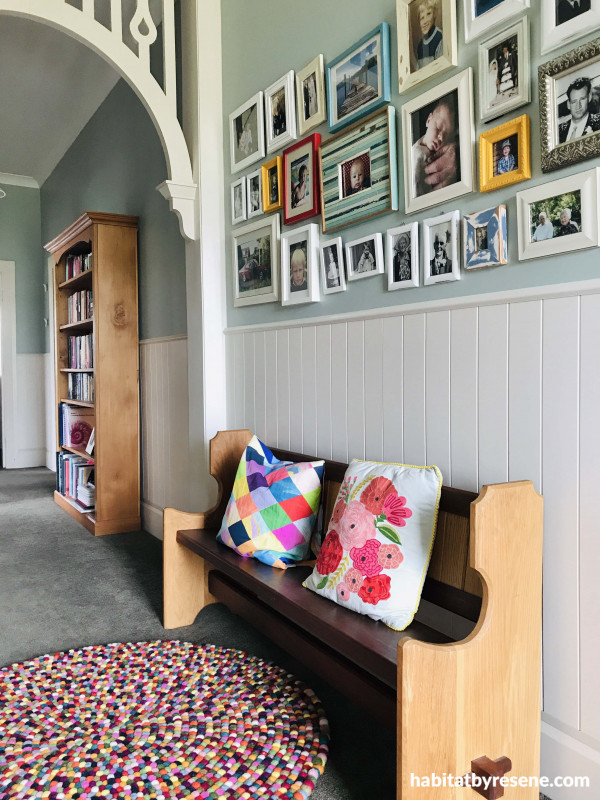 In the hallway, the calming blue/grey tone of Resene Robin Egg Blue provides a perfect background for one of the home's many gallery walls. Resene Blanc is used on the tongue and groove panelling and decorative architrave. Libby also painted the two yellow frames in Resene Bright Spark.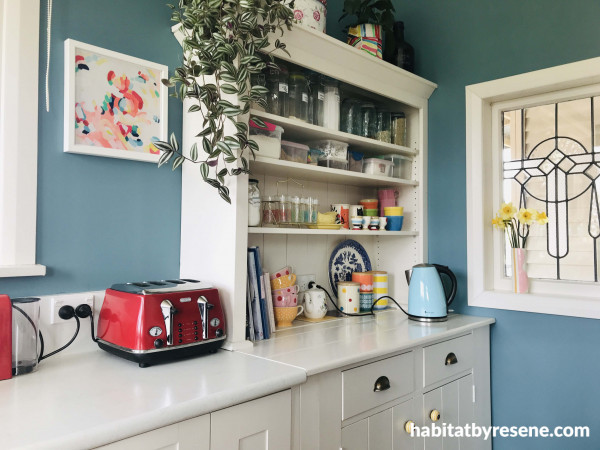 Aaron resurfaced the kitchen cabinets, taking them from a "dingy dark brown" to the subtle white of Resene Blanc. To give old kitchen cabinetry a new look, first wash surfaces with Resene Interior Paintwork Cleaner and lightly sand to 'key' the paintwork. Apply one coat of Resene Waterborne Smooth Surface Sealer and allow two hours to dry. Then apply one coat of topcoat paint, such as Resene Lustacryl semi-gloss waterborne enamel. When the paint is completely dry – at least two hours – apply a second coat of paint. The greeny-blue kitchen walls are in Resene Half Smalt Blue from the Karen Walker Paints Collection.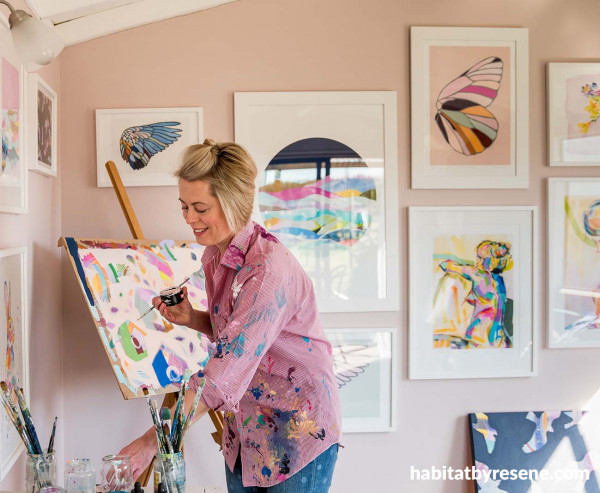 Libby's light-filled, joyful studio is painted in Resene Blanched Pink from the Karen Walker Paints collection. "I particularly love the colours, Resene Half Smalt Blue and Resene Blanched Pink, which are both from the Karen Walker Paints collection," she says. "I feel like they are statement colours and quite bold, but still soft and welcoming. They work well in an old home and are a lovely backdrop for artworks."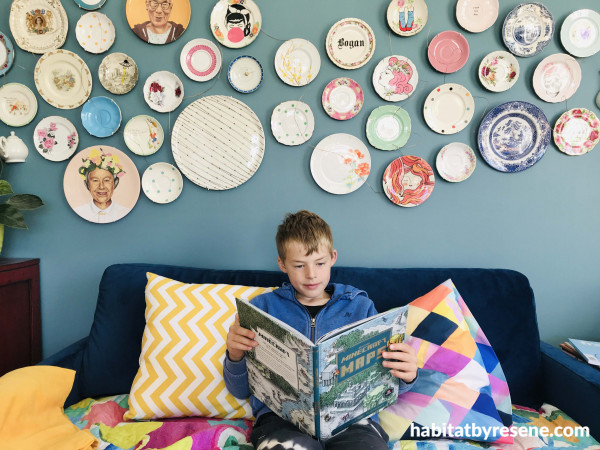 Will polishes up his Minecraft skills on a seat near the family kitchen. Mum Libby's plate collection hangs behind him on a wall painted in Resene Half Smalt Blue from the Karen Walker Paints collection.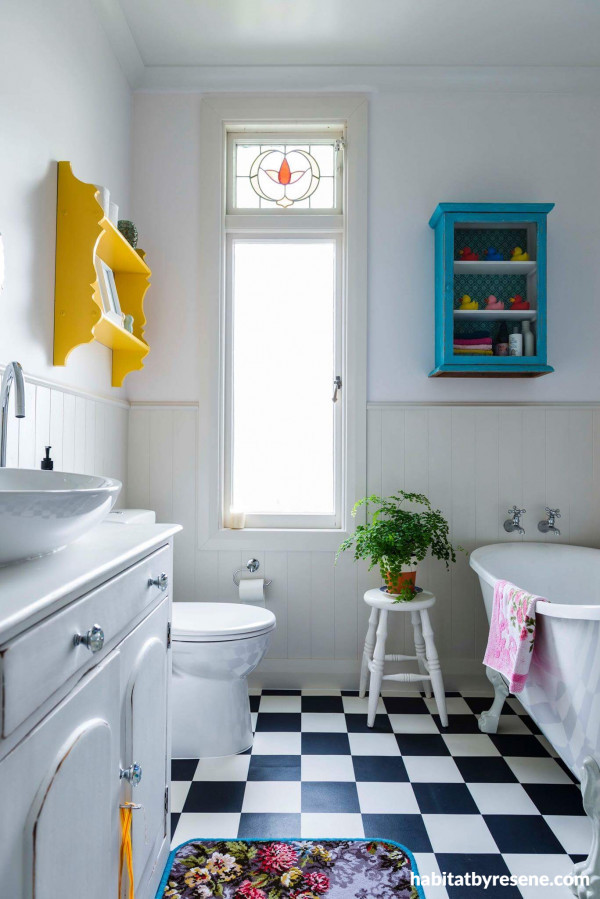 The family bathroom is painted in two shades of fresh white – Resene Eighth Blanc on the walls and Resene Blanc on the tongue-and-groove panelling. The sizzling yellow shelving unit on the left is painted in Resene Bright Spark. The blue cabinet (on the right) was already painted; for a similar bold, sunny-day blue check out Resene Aquarius or Resene Allports.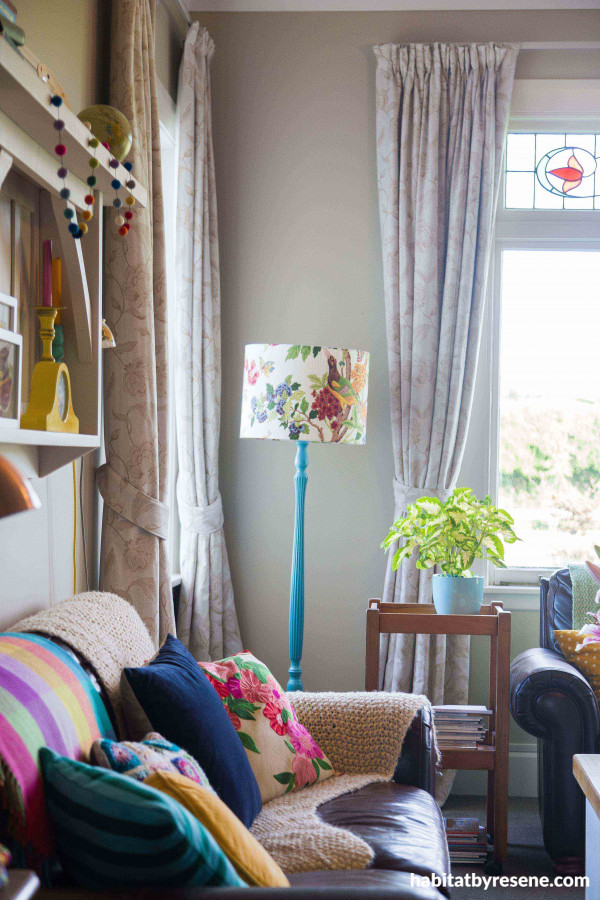 The lounge is painted in Resene Akaroa with Resene Blanc on the trims. Aaron made the shelves from an original fireplace surrounds and painted it in Resene Blanc. Libby added a pop of colour painting the lampstand Resene Allports.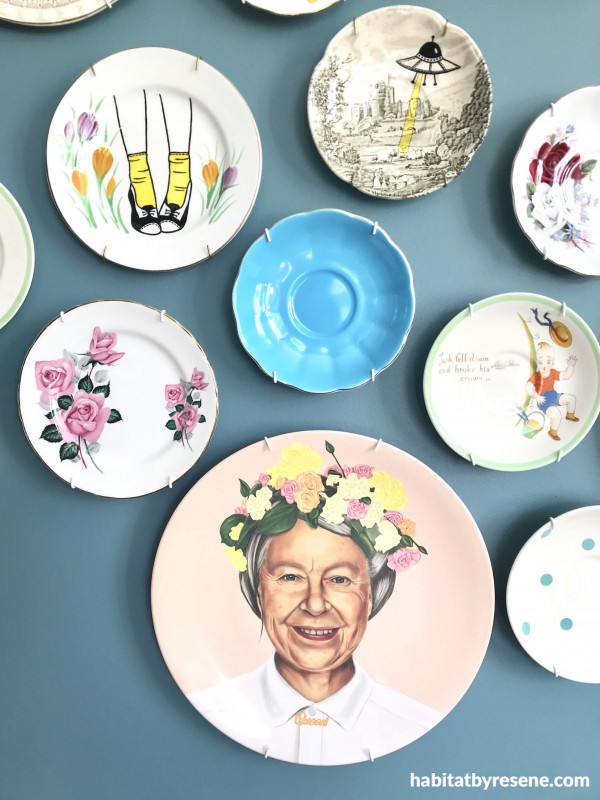 A detail of Libby's plate collection. The kitchen wall is in Resene Half Smalt Blue from the Karen Walker Paints collection.

images Libby Chambers, Charlie Jackson for Latitude, Kate Claridge for Your Home & Garden
To see more of Libby's art visit www.libbychambersart.com.
Published: 09 Dec 2020
Do you have a home full of wonderful Resene paint and colour? Send us some snaps by emailing [email protected].
the look
If you're stuck on what
colour to use or need colour
advice, try out the Resene
Ask a Colour Expert service.