►
◄
latest
habitat tv
blog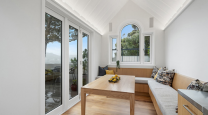 Master Builders' Chief Executive David Kelly shares his tips for building in the challenging climate.

Planning... more
A former sailmaker's shed becomes a colourful home to a creative family of five
When Bec and Zac bought a Mapua art gallery called the Tin Shed in 2013 they kept the building's creative spirit alive as they converted it into their colourful family home. Built in 1989, the Tin Shed was originally a sailmaker's shed, then an art gallery with a kiln. Now in its next life as a family home for Bec and Zac and their children, eleven-year-old twin boys Reed and Noah and eight-year-old Olive, it's retained its artistic energy with rooms painted in vibrant colours such as Resene Noosa and Resene Palm Green.
"Since purchasing our Mapua home, it has been a constant renovation project," says Bec, who owns her own interior design company Bec Deacon Design.
"We were focussed on making our home warmer, brighter and more fun to live in!"
A letterbox and front gate in Resene Bright Spark, a hot sizzle of yellow, is the first indication that this house is not all it seems. The next clue is the brilliant blue hue of the exterior painted by the previous owners in a shade like Resene Mariner. Inside, a riot of Resene colour awaits. "Our collected artworks and furniture lead to the style and paint choices for our home," says Bec.
"Initially, I took great inspiration from Karen Walker's colour palette and then branched out from there!"
When you open the front door you are greeted with a sunny splash of yellow of Resene Noosa which colours the hallway. This delightful golden hue accentuates the wooden features and is polished off with a clean trim in Resene White.
Zac, who works as a teacher at the local school used his favourite colour, Resene Palm Green, in their study and separate toilet. The rich, mossy green darkens the rooms and makes the family's décor pop. The greens continue into the master bedroom which features Resene Half Smalt Blue from the Karen Walker Paints collection.
The couple have used Resene paint ever since Bec visited the Nelson Resene ColorShop during her time as an interior design student.
"They went above and beyond to teach us about their products," says Bec.
"I always deal with such fantastic and helpful staff at Resene.
"Nelson Resene is one of my favourite places to go!"
Bec's love of colour isn't just limited to the walls. In the lounge she got creative and painted her shelving in an array of colours including Resene Palm Green, sunset pink Resene Soothe and sandy orange Resene Twizel.
"I'm constantly styling areas around my home," says Bec, who describes her style as eclectic.
"I love colour and patterns. I like to change it up and keep things fresh and different.
"I truly love every style and bring that into my home in some way, I like to have a real mix."
Their lounge now flows into the warm umber white kitchen area, painted in Resene Wan White. The original kitchen layout was expanded, and Zac removed a wall himself.
"I'm happiest with the kitchen," says Zac,
"The kitchen renovation has had the biggest impact on our lives."
Adds Bec:
"The open plan kitchen has definitely been the biggest area of change.
"It was such a tiny dark galley kitchen with a small lever window. It is now the hot spot of our home."
Bec enjoys having a clean, relaxing home, so living in a building site was a big challenge for her.
"One of the biggest challenges was keeping our family going through the kitchen and bathroom renovation. It was like indoor camping.
"Having a new bathroom with mains pressure was pretty life changing. We've got so much more to do but we try to celebrate the small steps."
Bec and Zac painted their bathroom in Resene Wan White with a feature wall in Bec's favourite colour Resene Unwind, a gentle relaxing blend of pale grey and green.
After the disruption of the renovations, Bec was able to find comfort in her freshly painted, zen-like master bedroom. The crisp Resene White ceiling and trim framed the mysterious, moody walls in Resene Half Smalt Blue. The blend of green and blue in Resene Half Smalt Blue made it the perfect companion to their home's surrounding environment.
"We sit up among the cabbage trees and look out onto the Waimea Estuary," says Bec.
"We love our calm bedroom; it is the only room in the house that is on the second floor and it feels far enough away from the chaos!"
Beyond the main areas of the home, every inch of the Tin Shed is covered in colour. Resene Tasman and Resene Billabong create a dreamy lagoon atmosphere in Reed and Olive's bedrooms. Down the hall in Noah's room, the walls are painted in snowy arctic Resene Rice Cake.
Being brave with colour has paid off for Bec. She's not only created a home to be proud of, but she's also growing a family of colour lovers too; Olive adores Resene Blanched Pink – the first colour Bec painted in her room – and Noah likes how Resene Billabong changes at different times of the day, while Reed loves natural greens such as Resene Cactus.
One of the biggest learnings Bec and Zac have taken away from this project is to trust their instincts when it comes to colour. "Live in the space before making any decisions," says Bec.
"Don't rush the process and don't be afraid to go with your gut!"
You can check out more of Bec's projects on her website
Top tip: If you want to paint an older home with walls that have imperfections including old water-stained surfaces in bathrooms, seal the surface first with Resene Sureseal before topcoating. Resene Sureseal is a pigmented sealer with the ability to ready old surfaces, inside and out, for painting.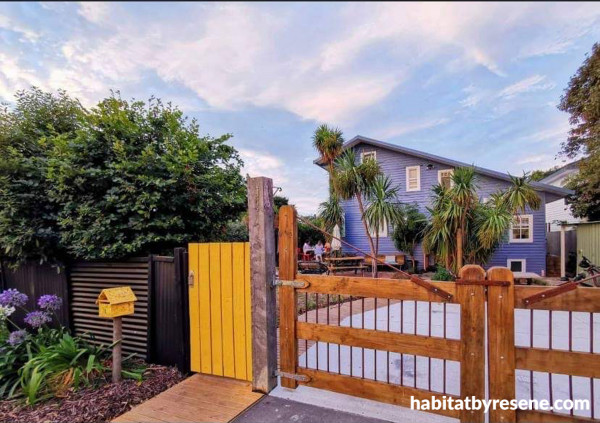 The Tin Shed's vibrant fence line is in Resene Black, with a bright gate and letterbox in Resene Bright Spark. The previous owners painted the blue exterior. For a similar exterior colour, try Resene Mariner.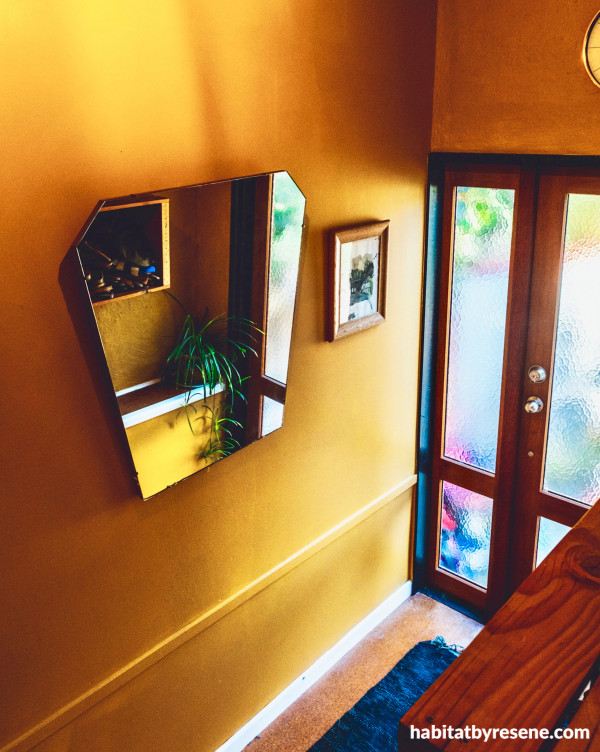 The hallway's golden glow is created by rich Resene Noosa on the walls with Resene White trim.

The separate toilet and study are in moody Resene Palm Green. Each aspect of Bec and Zac's home was renovated on a budget using their DIY skills.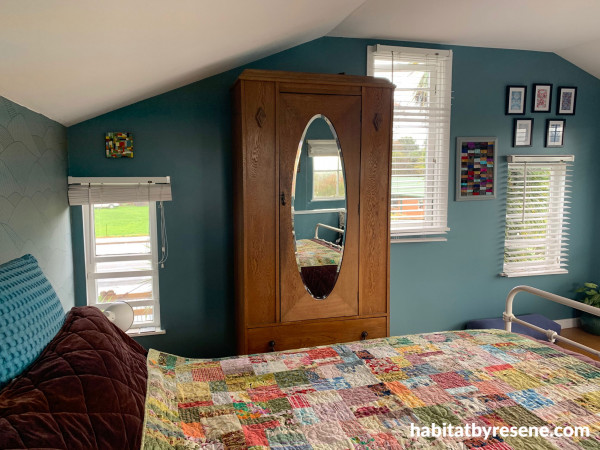 Resene Half Smalt Blue in the master bedroom is a greeny blue from the Karen Walker Paints collection. This vibrant shade pops against the ceiling and trims in Resene White.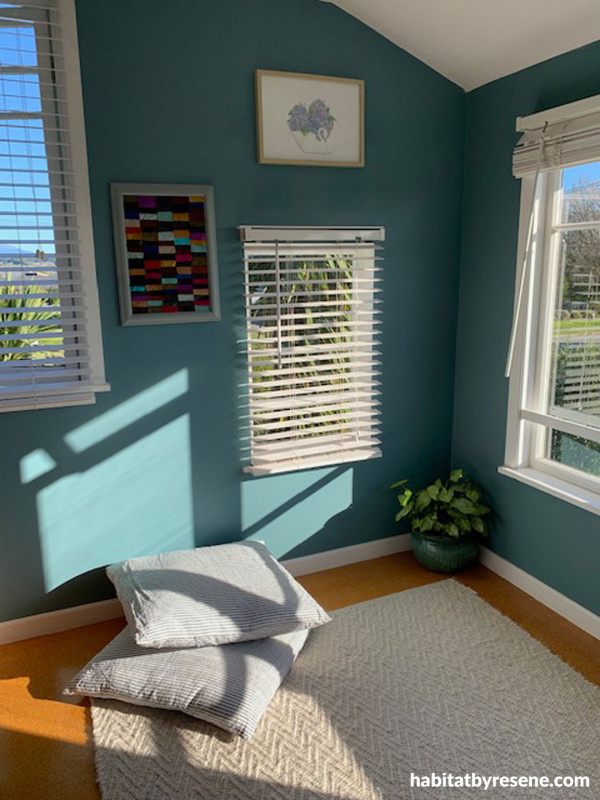 Resene Half Smalt Blue in the master bedroom creates a cosy atmosphere that complements the clean lines of the Resene White trim and ceiling.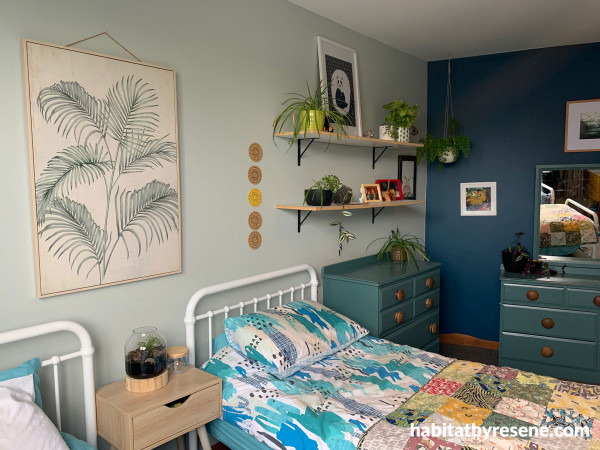 Resene Tasman on the left wall creates a soft glow in Reed's room and is reflected off the Resene White ceiling. The chest of drawers painted in Resene Green Meets Blue pop against the Resene Billabong feature wall.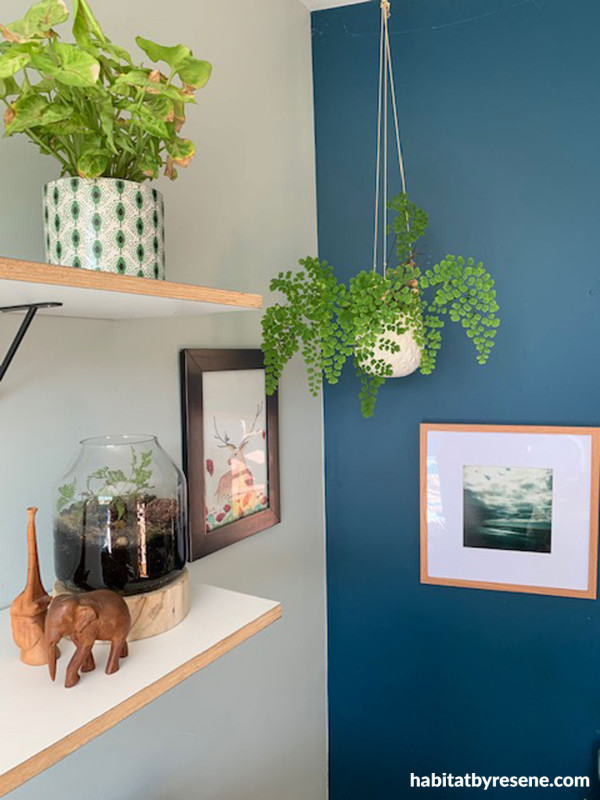 Reed's room embraces deep lagoon colours with a feature wall in Resene Billabong and surrounding walls in Resene Tasman.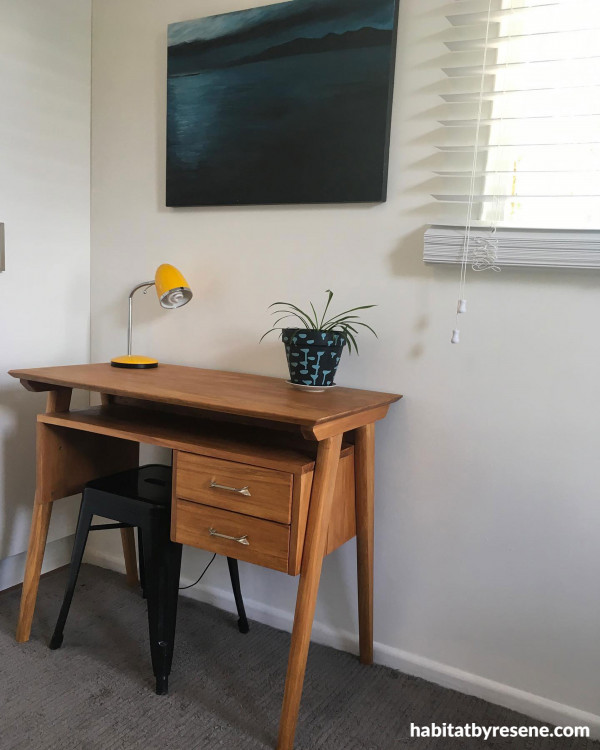 Noah's bedroom is painted in crisp Resene Rice Cake with trim in Resene White.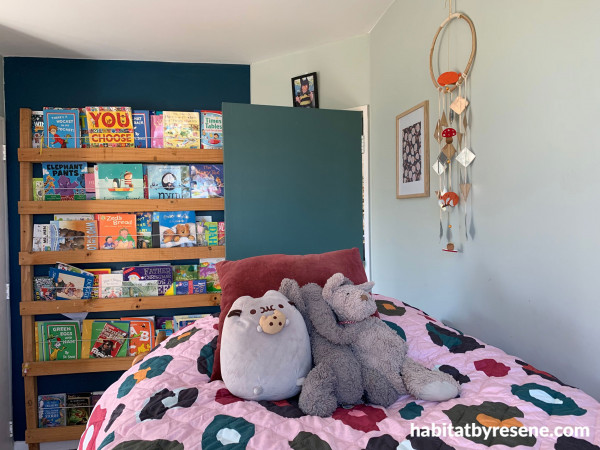 After seeing Reed's room colour, Olive wanted her bedroom wall painted the same colours. Her bookshelf pops in her bedroom against the Resene Billabong wall. Surrounding walls are in Resene Tasman and the ceiling is in Resene White.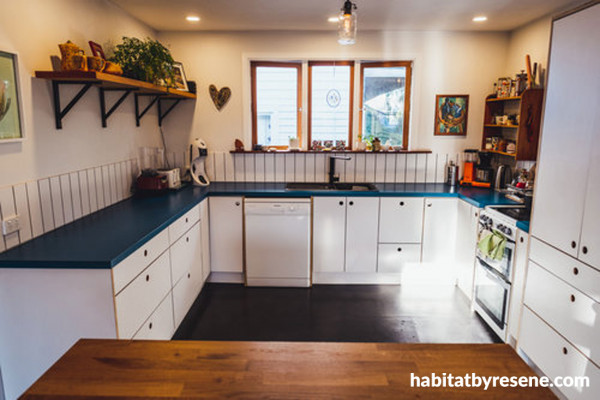 Zac took matters into his own hands in the kitchen, taking out one of the walls to create an open plan space. The couple painted it in Resene Wan White with Resene White on the ceiling.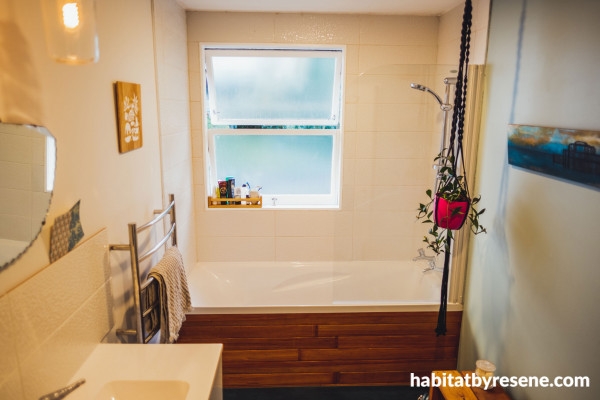 The bathroom is a relaxing haven with walls in Resene Wan White and a feature wall in Resene Unwind.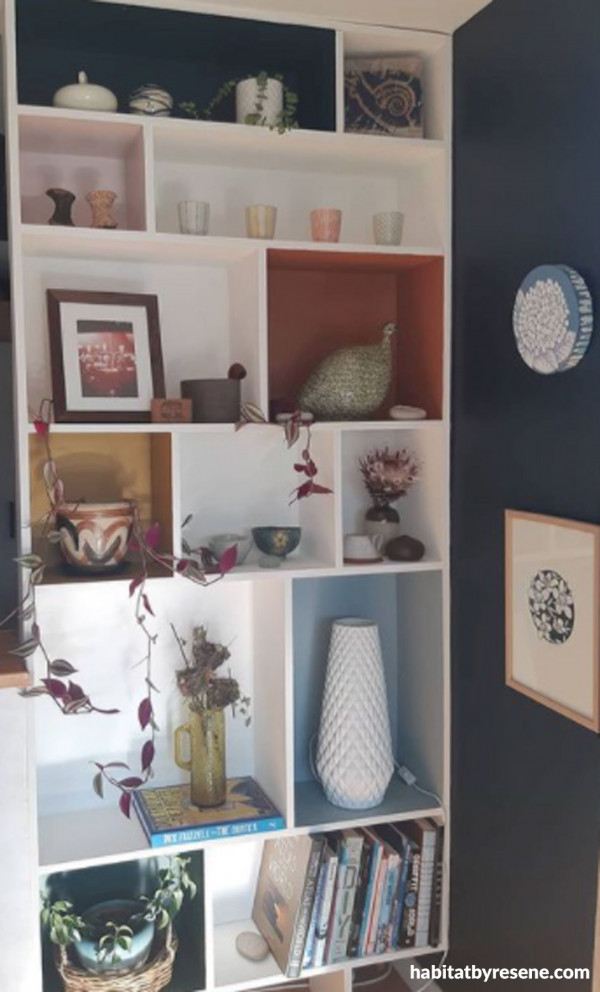 Bec and Zac hunted the region's recycling centres and second-hand shops for pieces of furniture to display all their travel finds and have added artworks to make the Tin Shed their own. Bec upcycled this shelf in her lounge using Resene Elephant, Resene Soothe, Resene Twizel, Resene Influential, Resene Dusted Blue and Resene Palm Green.
Published: 29 Jul 2021
Do you have a home full of wonderful Resene paint and colour? Send us some snaps by emailing [email protected].