►
◄
latest
habitat tv
blog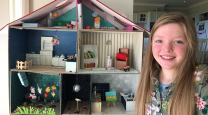 A guide to embracing a maximalism décor style
While minimalist styles have dominated interior trends over the last few years, its polar opposite trend, maximalism, is revelling in its return. Farewell muted colour palettes, white walls and restrained décor. Resene has got you covered if you're hoping to inject a little more boldness into your home, and decorate to the max.
Maximalism focuses on going busier, brighter and bigger. Have patterned wallpaper, striped furniture and an abundance of accessories at the ready. Maximalism is a style which suits those who want to express their personality through their home. Think curated collections from your favourite travels, bookcases beaming with beautiful books, colourful artwork, that makes your smile and comfy plush cushions – and bold Resene colours and wallpapers of course!
How to work in the trend
Maximalism doesn't mean simply filling a space with stuff. This look is about creating an impact, not clutter. If you're going to add objects to a space, make sure they are meaningful and deliberate. Bursts of colour and an abundance of objects should work to inspire you, not busy up your space. Some simple rules to keep in mind:
Maximalist designs are about creating layers through colour and texture.
Every room should have a focal point, be it a glorious gallery wall or a beautiful painted table.
Use colour to create cohesion in the space. Spreading colours in the same family around at least three different places in the room will help tie a complicated scheme together.
Think about balance and scale. Large furniture or oversized patterns will balance out detailed print. Play with proportions to create a look that's luxurious, creative and deeply personal.
Consider how you could use scale to create a maximalist look, instead of layering objects.
Maximalism for beginners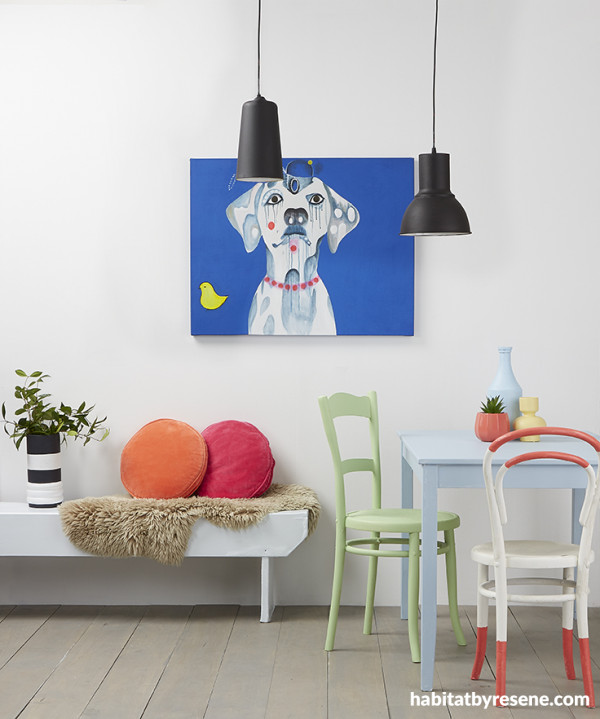 An easy way to make many bright colours work together is to keep the wall colours neutral. A grey-based white like Resene Double Alabaster seen here on the walls will tie in with many colours. Table in Resene Frozen, green chair in Resene Anise and front chair in Resene Bubble White with details in Resene Rapture. Flooring in Resene Colorwood Mid Greywash, bench in Resene Pattens Blue, pendant lamps in Resene Nero, tall vase on table in Resene Frozen, small vases in Resene Rapture and Resene Spring Fever and tall striped vase on bench Resene Double Alabaster with Resene Nero. Round velvet cushions from Castle and Things, sheepskin from Lapco, Dalmation artwork by Jessie Breakwell and plants from Give Plants. Project by Annick Larkin, image by Bryce Carleton.
If you're new to maximalism, the easiest way to dip your toe into the style is by starting with a neutral wall colour and then layer colour through objects, artwork and furniture. A cool white with a hint of grey like Resene Alabaster or Resene Black White or a green white like Resene Merino will be a safe bet to go with a range of colours and styles. If your walls are neutral, you can introduce large blocks of colour by painting furniture in your favourite Resene colours. Flatpack wooden furniture can often be easily painted once it is primed with Resene Quick Dry. Don't be afraid to experiment. Try painting the inside of a bookshelf or wardrobe. Paint the chairs of a dining suite different colours or the legs of your table in different colours. Resene testpots can be used to paint vases or picture frames for pops of colour. When choosing colours, contrasting shades will create a true maximalist look – try blue with orange, such as Resene Matisse and Resene Flashback or if opting for softer colours try pink with a leafy green, such as Resene Sakura and Resene Chelsea Cucumber. A general rule is to try and place a colour in three different places. If you have a vibrant pink pillow you love, introduce the colour again in two other places like a painted chair and a painted vase.
Playful patterns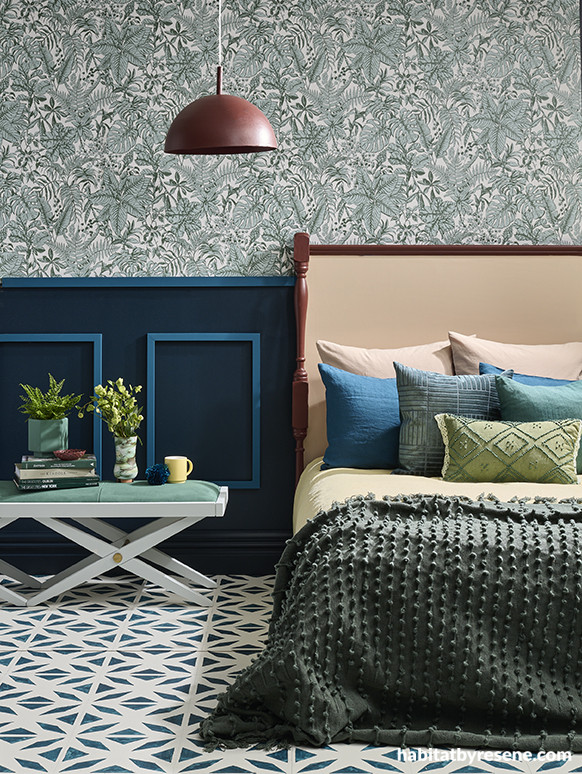 Mixing your favourite Resene wallpaper design with other patterns is the ultimate way to create a maximalist interior that's packed with personality. Upper wall in Resene Wallpaper Collection 37520-2, lower wall and skirting board in Resene Tangaroa with panelling (created using empty picture frames) and dado rail in Resene St Kilda. Floor in Resene Rice Cake with design in Resene FX Paint Effects medium mixed with Resene Tangaroa (applied through a stencil using a flat artist's brush to create 'glazed tile' effect). Bench seat in Resene Stromboli with legs in Resene Duck Egg Blue. Scrolled headboard in Resene Cashmere trimmed in Resene Scoria and pendant lamp in Resene Scoria. Artwork frame painted in Resene Duck Egg Blue and Resene Rice Cake, vases and small accessories in Resene Stromboli and Resene Sorrento. Drinking glass from Freedom, Grace Popplewell bonsai artwork from Endemic World, emerald cushion (with stacked lines) from H&M Home, other cushions and bobbly throw and bedlinen from Adairs. Project by Kate Alexander, image by Bryce Carleton.
Don't be afraid to clash colours and patterns. If anything, embrace it. Boldness and clashing colours are encouraged, particularly when it comes to patterned wallpapers. Wall murals and vibrant designs from the Resene Wallpaper Collection are a perfect way to introduce life to a room. The most important thing to consider when planning your maximalist décor is to think about what you like. Is it a bold, geometric pattern you're after, or swirling, vibrant florals? Are the colours that make you feel happy warm, or cool? This is your chance to express yourself through your décor.
If you're starting from scratch in a room and aiming to draw on maximalism, a clean palette actually helps a lot. Choose one bold Resene colour to paint first and layer upon that. The same rule goes for wallpapers and patterns: choose a bold Resene wallpaper to be a focal point, then layer from there.
When mixing more than one pattern, a key way to make the room look cohesive is to follow this motto: 'connect through colour and contrast through scale'. Introduce patterns on wallpapers, curtains, cushions or painted floor designs but make sure they come from the same colour palette e.g. green or blues. The patterns should be of different scales to prevent the room being too busy, for example combine a fine leafy wallpaper with thick stripes or a large oversized geometric pattern. Remember texture on textiles can count as a pattern, a bobbly throw has a similar effect to a polka dot.
Top tip: If you can't find what you want in the wide range of the Resene Wallpaper Collection or you're looking for something quite personal and one-of-a-kind, try out the Resene WallPrint service where you can create your own wallpaper from a photo or favourite print. You simply upload a photo, put in the dimensions of your wall and your order can be delivered to you as numbered wallpaper strips cut to size. Try it out at www.resene.com/wallprint.
Monochrome maximalist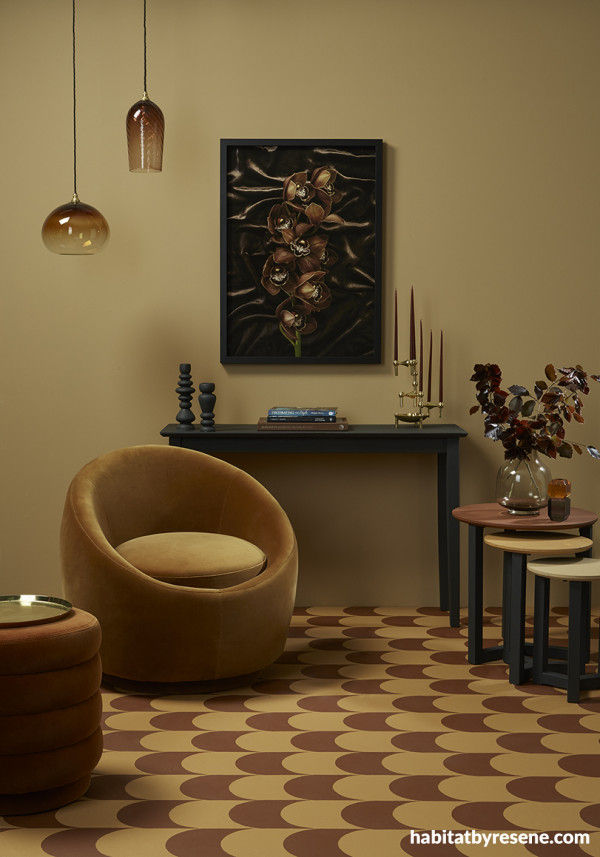 What better way to create whiskey lounge style than a room in a tonal room inspired by the golden tipple? Wall in Resene Gold Coast, with floor in painted 'tile effect' in Resene Pendragon and Resene Hairy Heath. Console table in Resene Noir and nesting tables in Resene Hairy Heath (large), Resene Pendragon (medium) and Resene Gold Coast (small) with legs in Resene Noir. Candlesticks in Resene Noir. Armchair and ottoman from Soren Liv, cushion from Adairs, brass candelabra from Good Form, orchid artwork by Helen Bankers, pendant lights from Monmouth Glass Studio. Project by Melle Van Sambeek, image by Bryce Carleton.
Maximalism doesn't always have to be about contrasts. Maybe the monochrome maximalist style speaks to you. If you have a favourite hue already picked out or existing in your home, go from there. This style is all about colour saturation and texture and patterns are the way to make this style feel glamourous and opulent.
If trying this style, you could also decorate based around a theme. The Art Deco style has made a comeback in the interiors world, tapping into the grandeur of the roaring twenties and The Great Gatsby. Incorporate chrome, stainless steel, wood and warm gold tones and layer with artwork, accessories and mirrors.
Drah-mah darling!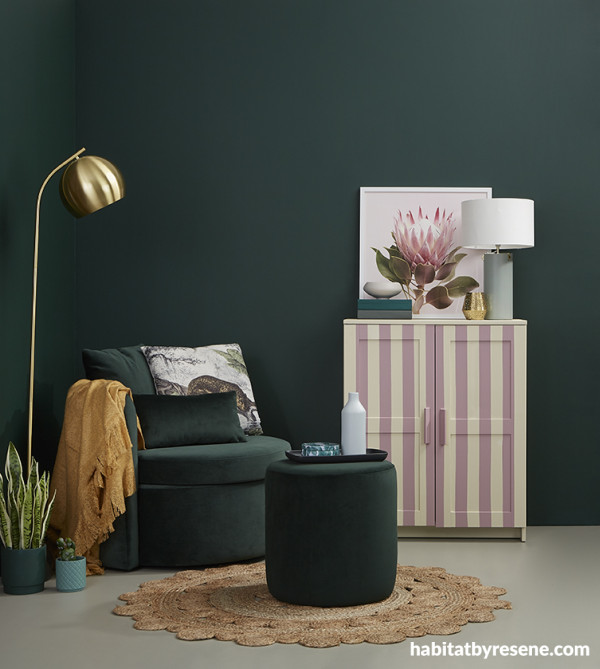 Create instant glamour by painting walls in rich 'masculine' colours such as Resene Palm Green, an old college green which evokes old world charm. Floor painted in Resene Greige, cabinet in Resene Double Spanish White with stripes in Resene Vintage, large plant pot in Resene Palm Green, small plant pot in Resene Cutty Sark and lamp in Resene Midwinter Mist. Other vases in Resene Bubble White, Resene Blue Smoke and books in Resene Deep Teal and Resene Rivergum. Velvet chair, cushion and ottoman from Contempa, lamp from Freedom, throw, animal cushion, rug and artwork from Kmart, rose gold candle from Illumina. Project by Annick Larkin, image by Bryce Carleton.
There are some colours that scream drama – cocooning colours such as deep racing greens, wine reds, aubergines and navy blues which are oozing with style. Think Resene Palm Green, Resene Merlot, Resene Aubergine or Resene Indian Ink. These dark, rich colours have an 'Old World' vintage quality which make them ideal for creating an opulent interior style which is loaded with va-va-voom. Pair them with wooden pieces stained with dark browns such as Resene Colorwood Deep Oak, gilded mirrors or lush velvet furniture which will reflect the light. These dark colours are often the colours used in art galleries and in your own home they are the perfect backdrop for gallery walls to showcase your favourite artwork. Dark colours won't necessarily make your interior feel smaller – as dark colours recede, they can make a room feel deeper or longer. A trick to make a space feel less like a cave is to bring in a bold contrasting accent colour to give the space more dimension.
Play with scale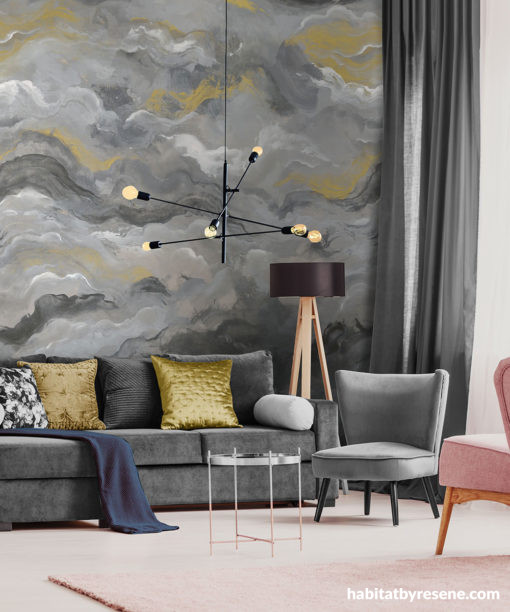 Resene Wallpaper Collection 99347 transforms your whole wall into the dramatic clouds reminiscent of those seen in romantic landscapes of British artist John Constable. Team with grey-edged neutrals such as Resene Double Alabaster and capture the diffused luminance of the sun peeking through clouds with furniture or artworks painted in Resene FX Metallic Blast Grey or Resene FX Metallic Gold Dust.
Bold oversized wallpapers and murals are a huge interior trend. Oversized floral or geometric patterns are a great starting point for a maximalist scheme which features multiple patterns as any pattern you introduce on cushions, drapes or in artwork will likely be significantly smaller scale. Mural wallpapers such as Resene Wallpaper Collection 99347 are particularly striking in rooms with a high ceiling and turn your whole wall into a masterpiece. Combine with lush high sheen fabrics such as velvet, satin or furniture painted in a gloss or semi-gloss paint such as Resene Enamacryl or Resene Lustacryl waterborne enamels.
Top tip
Create a luxe look by play with levels of sheen. Resene Enamacryl gloss or Resene Lustacryl semi-gloss are ideal for transforming tired furniture into glam statement pieces. When creating a maximalist style gallery wall, opt for a matte paint such as Resene SpaceCote Flat to avoid light reflecting off the walls, detracting attention from your artwork.
Published: 07 Apr 2022
Do you have a home full of wonderful Resene paint and colour? Send us some snaps by emailing [email protected].