►
◄
latest
habitat tv
blog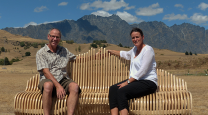 A kaleidoscope of colour creates the 'wow' factor in a 72 sqm apartment
When Lynette first viewed the Mt. Maunganui flat she would eventually buy, she knew it wouldn't be staying Resene Tea for very long.
No, for Lynette, bold colour is far more her style. "I could visualise it immediately, all the colours in my mind," she says.
Just four years later, the 72 sqm apartment is a symphony of Resene colours. Surprisingly, the first thing Lynette did was paint the whole interior white, but that was just to give herself a blank canvas and figure out what colours would go where.
Paint is a passion for Lynette, so it was no bother to her to do the blank canvas first with the intention of painting over it – it gave her the chance to plan out her vision.
"Colour is brightness in your life, it's everything in the world outside the door, and the ideas for it just flows out of me."
Her own art is on every wall, but it's the interiors that pack the real punch for visitors.
When people walk in the door, she says they are often stunned. "Usually they love it, and they say it's like a café!" and she adds, "Why be boring when Resene paint can create such an emotional and amazing atmosphere?"
Lynette is a former kindergarten teacher and she credits that with developing her artistic and creative skills. Now retired, there's been no slowing down.
She has painted almost every surface in the flat. Dark, rich colours are her favourites.
"I like dark moody atmospheres. I like to cocoon in colour," she says. Her lounge was the starting point where she chose Resene Grenadier, a vibrant orange, for one wall in the lounge and then partnered it with Resene Warrior, a deep dusky green. She added Resene Midwinter Mist for contrast.
She calls the place The Bolthole, and says as an artist, surrounding herself with colour is important. "Being creative by painting quietens my mind and clears a pathway to stillness... it's a beautiful place to be. My inner world is set free, and I love to see what appears on the canvas, for what comes forth is who I am."
In her bedroom she chose a deep, dark colour, Resene Blue Charcoal that reflects her desire to create a cocoon, and a soulful atmosphere. She names Resene Prussian Blue as her possibly favourite colour but says it's hard to choose one over others. Inspiration is everywhere.
"I'm inspired by life itself, what I see and feel in the textures of nature, and words I hear that make my heart sing. It sounds a cliche I know, however the inspiration itself is a deep form of connection to my soul."
People also often ask her for advice on colour and she is happy to help out."When I walk into a house that's painted plain white, I just immediately start seeing in my mind the colour I would paint it. In my mind I'm holding a paintbrush and painting a colour down a wall or a window frame."
Her advice to others is, unsurprisingly, be adventurous.
"If you 'feel' a colour, just go and get it. There's always a place to put it. People are frightened of colour but for me, colour is never too much, and you can always change it anyway. I say, be bold!"
Lynette is already dreaming up new colour schemes for her house. She likes changing things up and all she needs is a paintbrush to be in her happy place.
"I would paint on literally anything if I can see a way to improve or repurpose it," Lyn says, whether its walls, canvasses or furniture. Friends often bring her furniture to be upcycled.
"Once I have a glimpse of an image in my mind I just start and let the process take care of itself. The fun is letting the art emerge all by itself," she says.
Top tip: Resene SpaceCote Flat is waterborne paint ideal for painting broadwall and interior spaces. It has an enamel style toughness while delivering on-trend matte finish. For a little higher sheen use Resene SpaceCote Low Sheen. When creating bold colour blocked walls, use masking tape to create crisp edge between the colours.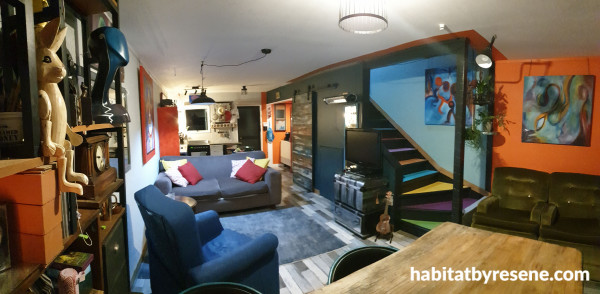 "All the magic happens in this small space," says Lynette of her 72 sq. metre flat. The lounge was her starting point for a kaleidoscope of colour. The walls are painted in Resene Warrior, a dark and moody green with Resene Grenadier, a bold orange-red. Resene Kumutoto, a maritime inspired aqua, is on the wall next to stairs The left-hand wall is in Resene Midwinter Mist. Lynette built the barn door herself using old stair treads. The flooring is lino.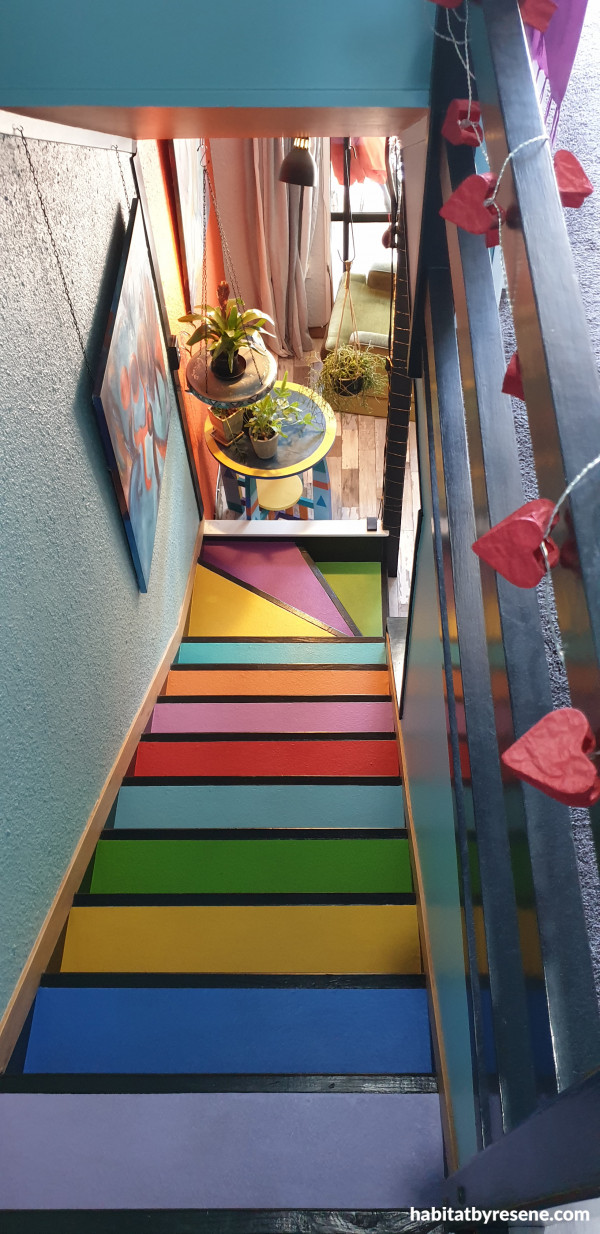 "It took me ages to get the right combinations to work but I really love them and so does everyone who visits," says Lynette of her stairs. The vibrant array of colours includes Resene Hippie Blue, Resene Retreat, Resene Mariner, Resene Java, Resene Grenadier, Resene Bright Spark, Resene FOMO, Resene Eye Candy and Resene Havoc. The walls are painted Resene Kumutoto with trims in Resene Blackjack.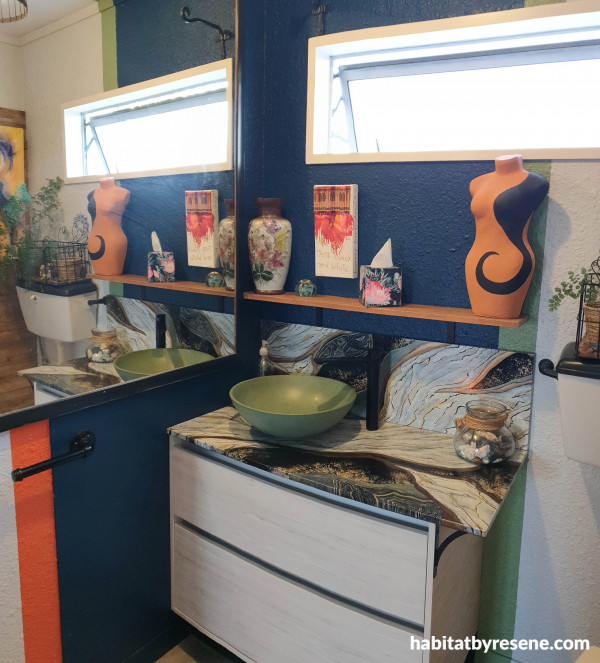 "It's hard for me to name a favourite colour. I love so many colours and I'm drawn to rich deep tones, rather than the lighter shades. If I had to name one, Resene Prussian Blue has always caught my eye. It's stunning, rich, deep, dark and moody and it creates atmosphere," Lynette says. In the bathroom, she's used Resene Prussian Blue partnered with vibrant orange Resene Grenadier. A stripe of Resene Green Leaf and Resene Midwinter Mist complete the picture.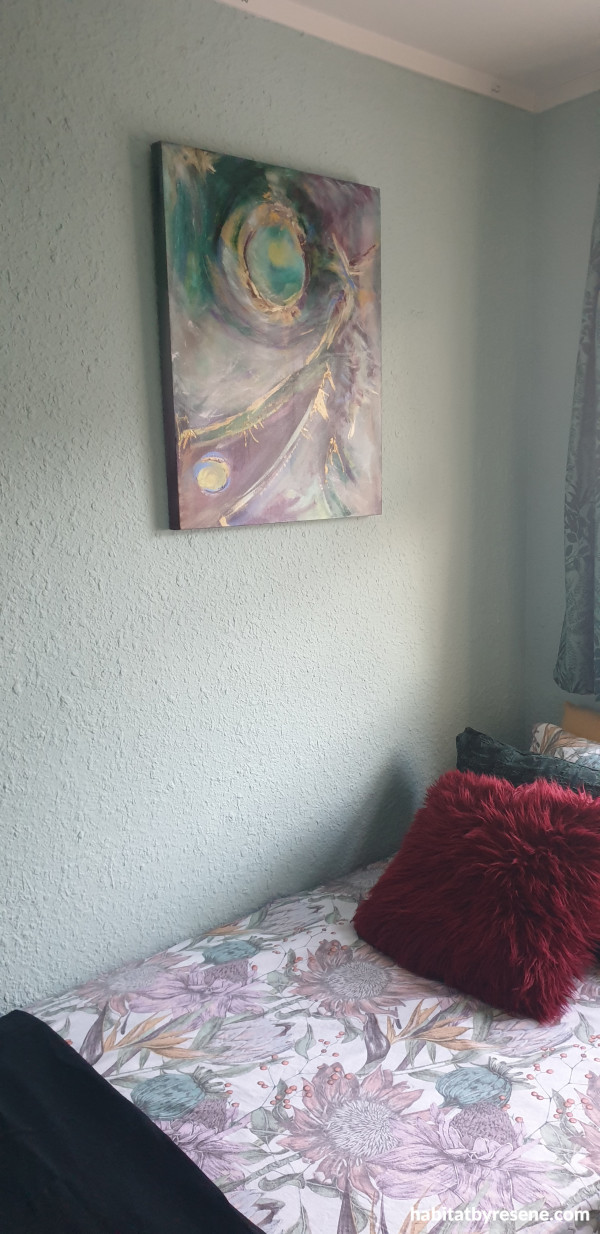 The guest bedroom is painted in Resene Jet Stream, a restful and soft blue-green and a great frame for Lynette's own artwork. "I express myself through the medium of painting for my own benefit. I didn't know I had this ability till I was asked to paint a large painting for a friend in the 70s. And I have never stopped!"Lynette says. The ceiling is in Resene White.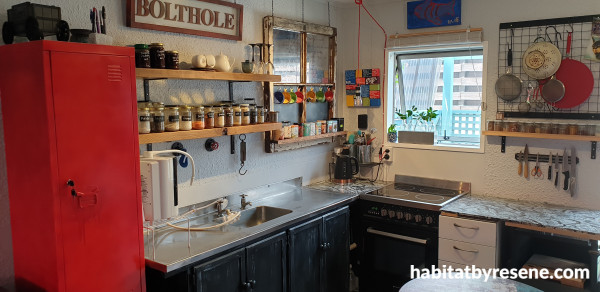 "I absolutely love the range of colours and coverage of Resene paints. The testpots are fabulous and a perfect size," Lynette says, and they give her a starting point for experimentation. In the kitchen she has finished the cupboards in Resene Blackjack and Resene FX Metallic Silver Aluminium. The walls are in Resene Midwinter Mist. For a bold red cabinet feature use Resene Del Toro.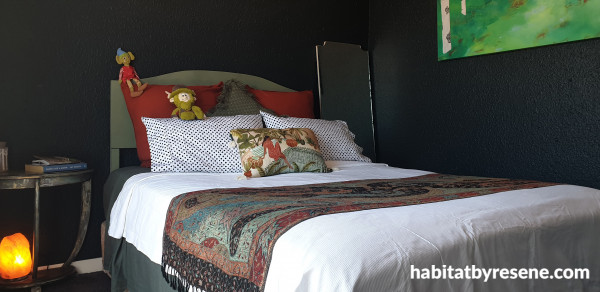 Lynette wanted to create an atmospheric, rich and dark cocoon in her bedroom. She chose Resene Blue Charcoal, a complex and deep ultra-blue. "I love so many colours and I'm drawn to rich deep tones, rather than the lighter shades," Lynette says.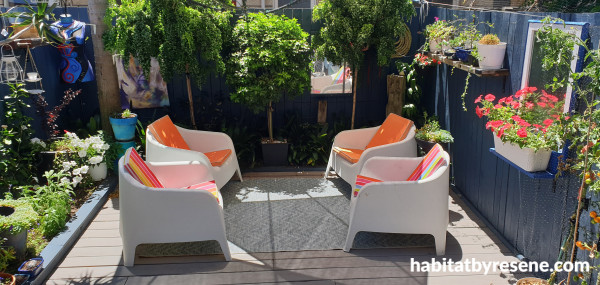 Brighten up a small courtyard with paint and pops of colour in the accessories. Lynette used Resene Lumbersider in Resene Coast on the fence. Layer it with plants and art for an outdoor retreat that delights the senses, no matter the size.
Published: 02 Feb 2022
Do you have a home full of wonderful Resene paint and colour? Send us some snaps by emailing [email protected].