►
◄
latest
habitat tv
blog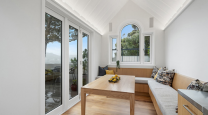 Master Builders' Chief Executive David Kelly shares his tips for building in the challenging climate.

Planning... more
A Melbourne grande dame gets a graceful colour makeover with Resene Merino and Greek-inspired blues  
Adding a touch of the Santorini vibe to their home was a must for this couple of Greek heritage, Nikki and Steve Koutspis. After all, the Melbourne couple eloped to the iconic Greek island for their marriage and honeymoon. So when it came to renovating their stately Edwardian-era villa (built between1890-1915), Nikki chose Resene Pelorous for the statement front doors - a vibrant turquoise that evokes the Mediterranean mood.
"Our house is red-brick, so I wanted to keep the colours light, fresh and bright but I wanted something special with my front doors, I wanted them to not only pop but be inviting so we went with Resene Pelorous, definitely my favourite colour in the whole house," Nikki says.
She loves it so much that outdoor cabinetry is on order for the pool area – to be painted in the same Resene Pelorous. The house is a triple-brick villa with decorative features that lend themselves to detailed painting. The couple chose Resene colours supplied by Port Melbourne Paint and Wallpaper, throughout the entire house, and crucially, the exterior, after an earlier fail with a less hard-wearing brand.
"It just didn't last with the environment and weather so we decided this time we are doing it once and will do it properly and we went Resene and I am so happy with the quality." As they're two kilometres from the beach they needed a hardworking paint that could stand up to the salt drift. Nikki used Resene Lumbersider tinted to Resene Half Tapa with details in Resene Baltic Sea and Resene Sea Fog. Recently, she got a note in her letterbox from a local who was so impressed, he plans to paint his house in the exact same colour scheme. When it came to the interior Nikki was looking for a timeless, neutral feel.
"I researched the style of an Edwardian home as we wanted to be respectful of her heritage and we went for a Hamptons' style as that is what suited best."
Nikki was keen to repeat a light grey they'd used years before, but was surprised to find the colour didn't work as well in the lighter, sunlit areas.
"It just looked beige in the natural light upstairs," she recalls. "I found out it was because the yellow undertones were showing through in that light."
Nikki got some expert advice from interior designer Jacquie Tregea of Vida Design. "I knew the colours I wanted but Jacquie was able to put her finger immediately on the shade that was perfect. There's a lot of paint in our house so we had to get it right first time."
Resene Triple Merino is used throughout the house, a calm blend of bone and ash shades. Nikki says, "Depending on the day, light greys especially can change and I wanted my walls to look the same colour upstairs and downstairs, no matter the time of day. We were able to achieve that with Jacquie's extensive knowledge of Resene."
She says Resene Triple Merino has the magical effect of appearing a warm grey in winter and a cool grey in summer. "It's not a stark grey," she adds.
Nikki has added splashes of rich colour on just a few feature walls. In 12 year-old daughter Yve's room it's Resene Spray, a spirited aqua blue for a stand-out wall colour. In the study, she chose a deep navy – this was custom made by her Resene stockist to a colour swatch. It's a room where colour helps distract the eye.
"As the staircase interferes with the ceiling I thought that making it a dark blue would take the eye off the ceiling as you enter the room and just make it a bit sexy. I love the effect it has as it's so dramatically different to the rest of the house," says Nikki and it works a treat.
Nikki and Steve bought the house 16 years ago, and most people assumed they would knock it down as little had been done to it over a hundred years. Nikki and Steve were up for the challenge right from the start.
"We always saw the potential and she had fabulous bones. We had dreams of renovating a period home back to its glory but with a modern touch."
As they own Manpower Concreting, they were experienced enough to supervise the whole project as owner/builders. Nikki's tip is, "Unless you know the exact price of a trade or product double it and you will be more in the vicinity. There are also no problems just solutions!"
The house was not quite to lockup stage when the pandemic hit Australia and New Zealand. Extended Melbourne lockdowns and shortages of materials followed. It was 'an unforeseeable time of craziness', Nikki says. They lived in their factory during the 15-month renovation and are now loving the comforts of their home makeover. They are finishing off the pool and outdoor area – Steve's skills as a concreter coming up trumps there. All in all, the pair enjoyed the process so much they have applied to become TV renovators on Australia's The Block – with a well-thumbed Resene colour-chart in hand.
Top tip: Resene Enamacryl is a waterborne gloss paint ideal for painting front doors and window trims. This Environmental Choice-approved product is a waterborne paint but can be used in areas usually reserved for solventborne enamels. In hot conditions thin with up to 5% Resene Hot Weather Additive.
See more from Steve and Nikki's company: www.manpowerconcreting.com.au
See more of interior designer Jacquie Tregea's work at Vida Design www.vidadesign.com.au/contact
Paint supplied by Port Melbourne Paint and Wallpaper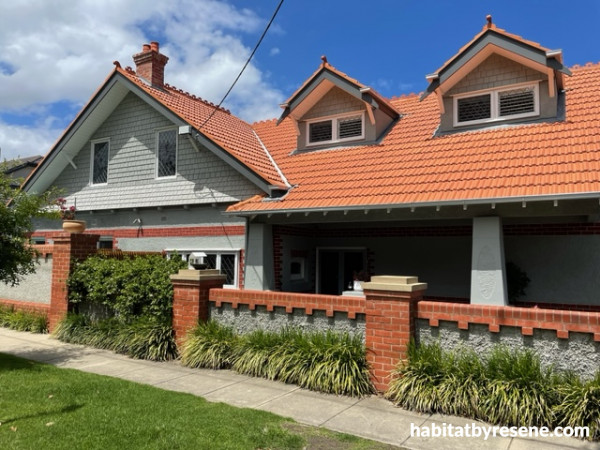 Nikki's exterior has had many compliments. Her neighbour liked the colours of her house so much, he is going to paint his home the same colour. The exterior stucco, rafter tails and shingles are Resene Half Tapa, the exterior fascia is in Resene Baltic Sea, the exterior eaves are in Resene Sea Fog and the exterior window trims are Resene Double Sea Fog.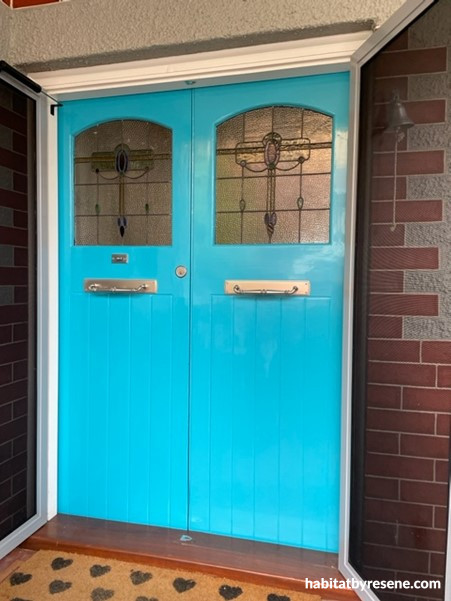 The front doors in Resene Pelorous are a nod to the couple's Greek heritage. This is Nikki's favourite colour in the whole house and says 'Santorini' to her from the moment she gets home. Nikki has now ordered outdoor cabinetry to be painted in the same Resene colour for the pool area. Use Resene Enamacryl, a waterborne gloss paint, for painting front doors and window trims to help the colour pop.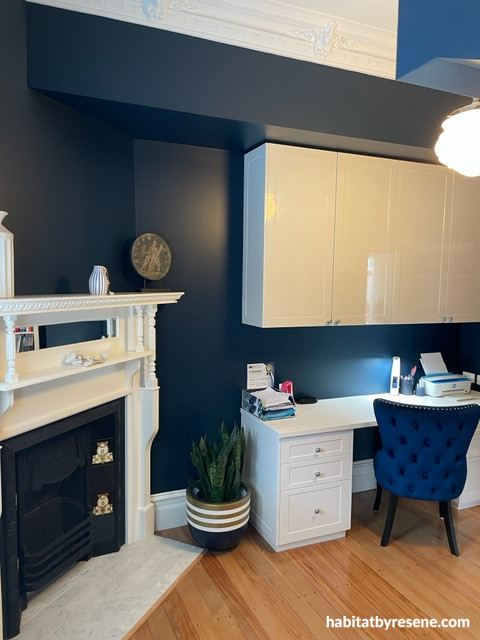 In the study Nikki branched out from the mainly-neutral palette in the rest of the house. She chose a deep navy for a rich, moody interior and her local Resene stockist custom-mixed this colour from a swatch she brought to them. "I love the effect it has as it's so dramatically different to the rest of the house," says Nikki and it works a treat. For similar blues try Resene True Blue or Resene Midnight Express. Ceiling in Resene Quarter Alabaster.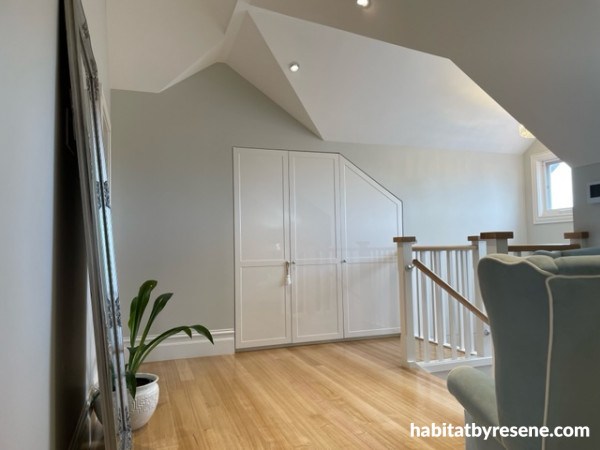 The light-filled hallway is painted in Resene Triple Merino which Nikki says appears a consistent and calming grey no matter what the light source. She got advice from her interior designer on the choice of this colour which has tones of ash and bone. Looking for a simpler and consistent backdrop she specified ceilings and all trims in Resene Quarter Alabaster. Finish timber flooring in Resene Qristal Clear Floor a clear coat ideal for high-traffic areas.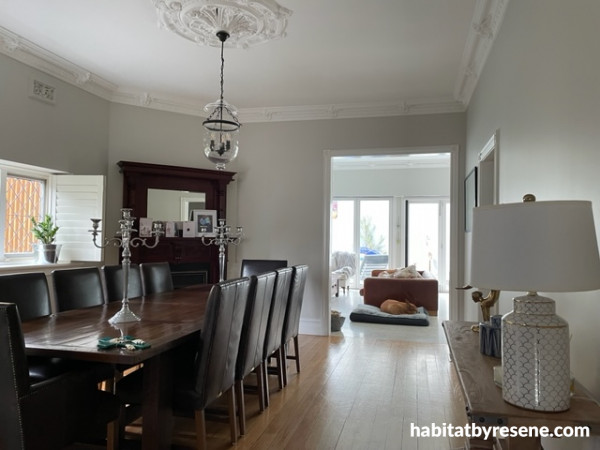 The dining room leads into the lounge extension, where old meets new. Resene Triple Merino ties both rooms together and even in the rooms with less natural light Nikki says this colour is a calming grey that she loves in all lights. Steve and Nikki own a concreting business and the new floors were laid by their company Manpower Concreting while they retained the original rimu floorboards in the old parts of the house. The ceiling and all trims are in Resene Quarter Alabaster.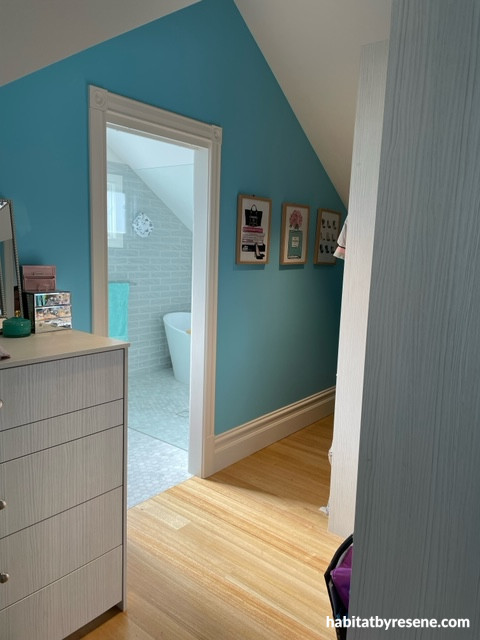 In Yve's room the walls are painted in Resene Spray, a vibrant aqua for a youthful and fresh look in a 12-year-old girl's room. The ceiling and trims are in Resene Quarter Alabaster.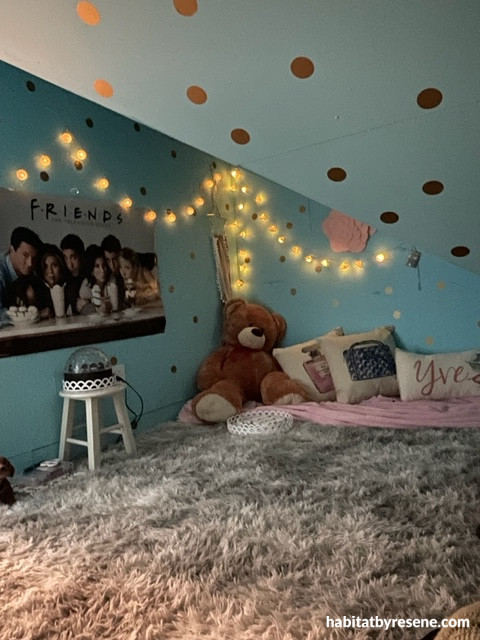 Another view of 12 year old Yve's room where the walls are painted in Resene Spray. Fairy lights and spot colour circles add a fun element to the room which features Resene Quarter Alabaster on the ceiling and trims.
Published: 02 Dec 2021
Do you have a home full of wonderful Resene paint and colour? Send us some snaps by emailing [email protected].
the look
If you're stuck on what
colour to use or need colour
advice, try out the Resene
Ask a Colour Expert service.