►
◄
latest
habitat tv
blog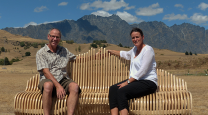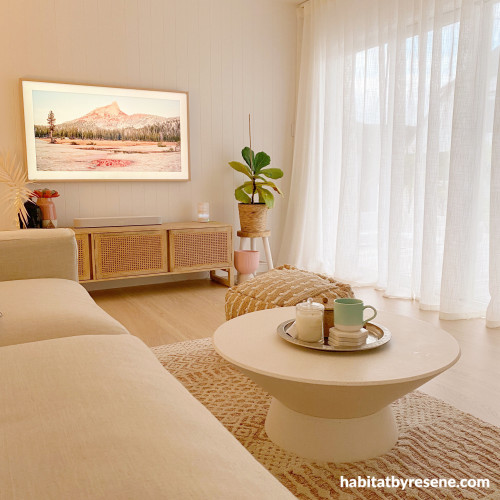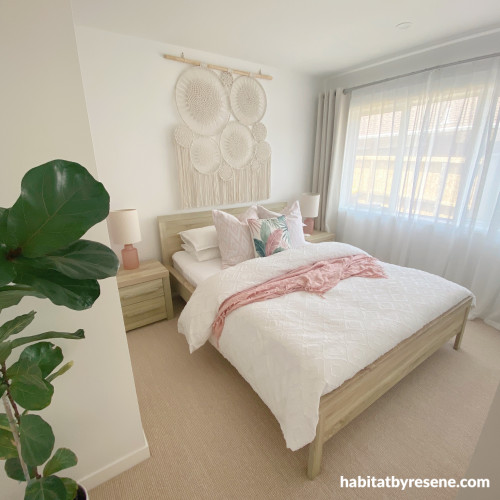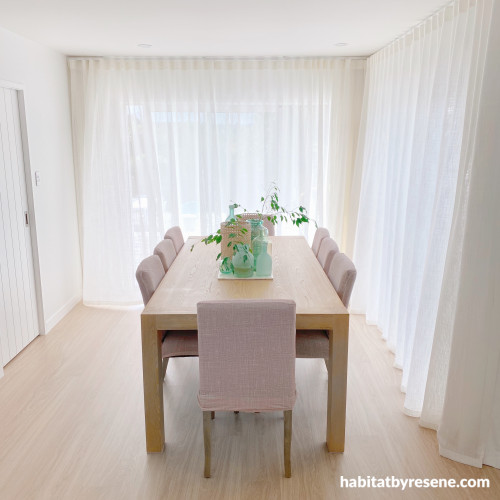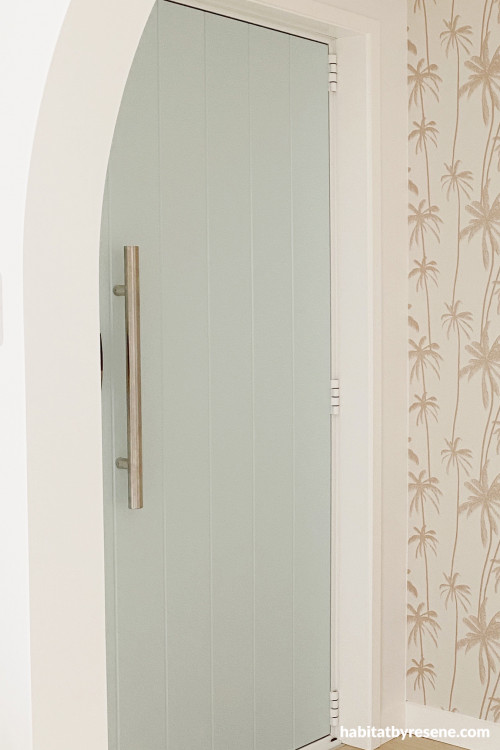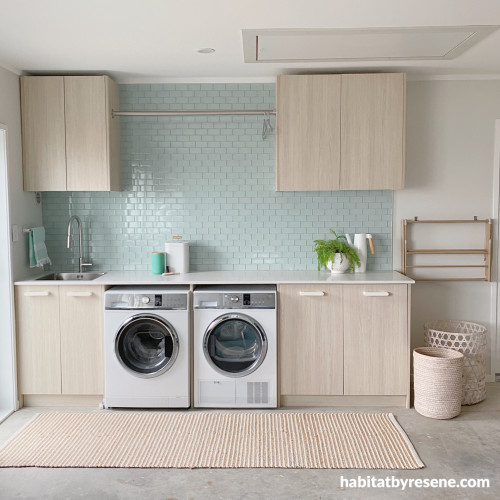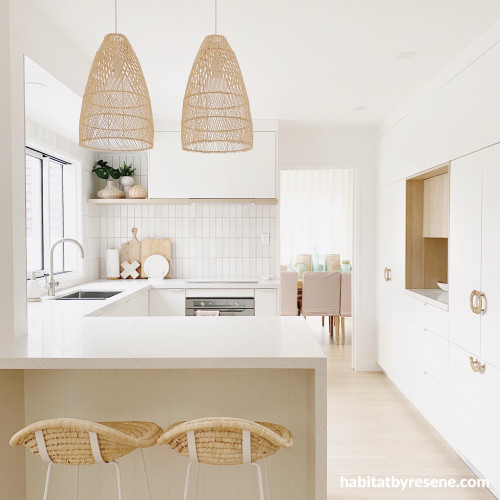 A tropical sanctuary with Resene Double Alabaster 15 years in the making
Fifteen years is a long time to dream of renovating your house. But for Leisa and her husband Keith it gave them plenty of time to thoroughly plan the Resene colour palette to transform their 1980s brick and tile home.
"Everything in it was original from when it was built, including the carpet in the ensuite, the peach vanities, the pine kitchen and the shimmery wallpaper," says Leisa. Added to that, the house had been rented out for several years while the couple were overseas, which all meant it was in desperate need of a design and decorating upgrade.
One of the first aspects to tackle was the colour scheme, with Leisa and Keith opting for a fresh, contemporary neutral palette.
"The house was feeling dark and dingy, so we wanted a fresh colour palette to brighten it," says Leisa, who is a bedlinen and decor buyer for a home furnishing retailer. "'We chose mostly white and neutral paint to create a clean backdrop for my ever-changing colourful accessories."
The walls throughout the house interior are painted in Resene Double Alabaster, with a subtle change for ceilings and trims throughout the house which are in Resene Half Alabaster.
The neutral tones are carried through to the garage and laundry walls which are painted in Resene Merino, and the house exterior. Though it is a brick house, there are some exterior weatherboards which are painted in Resene Rice Cake, as are exterior trims, planters and screens. Soffits are painted in Resene Half Rice Cake.
The sole exception to the neutral palette is the front door which offers a pop of colour in soothing Resene Half Opal.
"We wanted a fun pop of colour that would work with both our existing brickwork, and our new interior colour scheme," Leisa says. "We then accented that with a cute patterned tile on the front step, in similar tones."
It's one of Leisa's favourite parts of their home makeover. "It's a pop of 'happy' to come home to."
Stepping through the front door, a nearby 'drop zone' is given added texture with a palm print wallpaper (for a touch of tropicana try Resene Wallpaper Collection E384510) and a built-in cabinet with fittings such as handles and hooks in Resene Colorwood Whitewash.
Leisa describes her design style as a mix of 'organic coastal' and 'boho traveller', which is reflected in the finished look of the home interior.
"I had hundreds of images saved on Pinterest and Instagram, and it was easy to see a common theme – soft white, light wood and touches of muted colours. It was also a good way to show my husband how things would turn out when he couldn't visualise it.
"I've always loved a light, bright, coastal style – so whenever we were selecting finishes, I kept coming back to my vision for the style and feel, to ensure each selection fit with the end result I was trying to achieve."

When it comes to choosing colours and making design choices Leisa's advice to other home renovators is to collect plenty of inspiration from wherever you can find it, so you have a vision to work to.
"I got a myriad of Resene testpots and sampled them on white card. I moved the cards from room to room over the course of a few months to see how the light reacted to each.
"I also made mood boards with the fixtures we had chosen to check the undertones worked," she says. "The extra testpots have come in handy for the odd little project here and there." One of those projects is a globe in the drop zone painted in Resene Glorious and Resene White.
Leisa and Keith's renovation had its hiccups, notably delays in construction and problems with builders, that meant they were caught out by Covid - "We were still living in a cabin on our front lawn during the first lockdown." But they are thrilled with the final result.

"The kitchen and bathrooms are the biggest transformations from what we had before, and are so much more functional than they were. I also love that our master bedroom and ensuite feels like a spa retreat now."
Another favourite aspect of the finished project is that the couple are able to showcase meaningful mementos and souvenirs from their years spent travelling. Tables from India, pouffes and ceramics from Morocco and throws from Peru are dotted around the house.
"I can't wait to get our Egyptian pendant lights installed next!"
But as much as they love the finished look of their home, Leisa and Keith are even more pleased with how it feels. "I'm a big believer that you should start with how you want your home to feel. We wanted our home to feel calm, fresh and not too formal. Friends have said our home feels like a relaxing holiday – so I guess we got it right.
"We waited a long time to finally make this home feel like ours. Coming home each day gives us so much joy. It's our own little sanctuary."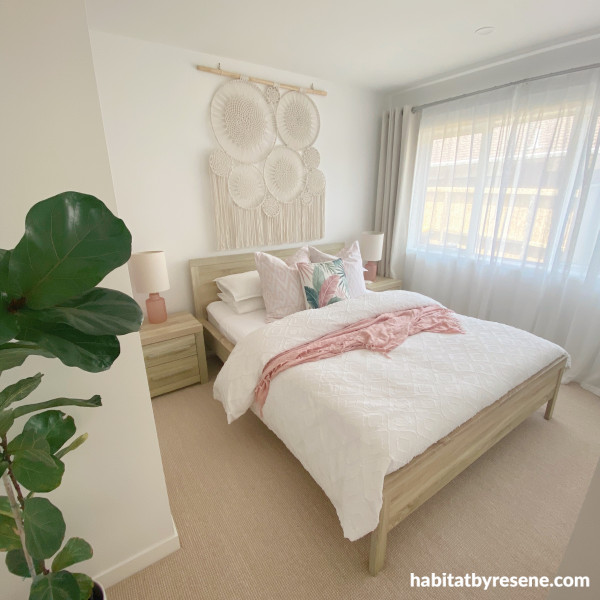 A dramatic macraméis an eye-catching feature of the master bedroom where serene pink and teal notes pop against the Resene Double Alabaster Walls and the Resene Half Alabaster ceiling. A beautiful deep pink Moroccan pouffe from the couple's travels emphasises the colours in other decorations and becomes a showpiece in this room with its Resene Double Alabaster walls.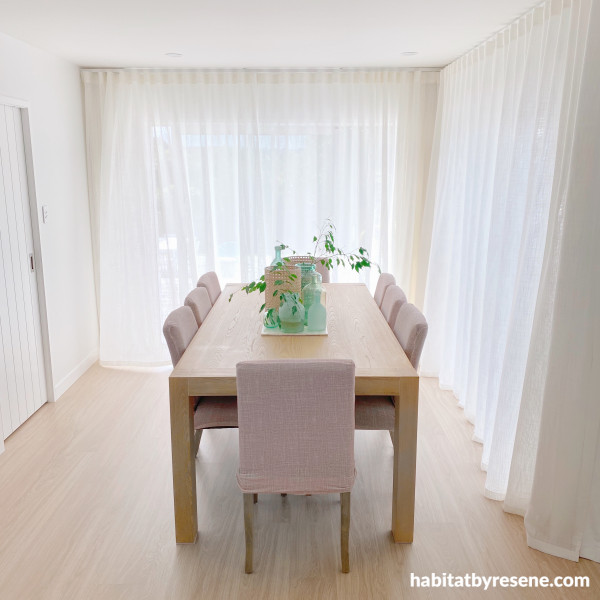 It's easy to see why friends describe Leisa and Keith's house as a sanctuary when looking at the dining room. Pale flowing curtains against the Resene Double Alabaster walls and Resene Half Alabaster ceiling, muted pink chairs and the pale wood table all serve as a zen-like backdrop to the burst of colour in the table centrepiece.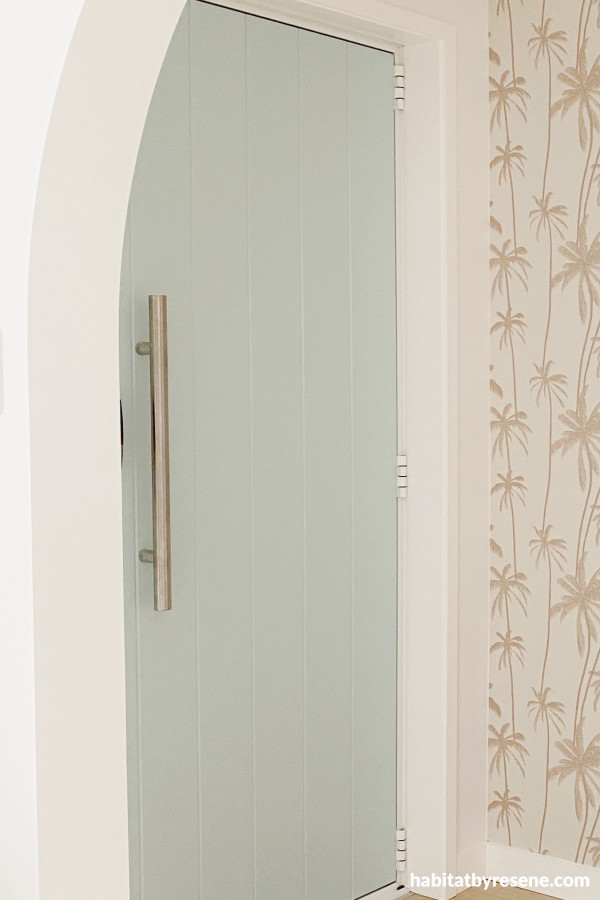 The colour of the Resene Half Opal front door is given extra impact when echoed in the colour of decor pieces like this vase in the entranceway tying in with the Resene Double Alabaster on the archway and walls and Resene Half Alabaster ceiling. Resene has a number of banana palm wallpapers that give a touch of tropicana such as Resene Wallpaper Collection E384510.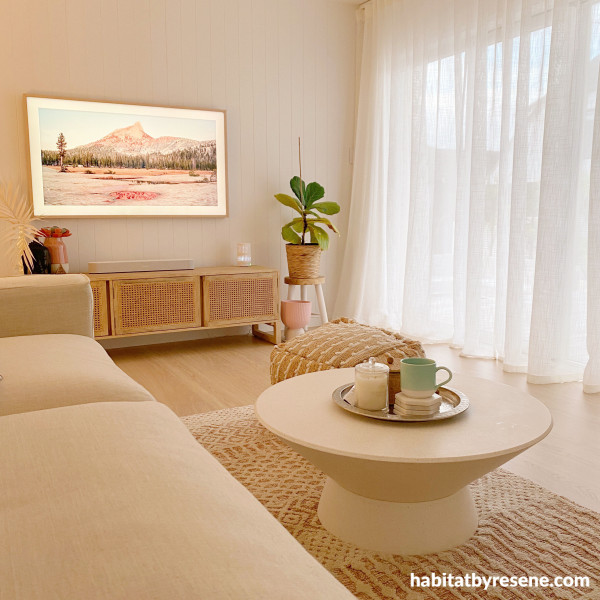 Landscape art mirrors the pared back palette of the living area which features the same Resene Double Alabaster walls. Plenty of natural fibres and interesting plants add lots of texture with hints of colour to make the space feel refreshing and relaxing.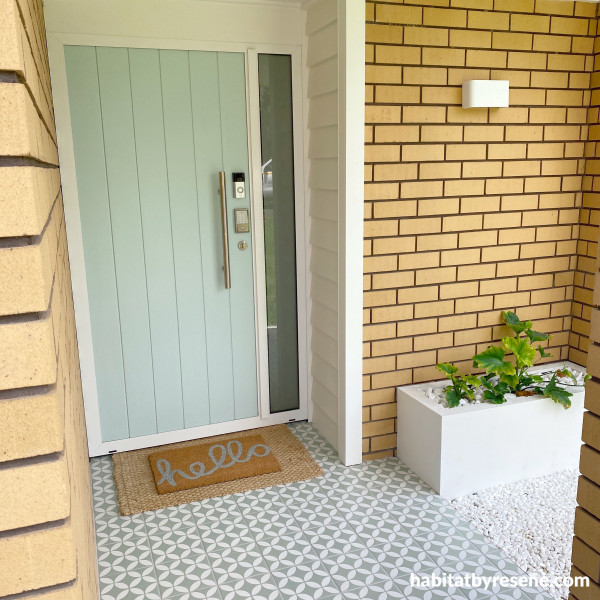 Resene Half Opal was carefully chosen for the front door because it worked well with both the interior colour palette as well as the home's exterior and the eye-catching patio. The weatherboard surrounds and the planter are painted in Resene Rice Cake.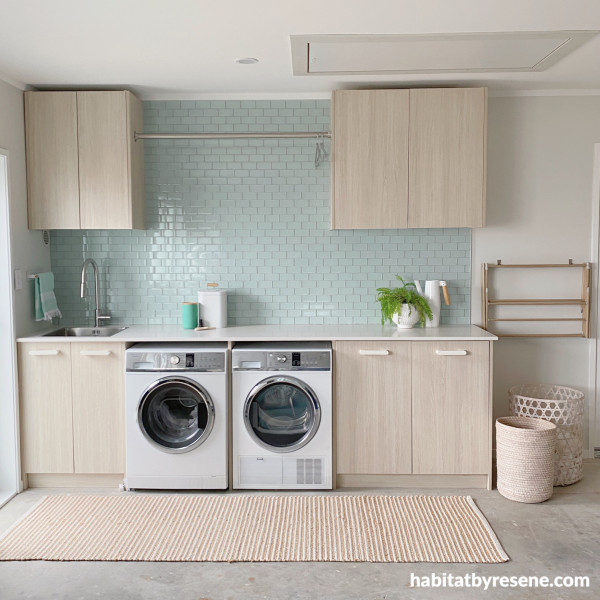 This spacious laundry feels clean and fresh with walls in Resene Merino and a Resene Half Alabaster ceiling. The walls throughout the house interior are painted in Resene Double Alabaster, with a subtle change for ceilings and trims throughout the house which are in Resene Half Alabaster.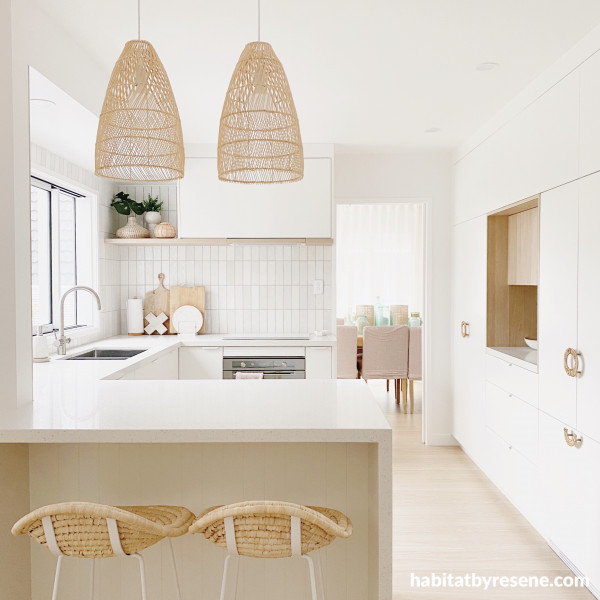 White tiling, tapware and cabinetry, paired with pale bare wood keep the kitchen feeling clean and uncluttered - and make sure the space feels completely modern in what is a 1980s-built home. The glimpse of muted pink and icy green from the dining room draws you into the space.
Published: 24 Feb 2022
Do you have a home full of wonderful Resene paint and colour? Send us some snaps by emailing [email protected].
the look
If you're stuck on what
colour to use or need colour
advice, try out the Resene
Ask a Colour Expert service.