►
◄
latest
habitat tv
blog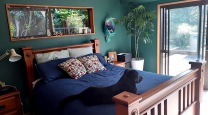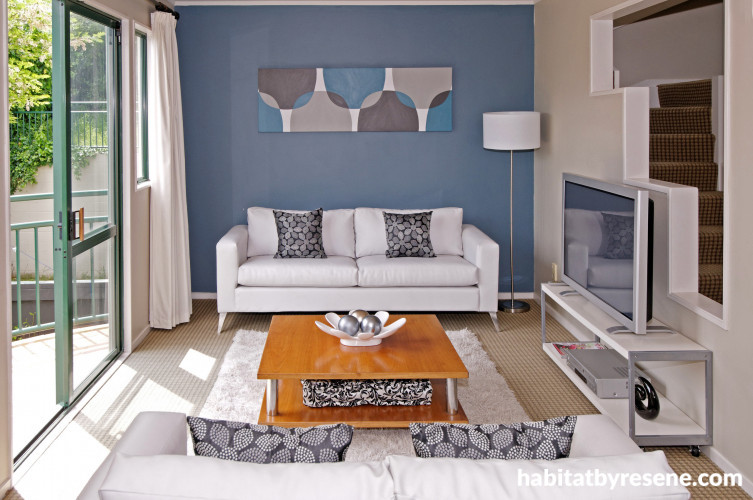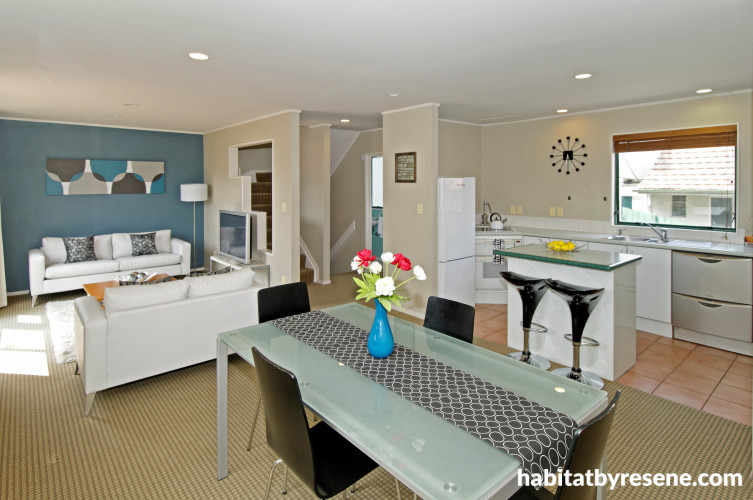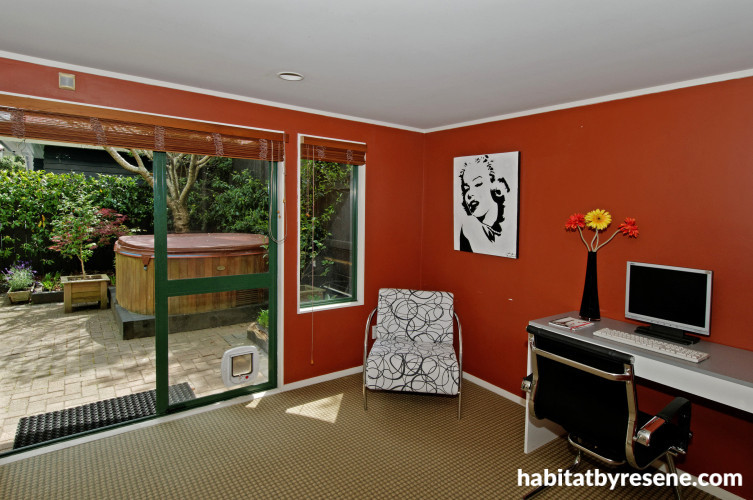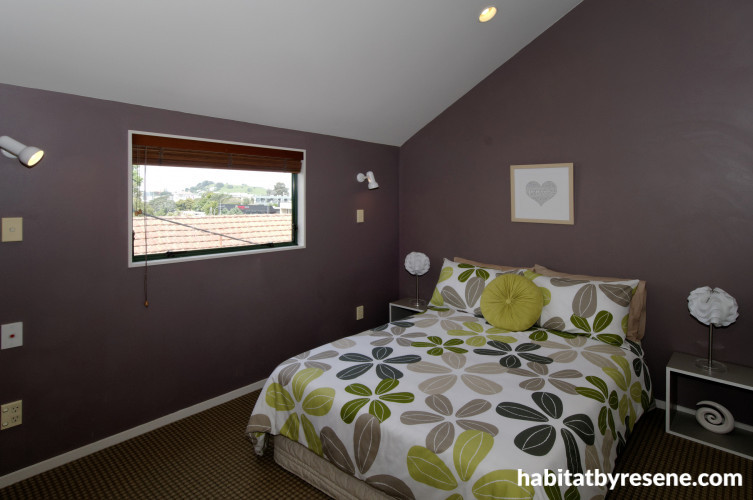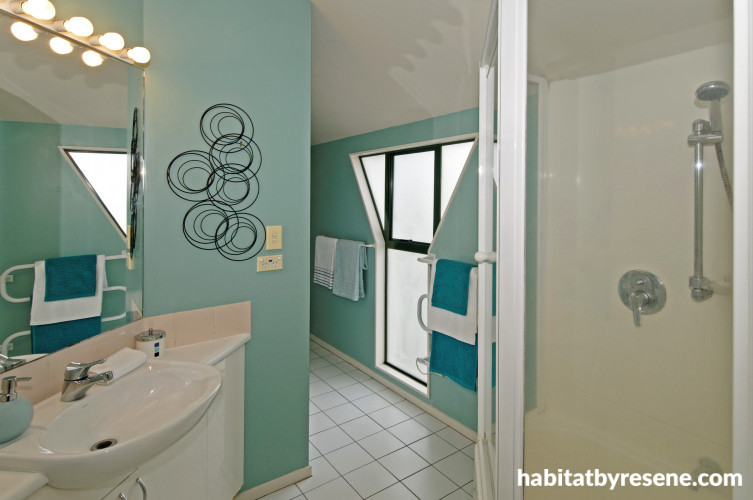 Chris and Lesley's All-White Interior Transformed by Lots of Colour
Published: 24 Nov 2011
Do you have a home full of wonderful Resene paint and colour? Send us some snaps by emailing [email protected].
Mediterranean inspiration for a modern townhouse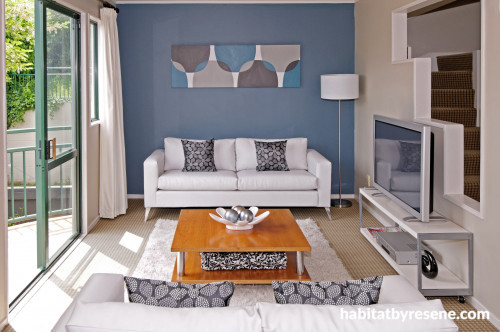 Chris and Lesley bought their three-bedroom townhouse in 2004 and, after living with the all-white interior for a while, decided to give it some colour and personality. Inspired by the Mediterranean, they painted the walls in Adriatic blues (Resene Calypso, Resene Mariner and Resene Glacier), earthy Resene Echidna and bold Resene Clockwork Orange. Any remaining walls were given a subtle warmth with Resene Double Blanc, a blend of rose beige and warm white.
What was the biggest challenge with creating your home interior look? Using a variety of colours. We wanted enough variety to make it colourful and interesting, but not so much that it looked confused.
What was the greatest success? Making it all work with the variety of colours. Each colour works well in its space, and together they create an interesting and colourful house.
Which space in the house do you get your greatest satisfaction from? The open-plan living/dining area. It is very sunny and warm, and a nice space to relax.
What is your advice for someone trying to achieve a similar look? Get good interior design advice.
What colours did you use? Resene Double Blanc throughout the house, Resene Clockwork Orange in the study, Resene Mariner in the guest bedroom, Resene Echidna in the master bedroom and Resene Glacier in the en suite bathroom. In the living room there is a feature wall of Resene Calypso.
Get the look:
If you're keen to use striking colour but are not sure where to start, then picking a region to be inspired by is a very clever way to narrow down your choices. Chris and Lesley used the Mediterranean as their inspiration, and this immediately brings to mind seaside blues blended with deep yellows, oranges and other beach-kissed colours. Working with a theme will help you to pull together a range of colours into one colour palette that works, and you can then complement it with furnishings, ornaments and other finishing touches to suit. When you're painting bold colours inside, use Environmental Choice approved Resene SpaceCote Low Sheen - a durable and washable finish that is ideal for all your interior walls.
Modern blues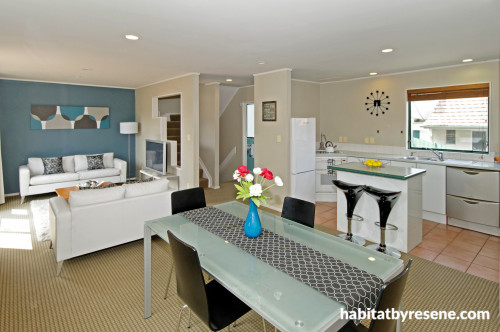 The living area now has a feature wall of Resene Calypso.
pictures Art by Steph Radich www.isitart.co.nz
Spa therapy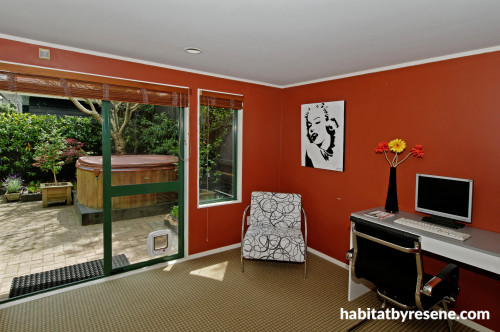 The study, which opens on to a sunny courtyard and spa pool, has been painted in Resene Clockwork Orange.
Down to earth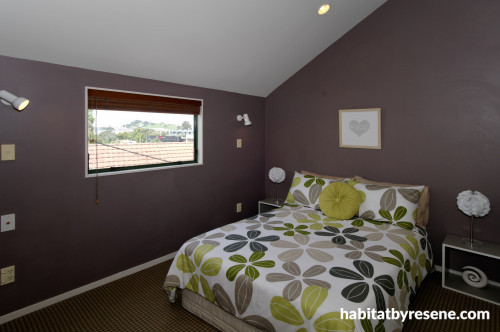 The earthy tone of Resene Echidna is offset with lime green furnishings.
Aqua room
Inspired by the Mediterranean, Chris and Lesley painted their en suite bathroom in Resene Glacier.
the look
If you're stuck on what
colour to use or need colour
advice, try out the Resene
Ask a Colour Expert service.