►
◄
latest
habitat tv
blog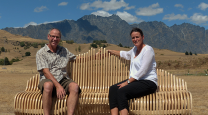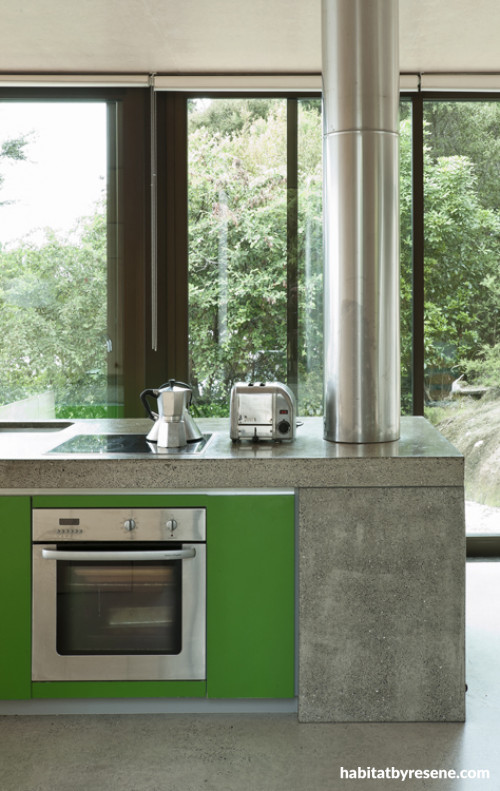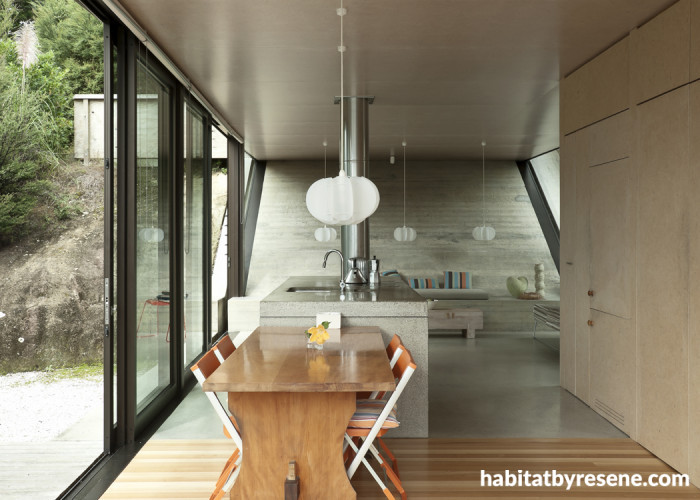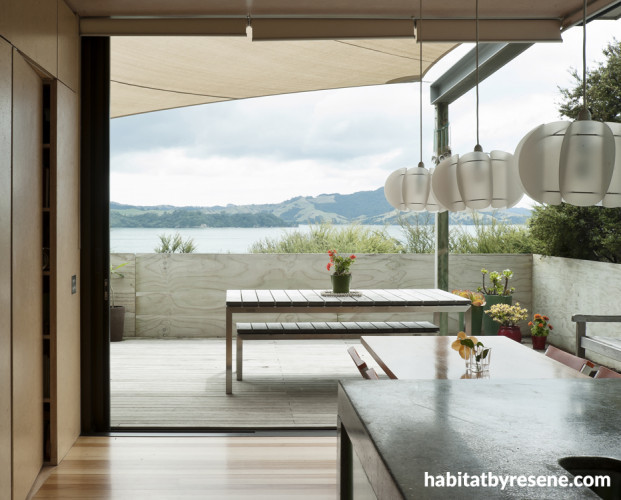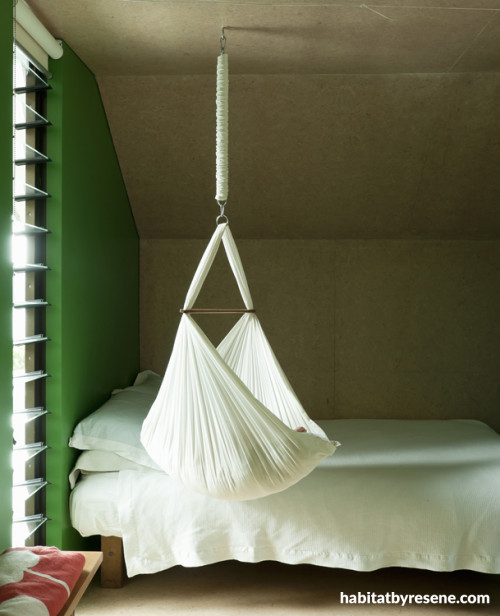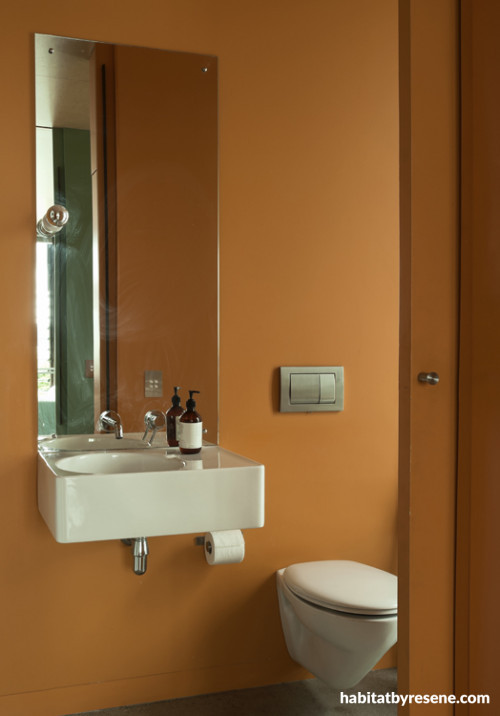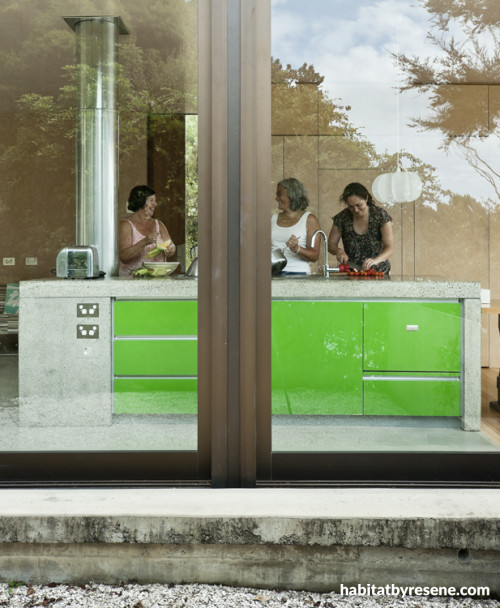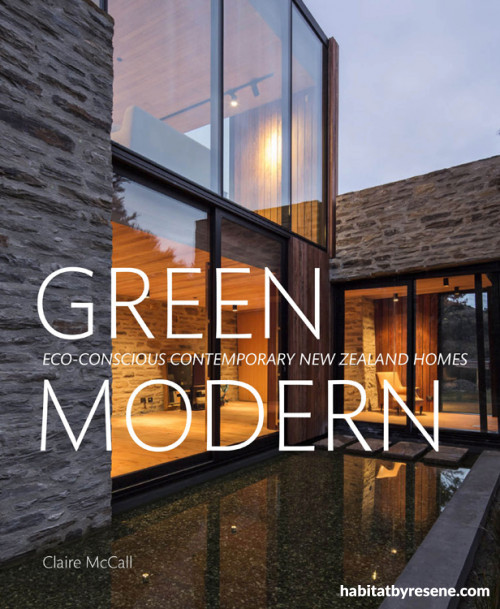 Amanda's creative cultural fusion
In her just-released book, Green Modern, Claire McCall visits houses built for sustainability, including this Coromandel hideaway that uses VOC-free Resene paint. We have a copy of Green Modern to give away. Click here to enter.
"I would never buy a section on ground level near the sea." Designer and sustainability researcher Amanda Yates is convinced our sea levels will inevitably rise – and with the heft of the Intergovernmental Panel on Climate Change behind her, few would argue with that. Yates would far rather take her chances with a steep slope, as she has done here in the Coromandel. The view makes a compelling case, too. The white face of Shakespeare Cliff is to the east; Mercury Bay lies directly north, and this bush-clad site is tucked into a pocket of land that enjoys a warm microclimate.
Family connections also drew Yates and her parents to purchase land here. "My aunt and her wh?nau have a bach around the corner," she explains. That appealed to her sense of social sustainability. "It's a place where you walk everywhere, so you're always bumping into people you know."
The local landscape is peppered with rocky outcrops – chunked shapes that lend strong character to the area around Maramaratotara, the M?ori name for Front Beach and Flaxmill Bay. The house Yates designed to be her parents' fulltime residence aims to engage strongly with this topography. In the M?ori tradition of naming special places, they called it Tokatea, meaning 'white rock'.
Yates is interested in the way indigenous thought can influence contemporary architectural methods. Her design has its naissance in the components of the M?ori p?. She sees those platforms sculpted from the landscape, with their additional architectural elements, as an urban form – partly natural, partly cultural. "The p?, as an architectural landscape, is a spatial type that is indigenous to this Oceanic region and offers me a really useful model for thinking about creating environments."
This 115-square-metre house is a microcosmic reference to those early cut platforms. Downstairs is the main living, kitchen and dining zone and a bedroom for Yates's parents. Upstairs a compact studio accommodates Yates, her partner and their two young children when they come to stay.
Tokatea seems to emerge directly from the substrate, a landscape architecture rather than a building. A waterfall of concrete envelopes two storeys as it cascades onto its hillside podium. From the roof plane, this wave of concrete folds back on itself to form an internal sloping wall and the floor of the lower level.
Although the high embodied energy of concrete means that it is not the most sustainable building material, Yates argues that "it can do a lot of good work for you". Firth has produced an environmentally sound concrete that fits within the Living Building Challenge standard, in that the cement and aggregate components are sourced from New Zealand and satisfy the licence criteria of the New Zealand Ecolabelling Trust. The sloping cast-concrete wall makes an efficient solar sink where heat is trapped then released throughout the day. It is undoubtedly the defining feature of this space: it mimics the contour of the hillside, and ends up as a bench seat. The children love to clamber up its face and to race their toy cars back down its air-pocketed terrain. "That wall delivers such a powerful spatial experience. It's an opening up," says Yates.
The concrete wave ripples further into the setting to become not only a sunken Japanese-style tub in the bathroom but a capacious kitchen bench. A woodburner tucked in under the bench is a conceptual reference to the ahi (fire pit). It gives the family another point of contact with community, too: pine cones collected locally and neighbourly donations of firewood are enough to keep the home fires burning.
A use of modest materials is also a nod to Yates's heritage, albeit of more recent times: her father's doctor's surgery was designed by John Scott, a revered M?ori architect, who used a lot of particle board in his work – a humble product fitting for time and place. At Tokatea, this chipboard is employed for ceilings, walls and the kitchen cabinetry. The flecked aesthetic of the material mirrors the sand of the nearby beaches "with its big particles of peach-coloured shell", Yates says.
Did you know… that Resene has a wide range of low VOC and VOC-free paints, for better indoor air quality, and a huge range of Environment Choice NZ approved products. And once you've finished painting you can recycle your unwanted paint and containers with the Resene PaintWise recycling scheme.
Keeping costs under control was another reason for choosing to build with cheaper materials such as particle board and fibre-cement panels. Strandboard is a form of oriented particle board made in New Zealand from wood flakes bound together with a formaldehyde-free resin, so it has a 'green' advantage, too. A tight budget also meant building a small home. Not that this was a limitation – in fact, it played into the hands of the designer: "The strategy is to have a reasonably small interior which makes full use of the surroundings." Customary Pacific architectures are 'porous', an approach that Yates employs in all her design work. Here, this appreciation of borrowed spaciousness is explored with louvre walls and doors that slide away to open up to the setting. The sense of separation between occupancy and the outside is eroded, allowing an in-between state of being. The home becomes a volume that collects the sights and sounds of the environment. A timber deck at the front of the house is a space to relax in and be part of the surroundings. Fantails flit through pohutukawa; the sound of waves booms up through a living curtain of manuka; and sunlight skitters on the white pebble garden.
To reach the upstairs studio, the younger Yates crew must venture outside and climb a rocky path. This forces further engagement with the environment: "You're not just tucked away inside."
For Yates's parents, the house feels comforting and familiar. Not only, perhaps, because it incorporates elements of John Scott's architecture – the 1970s-style built-in furniture and its happy colours [of orange Resene Hero; blue Resene Tradewind and green Resene Japanese Laurel] – but because it also has good 'wairua' or spirit. As a construction it blurs into the landscape, a togetherness which allows it to absorb the wider wairua of the area.
The family intends to install photovoltaic and solar hot water panels in the next year or two. Stage Two of Tokatea, the yet-to-be-built 'Lotto' stage, also involves creating a garden on the roof. Rainwater is collected from the roof and channelled into a tank beneath the house. Overflow from the neighbour's tank is also routed here to minimise stormwater runoff.
Yates certainly hopes that Tokatea will be passed down through generations of her wh?nau, but she embraces a wider picture, too. "Houses are like landscapes in that they hopefully will endure rather longer than people. In that way, it is inevitable that they will eventually become part of a wider collective."
Published: 08 Oct 2014
Do you have a home full of wonderful Resene paint and colour? Send us some snaps by emailing [email protected].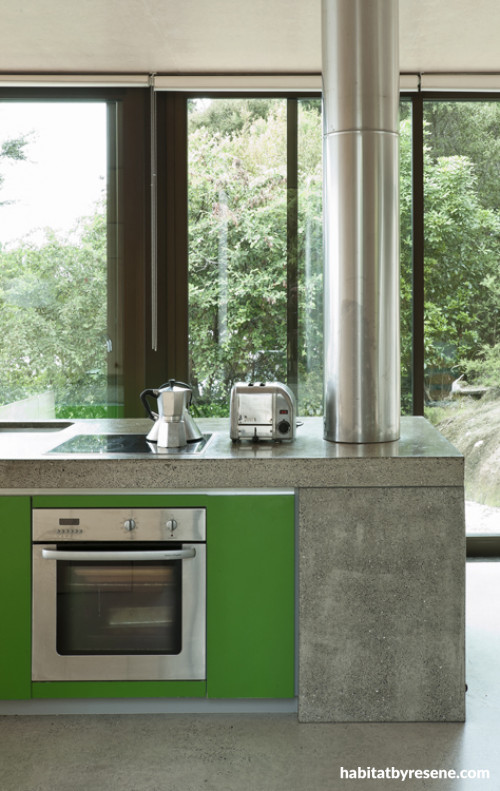 The fresh green of the Resene Japanese Laurel kitchen cabinets contrasts beautifully with raw materials like plywood and concrete.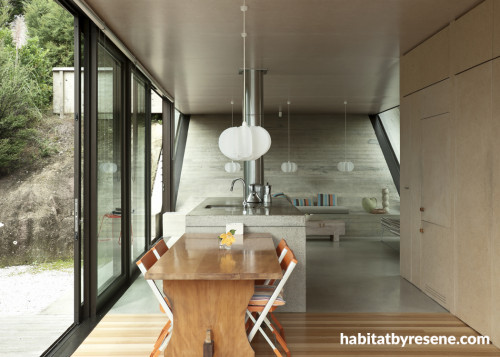 A waterfall of concrete is the defining feature of the living area: it mimics the contour of the hillside, and ends up as a bench seat.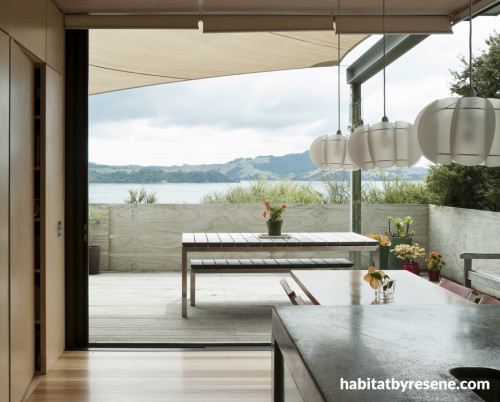 The house and deck look out over Mercury Bay.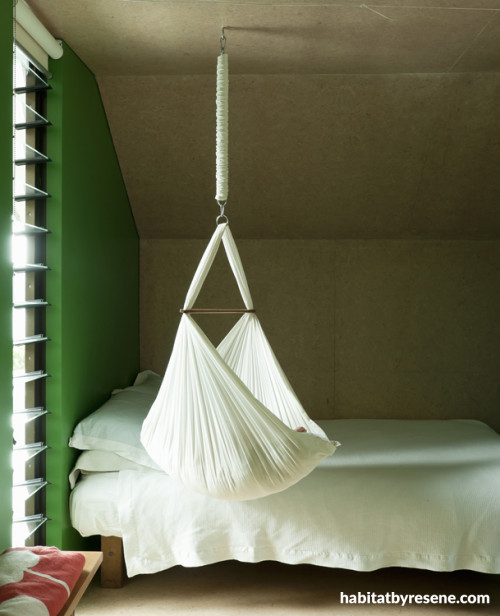 Resene Japanese Laurel is used again as a feature wall in the bedroom.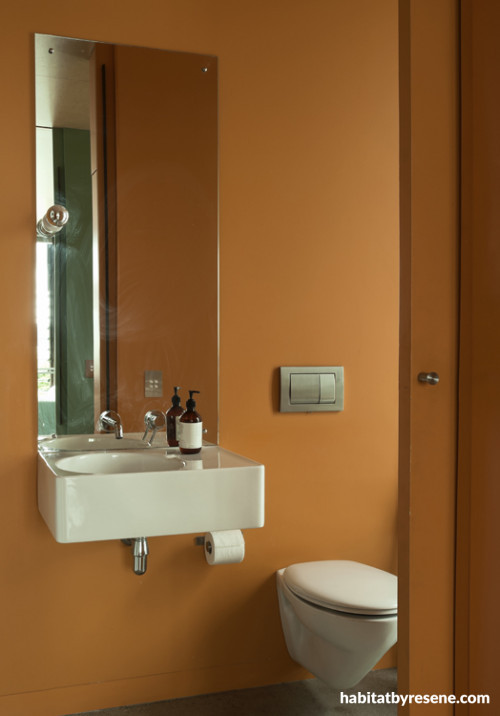 Another 'happy colour', Resene Hero, transforms the bathroom with its cheerful orange tones.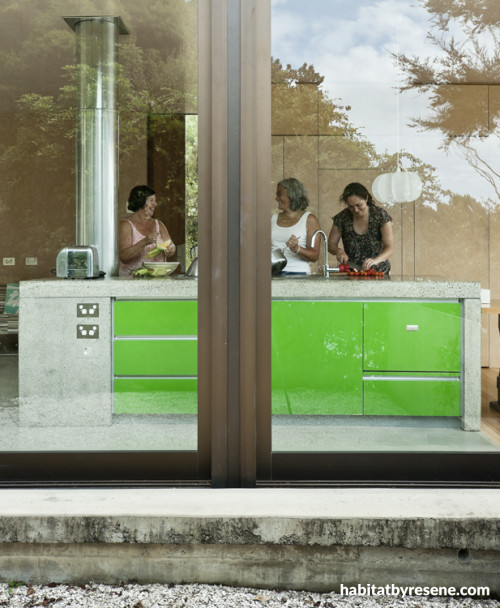 Another view of the kitchen, with its wide band of concrete wrapping around Resene Japanese Laurel cabinets.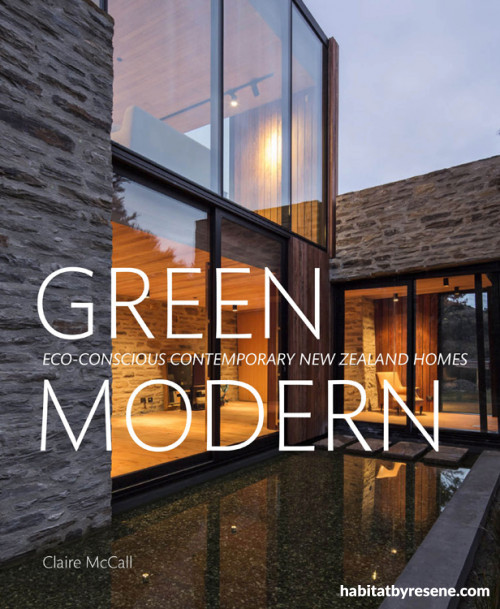 Reproduced with permission from Green Modern by Claire McCall. Published by Penguin Group NZ. RRP $65. Copyright © text Claire McCall, 2014.
Copyright © photography Matthew Williams, 2014.
the look
If you're stuck on what
colour to use or need colour
advice, try out the Resene
Ask a Colour Expert service.
the look
If you're stuck on what
colour to use or need colour
advice, try out the Resene
Ask a Colour Expert service.