►
◄
latest
habitat tv
blog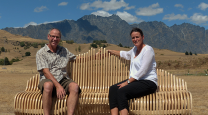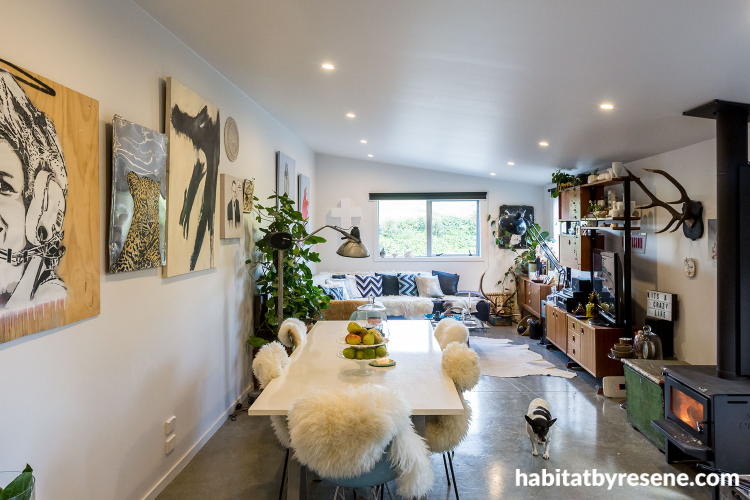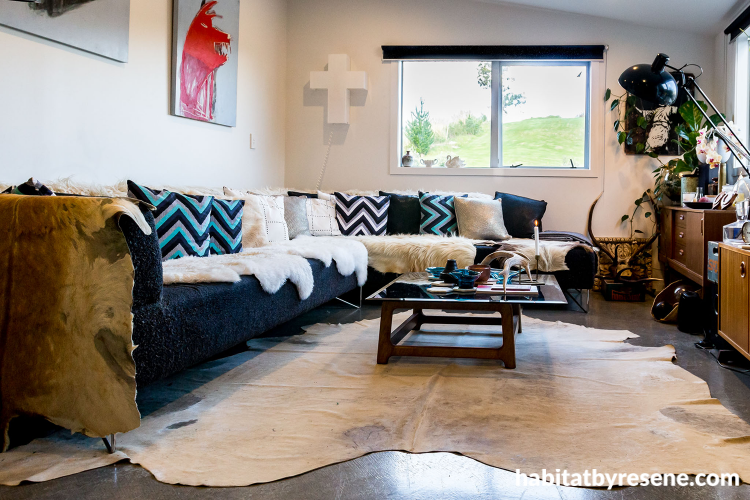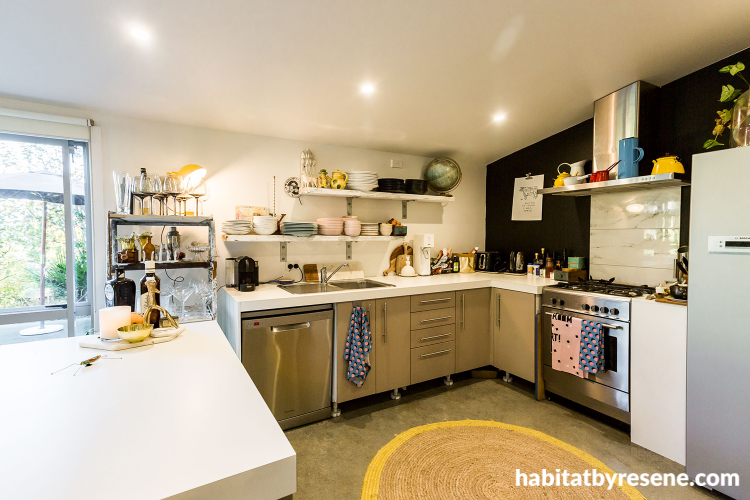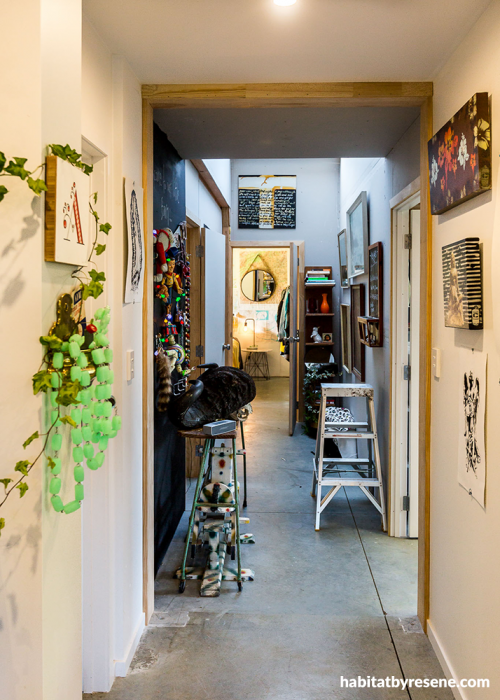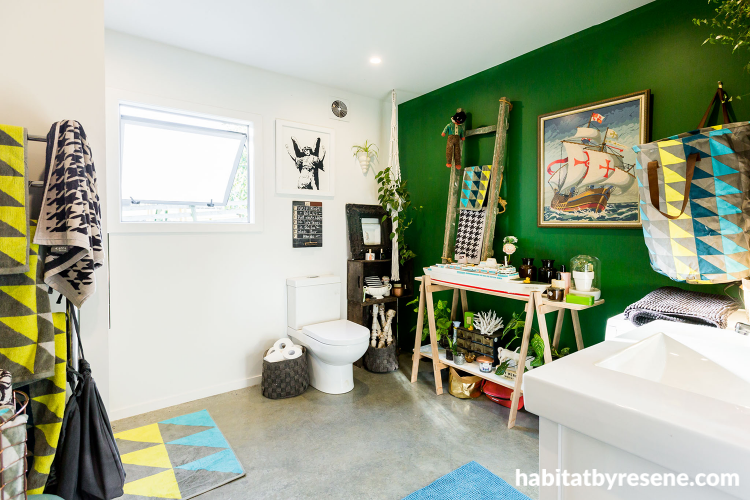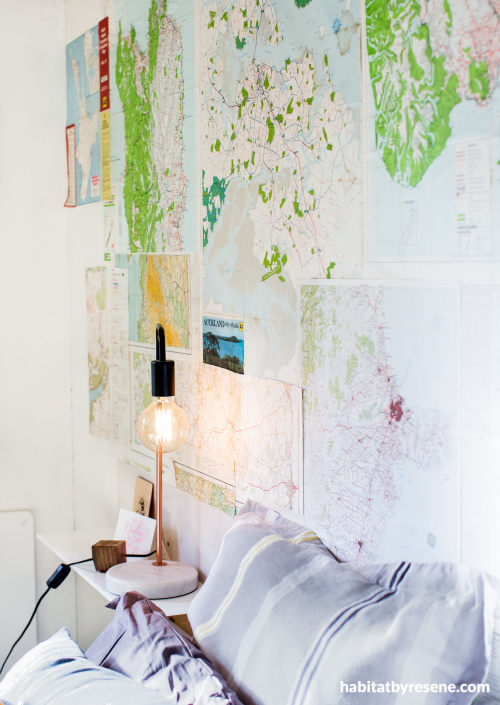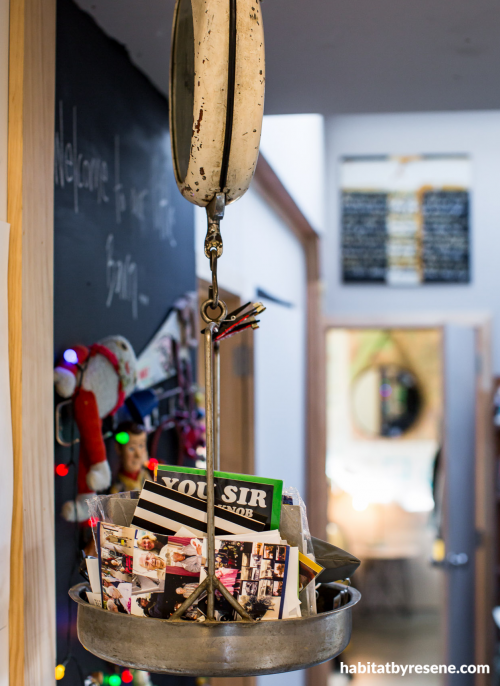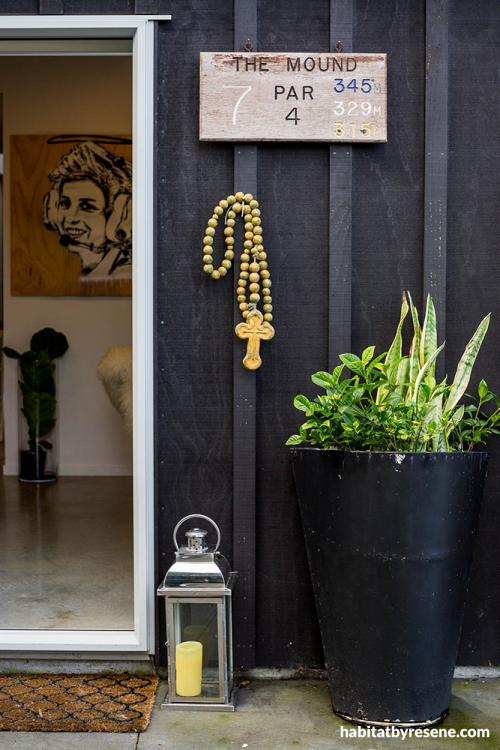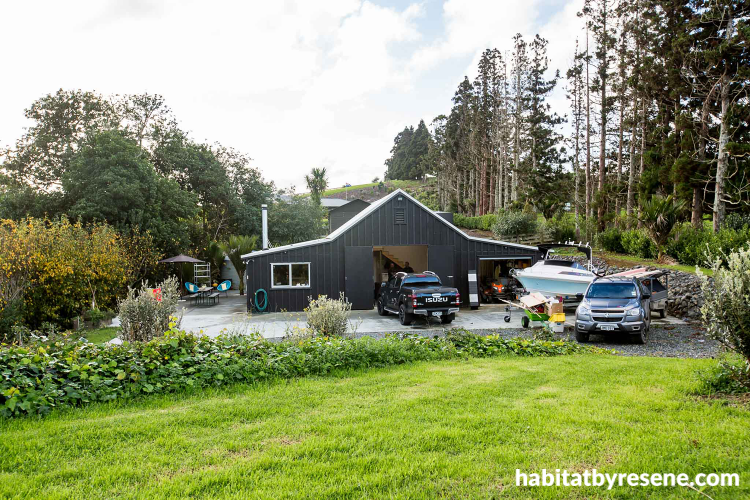 Annie and Mark's superb little barn
It was while waiting on a new build to be finished that Aucklanders Annie and Mark upped and left for the countryside, moving into a renovated barn they now call home.
The barn is from a Customkit Buildings' package, with added bedrooms and a kitchen. Annie, an event planner and stylist, took to the interior with Resene paint, using Resene White on much of the walls, and decorated it with aplomb.
You'd never know it's a temporary abode, with a large collection of Annie and Mark's beloved art and treasures beckoning you in as soon as the front door opens.
Little surprises also delight the senses, such as the green feature wall in the bathroom, and the hallway chalked with welcoming messages on the walls (painted in Resene Blackboard Paint).
Annie tells us the details of putting together their superb little barn.
Tell us about the colours you chose for the home.
The barn is stained black on the outside with Resene Pitch Black from the Resene Woodsman exterior range and fits so nicely into the countryside. We painted much of the inside with Resene White as it's a small space.
What part of the house are you most happy with?
It's so cosy and the open plan living room, dining room and kitchen flows off onto the courtyard, which is great.
What was the biggest decorating, renovating or building challenge for this project?
When we moved in, we only had a huge open space with a small lounge. So we needed to convert it to also have bedrooms.
What is your overall design philosophy?
Use your own style, things you treasure that are special and don't be homogenised into a look that anyone can achieve. I enjoy mixing old with new to create a unique look.
Do you have a favourite colour?
I love Resene Concrete. I use it often as it's softer than white and not too grey. It's a great backdrop for hanging art.
How did you find working with Resene paint and colours?
Great, so professional and they always have current trends. I love the service and the quality of paint is far superior.
Thanks to Customkit Buildings and Mark Forrest Builders. See more about Annie's styling services here.
Published: 17 Aug 2016
Do you have a home full of wonderful Resene paint and colour? Send us some snaps by emailing [email protected].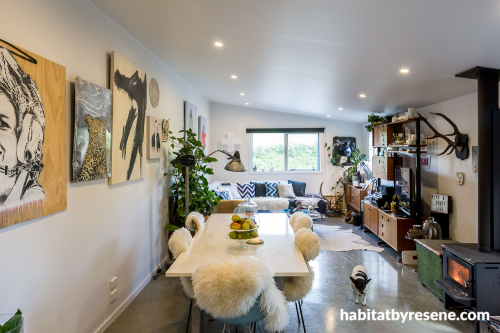 To the eye, Resene White on the walls makes the living room and dining room areas look positively roomy.
pictures
Louise M Photography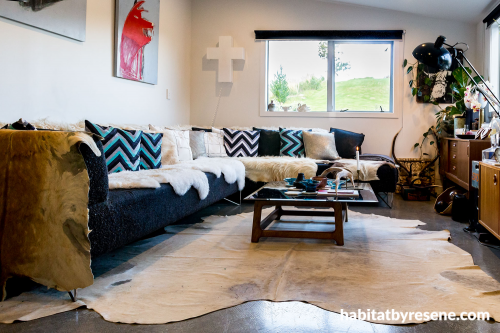 Even though it's a temporary residence, Annie and Mark have made the barn feel like home with their beautiful style.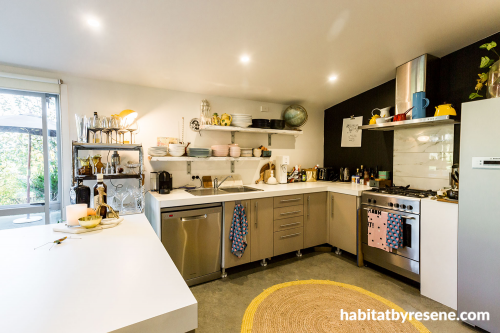 The rooms flow onto the kitchen also in Resene White, as well as a feature wall painted in Resene Blackboard Paint.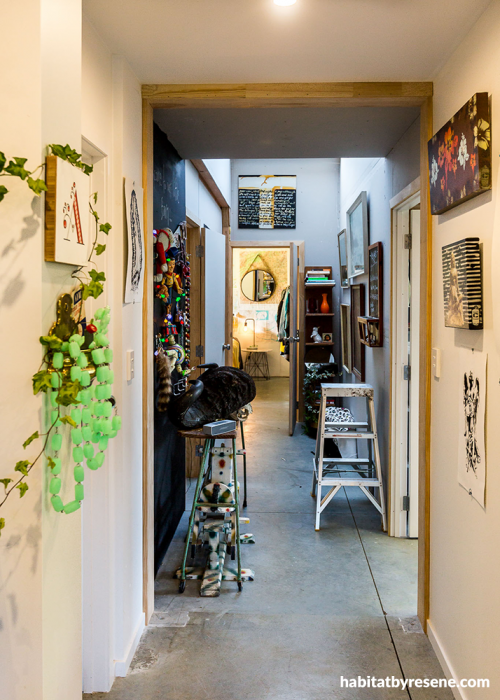 The hallway is painted in both Resene White and Resene Blackboard Paint. Welcoming messages are written in chalk, part of the art that adorns the area.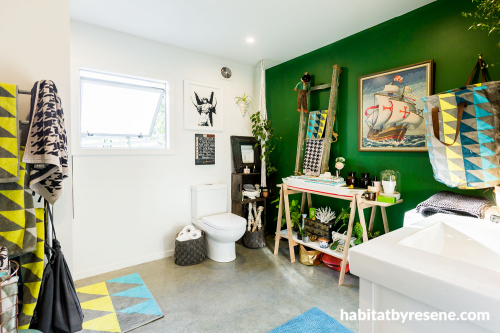 The bathroom has rustic charm – with a dash of frivolity – from the green wall (painted in Resene Blackboard Paint in Green) to the fun, geometric bathroom ware. To get the same look of the green wall in different gloss levels, use Resene Parsley.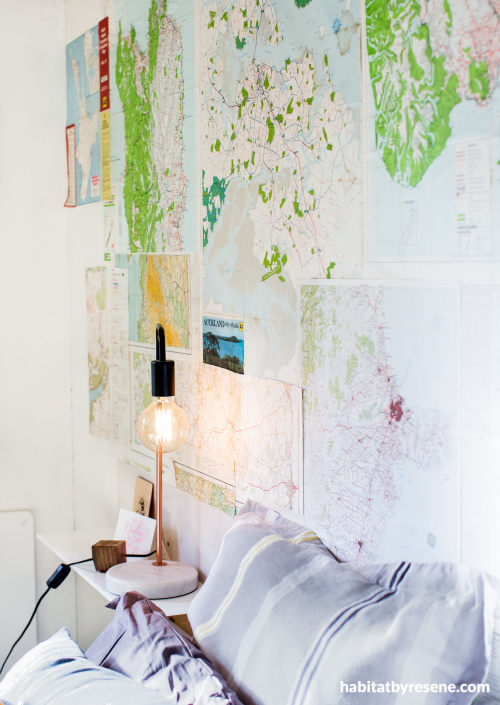 A map wall always looks good, and shines against a wall in Resene White in one of the bedrooms.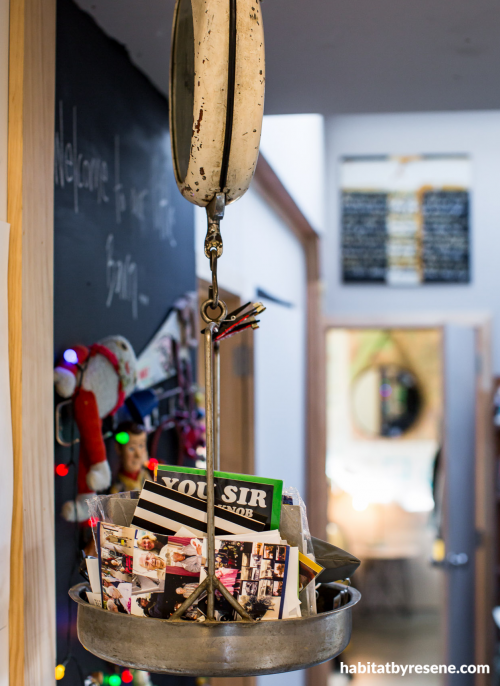 A close up of Annie's treasured trinkets.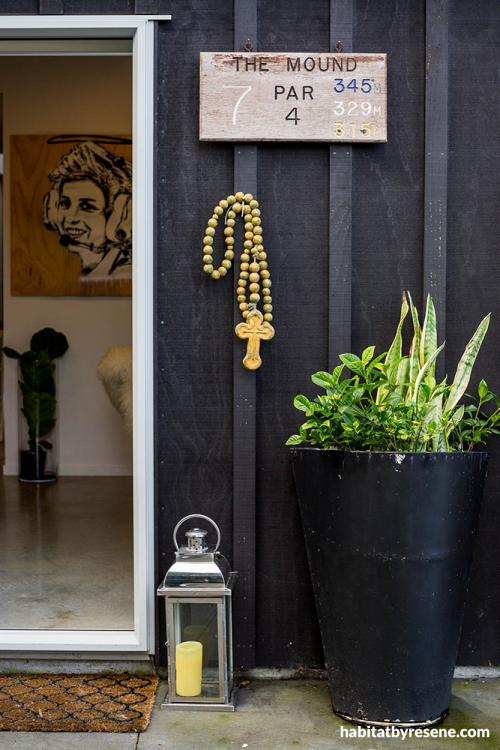 The exterior is stained in Resene Pitch Black from the Resene Woodsman exterior range.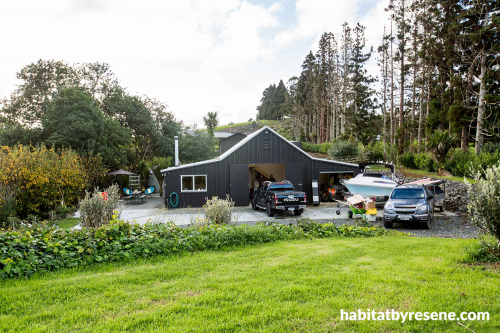 The barn fits beautifully into the Warkworth, Northland, countryside.
the look
If you're stuck on what
colour to use or need colour
advice, try out the Resene
Ask a Colour Expert service.