►
◄
latest
habitat tv
blog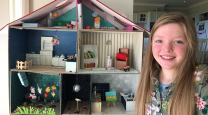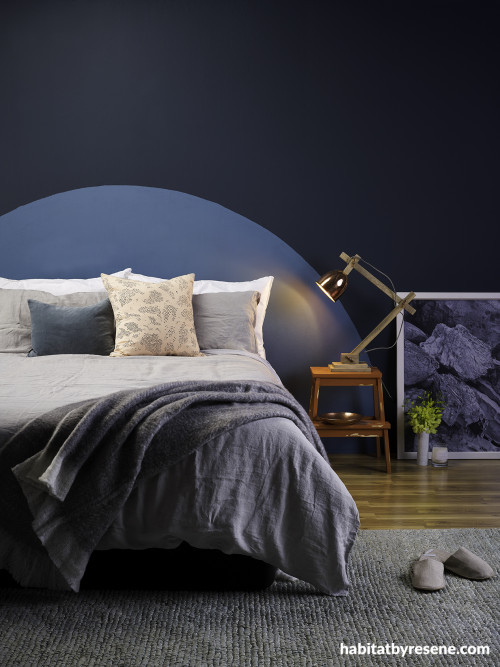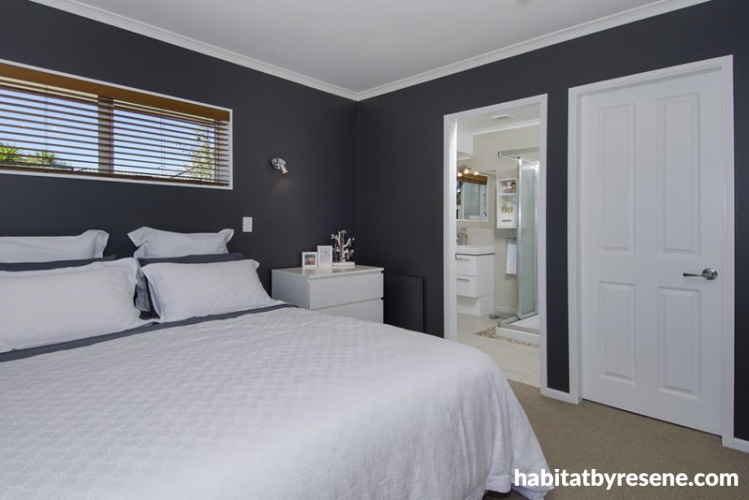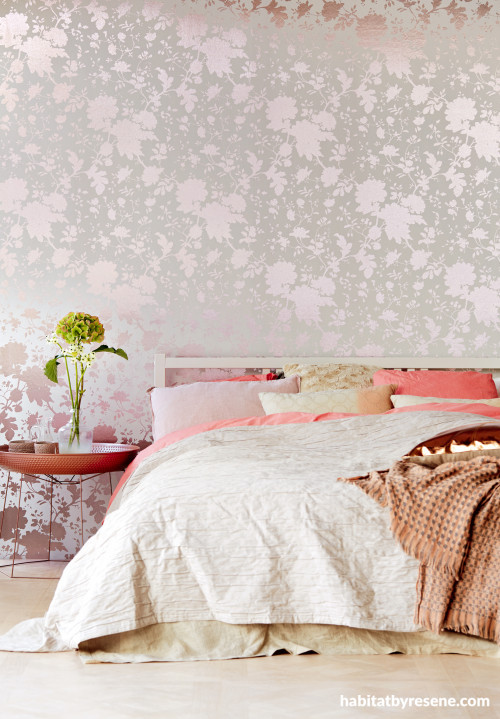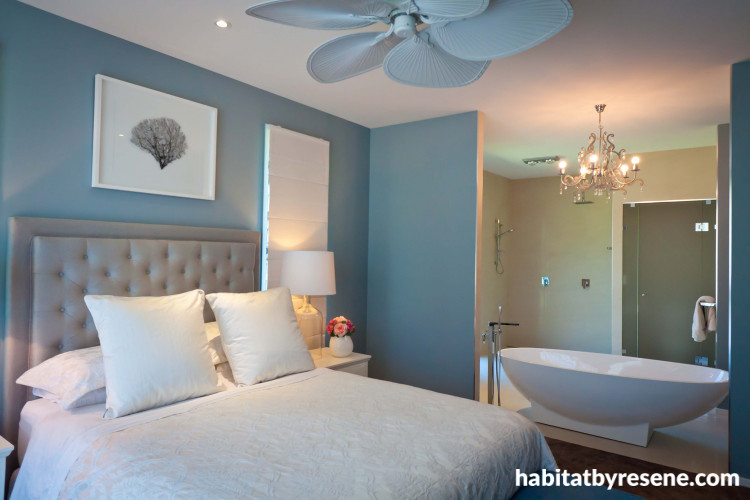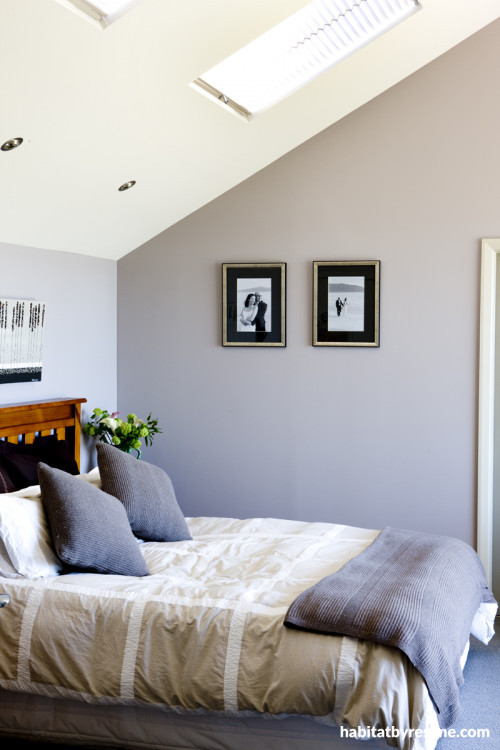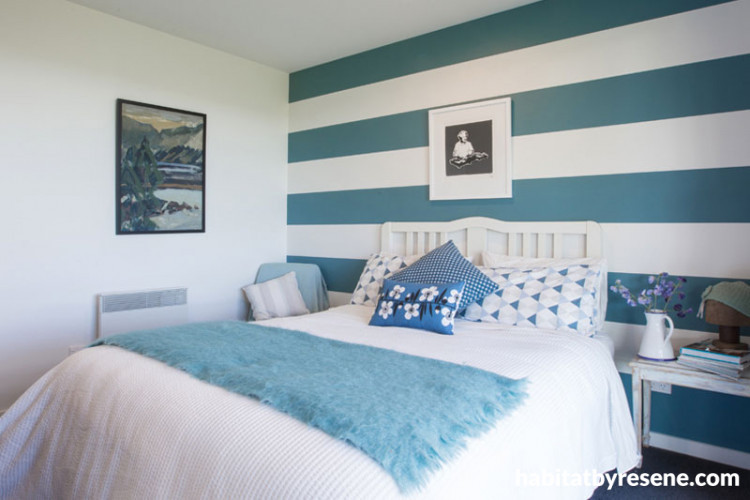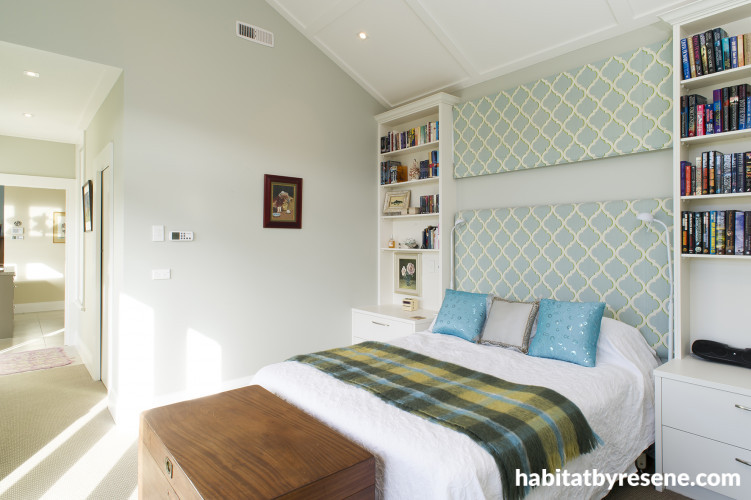 Bedrooms made for sharing
Master bedrooms. For a start, why are they called 'master' bedrooms? Let's call them 'main' bedrooms instead.
Right, that's out of the way, now we can get onto the delicious stuff – and that's how we decorate our main bedrooms. It's easy if you don't have to share your room with anyone else or take their tastes into account. You can do whatever you like. Paint the ceiling purple if you want.
In fact that's not a bad idea, as long as it's an inky night-sky colour. When you think about it, you spend a lot of time lying in your bed so the ceiling might be the surface in the room that you look at most. Why not follow the current trend and paint it a colour other than white or cream?
Hot colours such as red and orange may not be the right choice, however, for a ceiling or the walls of your bedrooms. Colour psychology tells us that these sorts of colours stimulate us, rather than relax us, so if you must have red in your room, maybe confine it to the bedhead wall so that you see it when you enter the room but don't look at it as you're trying to rest.
Bedhead walls have morphed from being just coloured feature walls to more playful surfaces, with wide use of painted patterns or motifs, or a slightly outrageous or decadent wallpaper. As you'll see in our images, there's a geometric pattern painted on one, a delicious glossy stylised floral wallpaper on another, and a big 'moon-rise' painted headboard on yet another.
When it comes to sharing, it can be tricky finding a colour scheme that not only works in a bedroom but pleases you both. Blues and greens of any type are calming and relaxing, and these colours are liked by many people of all genders and persuasions. Soft pastel versions of these colours will give you a zen-like lightness, whereas deep sea-storm colours will envelop you in an underwater calm.
Greys are good for sharing and are today's go-to neutral. Try any shade from pale silver to deep charcoal, or go greige - those with a toasty edge of warmth.
Main bedrooms can become decadent spaces with luxe touches of metallic paint and sensual fabrics. Pick a theme – Scandi, rustic or vintage, eastern, fantasy – and have fun interpreting it in your own special way.
If you're stuck for colours, maybe use a duvet, bed cover or rug as a starting point, pulling out one of the colours to inspire your scheme.
Tonal neutral schemes are soothing – check out cards from the Resene Whites & Neutrals paint range for variations of some great colours.
Find out how to get a good night's sleep.
Published: 06 Jan 2016
Do you have a home full of wonderful Resene paint and colour? Send us some snaps by emailing [email protected].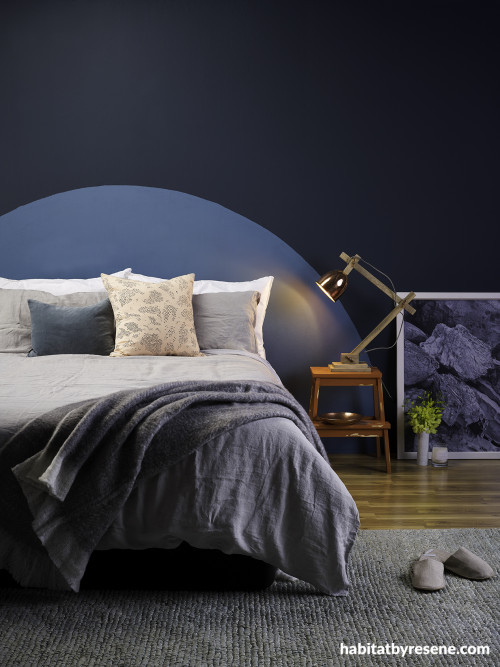 This quietly sophisticated and moody scheme uses a rising moon shaped painted headboard, done in Resene Seachange on a Resene Coast wall. The distressed stool is painted in Resene Twizel and the vase is in Resene White Thunder.
pictures
Melanie Jenkins. Styled by Gem Adams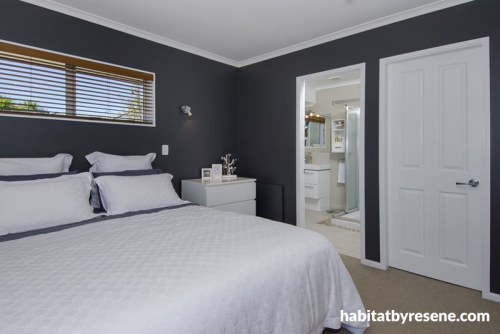 Interior designer Rachel Tabb of Bubble Interiors chose moody Resene Half Fuscous Grey for her own bedroom, teamed with crisp white trims and bed linen.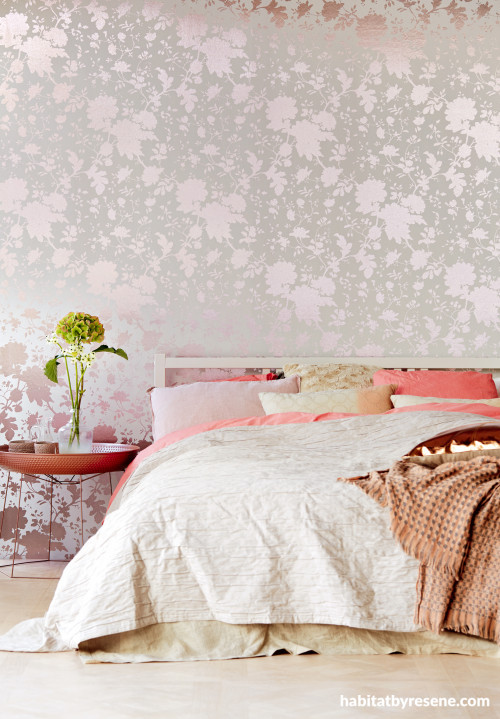 A romantic over-blown and stylised floral print has both flat and glossy areas to enhance the play of light. The low bed gives it a decadent feel. The wallpaper is from the Planish collection (code 351010) from Resene ColorShops.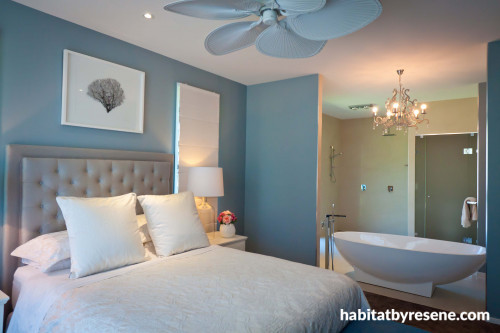 This bedroom is pure decadence with its open-plan ensuite and relaxing colour palette centred around Resene Powder Blue. Designed by Erica Fanning, the wall colour was inspired by the house's location close to the ocean and provides the perfect backdrop for the layers of the many shades of grey, blue and neutral beiges.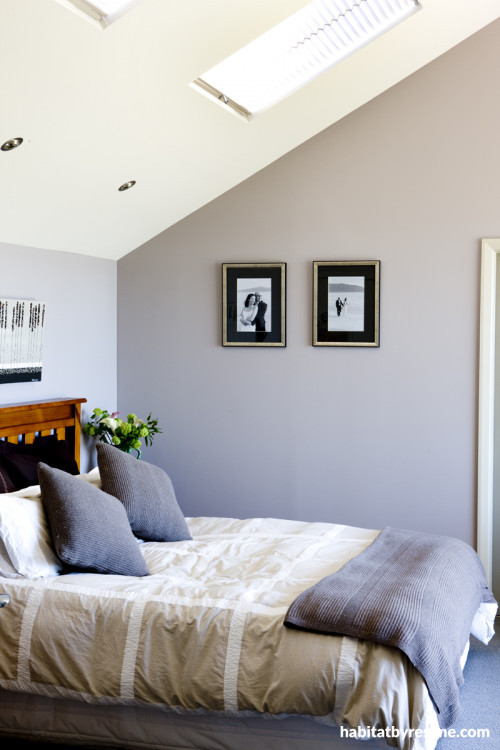 This bedroom reverses the feature wall idea by using Resene Martini on the side wall instead of the headboard wall. With the wall being a soaring gable-end shape, it works well.
pictures
Nicola Edmonds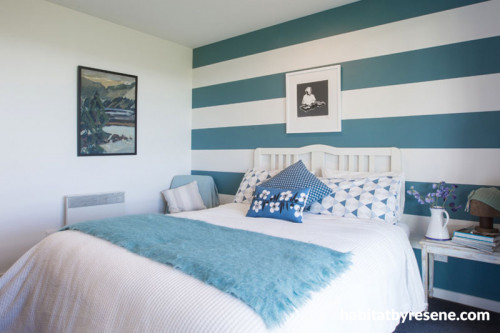 Another patterned headboard wall, this time in wide stripes of Resene Half Smalt Blue and Resene Half Milk White. It's in a house owned and designed by Annabel Berry of Design Federation.
pictures
Maxine Shea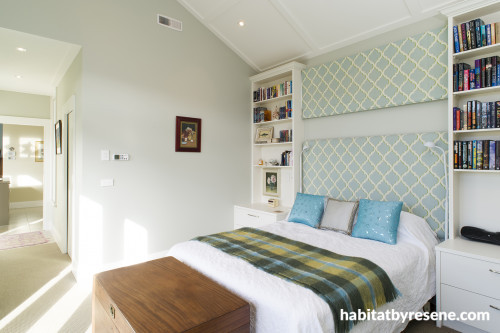 A padded upholstered headboard is serenely complemented by walls in Resene Eighth Lemon Grass.
pictures
Mark Heaslip
the look
If you're stuck on what
colour to use or need colour
advice, try out the Resene
Ask a Colour Expert service.
the look
If you're stuck on what
colour to use or need colour
advice, try out the Resene
Ask a Colour Expert service.