►
◄
latest
habitat tv
blog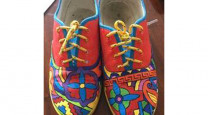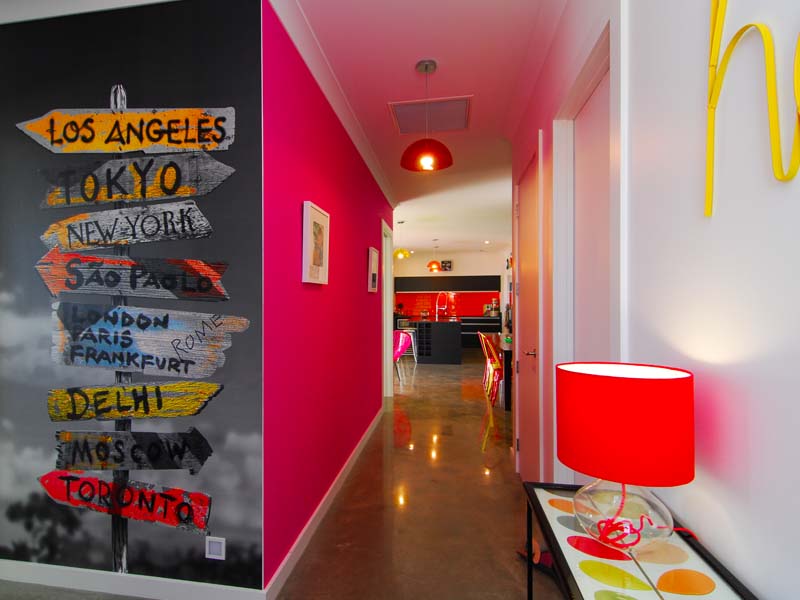 5 easy ways to improve your home
05 Jan 2018
Once you're over the Christmas busy-ness, the holidays are a great opportunity to do a few projects around the home.
Lifemark shares its ideas for some easy-to-achieve ways to not only make your home look better but to help make it easier for you to live in your home for longer.
Lifemark® rated homes are designed to be usable and safe for people of all ages and stages. They are easy to live in – for a lifetime. Lifemark® work alongside designers and builders to offer advice on making your home adaptable, safe and usable so that it suits your family's changing needs.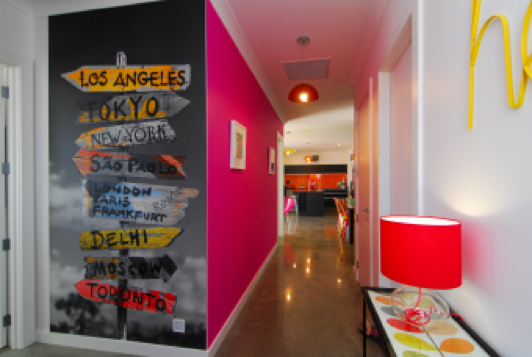 Walls painted in Resene Smitten and Resene Alabaster.
1. Repaint your walls
Repainting is often an easy and effective way to freshen your home. But before you choose your favourite colour from the many available at Resene, think not only about how the colour looks but how it might function.
Painting everything the same shade of white or off-white may be a trend, however it makes it difficult to distinguish power points, light switches, angles and even doorways.
Consider colour contrasting as a mechanism to make it easier to find the things you want and to define different spaces.
2. Change the taps
Taps can get old and start leaking. It's tempting to simply to replace tapware with similar styles. Instead, think about the tapware function.
Round tapware or those with knobs can be difficult for people with arthritis or limited hand function (due to injury, for example) to use.
Consider lever tapware and taps that make it easy to distinguish hot and cold options. Single spouts are also an advantage and taps with safety flow regulators that reduce the chance of accidental burns are even better. They all can look good and make life easier… and safer.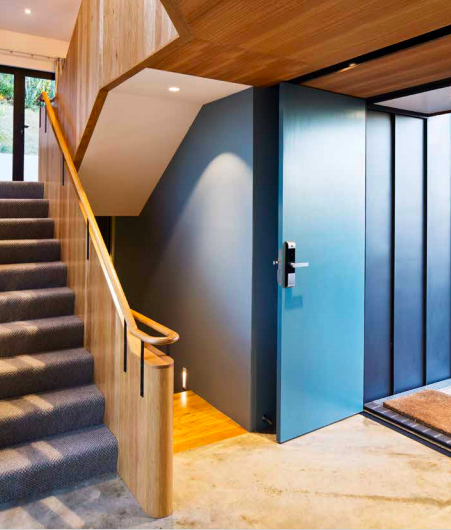 Entry hall and stairwell painted in Resene Bluff, with a front door in Resene Streetwise
3. Enhance your entrance
If your entrance is a bit dull, then give it a makeover. While you're at it, you can also make it safer.
A level threshold or zero entry will remove tripping hazards, but will require some effort to restructure. Sensor lighting makes a significant difference, helping you and visitors see their way to the door clearly at night, and only using energy when it is triggered.
Next, have a look at the pathway. Overgrown shrubs and plants can narrow the pathway and make it more difficult to negotiate. So get out the loppers and shears, and start trimming!
4. Change your door hardware
Changing your door hardware is a good way to refresh the look of your interiors by just focussing on easily changed details.
Choosing the right hardware can be tricky. Again, lever handles are better than knobs. They are easier to use, even with your elbow, and can be more easily operated by someone with arthritics, a hand injury or simply carrying in the groceries.
5. Install a smoke alarm
Smoke alarms are extremely important but to make sure they're suitable for everyone – now and into the future – consider installing alarms that are visual as well as audible. These types of alarms have strobing lights and vibrations to alert those who have hearing impairments.
See here for more about Lifemark.