►
◄
latest
habitat tv
blog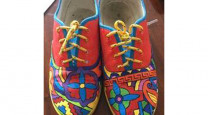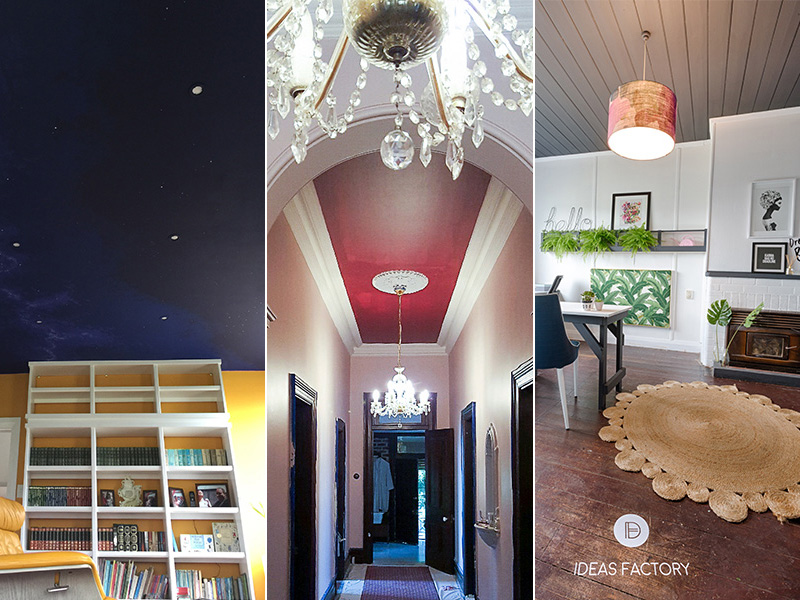 The 5th wall – ceilings
10 May 2018
It's often the forgotten zone – the ceiling. We just paint it white and that's the last we think about it. But the ceiling is as much a part of the scheme of a room as the walls. It's a big expanse of unbroken paint surface, so deserves to be taken seriously. Hence it's nickname as 'the 5th wall'.
In recent years, homeowners have swept their eyes skyward and decided to treat their ceilings to some unexpected treatments and colours. There have been plain painted versions but also some that get quite whimsical – a night sky anyone?
Above: The night sky inspired homeowners Geoffrey and Crystal to transform their ceiling using a combination of Resene Deep Koamaru, Resene Bullitt and Resene Surfs Up; the walls are in Resene Fuel Yellow. The image in the middle is from a project by Fiona Saville of Flow Colour in Australia, using Resene Vanquish. The image on the right is from the former studio of Design Federation in Oamaru where owner Annabelle Berry chose Resene Foundry for the ceiling.
Top tip
Rather than just plump for 'ceiling white', use a quarter or half strength of your trim or wall colour instead to make the whole room scheme more harmonious. Check out the Resene Whites & Neutrals range.
Painting the ceiling in your bedroom in a deep inky blue isn't such a bad idea. It's a calming colour that's reminiscent of the night sky and while you might not see it when the lights are out (or when your eyes are shut), it will give the room a comforting, cocooning feel.
Painting a ceiling a darker colour is a great solution for a media room where you want to feel enclosed and create a cinema-style atmosphere. It's also a good trick for visually lowering the height of a particular high ceiling so that the room doesn't feel so cavernous.
Did you know… That you can get a paint additive that deters flies from sitting on the paint, and leaving marks? It's perfect for ceilings; the less flies sit, the fewer and smaller the fly spots and the less cleaning for you. It's called Resene Fly Deterrent – ask about it at your local Resene ColorShop.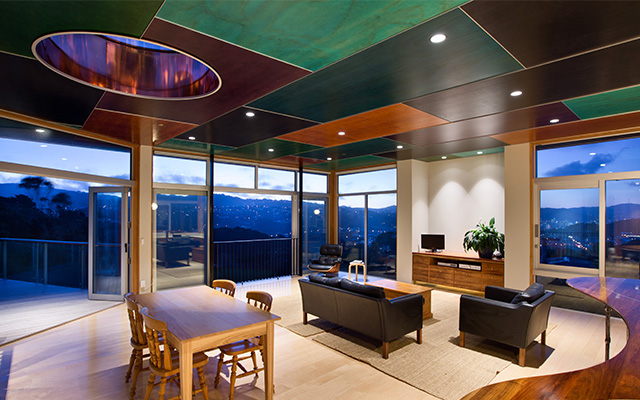 How's this for a ceiling with a difference? Inspired by the colour of a tui in flight, Wellington architect John Mills had a variety of Resene Colorwood stains custom-coloured to create this effect.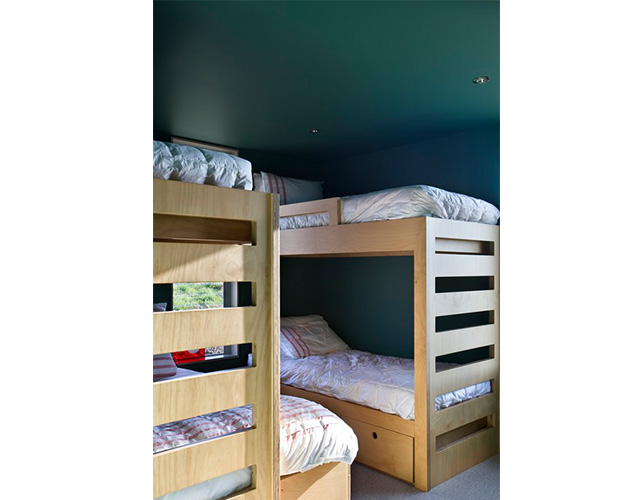 The perfect colour for a bach bunk room, Resene Green Meets Blue covers not only the walls but the ceiling in a home designed by architect Gerald Parsonson.
Check out more coloured ceilings here.