►
◄
latest
habitat tv
blog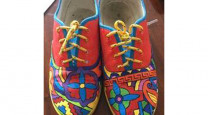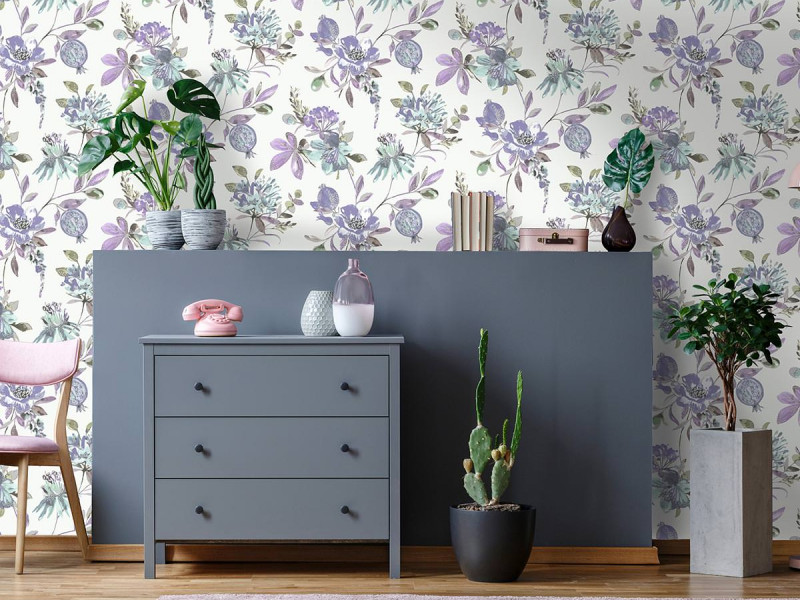 6 floral wallpaper designs that will almost convince you it's spring
29 Jul 2020
Flowers and floral patterns are inextricably linked with springtime and warmer weather – so why not have them in your home all-year round? A beautiful floral wallpaper design has the ability to brighten and lift a room – but don't just think of cosy cottage coverings and paisley prints, floral wallpaper can be striking, graphic and modern as well as dainty, pretty and calming.
Combine our top tips with these fabulous floral designs from the Resene Wallpaper Collection and you'll transform your bare walls into the flower power style to suit your home.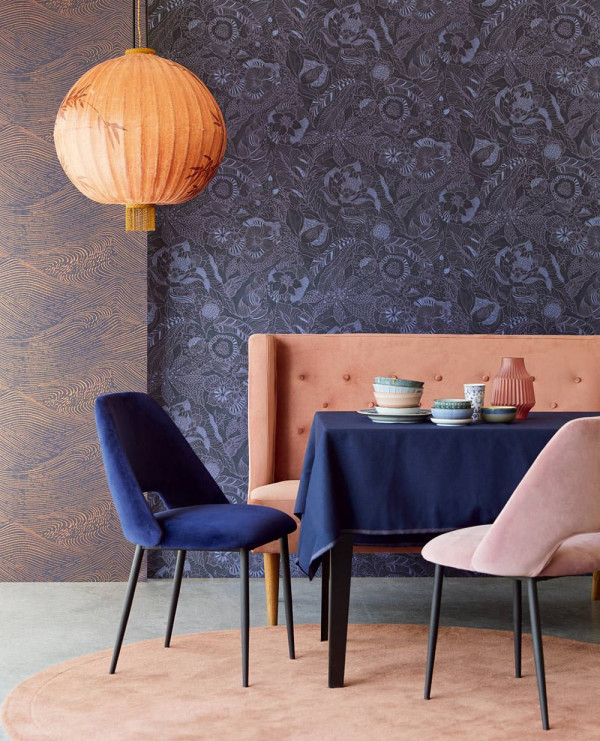 Resene Wallpaper Collection E386512 proves floral design can be dark, moody and elegant. With its rich blue colouring and intricate pattern of large, exotic flowers, this design makes a statement without commanding the attention of the entire room. When combined with soft pink and blue velvet chairs in colours similar to Resene Tory Blue and Resene Gelato, beautifully layered texture is created. Pair it with accents of a warmer colour, such as Resene Tacao, in light fittings or accessories and use a soft grey, such as Resene French Grey, on the floor to help break up the blocks of bold colour. Pops of a dark charcoal, such as Resene Gun Powder, bring a modern edge to the space.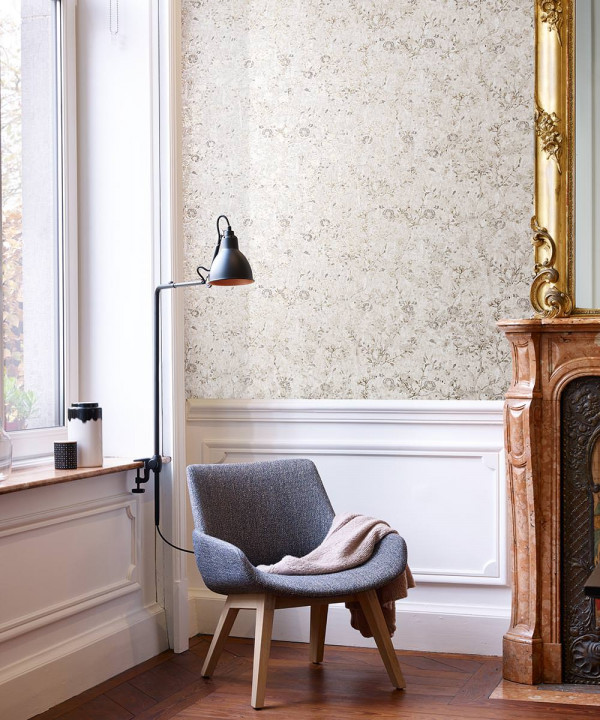 Channel your inner Parisian with Resene Wallpaper Collection GLA804. Pair this delicate, vintage-inspired floral design with panelling in the crisp hue of Resene Half Alabaster for a modern Paris-chic look. Flooring and wooden details in Resene Colorwood Natural will bring warmth into the space and when combined with a beautiful brass or gold detailed mirror, will transform the space into one with all the hallmarks of European history. Furniture in the violet-toned grey of Resene Waterloo and smaller pieces in Resene Toorak and Resene Colorwood Pitch Black will add in some modern sophistication.

Resene Wallpaper Collection E384535 combines vintage floral design with striking and modern colours. This bold wallpaper works particularly well as a feature. To embrace the brilliant business of this design, look to match smaller items in the room such as bedding and soft furnishings in colours found in the wallpaper, such as Resene Yuma, Resene Bali Hai and Resene Martini. Use darker colours such as Resene Blackout and Resene Rebel on larger furniture items to create areas of negative space.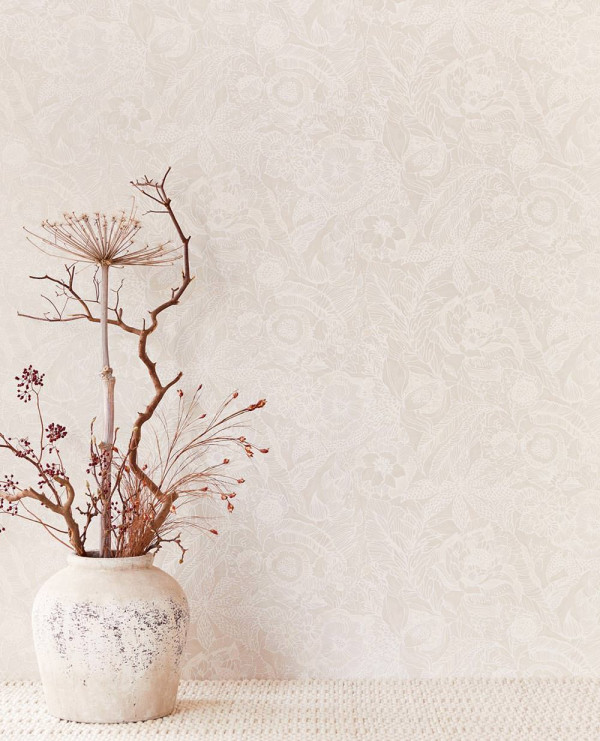 For a floral wallpaper design that's delicate and dainty, but subtle and elegant, look no further than Resene Wallpaper Collection E386510. To complete a room look to match, pair this design with adjacent walls in Resene Half Joss or Resene Spring Wood. Bring in subtle contrast with darker floors in Resene Almond Frost and add in furniture and soft furnishings in colours such as Resene Dust Storm and Resene Cashmere.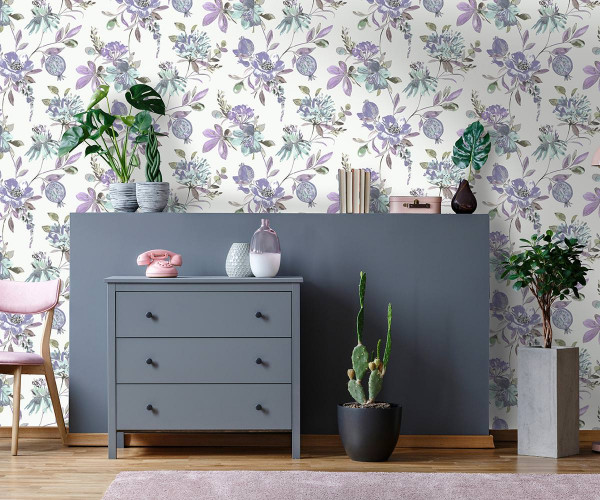 Fall into complete cosy cottage whimsy with Resene Wallpaper Collection 90433. Resplendent in soft lilac blooms and green olives, this design is best paired with a warm wooden floor stained in Resene Colorwood Uluru and a dark slate such as Resene Raven on larger furniture items. Warm colours such as Resene Castle Rock and pops of purple such as Resene Marionette are the perfect additions on plant pots and accessories. Add a contemporary touch with adjacent walls in Resene Solitude.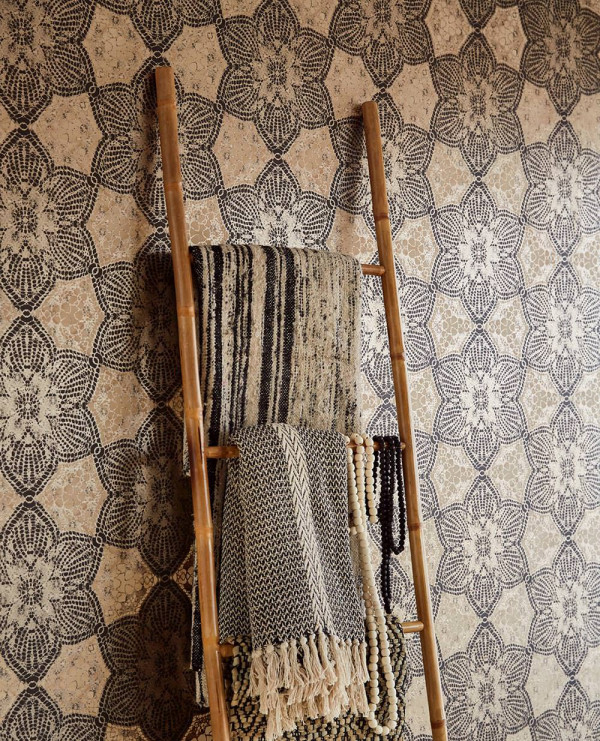 Resene Wallpaper Collection 376057 brings luxurious floral glamour to the fore. For the ultimate bathroom look, pair this elegant wallpaper design with tonal shades such as Resene Mongoose and Resene Schooner on adjacent walls. Use the dark, rich colour of Resene Colorwood Wood Bark on the floor and furnish with towels and décor pieces in hues like Resene Domino. Add pops of soft grey such as Resene Dover White on soap dispensers and vases to create pockets of light.