►
◄
latest
habitat tv
blog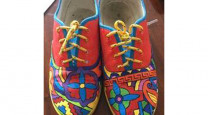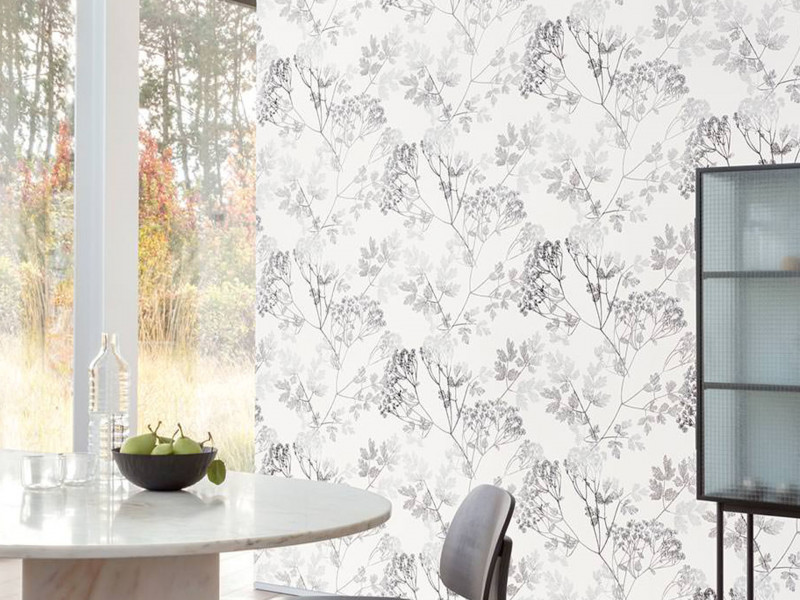 6 white wallpaper designs that make a stylish statement
15 Jul 2020
Whether you have a dark or small space that you wish felt light and airy, or if you're simply looking to build a neutral look that's anything but boring, a beautifully designed white wallpaper is the way to go.
White has the incredibly fortunate characteristic of working with every colour, which makes it a great choice for the home. Opting for a simple and subtle design will add just the right amount of interest to a lacklustre space. Likewise, a wallpaper with a more intricately detailed pattern can become the statement piece a room is missing.
Whether you're after a cosy cottage vibe or modern apartment-chic, there's a white wallpaper for every style and need. Combine our top tips with these graceful designs from the Resene Wallpaper Collection and you'll transform your bare walls into something spectacular.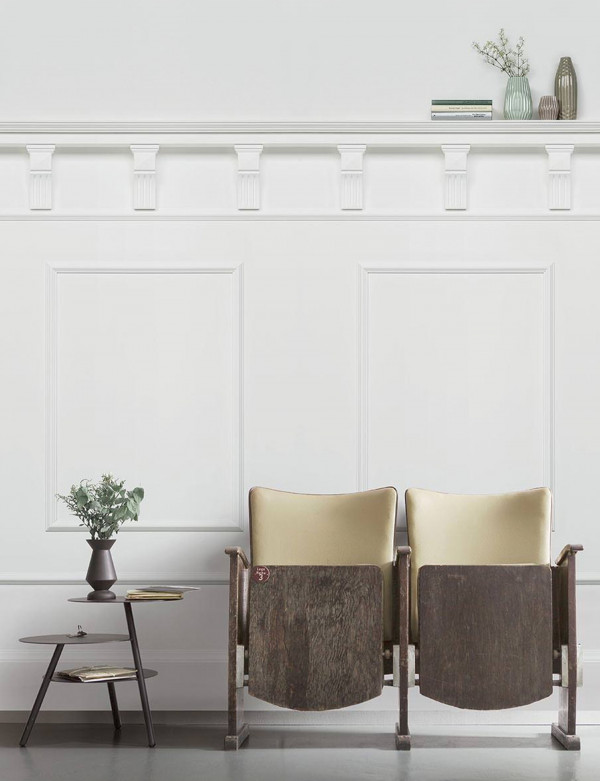 If intricate wall panelling is an aesthetic you'd love to achieve but cannot afford, a detailed wall mural like this one from Resene Wallpaper Collection P022-VD2 is a beautiful way to get the same look. To create something worthy of an elegant Paris interior or stylish Danish design, pair this wallpaper mural with soft pastels such as Resene Duck Egg Blue, Resene Sugar Loaf and Resene Bubble White on accessories and soft furnishings. To add a contemporary edge, look for modern, streamlined furniture in darker shades such as Resene Saddle and flooring in Resene Colorwood English Walnut.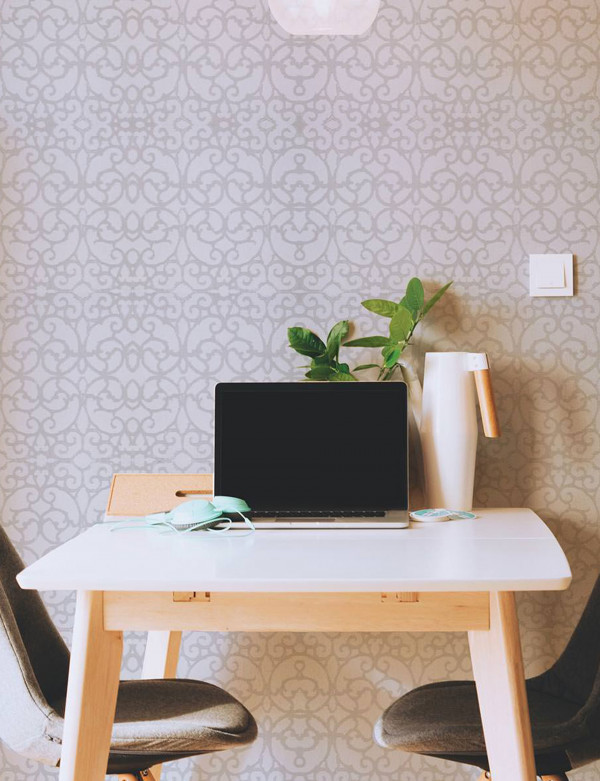 Resene Wallpaper Collection 81212 is intricately detailed, turning a simple white pattern into a statement. This curved motif is subtle, which means you can be a bit more fearless by opting for higher contrast colours and match this striking wallpaper design with bolder hues such as Resene Sambuca and Resene Blackout on furniture with pops of Resene Smoke Tree on accessories. Break up the pattern and colour with accents of fresh white, such as Resene Alabaster on your shelves and a grey-tinted white like Resene Sea Fog on the adjacent walls.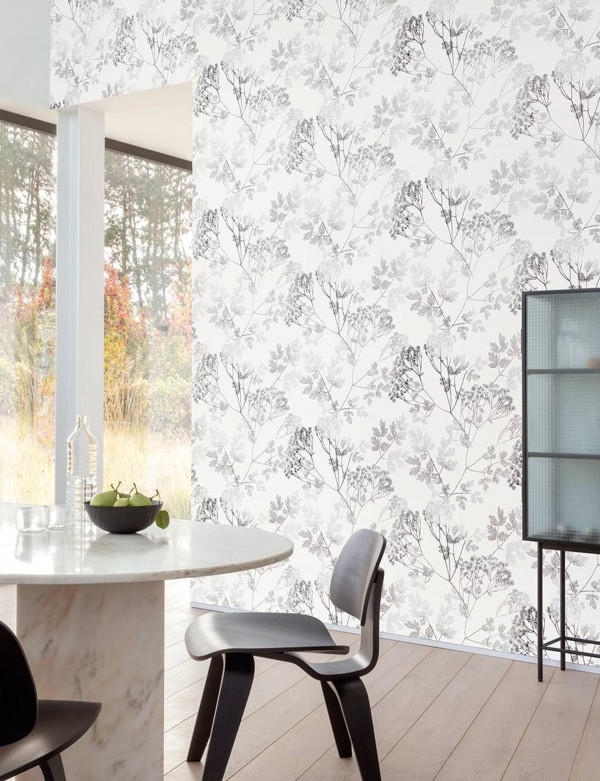 High ceilings in a living or dining place lend themselves perfectly for delicately patterned wallpaper to make a statement. Resene Wallpaper Collection KOS202 has movement and softness to it, which is echoed in the outdoors spied through the large windows. As this dainty floral pattern can invite in a somewhat cottage vibe, bring it into a modern setting with a large rounded marble table, dark accents and contemporary furniture. Look to paint adjacent walls in Resene Snow Drift with accent colours in Resene Space Shuttle and Resene Gull Grey. To really accentuate the height of the ceilings, paint them in Resene Alabaster and add some contemporary warmth to the floor with Resene Colorwood Limed Oak.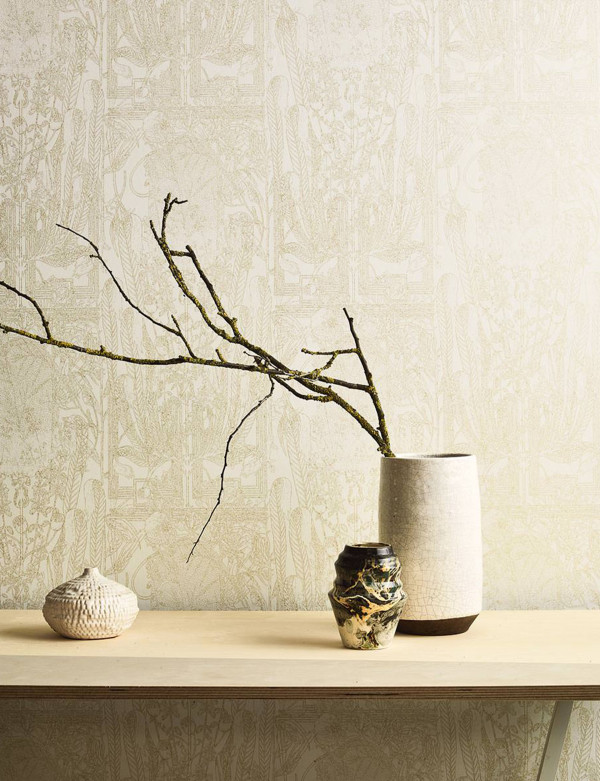 Resene Wallpaper Collection GLA303 has a beautifully earthy feel to it. Upon closer inspection you'll see delicate details of flora and fauna, so pair this design with earthen ceramics and 'perfectly imperfect' wabi-sabi style decor. Pale woods and a tonal colour palette bring this look together and allow the intricate design to shine. Try Resene Coconut Cream on the adjacent walls with furniture and textile accents in Resene Half Secrets and Resene Eagle. Resene Colorwood Rock Salt on flooring and wooden surfaces will add natural softness to the tonal colour scheme and a ceiling in Resene Quarter Black White will add a fresh white accent to break up the beige hues.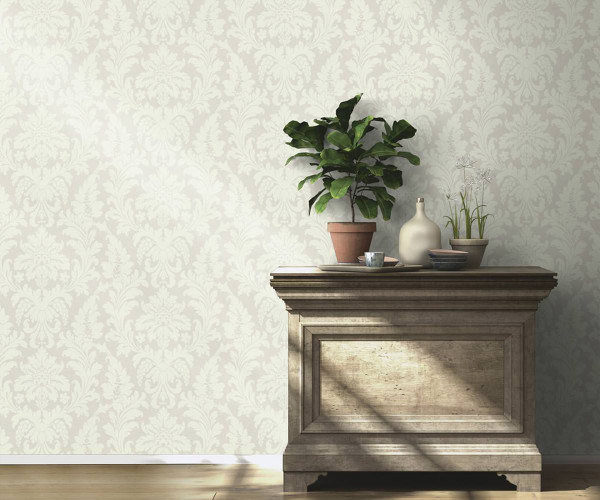 Spruce up your office or bedroom with a graceful, classically patterned wallpaper like Resene Wallpaper Collection 525410. Add in points of interest with nature inspired décor pieces such as indoor plants, wooden elements and homemade pottery. To fully embrace the homely cottage vibe, look to Resene Quarter Merino on adjacent walls and Resene Tobacco Brown on accessories and furniture with a woollen rug in Resene Copyrite on flooring in Resene Colorwood Natural to round out the warming colour palette. For a more contemporary take, add in highlights of a rich black like Resene All Black.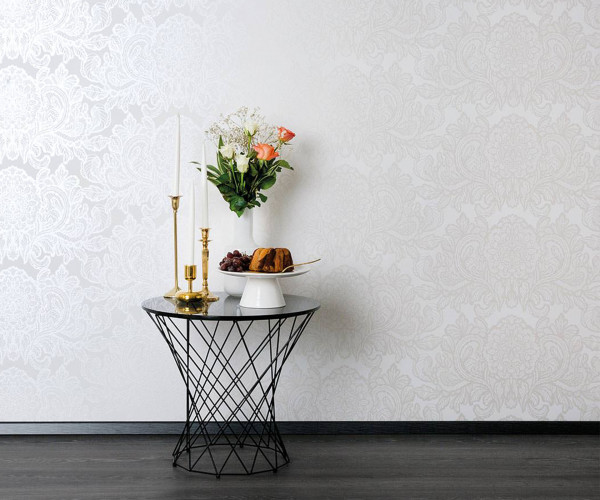 With a contemporary with a nod to stately elegance, Resene Wallpaper Collection 5236-3 manages to stay the balance between both these distinctive design styles. Because of its subtle sheen and texture, this wallpaper is a great addition to a dark hallway where light and a little visual interest is needed. Pair it with Resene Midwinter Mist on the adjacent wall, Resene Quarter Rice Cake on the ceiling, flooring in Resene Colorwood Dark Ebony, Resene Solitude on smaller accessories and Resene Blackout on the furniture, trims and lighting for a smart, contemporary look.