►
◄
latest
habitat tv
blog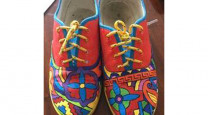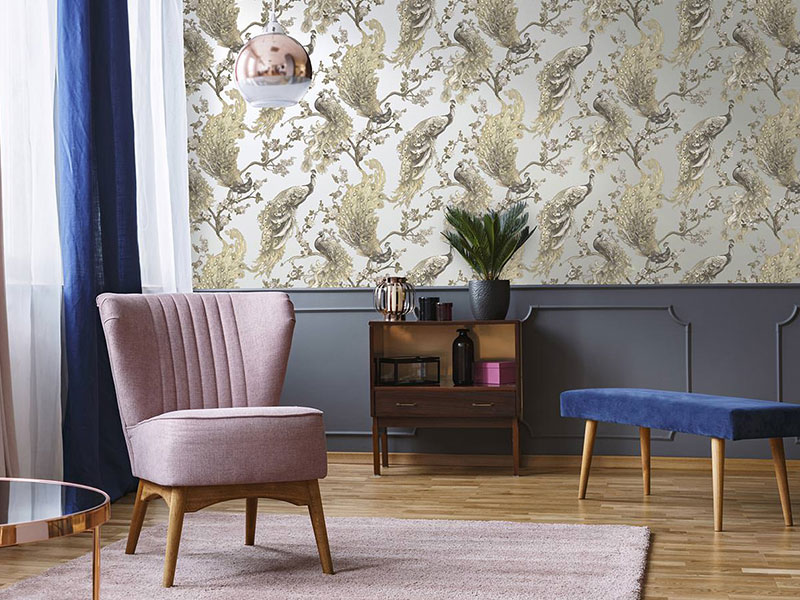 7 wallpaper designs that are sure to break the ice
08 Jan 2020
Interesting wallpapers and paint treatments are an instant conversation starter and the perfect way to express your personality on your walls.
Give your visitors a reason to break the ice with a bathroom, lounge, hallway or dining room walls in one of these seven designs from the Resene Wallpaper Collection that are guaranteed to turn heads.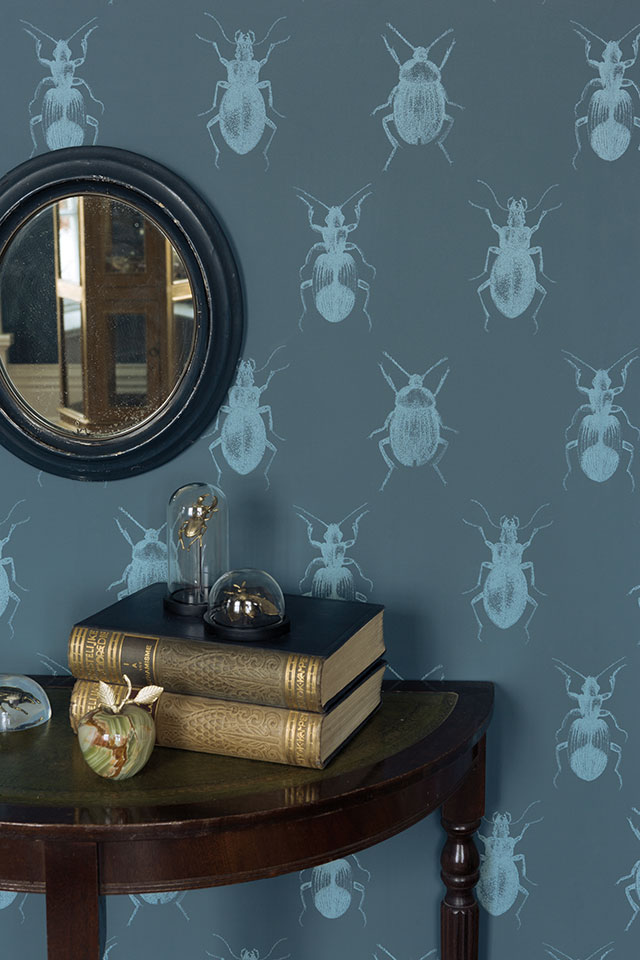 Resene Wallpaper Collection 289533 is sure to become a talking point among visitors. Try this curio-esque design in a hallway with a classic console table in Resene Bark, then paint sophisticated decor in brighter tones like Resene Streetwise and Resene Jordy Blue and refined accessories like books or candle holders in Resene Travis. Give a small mirror frame a striking flourish in Resene Blackjack, which provides a moody contrast with this particular wallpaper design.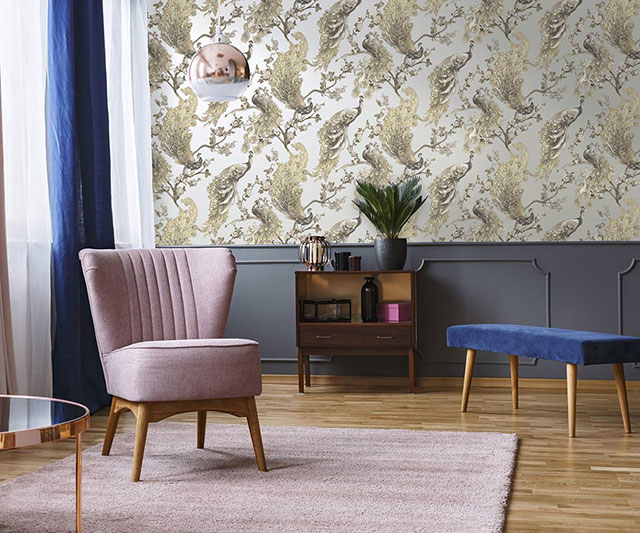 Bring a touch of nature into your home with Resene Wallpaper Collection 90673. Try it in a living room with lower panelling in Resene Hammerhead and a floor in Resene Colorwood Limed Oak. A plush statement chair in Resene Divine makes the room all the more inviting to visitors along with a light-coloured rug in Resene In The Mauve. Add a luxurious, velvet stool and curtains in Resene Surfs Up – the perfect classic blue – and paint this colour on plant pots throughout the room to weave the colour in further.

Take a walk on the wild side with Resene Wallpaper Collection 90563 to liven your dining room. Balance out the vibrant colours with a timber floor finished in Resene Colorwood Rock Salt wood stain and bamboo chairs in Resene Pendragon. Try the industrial look with hanging lights in Resene Quarter Fuscous Grey and Resene Eighth Pearl Lusta. To bring out the light touches of pink in the wallpaper, paint table accessories in Resene Wax Flower, from salt and pepper shakers to fruit bowls. Trims and window frames in Resene Eighth Pearl Lusta will help to lighten the space.

Go fun and fruity in your bedroom with Resene Wallpaper Collection 289700. Paint a feature wall with the stunning warmth of Resene Manuka Honey, which is also the perfect colour for accent cushions. Give your wooden floor a gorgeous glow up by staining them in Resene Colorwood Natural wood stain and paint a window seat, desk or chest of drawers in Resene Half Villa White. Blue accessories like cosy cushions, photo frames and potted plants in Resene Awash and Resene Blue Bayoux will inject a sense of relaxation into your overall décor.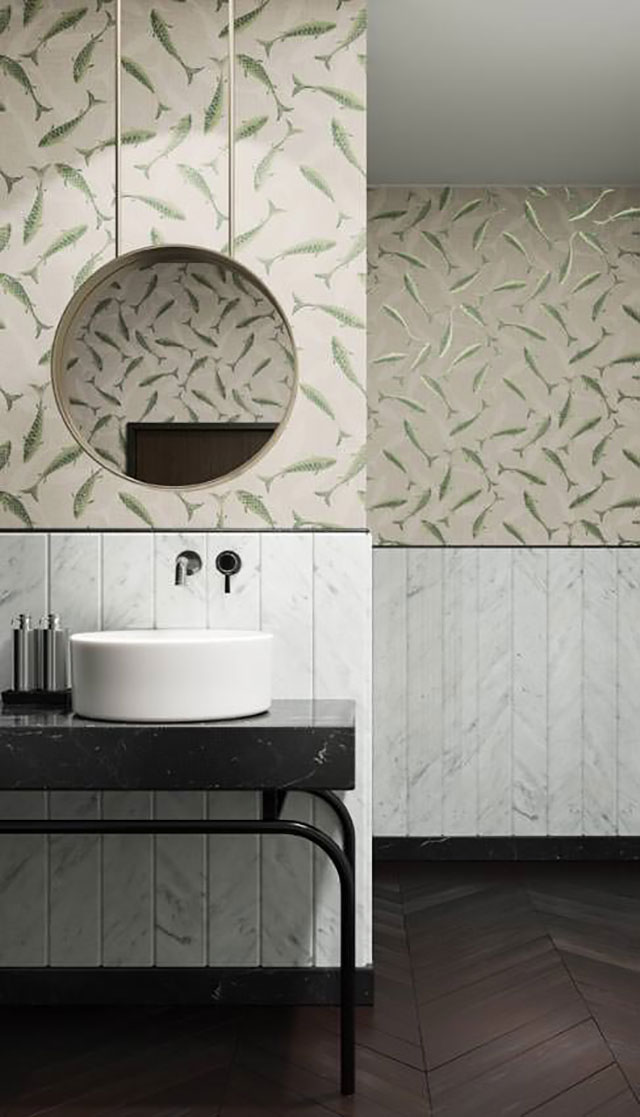 Make your bathroom a talking point amongst guests with Resene Wallpaper Collection IUM004. Avoid overwhelming a small space by balancing out the design with lower panelling in Resene Half Wan White and a mirror frame painted in Resene Half Tea. For a cool contemporary look, go with a floor in Resene Tiri, and trims and a chic vanity in Resene Nero – the perfect dark tone. A soap dish or jewellery tray in Resene Gecko will add some soothing colour and play off the fish pattern.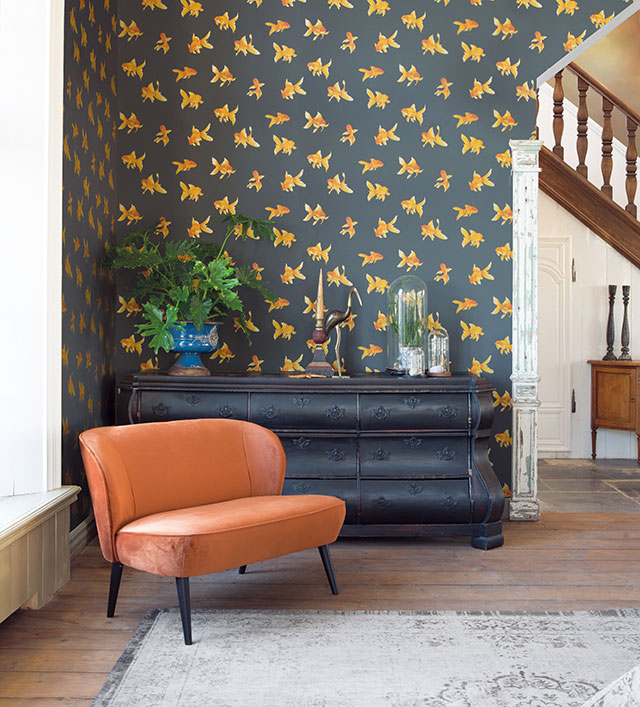 When working with a large room that enjoys plenty of sunlight, there's ample opportunity to take a risk with colour. Resene Wallpaper Collection 289489 is versatile in its ability to be both classic yet daring. Try it in a lounge with a large statement cabinet in Resene Dark Knight and a timber floor stained in Resene Colorwood Dark Rimu. A mid-century chair in Resene Ayers Rocks highlights the colourful goldfish pattern while surrounding trims in Resene Quarter Spanish White are just the ticket to tie everything together.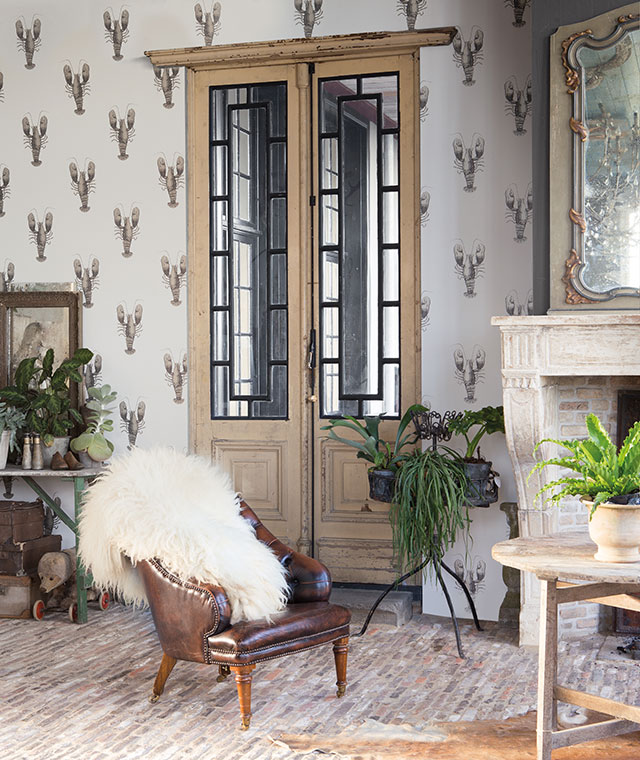 Greenery can literally breathe life into any room, and looks particularly bright and inviting against neutral wallpaper, paint and furnishings. Add it to your sitting room with a floor in Resene Mongoose, which pairs well with Resene Wallpaper Collection 289564. Injecting touches of Resene Quarter Parchment throughout the room will bring the whole look together. Try it on trims, side tables, mirror frames and plant pots. A smooth leather armchair in Resene Woodburn gives the room an air of elegance, while smaller accessories in Resene Stromboli will bring a refreshing splash of colour and connect the colour of your greenery directly into your décor.