►
◄
latest
habitat tv
blog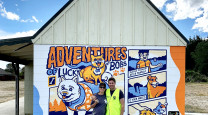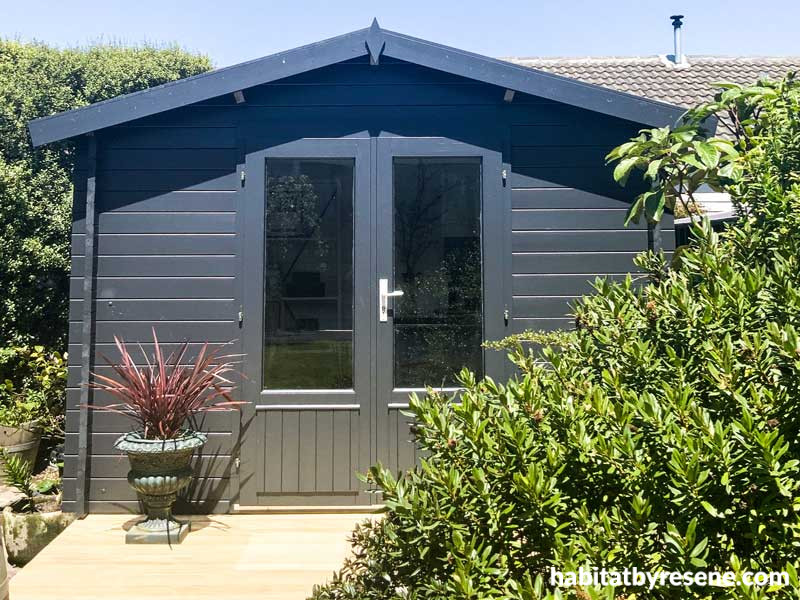 A 29sqm kitset home office meets a designer's own brief as a serene workspace
21 Dec 2021
Dunedin interior designer Annie Simpson-King has worked on some big-scale projects, but when it came to her own home office – she went small and perfect, using Resene paints to add the X-factor.
Annie's 3m x 3m studio was bought from Mitre 10 as a kitset, and installed in her back garden, 23 steps from her back door. All up, with paint costs included, it cost $10,000 – and she says it's money well spent.
"I am so pleased with the final outcome and love going to work, all 23 steps from my back door. I wanted to create a space for me, so I could create and it be a retreat to think and design, mostly I needed the space to feel calm and yet be inspiring which it really is."
Annie Simpson-King in her home office. Resene Lumbersider tinted to Resene Double Foundry is on all exterior walls, while the windows and doors are in semi-gloss Resene Lustacryl tinted to Resene Double Foundry.
Annie went monochromatic with her colour scheme. "I knew the outside needed to be dark and feel strong in the space but nestle into the garden, and the inside was important to be light and fresh."
Annie is the 2021 winner of the Resene Total Colour Heritage Colour Maestro Award for her redesign of the Dunedin Grand Casino.
For this somewhat smaller job, she approached it like any other design job, considering every element, "There's no guesswork involved," she says. She has used the simplicity of two colours but uses semi-gloss on the doors and door trims to add texture against the matte weatherboards and interior walls.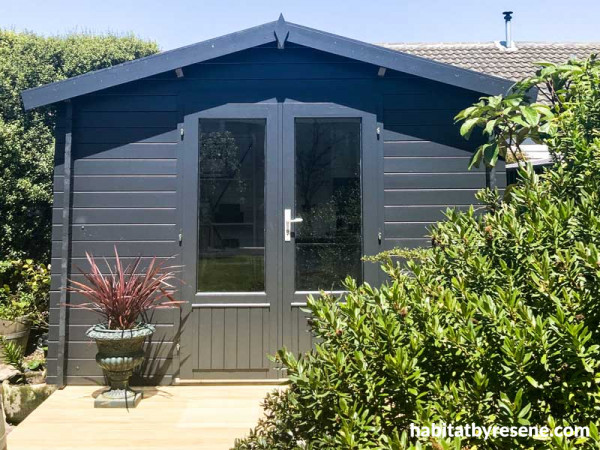 The kitset office is under 29sqm, so doesn't require building consent. The untreated deck adds space to the overall look.
Choosing colour in a small space requires careful thought, she says. "I thought about how I work, and I need peace and the softness of neutrals is easy to live with. I also need a true white when I'm looking at samples, with no shades of pinks or yellows." No contest the, Resene Alabaster is her favourite white and she's used it on all interior walls ceiling, and trims.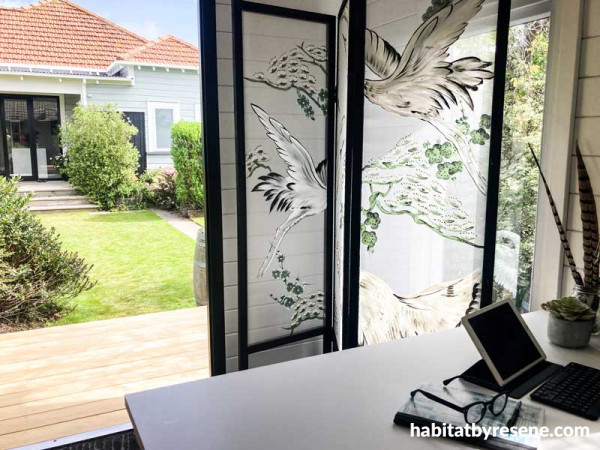 Annie has used her favourite white in the interior in Resene SpaceCote tinted to Resene Alabaster, with door trims in Resene Lustacryl tinted to Resene Double Foundry. She says painting the raw timber has given a Scandi look.
Neutral colours are the way we live today, Annie says, and she recommends another of her favourites, Resene Sea Fog, "It's an easy neutral and you can add depth to it by going Double Sea Fog. It also works well with charcoals and blues."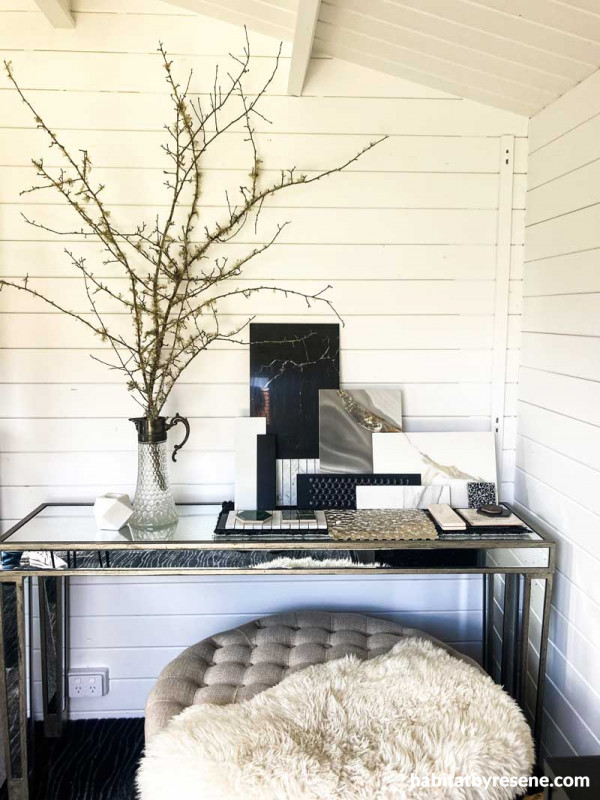 Annie's advice on creating a home office is to clear out the clutter, and contain books and files in cabinets. Resene Alabaster walls and ceiling keep the space clean and simple. She has her current design samples on display, but the others are stored away so she can concentrate on the job at hand.
Annie mapped out the size and function of all the furniture in the space, nothing is there unless it's essential.
"I scaled all the furniture before I started, and it's all the same size. The ottoman acts as another table but can be pushed under the table. My desk has pin legs, so its floating in space. Ask yourself, what function does each thing have? Is it needed? The secret is, no clutter."
With natural light flooding in to the room, and the garden just out the window, Annie says she doesn't feel it's small at all.
"I wanted an elegant space to work in," Annie says, and this one has met the design brief!
www.kingdesign.nz Insta @simpsonkingdesign
Published: 21 Dec 2021