►
◄
latest
habitat tv
blog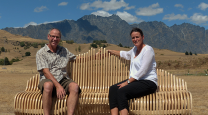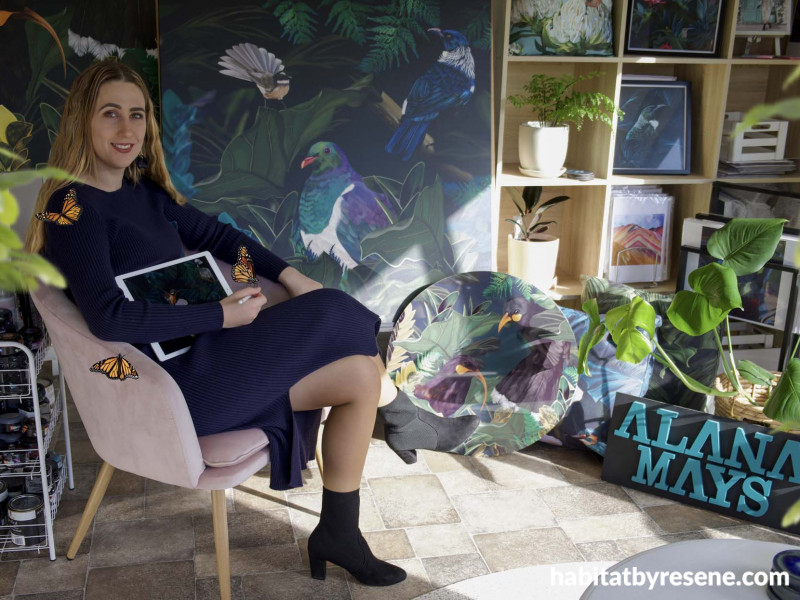 Alana Mays' mystical paintings lift the veil on digital art
30 Sep 2021
Artist Alana Mays is a seamstress of colour. She seamlessly stitches together the mystical and the real, as well as combining digital art and vibrant Resene paint. In her work 'Sacred Love' out of a wild forest of ferns, kawakawa and rata leaves emerge two huias, their bright beaks blazing against the darkened background. The atmosphere is too perfect to be 'real', yet too 'real' to look away.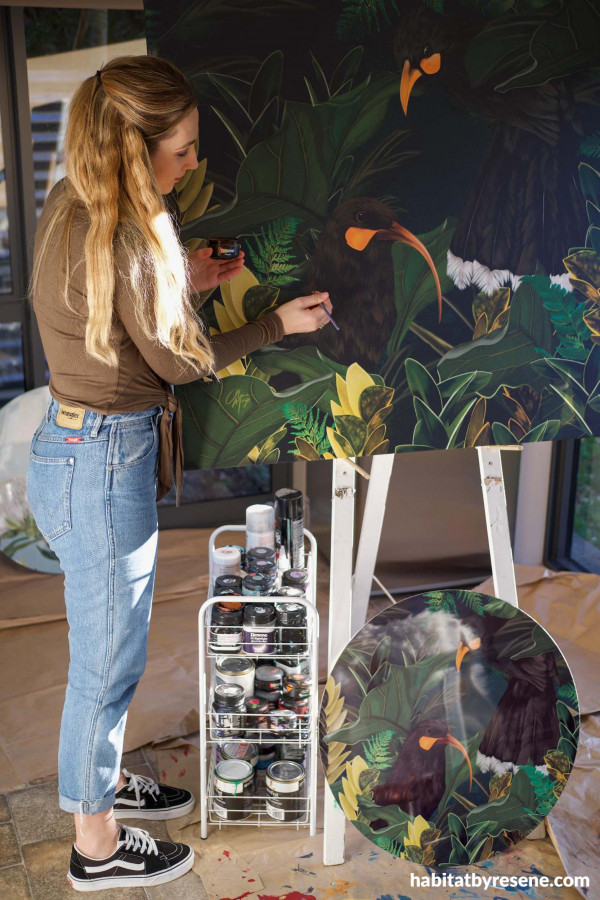 Alana's painting, 'Sacred Love', uses Resene FX Bronze metallic, Resene Desperado and Resene Midnight Moss.
"I've always been creative from a young age," says Alana, who began her artistic journey using acrylic paints before being introduced to digital art. She draws inspiration from biblical references using themes of rejoicing, peace and love, and subtly weaving these concepts into the artworks and their names.
"My art business kick-started when I changed my subject matter to something that was more commonly suited to what people could resonate with.
"I choose to work with the subject matter of native flora and birds due to the beauty and graceful nature of birds that represent freedom and praise as they rejoice when they sing.
"As for nature and flowers, I love the idea of bringing nature and life back into the indoors!"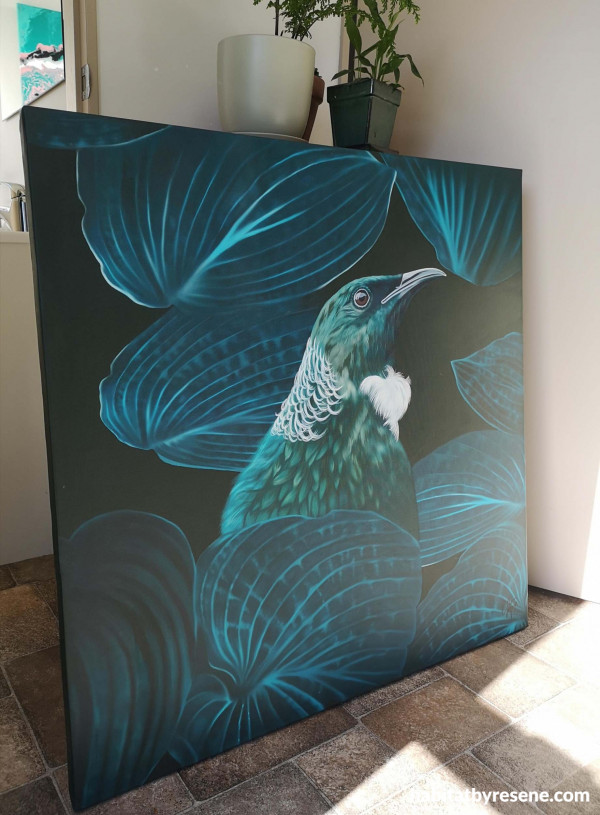 One of Alana's favourite pieces, 'Song Bird' features an emerald Tui in Resene Midnight Moss, Resene Billabong, Resene Blue Night and Resene Pelorous.
Her process begins with an idea in mind and an iPad in hand. She crafts her designs in Procreate, before shifting to Photoshop to enlarge the designs. Her illustrations are then sent off to be printed onto canvas and metal before she paints over the design. "A lot of people ask me what a digital painting is. I still use the same tools that I would use to paint a traditional piece and it still takes the same amount of time to complete," says Alana, who then paints over the printed canvas. "I customise my canvas prints by applying Resene paint on top of the birds to define the feathers and make the main focal points of the picture pop out.
"There is such a wide range of vibrant colours to choose from and I love the consistency of Resene paint. It's a silky paint that is easy to blend and mix but also great for the acrylic pouring technique, which is another process I like to dabble in."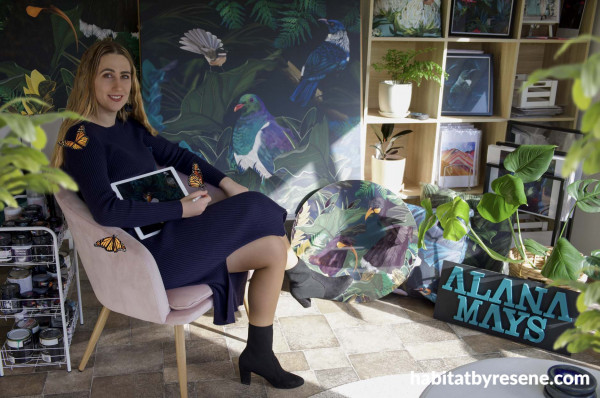 Alana, pictured here with her painting 'Garden of Eden' uses rich colours such as Resene Billabong, Resene Midnight Moss and Resene Decadence to bring her digital prints to life.
Alana uses Resene FX Nightlight, a glow-in-the-dark paint, overtop the white elements of her paintings to further their mystical, dreamlike atmospheres. Her colour palette is a richly sophisticated collection of moody Resene greens and metallics. "I always gravitate towards greens with a pop of colour for contrast and sometimes a hint of metallics as they make my birds look majestic and royal," says Alana.
"I'm obsessed with the teal-like green colour of Resene Billabong."
Alana has used Resene Billabong in one of her latest, and favourite, pieces of work titled Garden of Eden. The painting portrays a collection of native birds in a perfect and predator-free version of New Zealand that abounds in harmonious colours, including Resene Midnight Moss and Resene Decadence.
"I have visually communicated this idea of a perfect environment before the fall by using a harmonious colour palette to create a flourishing environment where no plant has withered and birds of different kinds are in harmony together."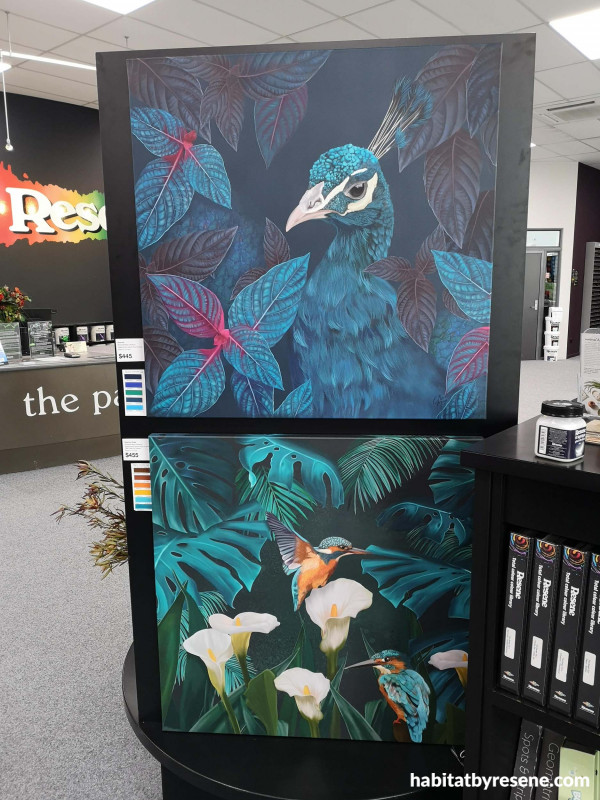 Alana's go-to colour palette includes Resene Pelorous, Resene Decadence and Resene Billabong. 'Euphoric Kings' (bottom) features a pop of Resene Tangerine, while 'Peacock' (top) is coloured with bright Resene Windfall.
To see more of Alana's work, visit her website or check out her Facebook group, Style At Home
Published: 30 Sep 2021