►
◄
latest
habitat tv
blog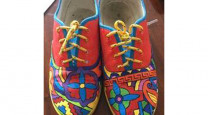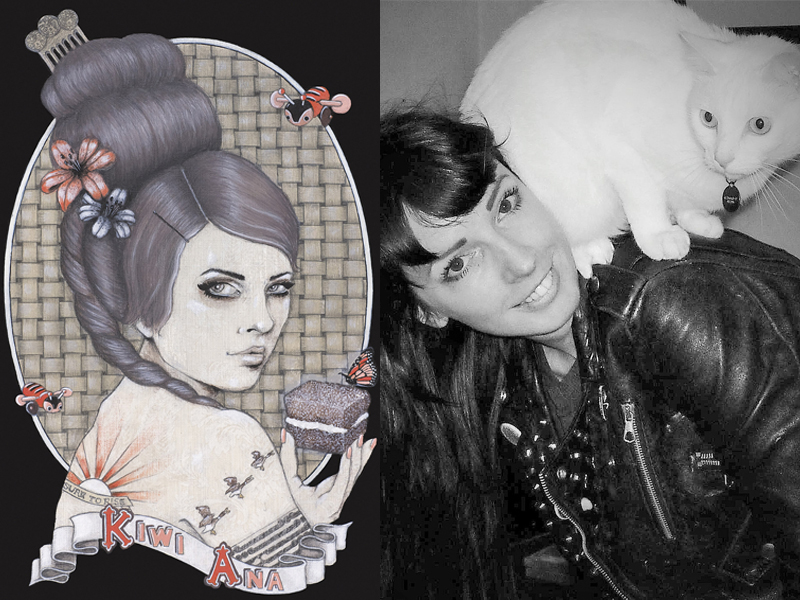 Andy and the 'lowbrow' girls
02 Nov 2015
There's nothing one dimensional about Andy McCready's portraits, paintings of dreamy, wistful women with perfectly coiffed hair and makeup, cheeky smiles akin to Mona Lisa, and tattoos.
The Dunedin artist creates these alluring characters with shaped wood boards and Resene paint, using spray paint and vintage wallpaper to add more texture, in a style influenced by the lowbrow art movement. They also appear as street art throughout the South Island city.
At the moment, Andy is in Toronto on a working holiday experiencing life as an artist overseas. We checked in to see how she's finding it, and what makes her tick as an artist.
Your artwork truly has its own personality. Where do you find your inspiration?
Inspiration comes from all the things I choose to surround myself with, and equally from a conscious decision to blank out – or at least attempt to blank out – much of mainstream culture.
To generalise: I'm inspired by going to gigs, art shows, reading books and magazines, internet tangents and all the strange and beautiful humans, animals and objects I stumble upon while engaged in such endeavours.
Do you have a process when it comes to starting an art piece?
Sometimes I start with a firm idea or theme in mind; other times I don't really know where it will end up and just hope for the best. Most of my paintings are done on vintage wallpaper, so the first order of business is to select a pattern from my ever-growing wallpaper collection, which also helps to determine the colour scheme. A trip to Resene may then be on the cards if I'm in need of new test pots – cue 'kid in a candy store' moment …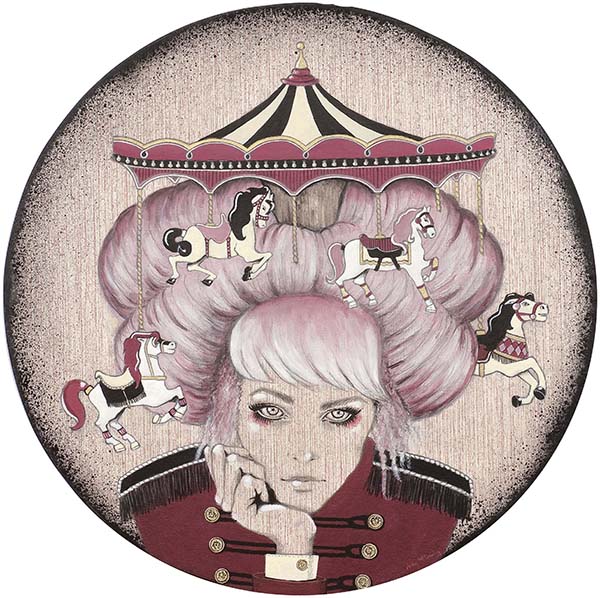 What's the Toronto art scene like?
In a city of this size, it's hard to get a comprehensive picture of the overall scene in such a short amount of time. I've had works in two group shows (at Super Wonder Gallery and Hashtag Gallery) and have checked out a number of exhibitions. The best one, hands-down, was actually in Detroit, but was a solo show of a Toronto street artist known as Denial.
I'm happy to report that my hometown Dunedin (when I tell people from Toronto its population is around 140,000, they tell me I shouldn't even be allowed to call it a city) is actually doing pretty well for itself art scene-wise, and I can't wait to get back and get working again.
The hardest thing for me here is being away from all my usual materials; this city is a desolate wasteland when it comes to easily sourced retro wallpaper, whereas every op shop visit I make in Dunedin usually offers up at least a roll or two for under $5. On the other hand, art supplies are cheaper here, so I'm thinking of stocking up a suitcase before I leave.
What advice do you have for emerging New Zealand artists?
You probably won't make a living solely off your art (although if you're one of the few who do, that's awesome, and could you give me some advice please?!) but you won't mind too much because the unexpected opportunities that spring up and the excellent creative types and fellow weirdos you meet make it all worth it. Say yes to as many things that cross your path as you can (provided they're not taking advantage of you, etc.), because you never know where it will lead and what connections you'll make.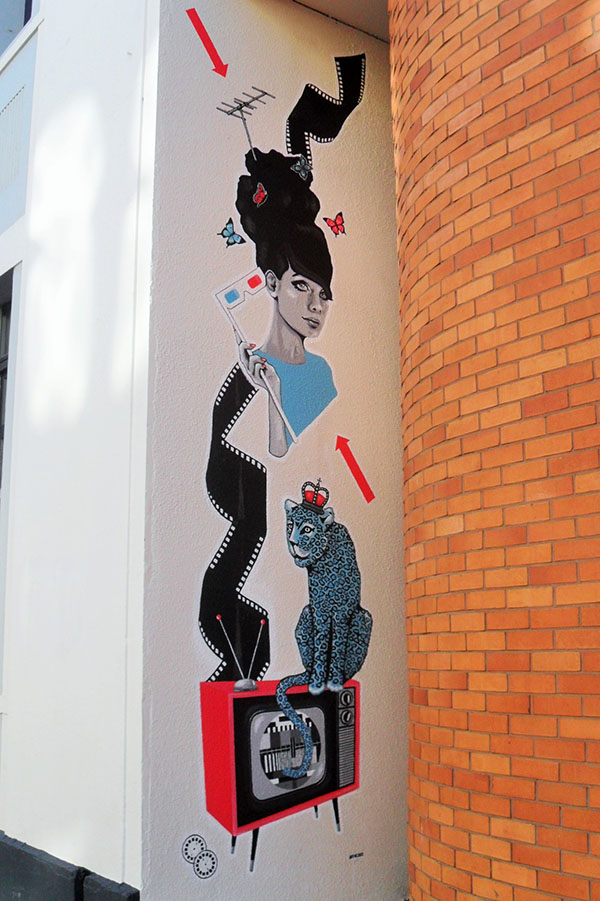 What's next for Andy McCready?
I've just set up a store on the website Redbubble, featuring a whole bunch of nifty stuff that no-one actually needs but that make great gifts to yourself while doing online late night shopping. The range includes phone covers, coffee mugs, throw pillows, etc., and ships worldwide.
Gallery de Novo in Dunedin also continue to stock some of my prints and original paintings, and I'll be reopening my Etsy and Felt online stores when I'm back in New Zealand.
I'd be keen to take on some more street art commissions and my partner and I already have a show lined up at the end of 2016 in Christchurch. More pressing and immediate goals upon arriving home: cuddles with my much-missed kitty, Lulu…