►
◄
latest
habitat tv
blog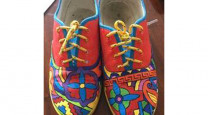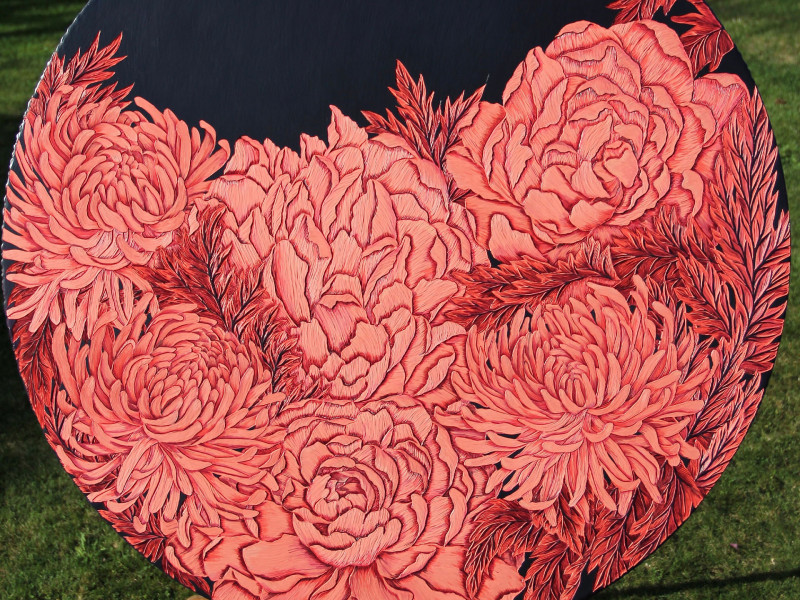 Artist Hannah Jensen's jaw-dropping paint carvings are nothing short of captivating
12 Aug 2020
From afar, Hannah Jensen's pieces look to be created with intricate brushstrokes and cleverly detailed shading. However, upon closer inspection, these 'brushstrokes' are unmistakably knife strokes – carved into layers and layers of Resene paint.
It is a technique Hannah created while completing her Bachelor of Art and Design at the Auckland University of Technology. She was majoring in printmaking and experimenting with carving into wood and at the end of her second year she embarked upon two large scale wood carvings, both of which she layered up with 23 coats of white primer. "I imagined I would be carving through the paint and into the wood," she says. "But it was within the first few strokes that I realised it was going to be quite a feat and then the lightbulb went off – I could carve into paint!"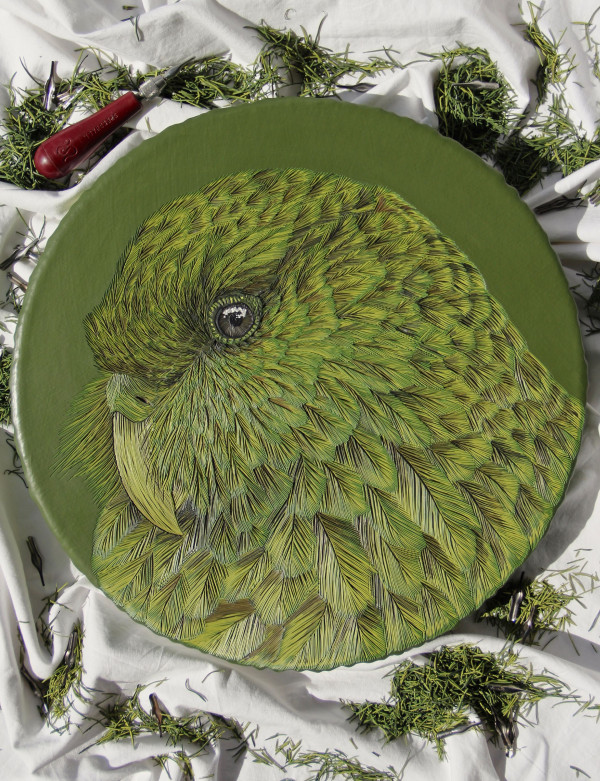 Hannah captures the curious nature of theKākāpō so beautifully in this piece painted with layer upon layer of Resene Half Wood Bark, Resene Kombi, Resene Dell and Resene Turtle Green.
She describes her discovery as a life changing moment in her career. The following weeks she spent hundreds of hours carving, trying out her new technique and her mind began to "explode with ideas."
She trialled many types of paint, "I was lucky enough to know a student who worked at Resene who let me know there were lots of leftover architectural paints that I could get my hands on. I have never looked back," she says.
Resene Alabaster is a staple in her work, "I go through litres and litres of it," she says. But when it comes to colour Resene Hot Toddy has been one of her favourites, alongside Resene Polo Blue, Resene Atlas, Resene Blue Bark, Resene Alert Tan and Resene Karry. "I spend a lot of time choosing my colours," Hannah says. "It really depends on the images I am wanting to carve, but whether it's a wild animal, a bunch of flowers or a landscape, I sit with all the Resene colour swatches, shuffling through, comparing this with that and compiling palettes."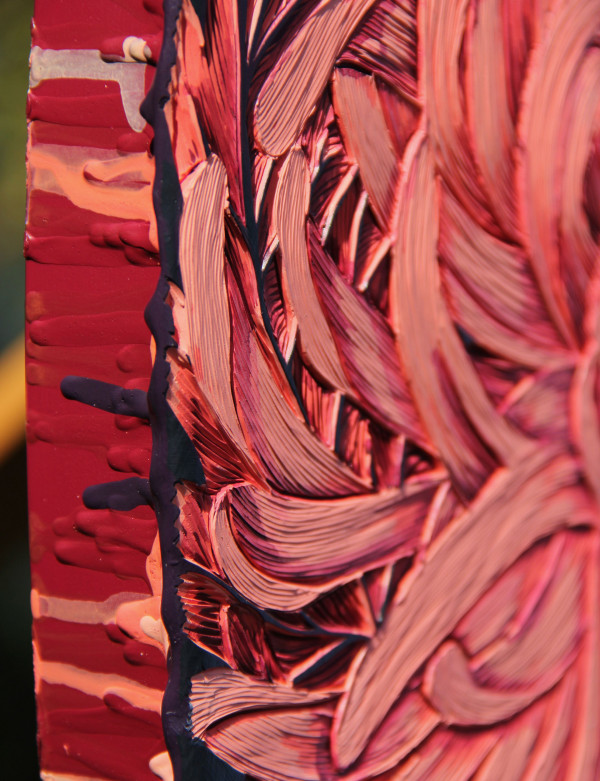 At least 40 layers of Resene Glorious, Resene Rapture and Resene Encore came together for Hannah's beautiful large chrysanthemum and peony piece.
Her first ever carved painting consisted of 23 layers of paint – "why 23? I simply layered until I ran out of paint," Hannah says. But now, her pieces have a minimum of 40 layers. "I love having the extra depth to carve into. I layer up to 70 coats when I am layering multi-tone works, employing different pressures when carving to be able to differentiate between the colours as I slice through."
Once she has layered up her paint – which can take up to three to five weeks – her smaller palm-sized pieces can be completed in a day, with larger works taking up to eight weeks of carving.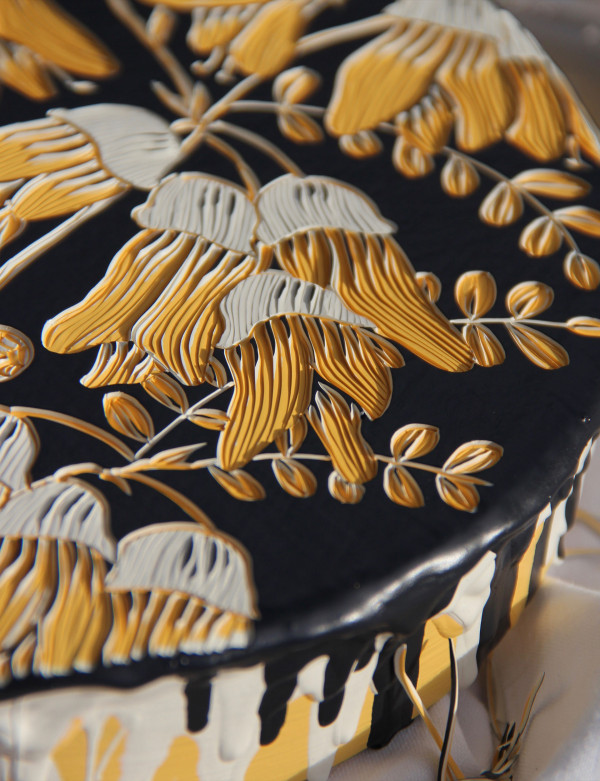 Up close, Hannah's delicate carved lines – and depth of paint – are clear to see. Her kōwhai piece has been created with Resene Golden Tainoi, Resene Half Scotch Mist and Resene Jaguar.
Her pieces appear almost topographical in their range of depth, which seems appropriate as nature has proved to be the ultimate inspiration for her art. When Hannah describes it, you can almost see it on the canvas already; "surfing at sunrise or sunset with the tangerine hues reflecting on the ocean or hiking through the magic valleys of New Zealand surrounded by the lush bush is where my heart feels most alive. Using those hilltop memories or sounds of the morning chorus fuel me for a day in the studio."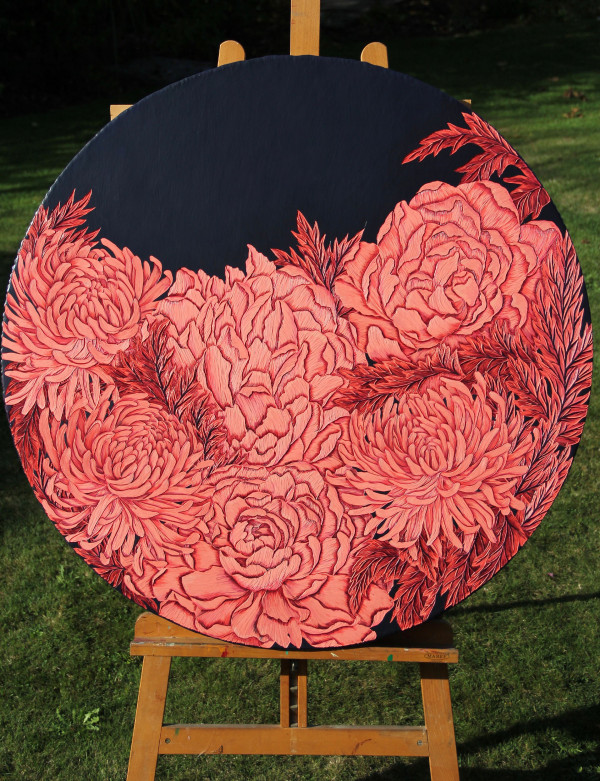 Resene Encore, Resene Rapture and Resene Glorious have been layered in this piece to create the contrast and shadows within the flowers. Hannah says large pieces such as this one can take up to eight weeks of carving.
Currently, Hannah is working on a range of commission pieces, including a pair of flying tui, a Craigieburn mountain range, kingfisher in frangipani and a majestic whale. But she's also started to teach her technique and is embarking on a nationwide tour of (sold out) creative weekends.
"Having carved for 17 years now, being able to share my work with others, knowing it will hang in their homes to be adored, is such a great feeling," she says.
Check out more of Hannah's work at hannahjensen.co.nz
images Hannah Jensen