►
◄
latest
habitat tv
blog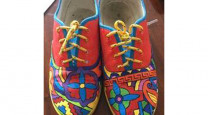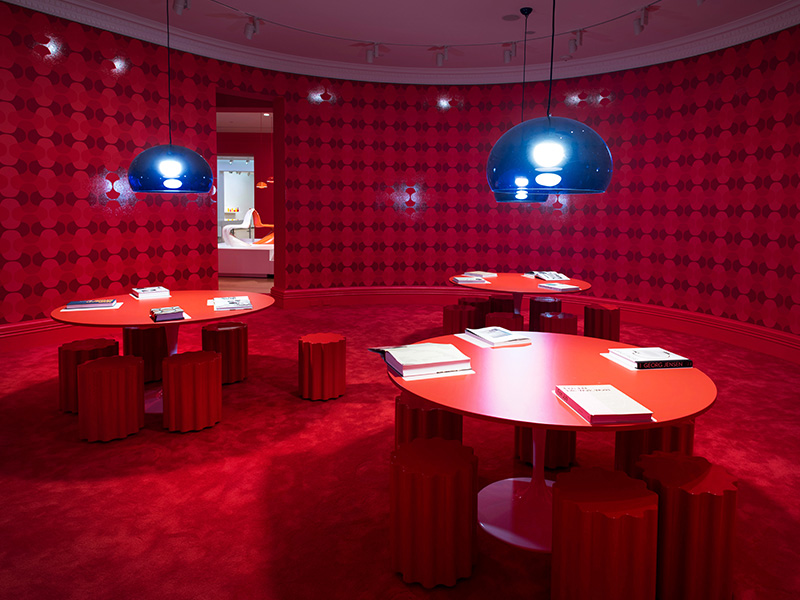 Auckland Art Gallery pays tribute to iconic Danish designs in latest exhibition
26 Nov 2019
Danish design is almost synonymous with stylish, modern homes, and was the perfect subject for the Auckland Art Gallery's latest exhibition, Denmark Design. On display until 2 February 2020, it showcases over 200 original objects including furniture and ceramics, and explores the icons of Danish Design – all framed by dynamic Resene paint colours.
Hannah Manning-Scott, the Exhibition Designer of Denmark Design, was more than up for the challenge of creating a space to compliment the artworks on display.
"Denmark Design posed a unique challenge of bringing to life a catalogue of over 200 three-dimensional objects! It was a fine balancing act to create a changing rhythm to the exhibition and create a variety of spatial experiences and key moments," she says.

Hannah Manning-Scott, exhibition designer
The famous egg chair and swan chair (shown below) are just a few of the many objects spotlighted in the exhibition. You'll see them framed by double strength Resene Jet Stream. "This was chosen for this scene as it is a close colour match to the iconic SAS Hotel in Copenhagen, designed by Arne Jacobsen in the 1960s," Hannah shares.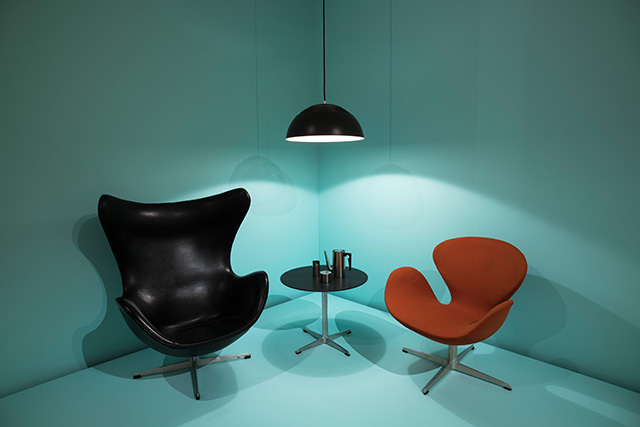 Two icons of Danish design – the egg and swan chairs – are enhanced by the scenery flooded in double strength Resene Jet Stream.
Hannah's personal favourite, Resene Tory Blue, was selected as a feature wall colour that appears a number of times throughout the exhibition. The shade can be found in several classic Danish designs like porcelain pieces produced by Royal Copenhagen and Finn Juhl's furniture designs. "It's a complex colour and it reminds me of family holidays spent in Copenhagen," Hannah says.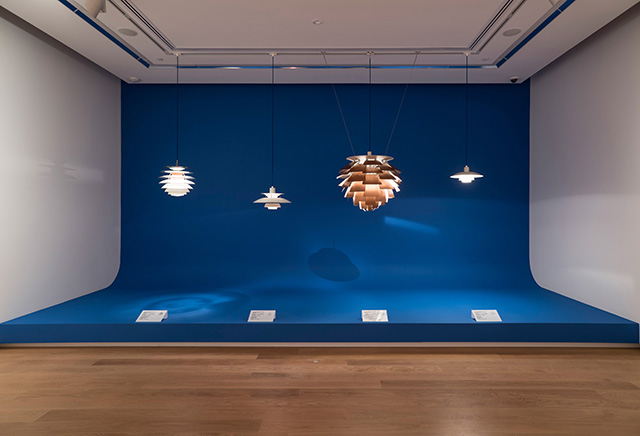 Resene Tory Blue is a regular feature throughout the Denmark Design exhibition.
The exhibition's curved red room makes quite a bold statement in Resene Roadster and, according to Hannah, was inspired by the saturated interiors designed by Verner Panton – one of the key designers featured.
"To enter a Verner Panton space is to enter an immersive dreamscape."
After earning permission from the Panton estate to reinterpret his patterns, Hannah and the team utilised a layering process. The base layer is Resene Roadster in Resene SpaceCote Flat finish, with a high-gloss digital print compucut vinyl.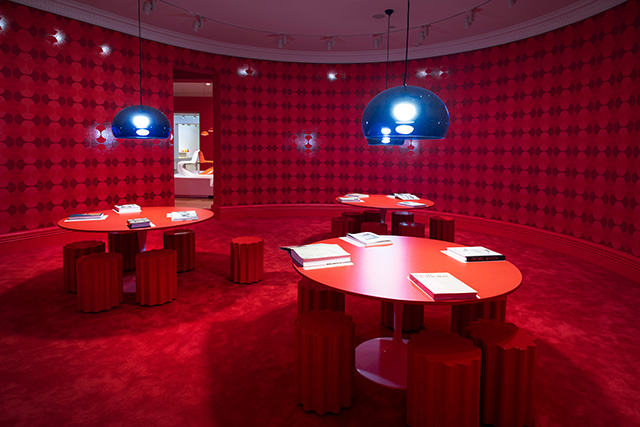 Resene Roadster in a Resene SpaceCote Flat finish makes a real statement in the curved space, where visitors are invited to linger and enjoy a series of art books that highlight Danish designers.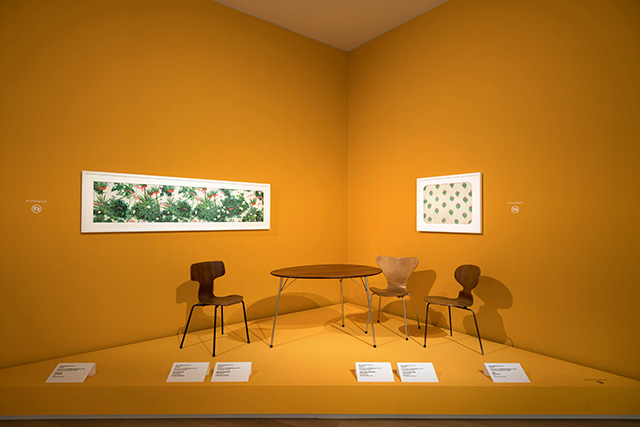 Resene Carpe Diem was chosen for its tones, which allude to those found in Richard Mortensen's iconic prints on display. "The orange contrasts well with textiles by Arne Jacobsen, and complements the warm tones of the wooden Arne Jacobsen furniture," Hannah says.
For more information on the exhibition, visit the Auckland Art Gallery website.
images Jennifer French