►
◄
latest
habitat tv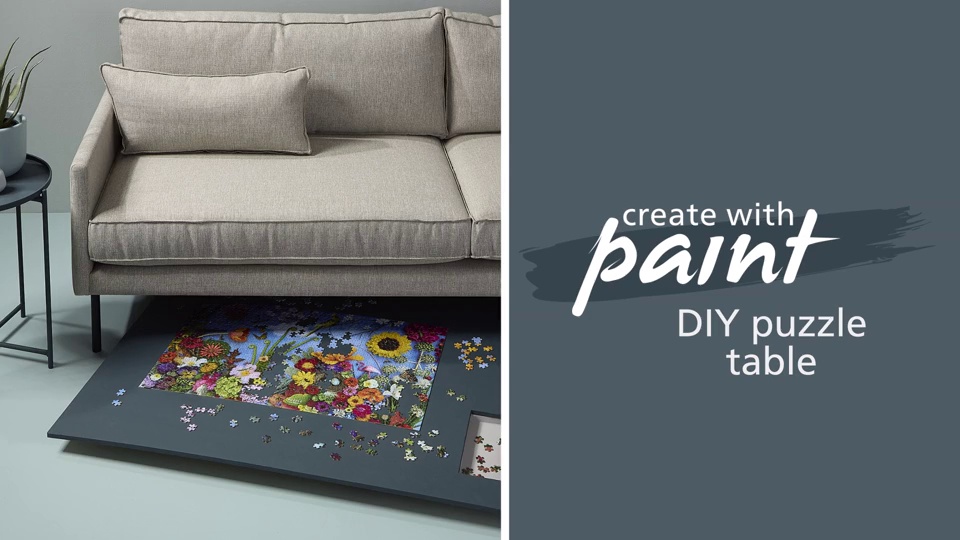 blog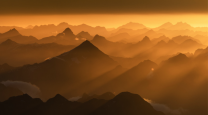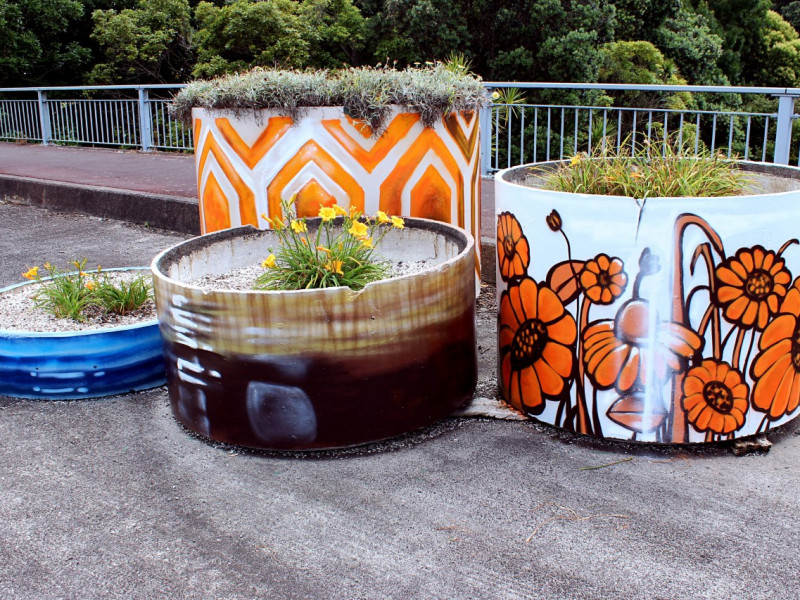 Avondale's giant Crown Lynn planters are community's cup of tea
03 Mar 2021
Commuters driving and cycling over Auckland's Ash Street Bridge often do a double take when they travel past artist Paul X Walsh's giant Crown Lynn cups. The street artist, most known for his animal Chorus box artworks and mural of Grumpy Cat on Auckland's Big King dog park, has transformed worn down concrete planters into a giant ode to the iconic ceramic maker. The planters appear on the bridge between the central suburbs of Avondale and New Lynn, not far from where Crown Lynn had its factory until its closure in 1989.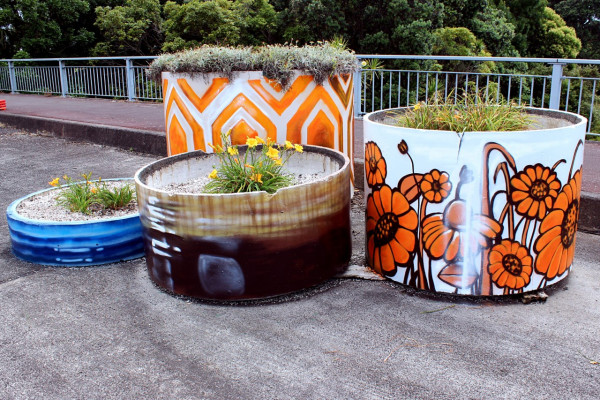 Paul X Walsh's Crown Lynn-inspired planters used dozens of colours including Resene Grey Nickel, Resene Nero and Resene Hyperactive to create the iconic 70s flower design.
"The majority of viewers are driving past and will only see them for a few seconds, so I painted objects that were literally recognisable at a glance," says Paul.
"New Lynn and Avondale were the home of New Zealand brickworks and ceramics - Crown Lynn being the most notable. So, it felt appropriate to create my interpretations of those iconic designs on a large scale. I used a light grey colour called Resene Grey Nickel for the 'white' parts of the mugs - this way I could add reflective highlights in a solid white stripe," he adds.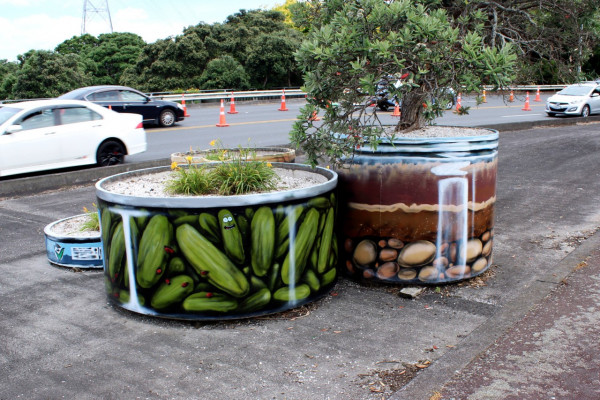 The pickles in the pickle jar are in Resene Green House. Paul painted the cartoon character Pickle Rick from Rick and Morty into the design as an "easter egg" for people walking past.
The 22 planters also include pickle jars, liquorice allsorts and fish tanks and add a splash of colour in the high-traffic area. The designs took six days to complete and it was a challenging location with no shade. Paul resorted to taping a sun umbrella to his back for protection from the elements.

Paul used Resene Uracryl GraffitiShield in a gloss finish to create the shiny look of the jars.
"I usually use the matte finish on my work, but this was a great excuse to try out the gloss for a change. The painted reflections, known as specular highlights, help them look even glossier."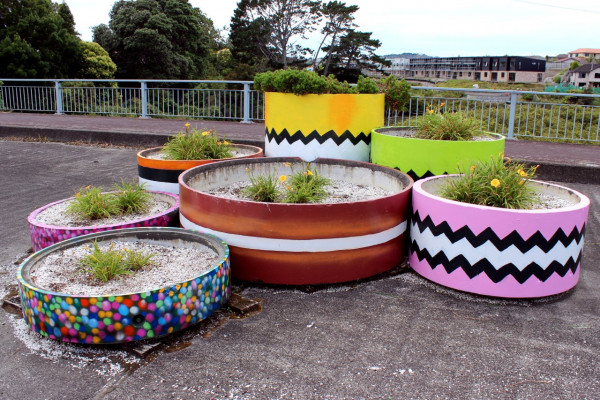 The liquorice allsorts are painted in lots of delectable Resene colours including Resene Bright Spark (yellow), Resene Hashtag (green) and Resene Shocking (pink).
The project came about thanks to the Tag Out Trust, a community group based in New Lynn aiming to minimise graffiti in West Auckland. The group got in touch with Paul after seeing his 'Remember the Heroes' mural in response to the Christchurch Shootings and his Preserving History mural for the Whau Arts Festival.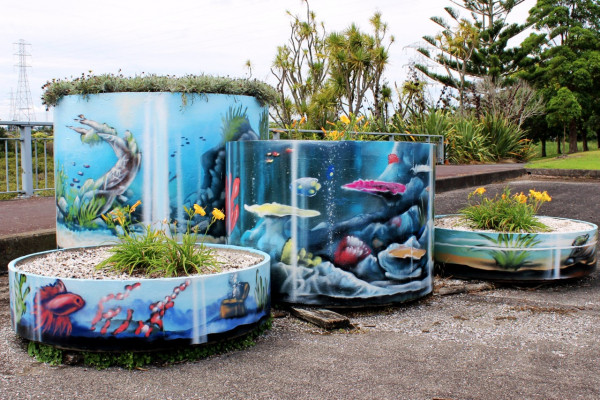 The aquarium designs feature Resene Jordy and Resene Malibu.
Paul says Resene Nero is the colour he uses the most, appearing in nearly every work he does but he has a soft spot for the plum red Resene Pompadour.
"It was the feature colour in my first artistic commission when I was 16, where I painted designs on the chairs and tables at the Fat Dog Cafe in Rotorua," he says.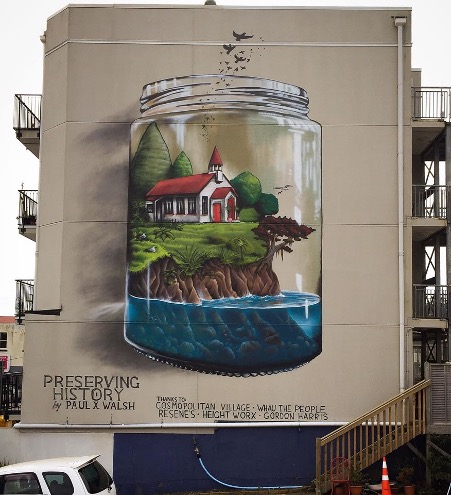 Paul X Walsh's 'Preserving History' mural was painted with a range of Resene hues for the Whau Arts Festival.
Whau local board member Jessica Rose says she loves the sense of humour of Paul's work and the colourful burst the planters gives to the Avondale and New Lynn communities.
"It's great to be able to showcase art to the community and these light-hearted pieces can bring joy and laughter to passers-by. My favourite is the liquorice allsorts jars- what a treat.
"New Lynn's ceramic history is another great thing to reference – it's a fantastic to celebrate our artistic past," she says,
Paul enjoys bringing humour into his public art as a way of making his art more accessible.
"I think humour broadens the appeal. If these pieces can bring a smile to the face of someone stuck in traffic, then that is always a worthy goal - we have enough angry drivers as it is!"
See more of Paul's work at www.paulwalsh.co.nz