►
◄
latest
habitat tv
blog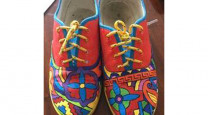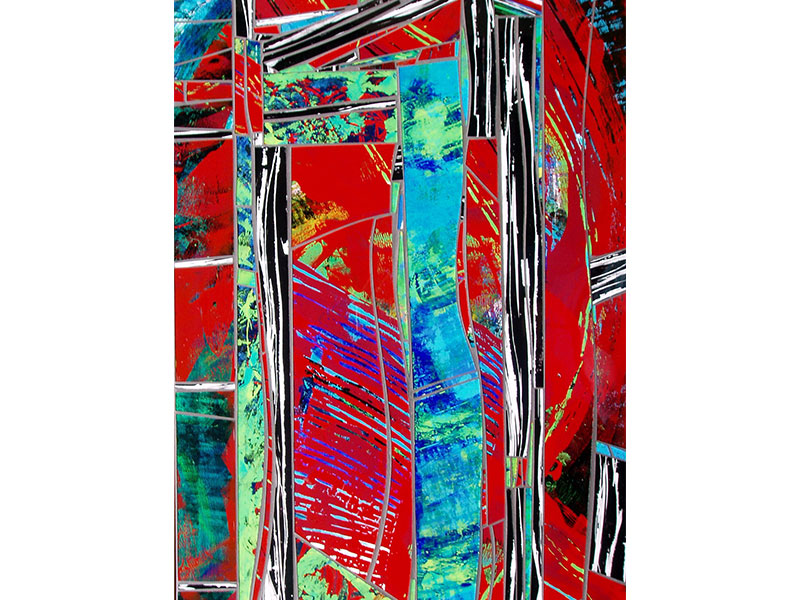 Beatrice's beautiful Gaudi-inspired glass works
06 Jun 2019
Through much experimentation, artist Beatrice Bourhis has found her own unique way to express herself. After being exposed to the architecture and mosaics of Antonio Gaudi, her enthusiasm for working in glass was sparked. She initially began work in mosaics before moving on to a more contemporary practice.
For 15 years now, Beatrice has been working with Resene colours in a highly distinguishable method to create both fine and functional art. Combining the structure she learned through mosaics with the clear lines of materials like glass and Perspex, Beatrice began applying paint to the underside of transparent materials, allowing her many layers of colourful abstract strokes to show through.
"I often build up 10 or so layers of diverse paints, so the actual painted colours are much more diverse in hue, chroma and value when viewed in reality." Beatrice mainly uses Resene testpots or 1L tins to create her artwork, but more recently, she has also begun experimenting with Resene Crackle to bring a new kind of depth to her work.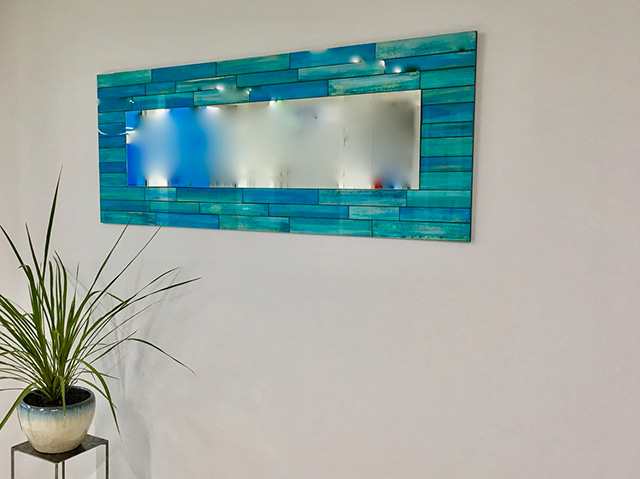 Beatrice estimates that she used 22 or more layers of different shades of blue and green Resene paint to create the stained-glass effect on this mirror, titled 'Seascape'.
2017 was a turning point for Beatrice, who started to devote more hours to studio work again after years of dedicating most of her time to motherhood and homemaking. This move to allocate more time for her art helped open up new opportunities for showing it off.
"Instead of exhibiting my works exclusively in galleries, I started bringing them to markets. In 2018, I went to my first Home & Garden EXPO in Christchurch, where I received great feedback from Visitors and the Management, and I have since exhibited at the Home & Interior Show in Wellington as well."
"I also produce commissions for some of my clients, where I recommend Resene colour combinations. For two recent commissions, the clients chose their interior room colours inspired by my artworks."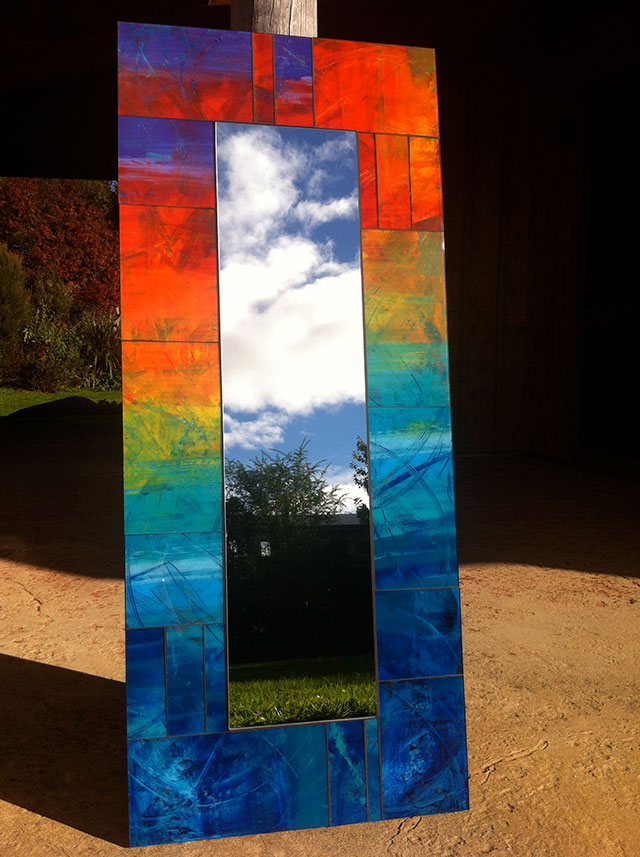 Beatrice used a full spectrum of Resene paint colours underneath glass to create this stunning rainbow mirror.
"I think my strength is that that my works are quite different, from the choice of materials and the vibrancy – thanks to the Resene paint colours – and my flexibility to create works made to order, where the clients can choose the design, size, shape as well as colours directly from a Resene colour chart."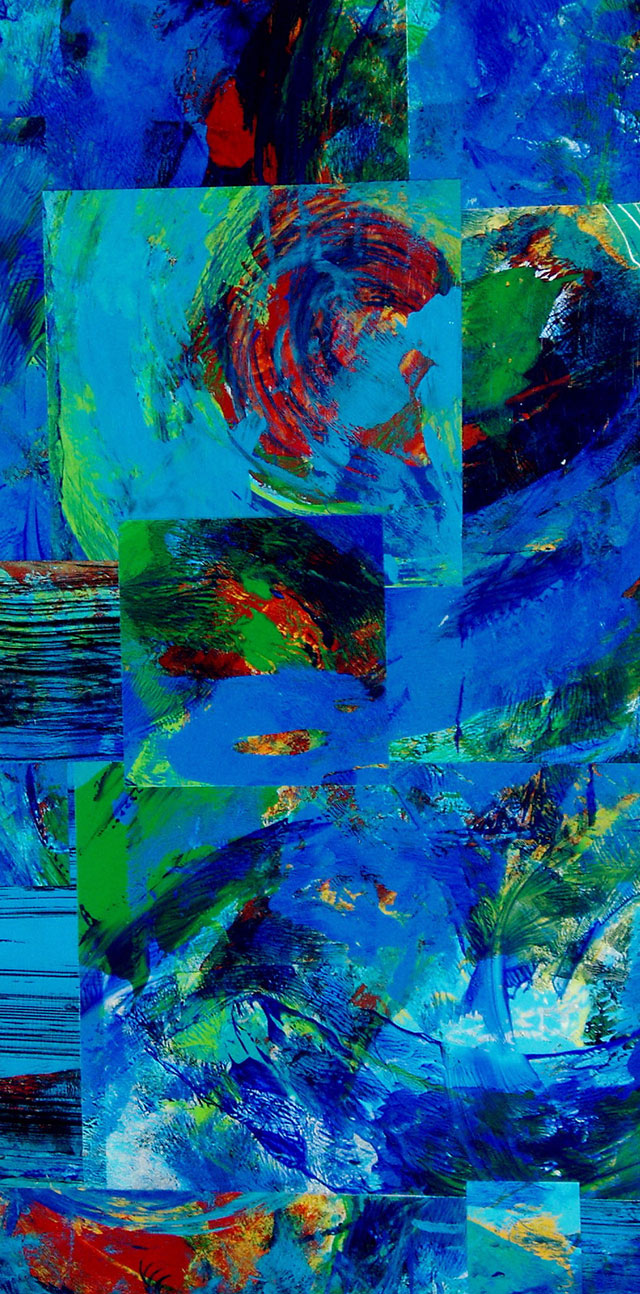 'In Motion 2' by Beatrice Bourhis
"My favourite Resene colours – just to mention a few – are Resene Allports, Resene Hullabaloo and Resene Freelance, as they represent for me the beauty of the colours of the many seascapes here in New Zealand, like Abel Tasman National Park, but I also love Resene Poppy, Resene Party Zone, Resene Jailbreak and Resene Clockwork Orange." Each colour is featured heavily in Beatrice's artwork.
Currently, Beatrice's work can be viewed by the public in Golden Bay, Takaka at the Monza Gallery, Art Vault, Stone Arrow Gallery, Dangerous Kitchen, at her showroom in Patons Rock, at Tait Gallery in Hammer Springs, and at Arty Nelson.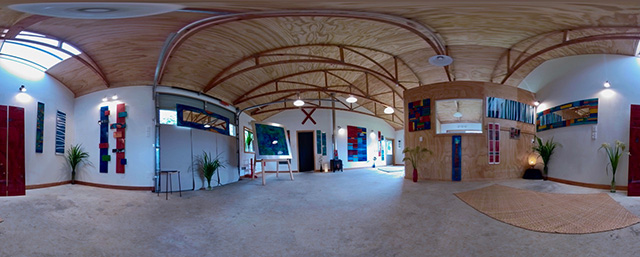 Beatrice's showroom
To see more of Beatrice's work, visit her website.