►
◄
latest
habitat tv
blog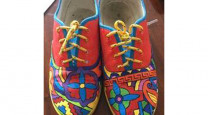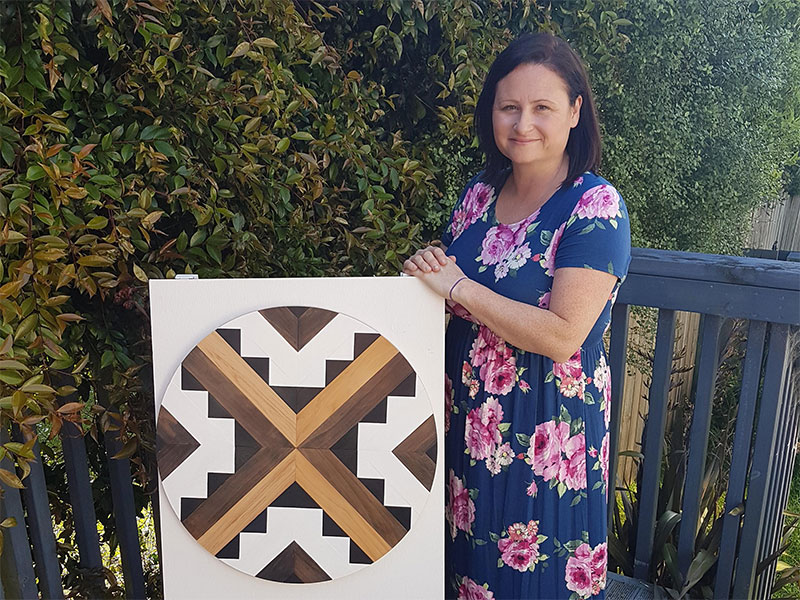 Bev builds a business based on a love of timber and geometric designs
06 Mar 2019
In 2013, Bev Mossup was motivated to return to school to retrain in Interior Design. She now works part-time as a colour consultant – all while raising a young family with her husband in Auckland and balancing her new business, Chatsworth Road, which she brought to life in 2018 thanks to her love of wood, colour and simple geometric shapes.
Through Chatsworth Road, Bev creates geometric wooden wall art that artistically reflects a modern design aesthetic using sustainable materials. Each piece Is uniquely designed, combining contemporary paint colours, renewable New Zealand pine and simple geometric lines. And, since each piece is lovingly crafted by hand, Bev is able to create a wide range of bespoke designs and limited edition pieces to suit every taste and colour palette.
"I have always been creative and love making things by hand," says Bev. "I designed and made my first piece of wood art for myself, and it inspired me to start Chatsworth Road."
Bev says, "I find working with wood challenging, it often has a mind of its own but has this wonderful ability to add warmth and texture to a space. I also love how paint can transform a room so I knew that paint would feature heavily in my work. There are so many different geometric patterns and unlimited colour combinations I could use."
Bev says that she incorporates Resene products into each of her pieces. "I love Resene's range of paints and stains and use them exclusively in my artwork," says Bev.
"Each of my designs has a number of hand painted pieces, I use Resene because it is a quality product with an amazing colour range. I mainly use testpots as this is the ideal size for my work. I also use the Resene Colorwood and Resene Woodsman ranges to stain wood sections.
"There are so many amazing colours. Many of my pieces feature a monochromatic scheme using Resene Black White and Resene Nero, but I also love Resene Grey Friars, Resene Ziggurat and Resene Indian Ink," says Bev.
All of Bev's wood art uses renewable or recycled timber and she's found that, as her wood working skills have improved, so has her desire to create more complex patterns. "I have introduced more colour and wallpaper sections while experimenting with different wood widths and heights, which give my wood art more texture and definition. I have also started creating different shaped pieces such as circles, triangles and works that combine art and functionality, such as side tables and shelves."
Bev says that she is inspired by the Arts & Craft movement of the early 20th century, so she knew she wanted to create something that was handmade rather than mass produced. She has also become interested in quilt and barn patterns as well as tribal art, which she says influences her designs.
Out of her entire portfolio, Bev's personal favourite piece is a 60cm-diameter circle called Kensington. "It has simple geometric lines, varying wood widths, and a monochrome colour scheme which is classic and striking. The wood was recycled from a building site and has lots of grains and knots and the timber has a rich warm colour," says Bev.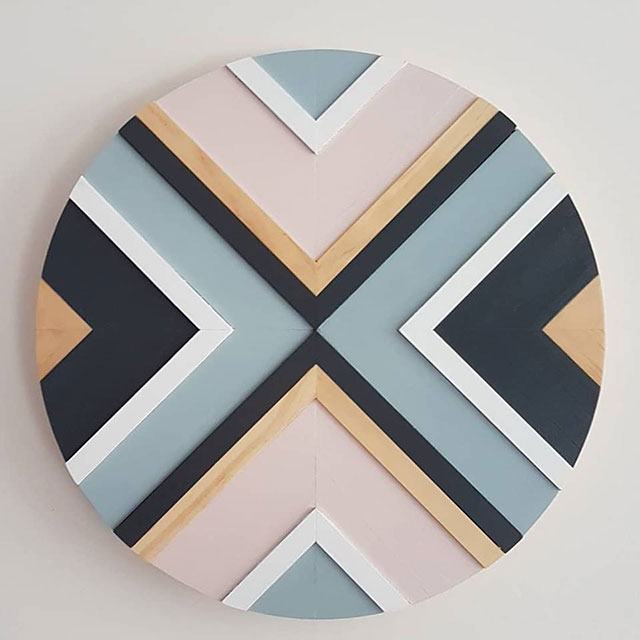 Chatsworth Road's Baby Kensington Blue design is Bev's personal favourite. It was inspired by the soft natural colours used in Scandinavian design, which Bev interpreted through Resene Ziggurat, Resene Indian Ink, Resene Blanched Pink and Resene Black White.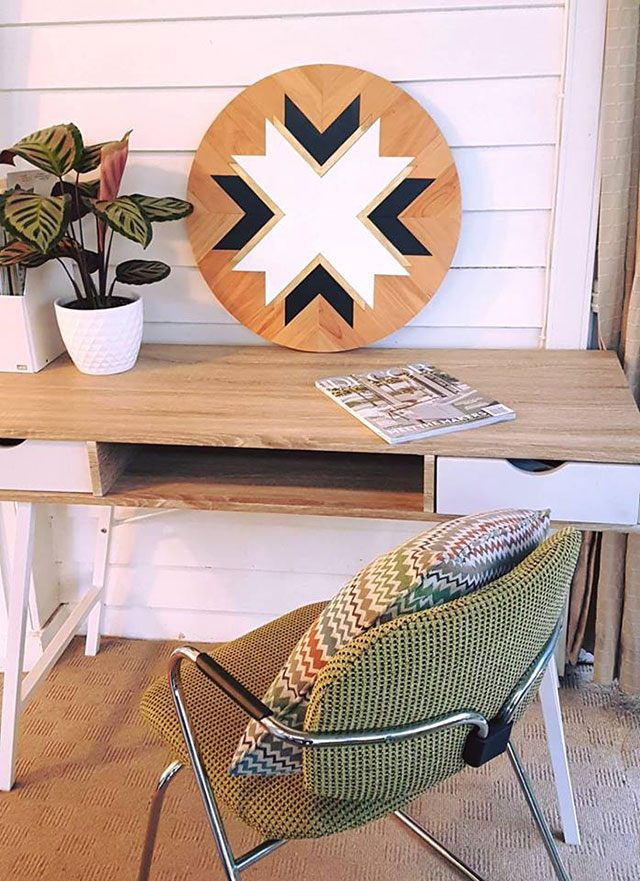 Bev's Camden piece can be hung two different ways, and its monochromatic scheme was created using Resene Nero and Resene Black White.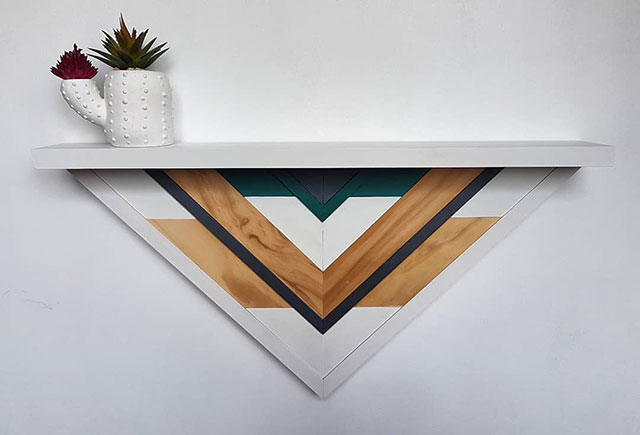 A mixture of art and function, Chatsworth Road's triangular Croyden shelf is hand painted with Resene Black White, Resene Grey Friars and Resene Deep Teal. At 45mm deep, it's wide enough to hold small objects like candles, cacti or other light ornaments.
You can find more of Bev's work on her website, Facebook and Instagram.
images Bev Mossup