►
◄
latest
habitat tv
blog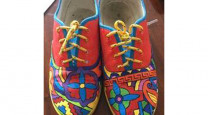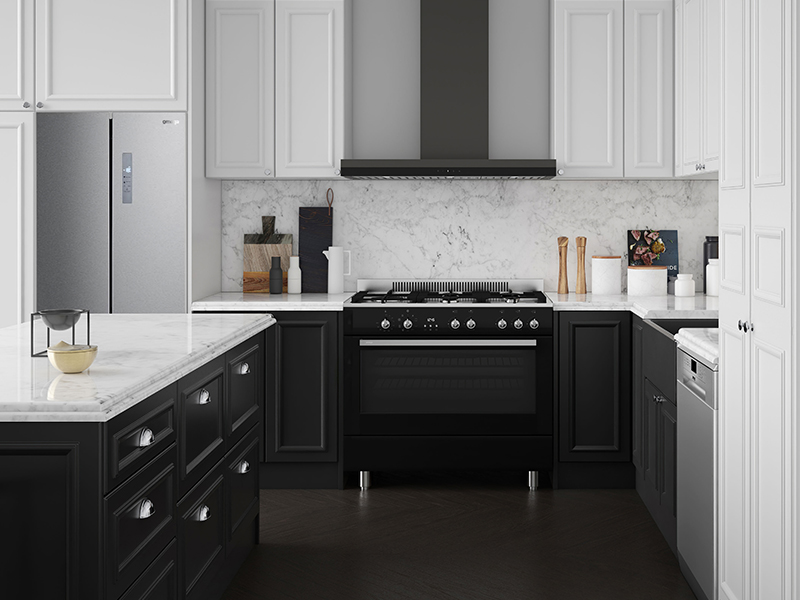 The key ingredients for designing the most efficient kitchen ever
16 Sep 2020
A kitchen can be a busy place. For some, it's not only the area where you prepare meals but also a study space, home office or party central when you're entertaining. Because it's such a multipurpose hub, you're going to want to optimise it to keep foot traffic and progress on each of those tasks flowing smoothly.
Whether you're undertaking a total renovation, planning a new build or just tweaking your current set up, here are a few key considerations which will ensure you get the most out of your kitchen.
Consider your layout carefully
The kitchen is the heart of the home, so it needs to be a space that meets the needs of your lifestyle and also suits your personality. How you organise your layout will be largely dependent on how much room you have to play with and the floorplan of your home, but you should also think carefully about how you will actually use your kitchen beyond just cooking.
Are you a big entertainer who needs integrated seating for friends and plenty of bench space? Do you want a large kitchen island that can double as a multipurpose workspace and homework station? Do you want storage close to hand or would you prefer to have a separate scullery and keep your main space clutter free? Do you want an open-space layout that features a L-shaped or galley design? Whatever your requirements, there are some practicalities that will ensure a smooth workflow.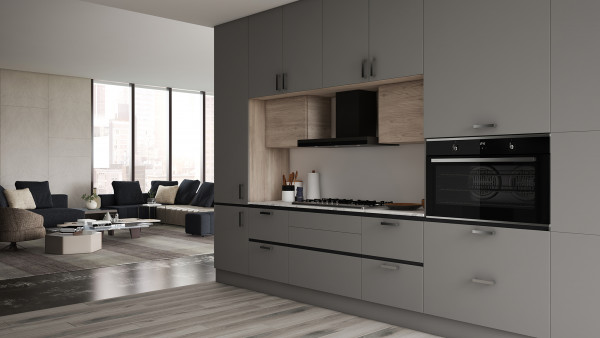 Make a feature of the Omega 90cm slim box canopy rangehood by reflecting the colour tone elsewhere in the room. Complete the contemporary look with walls in Resene Eighth Thorndon Cream and cabinets in Resene Half Chicago.
Efficient kitchens are filled with clever triangles
When planning your kitchen layout, keep the work triangle at the top of mind. This means designing your layout so you can draw an imaginary triangle between the centre of your sink, refrigerator and stove. These three work zones are key when you're cooking, and you'll need to be able to move smoothly between them while keeping extra steps at a minimum.
While this won't work for every kitchen layout, thinking about the placement of your work zones will ensure you start off on the right foot. You can have more than one work-triangle within your space too, think about the distance between your sink, bin and dishwasher for example.
Make sure you allow ample clearance space, which is the space between an island or front bench in a galley style kitchen and your back-run of cabinetry. Leaving a metre of so will enable free and easy movement around your kitchen, with room for your sous chef (or the kids) to sneak past you.
Pick a look and stick with it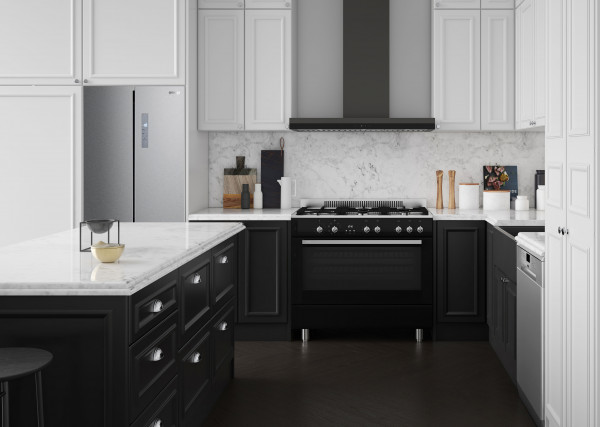 Omega appliances are right at home in this stylish monochromatic kitchen. Get this look in your home with Omega's 462L French door Fridge/Freezer, 60cm Freestanding Dishwasher, 90cm Slim Box Canopy Rangehood, 90cm 9 Function Freestanding Oven, an island and lower cabinetry in Resene Zeus and upper cabinets in Resene Merino.
Modern kitchens are far from the strictly practical spaces of yesteryear. They're the central hub of modern life and often the star of the show we celebrate special occasions at home, so a certain level of style is expected of them. To ensure you can enjoy using and looking at your kitchen every single day it's important that aesthetics and functionality work hand in hand.
The key to achieving a cohesive look is selecting appliances like range hoods and dishwashers that fit with the style of kitchen you have chosen. In a modern kitchen, streamlined appliances like the Omega 60cm Freestanding Dishwasher are high-performance time savers that will help a busy space feel clean and seamless.
Following the rule of three will also help create a harmonious visual style – incorporate the colour of your large appliance in two other places across your space to help the colour and finish connect into your kitchen. This can be as simple as a stainless steel toaster and fruit bowl on the bench to carry the sleek shiny surface across your kitchen. This tip is especially useful if you choose a showpiece appliance that injects its own personality into the space.
Monochrome kitchens are particularly fashionable at the moment, especially those that feature a black colour scheme. This popularity is no surprise, showcasing one colour gives kitchens a sophisticated look and you can add interest by using different textures or variations of the same colour to help build a tone-on-tone palette. Your appliances can play a role here, too. The Omega 90cm Slim Box Canopy Rangehood features a black stainless steel finish that will add a striking element to a monochrome kitchen design.
Choose your appliances that blend style and functionality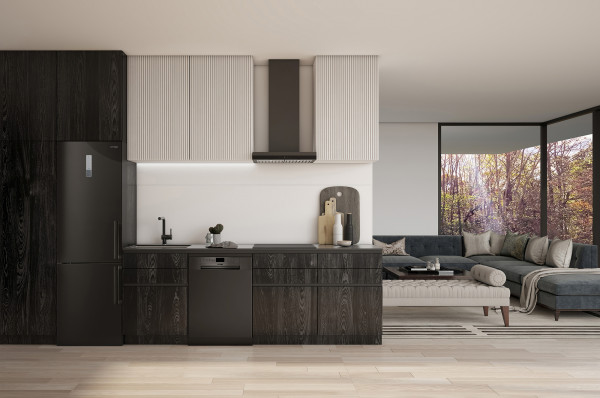 With some clever planning your kitchen can be visually stunning without compromising efficiency. This cabinetry showcases the grain of the wood while tying in with the Omega Bottom Mount Fridge Freezer, 60cm Freestanding Dishwasher and 60cm Slim Box Canopy Rangehood. Using a cohesive look throughout the kitchen will help keep the area looking tidy. Get the look with Resene Colorwood Sheer Black on cabinetry, flooring in Resene Colorwood Whitewash and team with walls in Resene White Pointer.
Along with your design, colour scheme and cabinetry, your appliances play a crucial part in the overall feel of your kitchen. A layout meticulously designed to maximise efficiency won't make a difference if your appliances can't keep up with your demands in the kitchen. However, you don't want purely functional workhorses on display, either. When appliances are on show – as they often are in modern open-plan kitchens – you'll want to balance elegant design with family functionality.
When it's time to take your kitchen to the next level, you're going to want to complete it with appliances that balance elegant aesthetics with unchallenged efficiency. The Omega 90cm 9 Function Freestanding Oven is a beautifully designed showpiece that features both black glass and stainless steel. With 5 burners, including a lateral wok burner and a four-year parts and labour warranty, it's the ideal choice for those wanting something as pleasing to admire as it is to operate.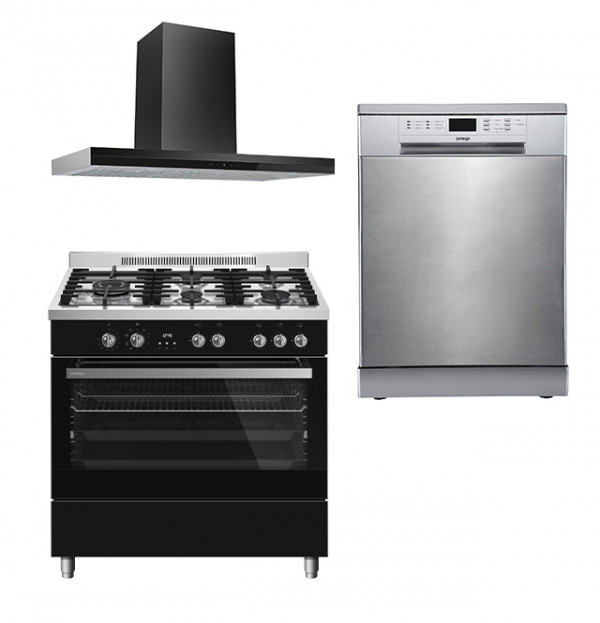 Attention to detail is a major contributor to the efficiency of your kitchen, and excellence in both form and function is the ethos that underpins every Omega Appliance. Clockwise from top left: 90cm Slim Box Canopy Rangehood, 60cm Freestanding Dishwasher and 90cm 9 Function Freestanding Oven.
Article prepared for Omega Appliances.
View Omega's full range at omegaappliances.co.nz Available exclusively at Mitre 10.