►
◄
latest
habitat tv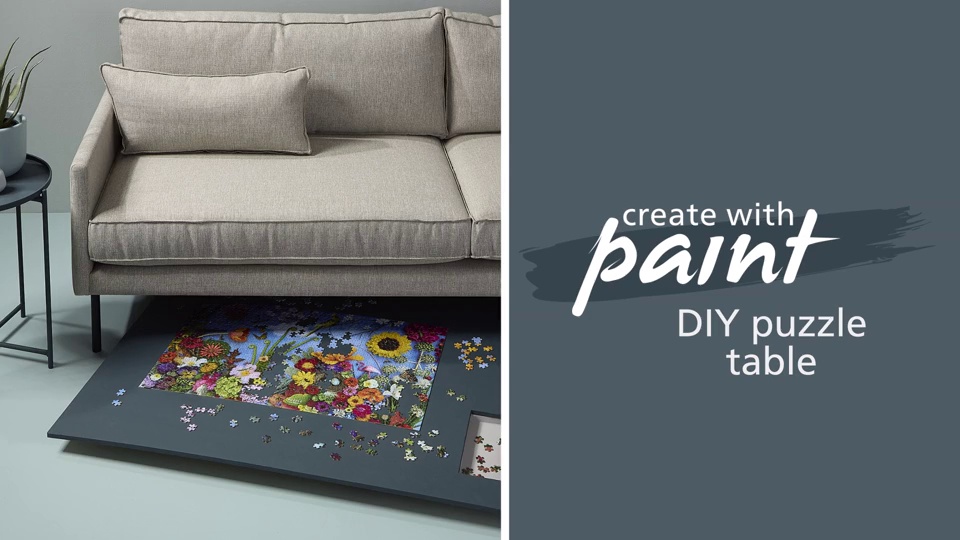 blog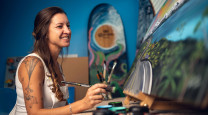 Boh's boutique of colour
22 Nov 2017
With a delightful colourful scheme of candy pinks and teal blue, it's hard not to fall in love with Boh Runga's new Auckland 'Bohtique'.
The jewellery designer and singer-songwriter recently opened the doors to her first boutique on Ponsonby's Road last month, filling the candy coloured counter with her Boh Runga jewellery range, a collection of more than 200 gold and silver pieces.
The store will also be host to bespoke, catered jewellery parties hosted by Boh, as well as other fun projects that she has planned.
Boh tells us about her colour inspiration.
What are your favourite Resene colours and why?
We used my favourite colours Resene Vanilla Ice and Resene Gelato for the custom jewellery counter, made by Dylan Law Designs. It gives the feeling of being seated at a bar/ice cream parlour... the colours perfectly reflect that.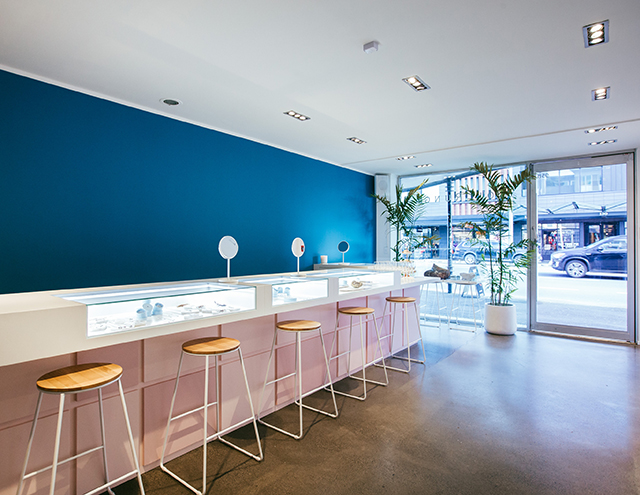 Behind the counter, we have a feature teal wall in Resene Dauntless. It has a hypnotic effect on people – I've had so many people comment on how they are drawn to staring at it.
Our #tinystage (a tiny stage we built to have tiny events in store) is also in Resene Dauntless, the perfect colour for all our upcoming showcases and gigs.
Is there a colour you'd never use in your own home?
I share my home with my partner who has his own painting contracting company so he has strong opinions on what colours he wants to live with. I tried to introduce baby blue blankets for the dog beds and that went down like the Titanic.
I have snuck in a cushion in a very pale blue, though. It's a no go for anything bright bar the artwork and collectibles we have.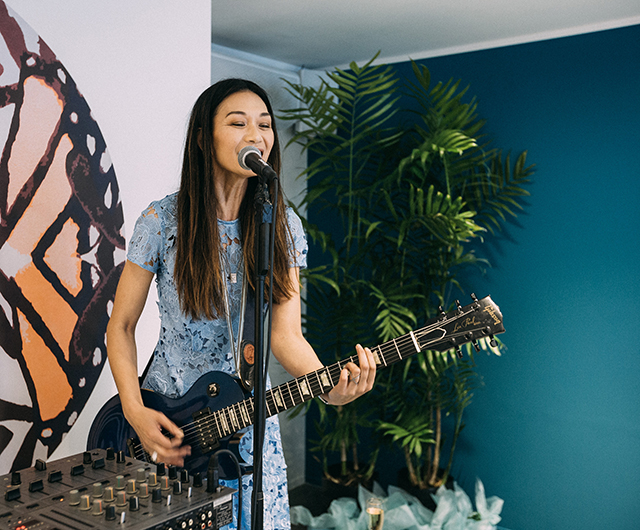 Boh Runga playing on the #tinystage in her Auckland boutique.
How do you incorporate colour in your jewellery?
The pendants in my Treating Cards, which resemble an exclamation mark, feature gemstones in emerald, pink tourmaline, aquamarine, citrine and topaz. It's a lovely pop of colour to wear.
One of my most popular designs is A Drop in the Ocean, which has blue topaz set in sterling silver. That blue is a favourite of mine.
What trends are you keen on right now, whether they are fashion, music, interiors or accessory trends?
I am loving rose-gold for us to wear in the store, married with pale blues and neutral tones. Personally though, I wear a lot of jumpsuits and dungarees. I look like a pastel mechanic a lot.
In terms of music, I listen to anything with electric guitars most of time but my music playlist is very eclectic.
I'm not able to buy any more furniture as I already have a lock up full of things I can't bear to part with that I have no room for… but if I was going to and I had the budget I would add to my Mid-Century rosewood pieces that I already have.
Published: 22 Nov 2017