►
◄
latest
habitat tv
blog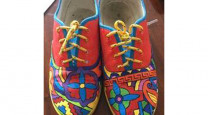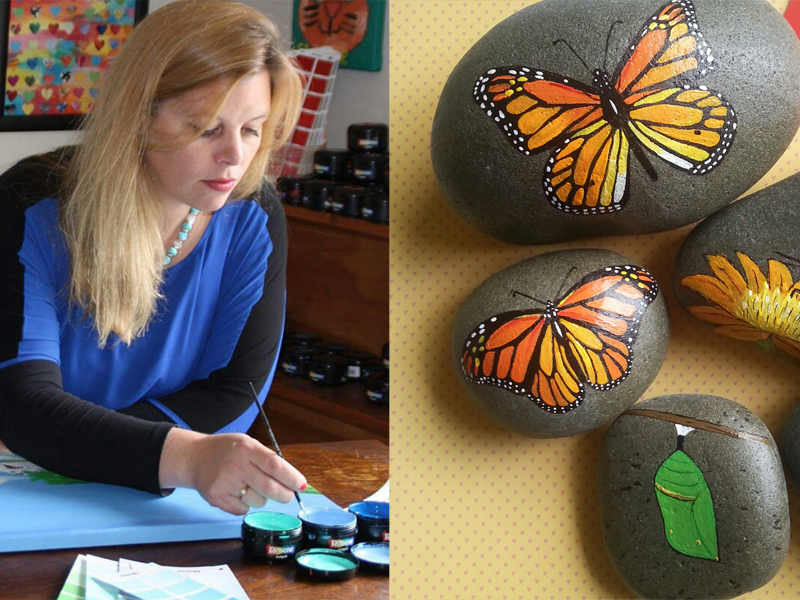 Bronwyn rocks on through a rough patch
25 May 2017
Artist and mother of four Bronwyn Bateman was spurred into making art a priority in her life after her son was diagnosed with a serious medical condition, just a week after his third birthday.
Tell us a bit about yourself and your work.
On one of the many trips to Ronald McDonald House near Wellington Hospital and after taking indefinite leave from my part-time teaching job, I looked around all the beautiful donated artworks and decided that art was my way forward… and a way to gain some balance from the stress of our son's situation.
I organised and hosted a school art exhibition and started painting rocks with my children as part of the 'Palmy Rocks' craze, which Heather Knox had introduced to Palmerston North. The initiative is simple – you simply paint a rock then release it in a park and leave it up to the universe for it to find a new home. Once someone finds the rock they can choose to keep it or rehide it – there are no rules.
I also joined the Manawatu-based charitable 'Kind Hearts Movement's Birthday Challenge', pledging to provide free painted rocks until my 40th birthday in mid May. I began to receive orders from throughout New Zealand – up to 90 in one week.
So far I have sent rocks all over the country. My furthest travelled rock was a fire truck rock that featured on the top table at the wedding of two fire fighters in Rarotonga. Many people comment that they could never afford to purchase an original hand painted artwork but that is how they view my rocks. I have plans to expand my range of work and return to an old favourite of painting on plywood later in the year.
How has the style of your pieces evolved?
I think painting on rocks has allowed me to loosen up. Rocks are freely available so I can experiment with different techniques and styles without any financial risk. Knowing that the 'Palmy Rocks' are to be released into a public park means I don't have to worry about the result – the aim is to share art and kindness, not achieve gallery standard perfection. Aside from the random requests that I receive each day, I paint whatever I feel like or whatever my children request. I am often led by the shape of the rock in front of me.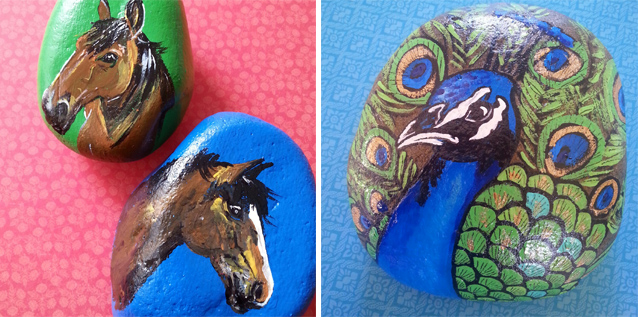 What has influenced your work?
I have always had a passion for bright colours. When I am painting for children I tend to incorporate more sparkle and magic by using Resene metallic paints – they certainly add something special to the overall result. The Manawatu provides a beautiful landscape and I am often inspired by the windmills and ranges, the flowers and birds in our public gardens and by the colours and sights around us. I have spent my life holidaying at Hot Water Beach on the Coromandel and the glorious beaches and landscapes up there can't help but leave you feeling inspired.
How do you incorporate Resene products and paint into your work?
I love Resene paints. The range of colours, the consistency of the paint quality and the affordability of the testpots means they have been the perfect solution for me. When my older children were younger I painted portraits of them with cheap student acrylic paints which were not UV stable. Over time I watched the portraits fade away. I know that whatever I produce with Resene paints will be a quality finished piece that I can trust. I have worked on murals, props for trade shows and school productions, painted canvasses and now rocks and with all of them Resene paints have been my go-to product.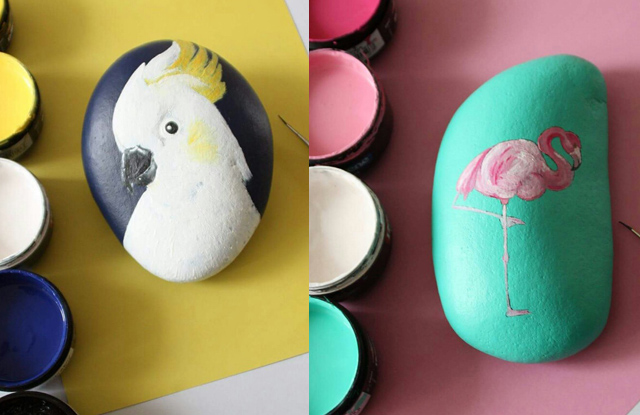 Do you have a favourite piece?
My current favourite rock is a peacock. Peacocks are such beautiful creatures, with their glorious colours and impressive feathers; they have always intrigued me. I also like my cockatoo rock based on the mischievous birds at the local park. Other than the birds, I do like some of my recent monarch butterfly rocks – they have proven very popular.
And a favourite colour?
This is the question I am asked the most by young students. Colours convey so much and as a creative person I really do love them all! Resene KidzColour is my favourite range – I love the bright bolds and the shiny metallics. In our last house I painted every room a different colour and loved the energy and vibrancy of being surrounded by such a bright environment. Our current house was painted floor to ceiling beige-on-beige so I'm having fun looking at Resene paint charts trying to narrow down my selection for our new interior scheme – too many choices is a good problem to have. I love the fact that the Resene testpots allow me to try new colours and create new colour schemes without a large financial commitment. I have a growing personal collection of around 150 pots – they make me happy and it's an addictive collection to start.
For more about Bronwyn, see her Facebook and Instagram pages.