►
◄
latest
habitat tv
blog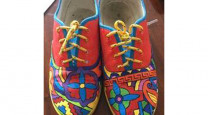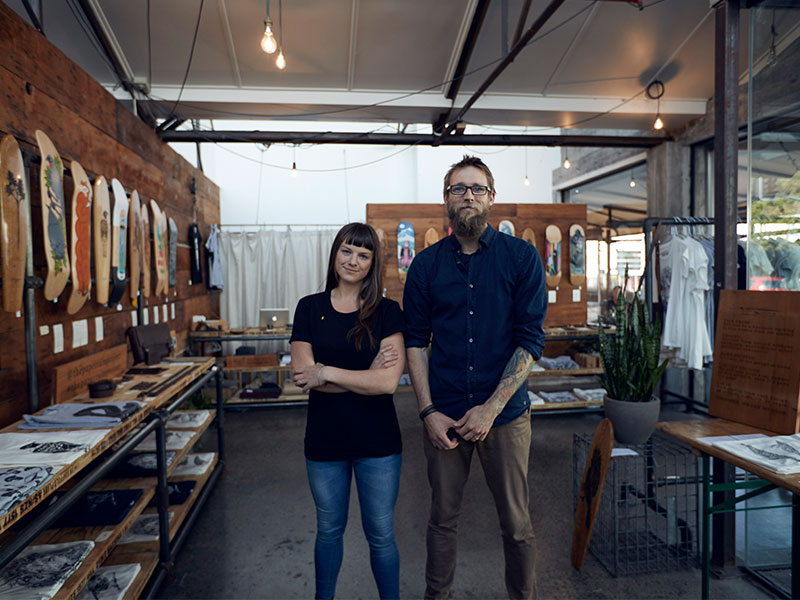 Colourful for a cause
31 Jan 2019
Local, recycled and painted in bright Resene colours – just a few of the reasons why these stunning artwork boards by The Paper Rain Project stand out from the crowd.
Created by Indigo Greenlaw and Wills Rowe, founders of The Paper Rain Project, the boards have become an extension of the duo's passion for recycling, conservation and sustainability, along with a range of other eco-conscious and fair-trade wares, from t-shirts to tote bags.
The idea behind The Paper Rain Project is to create a range of high quality, fair-trade/locally sourced art goods, "which help people to learn more about supply chain," says Indigo. This includes charities that the business donates a portion of profits per artwork to.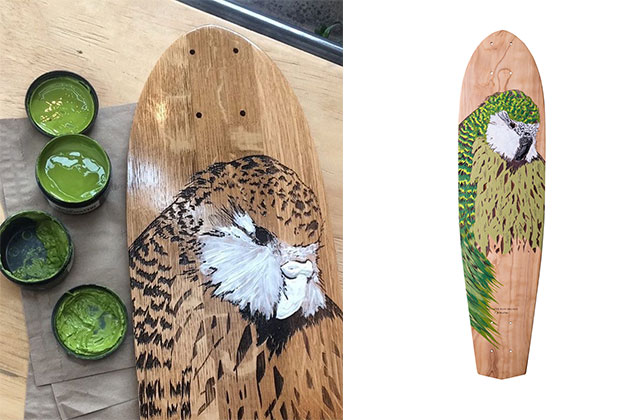 One of Indigo's kakapo artwork boards, part of a series to raise awareness and money for a threatened species. The artist creates these colourful works using Resene testpots.
The story of the boards themselves harks back to Indigo's time as an art student, when she would paint surf longboards for friends. When she and Wills met, they expanded this by making artwork boards from recycled wine barrels and locally grown macrocarpa. Using Resene paints to illustrate the boards was a natural fit.
Indigo's relationship with Resene paints also stretches back to her days as a student. "I always loved the colours available and, as a student, found the testpots an affordable way to get a good quality paint in a wide range of shades."
She also loves that Resene has Environmental Choice paints and that "I can return my used pots and any unused paint to be recycled," she says.
Colour is a crucially important element in creating the art boards and other Paper Rain designs, making sure they stand out from others on the market. Indigo uses a unique mixture of laser etching, modelling compound, gold leaf and Resene paint.
She recently used Resene to hand paint a series of k?k?p? board artworks, each named after a real k?k?p?.
"We have one of the fastest declining rates of native species in the world and our birds can do with all the help they can get," says Indigo. "I hand paint each board, limiting each bird series to their living numbers. We donate a portion of profits from each board sale towards their recovery programmes."
There's no such threat of extinction for The Paper Rain Project with last year being their busiest yet, including shops in Auckland, Wellington and Queenstown. As Indigo says: "Over the years, with many hands and guest artists on board, we have made it what it is today."