►
◄
latest
habitat tv
blog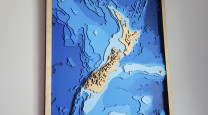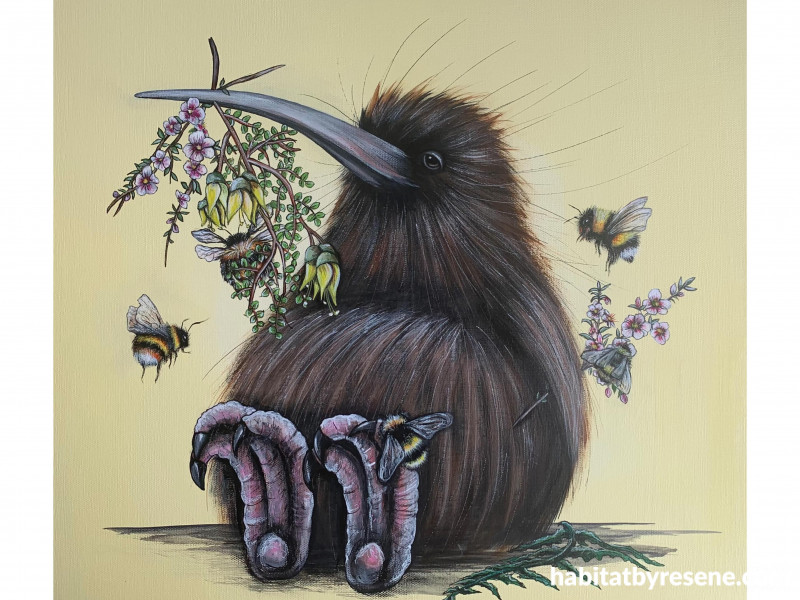 Dannika Tukua: Painting New Zealand's beauty
14 Nov 2023
Dannika Tukua is a Kiwi artist with a unique flair, blending her love for the New Zealand environment and its charismatic creatures with a dash of nostalgia from her childhood. Her artwork uses Resene paints as a vibrant celebration of local beauty and culture, a quirky and original tribute that aims to make you chuckle, reminisce, and above all, appreciate the wonderful world around us.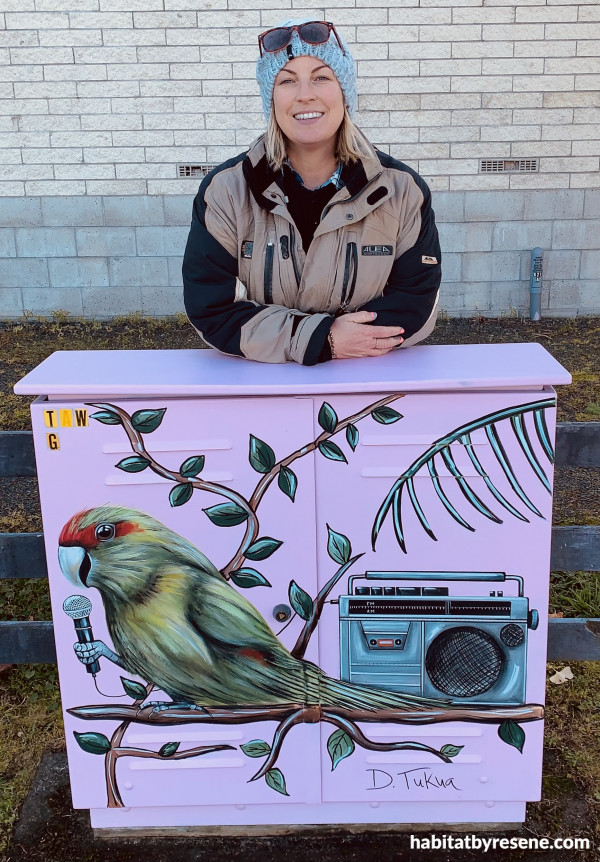 Dannika with her 'Kakariki Karaoke' Chorus box, painted in Resene Chelsea Cucumber, Resene Bilbao, Resene Bush, Resene Galliano, Resene Princess, Resene Black, Resene White and Resene Parsley.
Dannika's journey as an artist and entrepreneur is as inspiring as her art. It all began after a life-altering event when she had a heart attack due to a spontaneous coronary artery dissection. Dannika and her husband were told they couldn't have any more children, and this experience became a turning point in her life.
Her artistic adventure kicked off when she painted a Kākāpō with a red balloon, had prints made, and found that people wanted to buy them. "It was like a dream come true!" Dannika says. Today, she sells her prints all over New Zealand and Australia.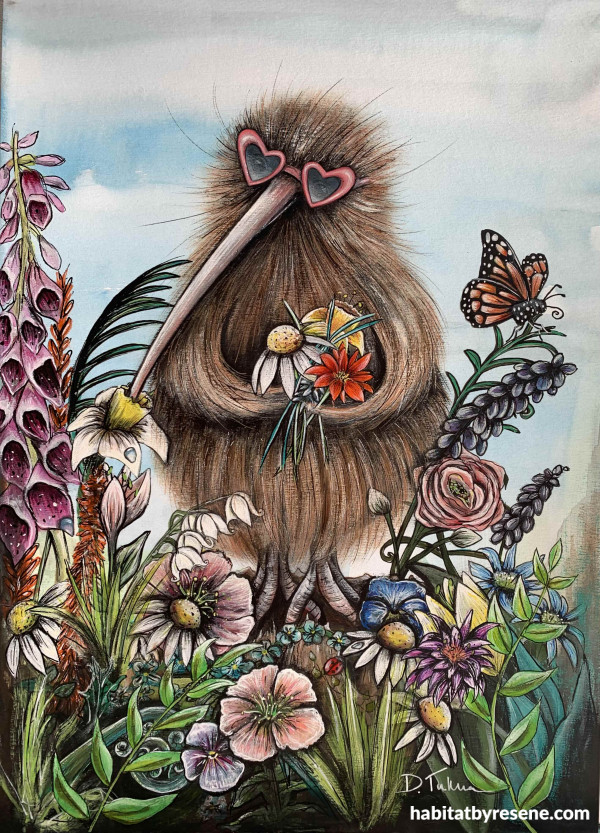 'Stop and Smell the Flowers' painted in a range of spring Resene shades.
Art, Dannika says, is her happy place and her therapy. She relishes the challenge of running her own business while doing what she loves every day. Her journey is a testament to the transformative power of passion and determination.
Dannika draws inspiration from her surroundings, but her childhood memories are the wellspring of her creativity. The '80s and '90s were her formative years, and they left an indelible mark on her art. Much of her work is heartfelt, mirroring her emotions at the time or representing causes she feels strongly about.
"Sometimes I will see something that sparks a creative idea or brings back a memory," Dannika says. "I go home and quickly write it down, then stay up all night painting!"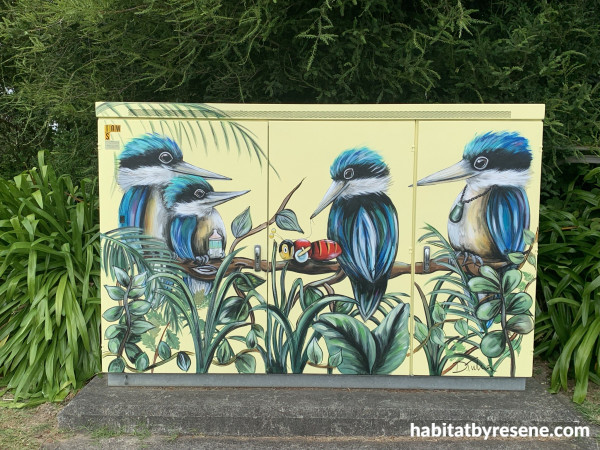 Dannika's 'Kōtare Family' Chorus box is painted in Resene Galliano, Resene Blue Lagoon, Resene Tory Blue, Resene Yes Please, Resene Picton Blue, Resene Space Cadet, Resene Niagara, Resene Milk Chocolate, Resene Swiss Caramel, Resene Subzero and Resene West Side.
What sets Dannika's artwork apart is her choice of materials. "Initially, I used Resene paint as it was part of the criteria of painting Chorus phone boxes, and I soon learned why," Dannika says. "The quality of the paint is outstanding. I love the pastel options, and the colour range is amazing! The staff at Resene in Te Awamutu are wonderful and full of knowledge."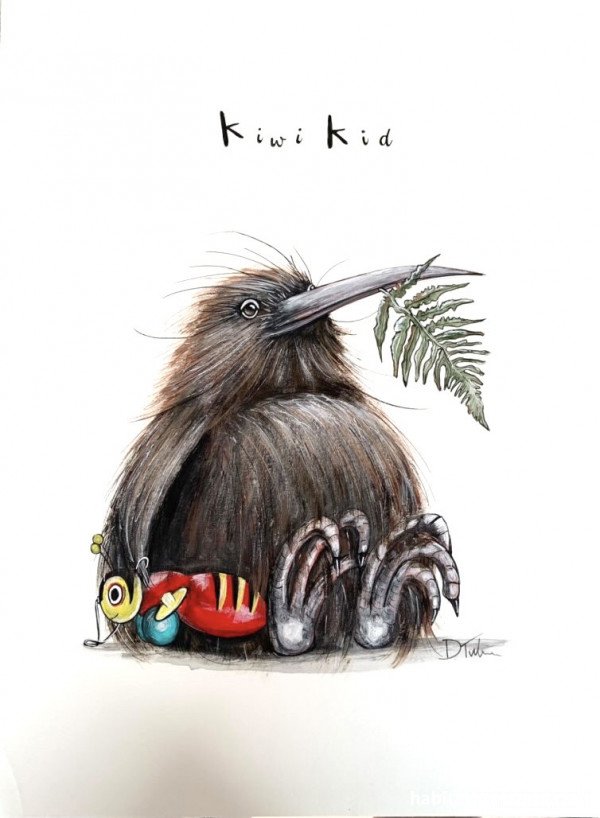 'Kiwi Kid' is painted in a range of New Zealand inspired Resene paint colours.
Dannika is an artist with a heart of gold. Her art business isn't just about making money, it's a platform for giving back to her community. Her life's experiences have taught her the importance of helping others, caring for each other, and providing support where needed. Through her art, she supports and donates to charities and worthy causes, brightening up their workspace and serving as a reminder of the value of their work in the community.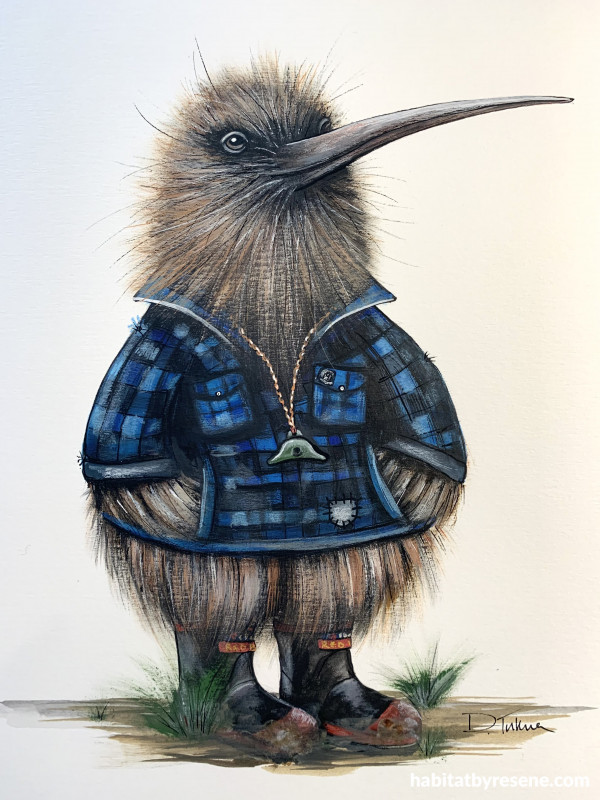 'Kev the Kiwi' is painted in Resene Blue Lagoon, Resene Tory Blue, Resene Yes Please, Resene Picton Blue, Resene Space Cadet, Resene Niagara, Resene Milk Chocolate, Resene West Side, Resene Swiss Caramel, Resene Subzero and Resene Roadster.
One of Dannika's favourite pieces is 'Kev the Kiwi', a charming representation of everyday Kiwis who love their Red Bands and Swannies. It's a tribute to the quintessential New Zealander, and it's easy to see why it holds a special place in her heart.
When asked about her favourite Resene colours, Dannika chose Resene Princess and Resene Blue Lagoon. She loves bright colours for the way they complement and make other colours 'pop' in her artwork.
To experience Dannika's colourful world and the whimsical beauty of her artwork, visit her website, www.artbydannikatukua.org.
Published: 14 Nov 2023