►
◄
latest
habitat tv
blog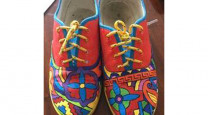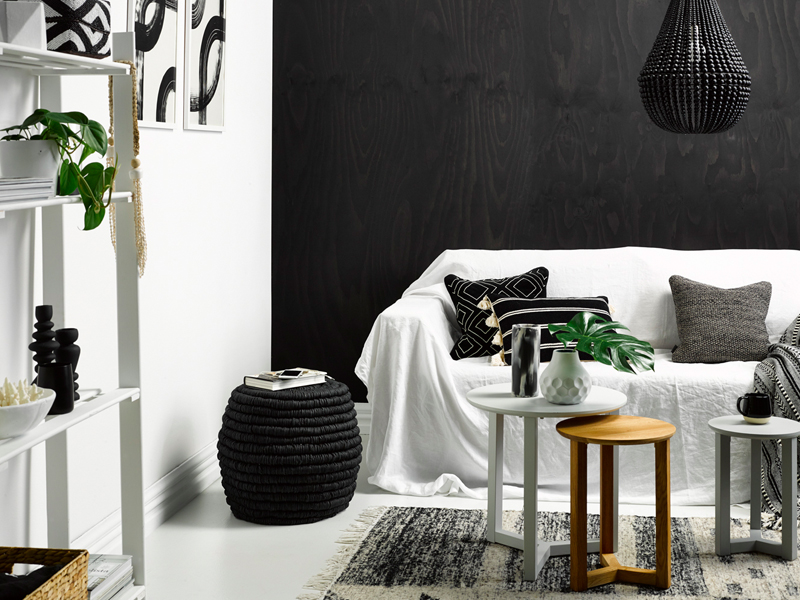 Design tricks that add dollars
05 Apr 2018
None of us like to think that our interiors look, well, cheap… Like we've only shopped at the local budget home décor outlet. Here's how to make your place look expensive, without spending much money.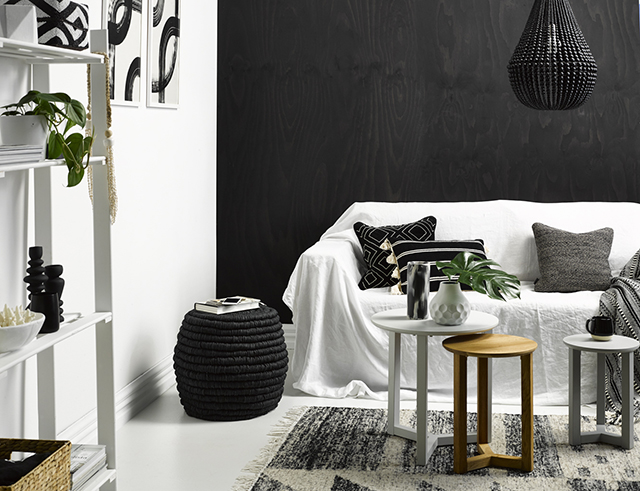 1. Pick timeless over trends for your mainstay pieces and surfaces. Trying to stay up with the fashions might lead to ill-considered and rushed choices. Once you have decided on more timeless styles and colours for the major items, you can then have fun adding fashion pieces.
Choose a classic sofa, but refresh your cushions. Use a classic neutral paint colour for most of your walls but know that it's relatively cheap and easy to repaint a bedroom, a hallway or a feature wall. This living room has been painted in Resene Alabaster with a plywood feature wall stained in Resene Colorwood Pitch Black. The floor is painted in Resene Quarter Atmosphere.
Photography by Melanie Jenkins, styled by Claudia Kozub.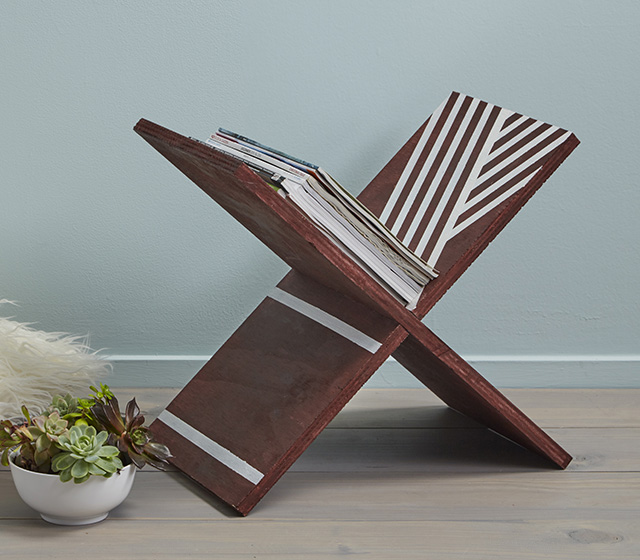 2. Choose something handmade. Artisan, organic-looking and handmade objects are gaining in popularity as we spurn the idea of mass-produced pieces that everyone else will have. It may not be the offerings from your first pottery class, but check out our rich resource of easy DIY projects for inspiration – see www.habitatbyresene.co.nz/habitattv.
3. Study the stylists. Here at Habitat by Resene we use a team of clever stylists who know how to put a room together so that it looks elegant and so you can achieve it at home.
They often use a limited palette of colour so that the space looks cohesive, and work in groupings of three – three cushions on the sofa set to one end or three items that are dark blue like a feature wall, a cushion and a vase.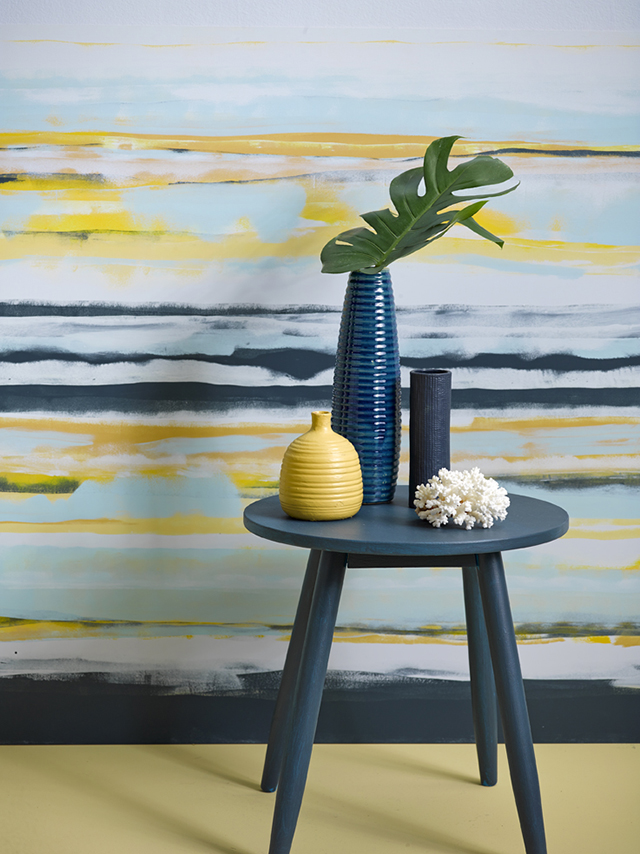 4. Turn a cheap second-hand item into a cool looking piece by using paint. An old sideboard can become a chic glossy black addition to your room – use Resene Enamacryl for the best results. Or a vase that's an out-dated colour but a nice shape, can be transformed with paint. See our DIY projects for inspiration.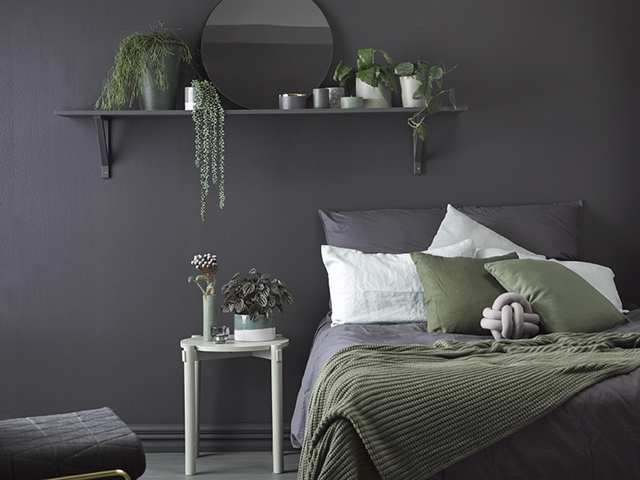 5. Use dark paint colours in a matte finish. Dark rich colours can look very sophisticated, and if you use Resene SpaceCote Flat, you'll get a velvety luxe finish. The walls in this bedroom are painted in Resene Nocturnal and the floors are painted in Resene Viktor.
Photography by Wendy Fenwick. Styling by Vanessa Nouwens.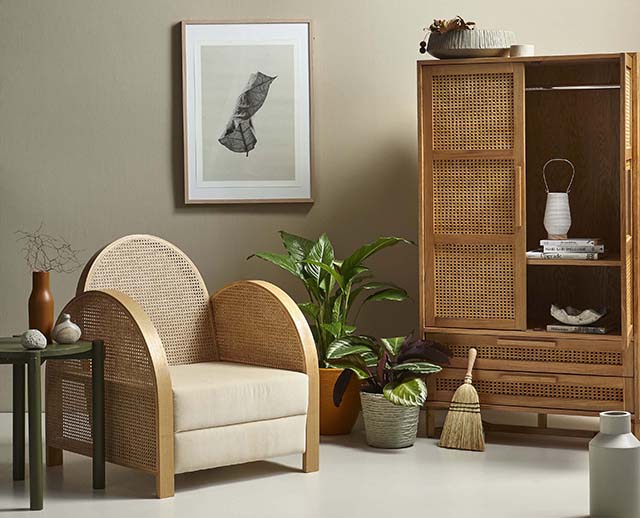 6. Take advantage of the cheaper art options available – art and books always make a home look not only more lived in but the owner look more educated. Buy a print online and put it into a second-hand or cheap frame. Paint the frame to give it a lift.
This stunning art is a $75 print from Paper Plane, in a $79 frame from Factory Frames. The walls are painted in Resene Double Sisal, the floor is in Resene Parchment, the side table is Resene Scrub and the jug is Resene Korma.
Photography by Wendy Fenwick, styling by Gem Adams.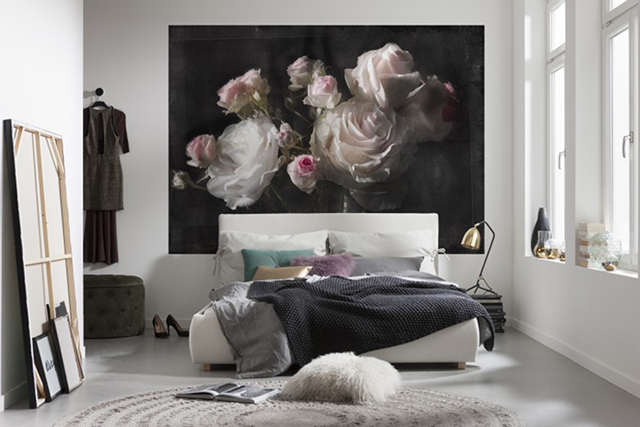 7. Use an elegant or eye-catching wallpaper. There are plenty to choose from the Resene Wallpaper Collection including this one, pattern 4-876.
8. In the evenings, keep the lights low or use table lights to create pools of light. This is a particularly good trick if you want to hide slightly shabby furnishings.
9. Lastly, take full advantage of the many homeware stores that are selling great looking pieces for reasonable prices. Keep an eye out for end of season or end of line options. Keep in mind that if the style of the piece is right you can redecorate it with paint to bring it into your colour scheme.