►
◄
latest
habitat tv
blog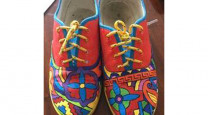 Diary of a renovation: the exterior colours
04 Feb 2016
The debate raged on and on. Did the exterior of the house need two colours or one? We just couldn't decide.
The original 1970s house had been clad in lumpy stucco, which is very hard to match if you're doing additions, and although it was water-tight, it tainted the home with leaky building syndrome. So Ian and I had chosen to reclad the entire house in weatherboard. To add some visual interest and help sort out the steep gable and lean-to shapes of the original house, we had chosen to 'frame' it in a product called Rockcote.
Our design used the standard width of the panel, which is 600mm, as a frame. It results, we hope, in a contemporary look with a faint rural aesthetic.
Deciding on how to use the two types of cladding was the easy bit. Then we had to figure out what colour to paint them. The perspectives on the working drawings had shown the weatherboards as dingy brown and the panels as a darker dingy brown. Yuck.
We tried to envisage pale greys, but thought that might look too sombre. Green-edged whites. No. Pale grey-blues. No. Whether I was motivated by frustration or simply wanted an easy way out of the dilemma, one day I said to Ian: "Let's just paint the whole thing off-white?" The more I thought about the idea of a crisp white-on-white scheme that allowed the different shapes and textures to show, married with soft silver joinery, the more I liked the idea.
Ian wasn't convinced. I had to pull rank as someone who had worked with Resene colour for years (albeit as just an editor). Resene colour consultant Nikki Morris could see where I was coming from, and added the clever suggestion of painting the new weatherboards in a gloss finish, and the rendered Rockcote panels in matte.
I chose Resene Sea Fog for its subtle hint of grey. It's a colour I have seen used beautifully in both interiors and on exteriors and like many Resene neutrals it subtly changes depending on the light. On an overcast day (when the photo was taken), it's a warm ivory, and on a blue-sky day it's misty white. I love the result, and Ian has begrudgingly accepted that it looks pretty sharp.
Not everyone agrees. As the Rockcote installer from Plaster Constructions Ltd left the other day, he stopped, glanced up at the house and said: "Should have been two colours." I restrained from hitting him with my fandeck.
What do you think… if you can see past the bulldozed mess on site and the taped-up windows?