►
◄
latest
habitat tv
blog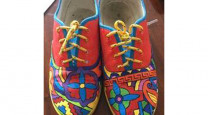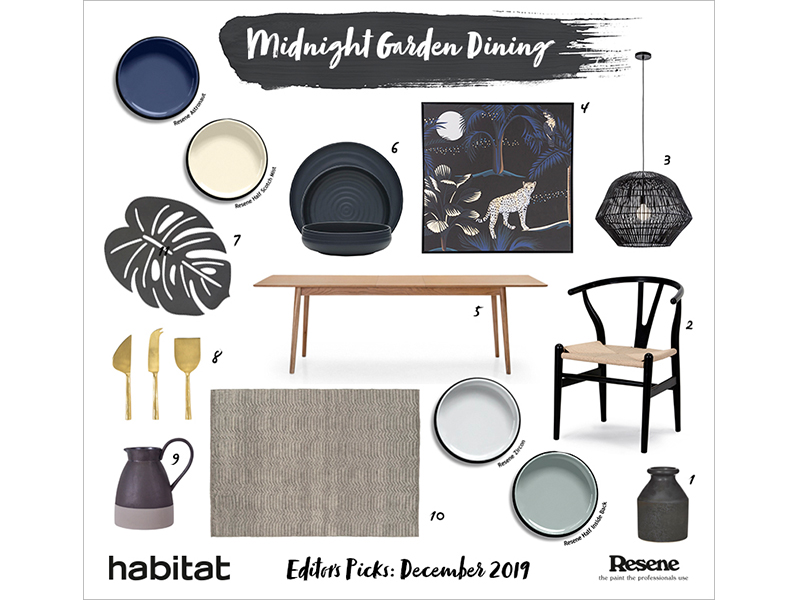 Editor's Picks: A dining room that'll take you from day to night
05 Dec 2019
Now that December is here, I'm sure I'm not the only one who is hard pressed to find an evening between now and the end of the year that hasn't already been booked to the brim with social engagements.
While it can sometimes be hard to see past the rush and ruckus of Christmas preparations until the holidays have finally wound themselves down, it's actually those long summer dinners in January that I find myself looking forward to the most. There are few things better than gathering with close friends and family in a dining space where everyone feels comfortable and at ease enough that the conversation flows well past our usual bedtimes. This month's Editor's Picks collage was created with those long nights of laughter and good company in mind.
Just like a great friendship, a great space starts with a solid base. Resene Half Inside Back is an ideal wall colour for just about any room. It's a classic and restful hue reminiscent of sea glass that lends itself well to a whole range of accent colours. And, being of mid-range value, it's easy to bring in both lighter and darker colours for contrast. Resene Zircon, an iced blue white that has something of a translucent quality to it has become a new favourite of mine for use as a floor colour. Together, these two hues will make a fantastic foundation for an indoor-outdoor dining space that you'll love for years to come.
The key furnishings, too, have been picked for the timelessness of their shapes. The Wishbone Chair, a replica of the one designed by Hans Wegner in 1949, is light and sculptural and surprisingly comfortable. I am personally a fan of it in the black and natural colour combo as I find the dark back and legs add an extra a bit of elegance and you'll never have a hard time finding black accents that'll look gorgeous alongside them. Pair your chairs with an extendable dining table like this one from Me & My Trend and you'll always be ready to accommodate when a few extra guests show up. Invest in a classic rug – one that's soft on the feet – and simple stoneware in a solid colour that will allow your home-cooked food to shine.
The real fun comes in when you start adding in more graphic elements: the cheetah artwork, monstera placemats and the black rattan pendant lamp. While each leans more towards trendy rather than timeless, they're quick and easy to swap out if your tastes change. Paint a few accessories such as a couple of tall vases or a decorative platter in Resene Astronaut and Resene Half Scotch Mist, which reflect the colours of the cheetah and palm leaves in the artwork, to help bring those hues off the wall and into the rest of the room. Don't forget to keep some candles close at hand for when you and your party are looking for a bit of mood lighting after night falls.
Mood board
Paint: Resene Half Inside Back, Resene Zircon,Resene Astronaut and Resene Half Scotch Mist
1. Sallinger Vase Black, Shut the Front Door
2. Wishbone Replica Dining Chair in Black/Natural, Me & My Trend
3. Liester Ceiling Pendant, Freedom Furniture
4. Midnight Cheetah Framed Artwork, Nood
5. Sven Extendable Dining Tables in Oak, Me & My Trend
6. Berrendo 12-Piece Dinner Set, Freedom Furniture
7. Monstera Placement in Black, Nood
8. Luna Cheese Knives, Freedom Furniture
9. Collier Jug, Nood
10. Armadillo & Co Savannah Rug in Dust, The Ivy House