►
◄
latest
habitat tv
blog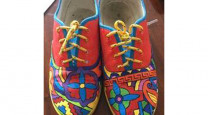 Editor's Picks: An elegant bathroom for everyday life
04 Feb 2020
Designing a bathroom that not only looks stunning but also meets your everyday needs is a challenging feat, but not an impossible one.
Like kitchens, bathrooms are 'investment rooms.' Their fixtures and finishes come with higher price tags than other rooms in your home. While bargains can be found, chances are those items aren't going to make you as happy as nicer ones that you really love – nor will they likely stand the test of time as well as pricier pieces.
While it can't be said for every décor item, you get what you pay for when it comes to bathrooms. More premium bathroom fixtures and finishes are, by and large, of better quality and have been better designed than those that can be found for cheaper. Some of the details, such as tapware that has especially smooth handle performance that allows you more control over flow and temperature (and won't lead to leaks later on down the road), aren't immediately apparently until you actually use them. But once you do, you'll be glad that you splurged. After all, you may very well only ever renovate your bathroom once, so it's worth it to get it right.
Beyond that, the most important thing you should know as you start working through your bathroom design is yourself. After all, you're the one who is going to be using it many times a day for many years to come. What is your life – or are your family's lives – actually like? What functions does your bathroom really need to serve? Do you seriously need a tub, or do you feel like you have to put one in because of something you overhead a real estate agent say once? Forget about them – this is your dream bathroom we're talking about. But for the sake of this story, let's talk about mine.
Like many of our readers, editors are busy people. I want my home to look clean but I don't have as much time to keep it that way as I'd like to. I, for one, hate cleaning grout, tubs and showers and cringe when I see water spots on my tapware. To some, tip-to-toe white and gleaming chrome might set the stage for a spa-like experience – but even the thought of maintaining something like that stresses me out.
For my dream bathroom, I would opt for matte black and anthracite finishes on everything. I would choose a black or coloured grout between the tiles and wouldn't pick a glass shower surround. Large terrazzo floor tiles means it will be harder to see dust and debris on my floor – out of sight, out of mind until I have time to deal with it – and there will be less grout to clean. A tankless toilet, too, means less surfaces that can catch dust.
For the walls that water would hit, I'd choose glossy terracotta tiles as less grime will stick to them than ones with a matte finish and they will show less of the grime that does end up sticking. But, I wouldn't cover up all my walls with tiles since painted walls are infinitely easier to keep clean. I would opt for a similar terracotta colour, such as Resene Prairie Sand offset by warm Resene Quarter Thorndon Cream on the ceiling for some levity. The drawer of the vanity, which hides away all those things that my visitors don't need to see, I'd paint it with Resene AquaLAQ tinted so that it matches the walls exactly, but I'd like the rest of the vanity surface being white for the sake of contrast and to tie it in with the ceiling and floor colours. If I needed some extra storage baskets or bins, I would paint them in Resene Nocturnal and Resene Half Tapa to pick up on the colours of the fixtures and the greys of the terrazzo.
The ability to control lighting levels in a bathroom is also important to me. I like this smoked glass pendant not only for its shape and colour but for the dramatic, moody lighting it gives off when I want to relax in the tub after a long week. However, I also need to be able to see my face properly when I'm putting make-up on it, hence why I'd select a mirror above the vanity with embedded LED lighting (plus, it has a handy little shelf built right in). The vanity itself has plenty of surface space for me to spread out all the bits and bobs I need to get ready. And, by having a basin set on top of it rather than a recessed one means I don't need to worry about accidently knocking my earrings off the counter and into the drain. I can assure you, I am as clumsy as they come.
The floor-mounted hooked bath filler? That's just pure elegance to me, and it's the kind of detail that I know I would love for years to come – so much that I would even muster the energy to sweep around it.
My top tips:
1. Match your fixtures rather than mixing colours or finishes. If you want a black tub, get a black basin, toilet and switch plates too. If you want a brushed brass shower head, get brushed brass tapware, towel bars, loo roll holder, drains and lighting.

2. Visit bathroom showrooms. See what it feels like to actually use the products you're planning on putting in your bathroom before you order them. Physically twist those faucets and climb in that tub. While it may look the part online, you might discover in person that an element of its design is a deal breaker.

3. Absolutely hire a bathroom designer – an experienced one who specialises in bathroom design and has proven success at space planning. Picking out a bathroom suite and finishes that go together is one thing, but getting those elements in exactly the right places so you are able to properly interact with them – and they are able to properly interact with each other – in akin to alchemy for the inexperienced. Ask for references, and then ask those references what they love and dislike about their bathrooms. If those references can't think of anything wrong with it, the designer probably knows their stuff.

4. Choose premium paint products meant for wet spaces to colour your bathroom. Resene SpaceCote Flat Kitchen & Bathroom combines a low sheen finish with added MoulDefender to minimise mould growth, and the anti-bacterial protection of silver to deter bacteria, providing a safer environment for occupants. Plus, it's durable and easy to clean.
Mood board
Paint: Resene Quarter Thorndon Cream, Resene Prairie Sand, Resene Half Tapa and Resene Nocturnal
1. Venice Villa terrazzo floor tiles in Pink from Tile Warehouse
2. Zellige wall tiles in Corallo from Tile Warehouse
3. Sphera Glass Pendant from Freedom Furniture
4. Buddy 300mm Wall Mount Rainhead from Plumbline
5. Buddy Three Hole Wall Mount Mixer in Matt Black from Plumbline
6. Arc Vessel Basin in Black from Plumbline
7. Quatro Zero 1200 Vanity (painted in Resene AquaLAQ tinted to Resene Prairie Sand) from Plumbline
8. Frame 600 Round LED Mirror With Shelf in Black from Plumbline
9. Ora Marble bathroom accessories from Città
10. Buddy Floor Mount Bath Spout in Matt Black from Plumbline
11. Oasis Freestanding Bath in Black from Plumbline
12. Sfera 54 Wall Hung Rimless Wall Hung Toilet in Matt Black from Plumbline