►
◄
latest
habitat tv
blog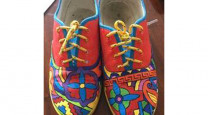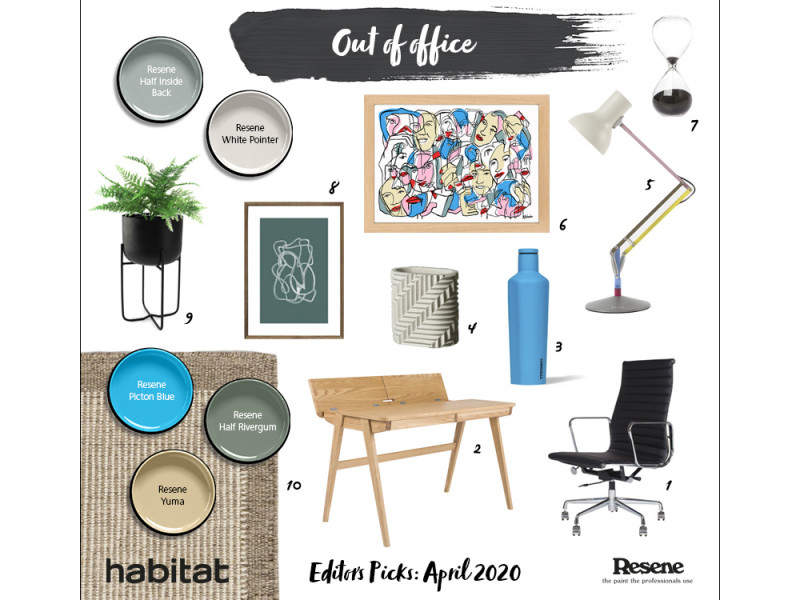 Editor's Picks: Out of office
01 Apr 2020
I'm likely not alone in my sudden realisation of how under-designed my home office space is after needing to make the swift shift to working remotely. If you're like me, a few design challenges may have made themselves immediately apparent right from Day 1. For instance, you may have realised you don't actually own a chair comfortable enough to sit in for eight hours, that your desk is not at an ergonomic height, or you have inadequate or inflexible lighting. While you might not be able to fix it right now, now's a good time to think ahead about how you can make it more workable in the future.
Finding the right furniture is going to be priority one, and making the right choice starts with having an honest look at yourself, your habits, your needs and the limitations within your space. Everybody – and every body – is different, so it's definitely best to physically test out furniture in person before you make a purchase. Then you'll know for sure if it's the right fit for you and your space.
Flexible furnishings – ones that you can adjust and manipulate – are good to look for. The Hugo Desk from Nood is ideal for its adaptability and extra leaves that fold out to provide additional surface space for when you really need to spread out. Plus, it has a built-in feature for cable management. The Replica Eames Group High Back Office Chair (also from Nood) is also adjustable – which is great not just for making sure it's the right height for you, but it also means others in your home can make it higher or lower if they need to share it.
Ensuring that your home office space has adequate lighting will help you to avoid eye fatigue. A directional task lamp is perfect on a desk as it allows you to point light exactly where you need it. I love this special edition one from Citta for its funky colours, which coordinate perfectly with those in the Overlapping Art Print by Holly Schroder from endemicworld.
A good old fashioned sand hourglass like this one from Flux Boutiqueis a great addition to a home office. Just looking at it can serve as a reminder to take a break to breathe and stretch – plus, it could actually be used to time those breaks.
Restful blue-green hues, such as Resene Half Inside Back or slightly darker Resene Half Rivergum, areperfect choices for the walls of a home office as the psychological impact of these hues can help to keep stress at a minimum. Pair either with ceilings, floors and trims in Resene White Pointer, a greyed off-white, for a sharp and contemporary look.
Fresh plants can also add a sense of calm to your space by bringing the outside in, and certain varieties can even help purify the air. Ask your local garden centre which ones would work best in your lighting conditions. Then, paint up some stylish pots for them, such as the Matt Black Plant Stand from Me & My Trend, using Resene testpots in colours that coordinate with your scheme. Tie them in to your artwork by uploading a picture of it to the free online Resene Colour Palette Generator, www.resene.com/palettegenerator, to create continuity throughout your space. Resene Picton Blue, Resene Yuma and Resene Half Rivergum are excellent complementary colours for the artwork I've chosen.
The right rug will help keep your toes toasty as the weather cools off. If your chair has castors, be sure to pick one with a tight weave like the River Wool Rug in Natural from Father Rabbitso that you can keep rolling smoothly. However, depending on your floor type, you may need a rubber or adhesive underlay beneath it to keepit flat to the ground so it doesn't get caught on your wheels or become a tripping hazard.
Finally, keep the top of your desk tidy while making sure writing utensils are always available when you need to jot down notes with a stylish pencil cup like this one from Everyday Needs,or create your own by painting an old small tin with a Resene testpot. And keep well hydrated with a water bottle in just the right hue to play off the rest of the elements in your space. This Corkcicle Canteen Drink Bottle in Neon Blue from Iko Iko is a flawless match for this room, but you can always decorate the outside of one you already own – especially to cover up any damage or scratches.
Do you have a clever office setup or project you'd like to share that's decorated with Resene? Send some snaps to [email protected]. We always love seeing your creative ideas!
Mood board
Paint colours: Resene Half Inside Back, Resene White Pointer, Resene Half Rivergum, Resene Picton Blue and Resene Yuma