►
◄
latest
habitat tv
blog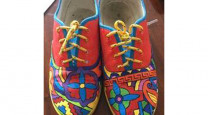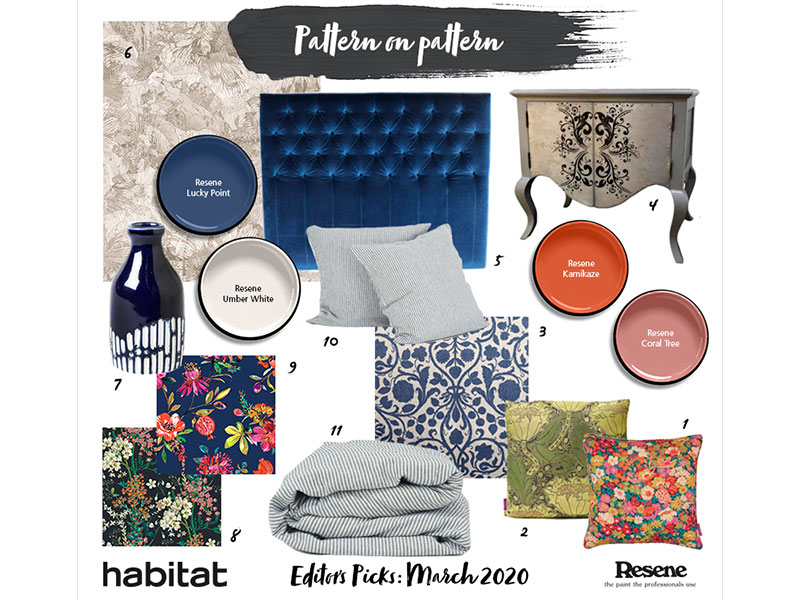 Editor's Picks: Pattern play
05 Mar 2020
Incorporating patterns into your decorating scheme can be incredibly intimidating for many people – especially if you want to mix in more than one. Whether you are a design traditionalist or a décor maverick, like most elements of interior decorating, the trick to getting it right is understanding the basic rules. Once you know the rules, you'll have the confidence to know when to break them.
In general, when layering patterns, the best strategy is to combine prints in different styles and scales – with the latter being of highest importance. While this rule isn't a strict one and can depend on the look you're going for, larger scale patterns should generally be saved for larger scale items or areas and smaller patterns should be used on smaller accessories. The most prominent and eye-catching pattern in the room, which could be a wallpaper design or perhaps a rug with a bold motif, will be the one that sets the tone for the rest of the space and act as an anchor for the design. From there, you can add in layers of complementary or contrasting patterns to boost interest within the space. Those items often include items of a smaller visual scale like accent pillows, throws, furniture and curtains.
But to really nail the look, it's best to combine patterns that have at least something in common. The simplest way to do that is to pick patterns that share colours. Luckily, wallpaper and fabric suppliers like Resene and Martha's Fabrics have something in common, too. More often than not, curated collections of patterns are released together which share hues – making it extra easy to find designs that go together.
Sometimes, patterns can also be inherent to an object because of its physical texture. This is true of materials like timber, which has a natural grain, woven items like rugs, fabrics, curtains and other textiles. It's useful to keep this in mind when pattern mixing as certain weaves can subtly mimic other shapes within more graphic patterns within your space and add to the cohesiveness of the theme. For instance, the triangles that are formed as part of the weave in a herringbone rug or throw could play off of other angular or geometric patterns in the room.
For this bedroom design, I've selected a number of patterned items that go together with one another, where each design is distinct but has a similar feel and each object shares something in common with at least two others in the room. A statement wall behind the bed in Resene Wallpaper Collection KOS001, with its neutral and large floral shapes sets the tone and theme for the rest of the space. The custom navy blue velvet headboard, thanks to the pattern formed by its buttons, brings a splash of rich colour and drama without needingto fight for attention. The lines in linen bedding are echoed by the colour of the headboard and the colour and lines of the vase and also add more subtle pattern to make room for the brighter and bolder floral cushions. The unique bedside table features the second largest pattern in a folk art design in a navy that riffs off the blue patterned fabric's colour and style – which would be ideal for use as a custom bedspread or cushion cover. Two additional floral wallpaper patterns, Resene Wallpaper Collection 90572 and Resene Wallpaper Collection90431, in coordinating colours could play a supporting role if used to decorate dresser drawer fronts or on the inside of an alcove or closet.
The paint colours I've chosen with the help of the Resene Colour Palette Generator, a free online tool that makes it easy to match paint colours to fabrics and wallpaper designs. Simply upload a swatch like I did, and it will suggest similar Resene colours for use on walls, floors, ceilings, trims, furniture and accessories. For this space, I'd use Resene Umber White on the adjacent walls and trims, Resene Lucky Point for a dramatic ceiling with smaller vases and decorations in Resene Kamikaze and Resene Coral Tree, plus some fine stripe linen curtains to seal the look.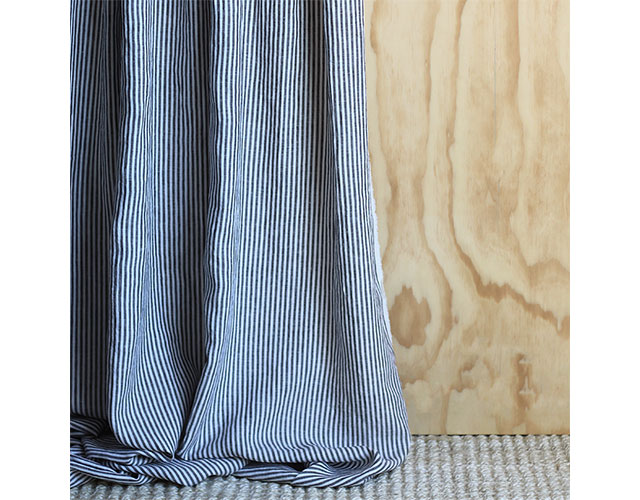 Fine Stripe Linen Ready-to-Hang Curtains from Martha's Fabrics
Mood board
Paint Colours: Resene Umber White, Resene Lucky Point, Resene Kamikaze and Resene Coral Tree
Flowers of Thorpe Summer Bloom Cushion from Martha's Fabrics
Arts and Crafts Green Cushion from Martha's Fabrics
Secret Garden Fabric from Martha's Fabrics
Flock Bedside Table from Republic Home
Deep Buttoned Headboard from Martha's Fabrics
Resene KOSMOS Wallpaper Collection KOS001 from Resene ColorShops
Cagayan Blue Vase from Republic Home
Resene Kaleidoscope Wallpaper Collection 90572 from Resene ColorShops
Resene Kaleidoscope Wallpaper Collection 90431 from Resene ColorShops
Linen Duvet Cover in Navy Stripe from Father Rabbit
Linen European Pillowcase pair in Navy Stripe from Father Rabbit
This article has been sponsored by Martha's Fabrics.